Box Set Universal Music Italia s.r.l. – 0602527319346  /2010/
Druhej zářez v diskografii skupiny a album, které dnes patří ke zlatému fondu italského progresivního rocku. A nic na tom nemění fakt, že je od valné většiny produkce tohoto subžánru tak odlišné. První stranu původního elpíčka zabrala jedenadvacet minut dlouhá a do tří strof rozdělená suita Suite per il Sig. K, tu druhou pak další tři samostatné skladby. 
Staré dobré blues podává si ruku s hardrockem, je tu hodně akustických kytar a flétny, ovšem nechybí ani foukací harmonika. V hustě rozsetých tvrdších pasážích pak dominuje pěkně hrubozrnná a jak zahleněnej tuberák chrchlající kytara. Kláves tu moc není a když už, tak spíš čistého piana. Parádní sólo na Hammond organ v poslední Hai visto… je pak onou, pravidlo potvrzující výjimkou. Především díky bezuzdně sólující šprajcně to zní docela "tullovsky", z italské scény mi to připomíná kapely Capitolo 6 a v menší míře ještě Eneide, nebo Dalton. Celé je to pochopitelně v italštině, ovšem na zpěv pozor. Ten je kapitolou sám o sobě. Vzteklej, bluesově zastřenej a velmi, velmi hrubej. Alvaro Fella má v hrdle dynamit a umí s ním setsakramentsky dobře zacházet…

Je to výborné album a těžko hledat nějakej jeho vrchol. Vypíchnul bych třeba třetí část úvodní Suite per il Sig. K, která se jako samostatná skladba Dio è objevila už na eponymním debutu. Nebo následující Miss Rand, která zní docela optimisticky a vesele, s čímž naprosto nekoresponduje její text (o slečně, která už nikdy nepřijde do školy, protože uhořela ve svém domě). A díky výše uvedenému sólu na Hammond mám v oblibě i košatou (a v několika vsuvkách aj mírně najazzlou) Hai visto… 
(raritní snímek italské televize obsahující skladbu Miss Rand a část Suite per il Sig. K)
Zvuk je naprosto bez chybičky. Nahrávání zabralo zhruba týden a první várka od Philipsu obsahovala 5 000 kousků, ovšem po jejich rozprodání následovalo ještě několik dalších "dolisů". Těch kopií nakonec vyšlo docela dost a původního vydání chtivej zájemce by neměl vyjít naprázdno. Moje cédéčko je součástí box setu Progressive Italia gli anni ´70 vol. 4, zasunuté v jednoduché papírové obálce a bez bookletu. Ale hraje parádně a jsem rád, že ho mám.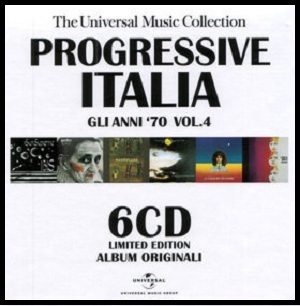 SKLADBY:
Lato A
1. Suite per il Sig. K – 20:45
a) Sta accadendo qualcosa dentro me
b) Ed ora corri
c) Dio è
Lato B
2. Miss Rand – 5:00
3. È brutto sentirsi vecchi – 6:30
4. Hai visto… – 7:18
SESTAVA:
Alvaro Fella – voce , chitarra acustica
Daniele Bianchini – chitarra elettrica, chitarra acustica
Sergio Conte – organo , pianoforte elettrico, pianoforte
Dario Guidotti – flauto , armonica , chitarra acustica
Aldo Gargano – basso elettrico
Vito Balzano – batteria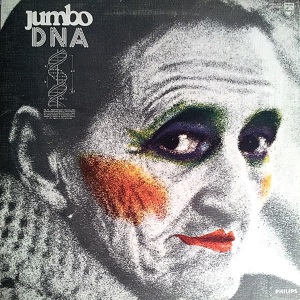 DNA
Jumbo
Prog Rock
Philips
1972
LP
4
CD: Box Set Universal Music Italia s.r.l. - 0602527319346 /2010/