CD AMS ‎– AMS 172  CD /2012/
Biglietto per l'Inferno (Vstupenka do pekla) je považována za jednu z nejvlivnějších italských prog rockových kapel všech dob…
Skupina Biglietto per l'Inferno pochází ze severoitalského města Lecco (hlavní město stejnojmenné provincie, jinak součást Lombardie) a vznikla v roce 1972. O dva roky později nahrála kritikou výborně hodnocený eponymní debut, kterej se však díky nedostatečné podpoře finančními problémy zmítaného labelu Trident nesetkal s takovým úspěchem, jaký by si zasluhoval. I přes zklamání z prodejních čísel natočila v roce 1975 jeho pokračování, jenomže to už Trident definitivně zkrachoval a tak nakonec vůbec nevyšlo. Následky na sebe nenechaly dlouho čekat a už o několik měsíců později se kapela rozpadla.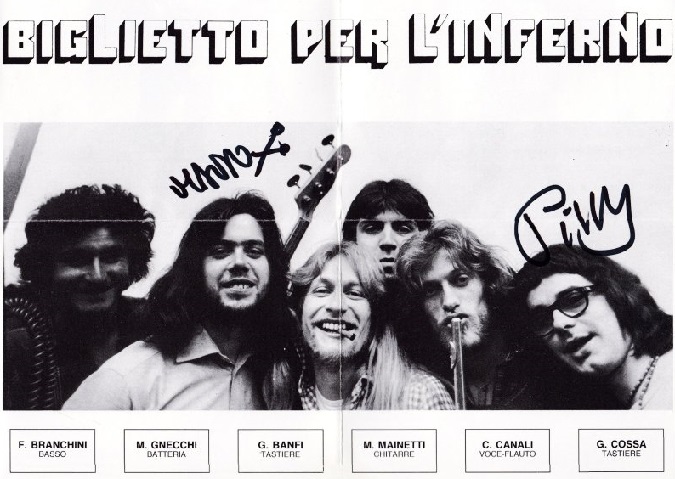 Původní, sotva 35 minut dlouhé album obsahovalo pět skladeb, balancujících na rozhraní symfonického, epického, ale také řádně nabroušeného tvrdého rocku. Při pohledu na line-up se dvěma klávesisty v sestavě by člověk snadno nabyl dojmu, že tady bude "překlávesováno", ale zmýlená neplatí. Zemitá doprovodná kytara Marca Mainettiho projev kapely přitvrzuje a posouvá hard rockovým směrem. Styl Biglietta per l'Inferno bych tak přirovnal k souputníkům Buon Vecchio Charlie, Museo Rosenbach, Semiramis, nebo Alphataurus.
Na úvod je tady lehce přes čtyři minutky dlouhá introdukce Ansia (Úzkost). Z počátku vyklidněná skladba postupem času mohutní, graduje a slouží jako výborný odrazový můstek pro první ze dvou vrcholů alba, neuvěřitelně chytlavou palbu Confessione (Zpověď). Text písně je rozhovorem mezi knězem a rozhřešení hledajícím vrahem a Claudio Canali plive slova, jak jedovaté sliny. Důrazná hard rocková kytara, sekanej rytmus, výborná melodie a expresivní zpěv mi pumpují adrenalin do žil a v instrumentální "dohře" prožívám jeden ze svejch mnoha hudebních orgasmů.
Una strana regina (Podivná královna) by se dala – s přimhouřením jednoho očka – nazvat baladou, ale ani tady nechybí pořádně štiplavá vsuvka s brutálně zkreslenou flétnou. Il nevare (Sníh) je vlastně volným pokračováním předcházející písně, ale v již daleko ostřejším podání. Mám dojem, že původně to byla jen jedna dlouhá skladba, která byla rozdělená pouze z důvodu omezené kapacity vinylového kotouče a také proto, aby se vešla na singl.
Skutečným vyvrcholením alba je pak truchlivej, čtrnáctiminutovej žalm za mrtvého kamaráda, L'amico suicida (Kamarádova sebevražda), aneb rock progressivo italiano v té nejčistší podobě. Symfonická, melodická a podmanivá nádhera, vyšperkovaná několika překvapivými zvraty. Specifickej a neobvyklej zvuk klávesových nástrojů mi tady hodně připomíná o rok starší – a vynikající – album kolegů Alphataurus…
Reedice od AMS nabízí ještě dva bonusy, instrumentální verzi skladby Confessione a mírně (zhruba o minutu) prodlouženou L'amico suicida. Prodává se jako jednoduchá "papeer sleeve" (tedy nikoliv rozkládací) a obsahuje texty, fotografie a biografii skupiny od Mathiase Schellera.
Muzika je to parádní a proto by si zasloužila co nejlepší produkci, ale bohužel, zrovna tady slyším jisté nedostatky. Ono se to těžko popisuje, ale trochu mi to připomíná zvuk alba In Rock. Je taky tak zkreslenej a navíc chrastí, jak nekvalitní přenoskou zedranej vinyl. Nečekal jsem žádné zázraky, ale zvlášť druhá polovina desky opravdu nehraje dobře (především L'amico suicida) a ten zážitek z poslechu mi to docela kazí. Jen a pouze z tohoto důvodu nedám plnou palbu a tu jednu hvězduli sundám.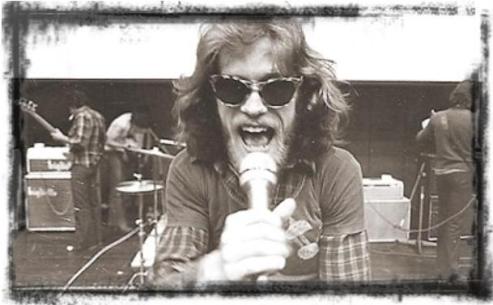 SKLADBY:
Lato A
1. Ansia ( Biglietto ) 4:12
2. Confessione (Giancarlo Cappellini, O. Trimboli) 6:30
3. Una strana regina (Biglietto) 6:12
Lato B
4. Il nevare (Giancarlo Cappellini, O. Trimboli) 4:37
5. L'amico suicida (Biglietto) 14:23
SESTAVA:
Giuseppe Banfi – minimoog, organo Gem, Echorec Binson
Fausto Branchini – basso Fender telecaster
Claudio Canali – flauto, flicorno tenore Orsi, voce
Giuseppe Cossa – pianoforte, organo Hammond c3
Mauro Gnecchi – batteria Gretch
Marco Mainetti – chitarra Gibson Les Paul Special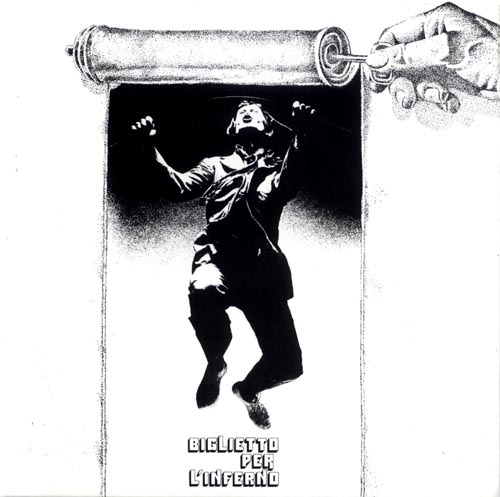 Biglietto Per L'Inferno
Biglietto Per L'Inferno
Prog Rock
Trident
1974
LP
5
CD AMS ‎– AMS 172 CD /2012/