Veru, zázraky sa dejú. Ja, zaprisahaný nepriateľ muzikálov, som sa dal zlomiť a vyrazil na Jesus Christ Superstar. Za všetko môže parťák z roboty, veľký milovník divadla…
Nedeľa, 14. mája 2023, 16:00.
Veľká scéna Divadla Jonáša Záborského, Prešov.
Rocková opera Jesus Christ Superstar bola v poradí 787. premiéra prešovského divadla v jeho 78. divadelnej sezóne (2020/2021) a mala tri premiéry: I. – 11. decembra 2020; II. – 12. decembra 2020; III. – 18. decembra 2020.
Britskí autori Andrew Lloyd Webber (hudba) a Tim Rice (libreto) ju pôvodne vydali ako LP v roku 1970, na divadelné dosky sa dostala o rok neskôr na Broadwayi (New York), londýnsky West End ju uviedol v roku 1972, filmovej podoby sa dočkala v roku 1973. Bez mučenia priznávam, že doteraz som o tomto projekte vedel iba toľko, že na jeho albumovej verzii účinkuje skvelý vokalista Ian Gillan z Deep Purple v úlohe Ježiša Krista. Avšak ani tento fakt ma nepritiahol k čo i len jednému vypočutiu tohto diela. Nikdy ma to nelákalo, rovnako tak filmová verzia u mňa nezabodovala – po pár minútach som televízor prepínal na iný program.
O čom to vlastne je? Pomôžem si prešovským bulletinom: "Muzikál zachytáva posledný týždeň života Ježiša Krista, ktorý končil ukrižovaním. Teda čas, ktorý spracúvajú pašie. Webber a Rice v ňom zachytili nielen biblický príbeh konfliktu medzi Judášom Iškariotským, Ježišom, ale aj konflikt politický. To vyvolalo niektoré kontroverzné prijatia tohto muzikálu. Zakazovali ho…"
Autori to vtedy vysvetlili takto: "Nie sme ani pre, ani za akúkoľvek dogmu, či sektu… Zachytili sme ľudí, nie židovských ľudí… Zaujímala nás intímna dráma, ktorá sa odohrala medzi tromi, štyrmi ľuďmi…"
A ako to u mňa dopadlo?
Pri vstupe do sály ma príjemne prekvapila scéna, ktorú som si zvečnil – snáď ma za to kompetentní neukrižujú. Nádhera!!!!! Zrejme ma to zdravo nabudilo na hlavný program. Chytil som sa hneď na začiatku a počas celého predstavenia som sa bavil. Hralo a spievalo sa naživo, žiadny playback. A po slovensky. Muzika fajnová, hudobníkom to muzicírovalo jedna báseň, speváčky boli príma, speváci rovnako, tanečnice šantili odušu – najviac ma zaujala tá v červených "keckách"; krútila zadočkom excelentne. A tanečníkov nech zhodnotia iní.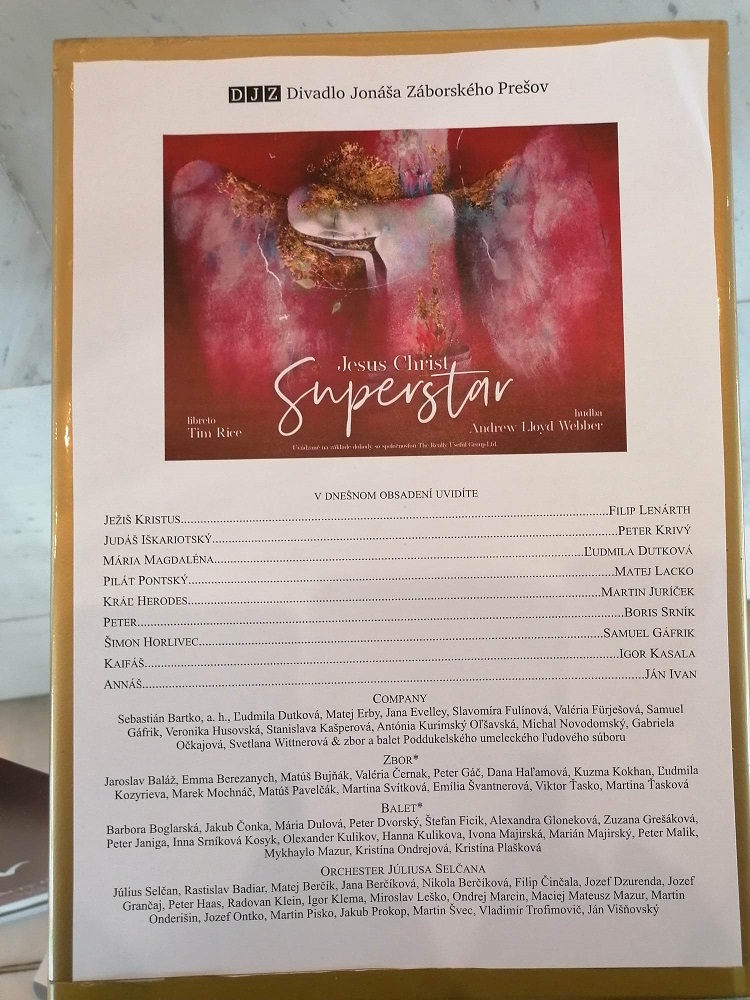 Netajím, že som do toho išiel s určitými obavami. O to väčšie a milšie bolo moje prekvapenie. Moje poďakovanie patrí všetkým účinkujúcim, parťákovi Dančovi i kámoške Simonke, ktorí do toho so mnou išli. A bez mučenia priznávam, že na prahu dôchodku to bola moja prvá návšteva "nového" divadla v Prešove, to historické som už v minulosti okúsil. No a čo!? Myslíte, že všetci rodení Pražáci už zavítali do Národného? Možno raz i motyka vystrelí a v mojom prípade dôjde aj na Iana Gillana a jeho albumovú podobu Jesus Christ Superstar…