Vrecia zemiakov za čierneho chrobáka
V dobe, keď sa písal rok 1973, jesenný čas, voňalo pokosené seno a začalo padať lístie a ešte sa nekúrilo a Pink Floyd sa odvracali od mesiaca, McCartney utekal s kapelou, Elton dával Goodbay Yellow, Who skúšali Qadropheniu, Zeppelini Housesovali, Oldfield zvonil, Bowie svietil Alladinom, Allmanovi bratia sa pobratríčkovali a posestrili a Ozzy s kapelou kričali Krvavý Sabbath, bol som tri týždne na bramborovej brigáde. Robil som zhrbený ako mul a plnil pytle obrovskými a ťažkými bramborami a ak sa podarilo aj kameňmi. To jen aby se neřeklo. Na svačinu som dostal konzervu paštiky z českého obchodu "Pramen", dva-tri rožky a ak baby nechceli aj nejaký ten rožok naviac. Ja som im ponúkal platonicky na odplatu klobásu, ale nemali najmenší záujem. Dokonca aj perlivú červenú alebo žltú malinovku. Potom aj obed a večeru. A to všetko zdarma, aj s ubytovaním od JZD Prachatice. Denne som naplnil dnes už neviem koľko vriec zemiakov, ale po troch týždňoch muklovania som obdržal úctyhodných 300 Kčs v hotovosti a ako sa povie, na drevo.
Čo čert nechcel, už vtedy som mal rád hudbu, ako sa povie, radšej ako soľ a zrovna môj spolužiak, ktorý neviem prečo mal z rodiny niekoho v zahraničí, práve dostal poštou LP platňu. Tak som zainvestoval a urobil obchod veľkého významu. Moju trojtýždňovú otročinu som zamenil za to LP. Fifty fifty. Taká rýchlovka, za pár sekúnd. Ostatní tiež bohatí študenti chodili po krčmách, pozývali mladuchy na rande, dievky si kupovali mini a podobné krasotiny a ja som trápne pozeral von oknom a premýšľal, čo v tých krušných chvíľach bez love robiť. Mamke som nemohol napísať "došli, pošli". Nemal som totiž s tým vinylom čo robiť, na iternáte som nemal "turn" a ešte aj s tým tablom /Turntable/ a domov bolo ďaleko. Ale ten obal bol pekne krásny, díval som sa naň, síce omnoho menej ako po tých dievkach v mini, ale aj to stálo za to.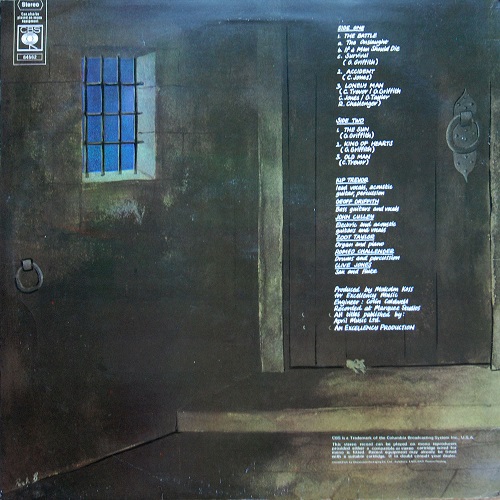 Black Widow – III
Ušmudlaný starec, sediaci v kleci a zrejme chudobný ako ja, ako kostolná myš. Dokonca zavretý a zreťazovaný, zrejme v žalári, presne ako ja na intri, kde ma budil škodoradostný vychoš s krikom "vstávámeéé". Ten starec z obalu mal však celkom dobrácke oči a ruka s prosebnou miskou, asi na vodu, mi evokovala, že to nebola márna kúpa.
Vtedy som Black Widow vôbec nepoznal, kúpil som to iba preto, že som mal možnosť. Chvíľková slabosť, nutkanie. Nevedel som, že Ozzy sa zrejme s kamarátmi inšpiroval pri jeho názve kapely práve Čiernou vdovou. Bola to jedna z prvých skupín, ktoré používali satanistické výrazy v tvorbe a slávni Sabbati sa inšpirovali.
Nevedel som, že trojka bola vydaná v roku 1972 a vôbec to nebol horúci rožok ako som si myslel a kapela nikdy neurobila dieru do sveta, skôr ním prepadla ako cez ementál do neznáma. Nie však pre mňa, u mňa žije už dlhé polstoročie. Po konečnom vypočutí doma z gramofónu pusteného cez monofónne rádio, to nebola bomba, nič nezaiskrilo, také čosi sa nekonalo. Nebolo to ani veľké sklamanie, také nemastné – neslané. Trošku rocku, trošku progresivity, trošku melodičnosti, trošku nenaplneného očakávania. Nuž po niekoľko rokov som sa k Black Widow občas vrátil, už v stereo zvuku a už v československom hi-fi kabáte, kúpenom na splátky hned po nástupe do práce s príjmom 900 Kčs. Počas boom CD som LP Black Widow posunul kadeľahšie, do sveta zabudnutia.
Nerád sa vzdávam a keď som pochopil, že CD je tiež ementál prepadlisko a láska k LP sa opáť ozvala /škoda, že už nie aj k mini atď…/ po vŕtacom chrobákovi v hlave mi prišla novučičká reedícia trojky, čuduj sa svete, Black Widow. Už za eurá a už nie po zbere zemiakov z poľa, ale len tak, zdarma, ako dôchodok, za to, že sedím doma a "nič nerobím".
To je sveta žiť, to je radosti. Zoberiem priviazaného starca z obalu pod pazuchu, skočím do pivnice, kde mám špeciálnu zvukovo upravenú miestnosť na počúvanie hudby, vyberiem láskavo LP z obalu, šupnem na gramofón, počkám až sa nažhavia elektrónky na zariadení a spustím ihlu do drážky. Pri pohybe ihly smerom nadol nemeškám a rozvalím sa na gauči do presne vymedzenej polohy v strede osy speakersov a čakám. Krásnych orechových a nekresťansky drahých. Vzdychnem: "To sme dopadli, kapitalizmus". Keby to tak žena vedela, čo je za parádu v tej pivnici, asi by som letel…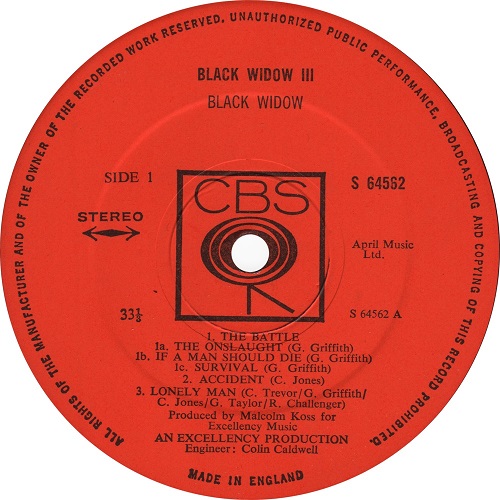 A potom to príde:
1.1. The Battle (10:54):
— a) The Onslaught
— b) If A Man Should Die
— c) Survival
Už prvé tóny gitary ma usádzajú hlboko do "kresla", breaky bicích sa mi zdajú absolútne známe a krásne. Spev Kipa Trevora sa mi zdá veľmi dobrý a korešponduje s kapelou. Vadia mi len zle nahrané činely, ktoré nemajú jasný, čistý a vzdušný zvuk. Ale dobre, beriem, jedna chyba môže byť. Culley a Griffith pridávajú vokály, a la uriahíp a trojskladba sa mi veľmi páči. Pridaním výrazných kláves hudba naberá silu. Prosebný spev s nádychom plačlivosti vyjadruje text skladby s bojovou tématikou. V medzihrách kapele to šliape dokonale, hammondky sú Hensleyovské a Clive Jones pridáva flautu a saxofón. Bicie sú stále nejasné a určite by som ich nahral znovu, chýba im priestor, dynamika a cinkanie. To keď ja doma buchnem do činely, padá strop, a tu z fošne je to len "šum". Veľká škoda. Geoff Griffith sa na basu netrhá, hrá len základné linky, uvidíme čo bude ďalej, snáď sa preberie k životu.
Nasleduje pomalšia časť piesne. Zranený vojak a jeho zážitky z boja, flauta, bicie, spev a basa. Výborná, skvelá, potom základný riff piesne a znovu nádhera. Kapela prejde do tempa basa ako od často sa striedajúcich basistov v  Uriah Heep /ten flek v tej kapele nikdy nebol stály/. V "Prežití" chápem, prečo Čierna Vdova nemohla byť skvelou kapelou. Vokál Kipa Trevora je slabý, nevýrazný. Lenže ako zrušíte hlavného člena kapely, ak chce spievať sólo? Natíska sa mi myšlienka, čo by s kapelou urobil Gillan, nedajbože Ronnie James Dio!
2. Accident (4:12)
Začiatok odpichnutý a vzdušný, energia sa vylieva z pohára. Prechod do bigbeatu s tympanmi, perkusiami a tými šušľajúcimi nešťastnými ride činelmi. Saxík, šliape to, nie je "nehoda" ako napovedá názov. Páči sa mi, že bicie sú nahraté zo strany poslucháča, dáva mi to lepší obraz. Strih a hotovo, drastický koniec. Ani vdovu to už asi nebavilo.
3. Lonely Man (4:51)
Saxofón sa mi vždy v rocku páčil. Gitara teraz basová, basový riff, dobrá trefa, odpichnuté a klávesy sú tiež dobré. Skladba sa mi páči. Zmeny tempa, palička na rytmičáku, flauta, pekný rytmický bubon s flautou. Tá vec má niečo do seba. Hammondky tvrdia misu, spev z posledných síl. Spevák má už asi vrchol prepitý v pivných krčmách. Ale mne to zrazu nevadí, páči sa mi to. Spievam si: "Lonelines, lonelines, lonelines" až do fadeitu.
4. The Sun (4:30)
Slnko. Mám v obraze LP kanaďanov Klaatu s ich slnečným obalom /Inak skvelá vec/. Slnko snáď ani nemôže byť zlá pieseň. Ani nie je, vidím to slnko, čo viac dodať. A je pre všetkých, tak sa tam spieva. Kozmický efekt vesmírneho telesa, snáď nezhorí v diaľke, je to naozaj svieža vec, chlapci vstali ráno pravou nohou z postele. A pohrali sa . Vďaka.
5. King Of Hearts (6:41)
Tento kráľ bol vždy mojou jedničkou. Úplne ma to vzalo, snáď už ma vezme vždy až do smrti, pokiaľ budem Black Widow počuť a pamätať si, že tie brambory som naložil do vriec a speňažil ich prachy správne a nemusím to ľutovať. Nebudem písať, prečo sa mi táto skladba páči. Vypočujte si to. Volá sa to Kings Of Hearts. Pustím Vám do hlavy chrobáka a verte, nie je to vôbec zlý chrobák. Volá sa Čierna vdova! Dokonca aj tie činely prestali šušlať! Také je to fasa.
6. Old Man (9:10)
Starý muž z obalu platne ožíva. Začiatok akustický, decentné bicie, naozaj dobré, prechody, bubeník, ktorého som podľa mena chcel meniť celú dobu /Volá sa Romeo a ešte aj Challenger/ ma predsa len presvedčí v záverečnej piesni, že tam nebol len ako skrášľujúca mrkva /ako psí čumák/ na snehuliakovi. Aj zvuk kapely je krajší, akoby to nahrávali inokedy a s lepším zvukárom. Myslím si, že Guns N' Roses túto skladbu museli počuť najmenej tisíckrát, keď písali svoju históriu o dvadsať rokov neskoršie. Skvelý záver. Bodka s výkričníkom.
To je môj príbeh s týmto anglickým chrobákom, ani sa mi nechce veriť, že už je to tak vzdialená doba. Ak si spomeniem na sedemdesiate roky, tak je to vždy spojené s tým, že ak som si konečne kúpil LP, počúval som to dookola, nespočetnekrát. Nakoniec som poznal snáď každú sekundu piesne a dnes to už tak nie je, je toho príliš veľa a nedá sa to všetko stíhať. Možno preto my starší chápeme začiatky "našej hudby" inak a máme k nej iný vzťah, lebo ten základ toho prvotného poznania, vtedy, keď to vyšlo už máme v sebe.
Tak je to aj s Black Widow, kapelou z Leicesteru, ktorú mám rád a vôbec mi nevadia ich "satanistické problémy" v ich kariére. Je to len dobrá kapela, ktorá nekopala prvú ligu ako Genesis, Uriah Heep, Yes a pod.
Všimol som si, že tu dávate hodnotenia, tak strelím aj ja do terča:
zvuk nahrávky – 2 hviezdičky z 5;
album ako celok – 3 hviezdičky z 5;
album v mojej duši – 4 hviezdičky z 5.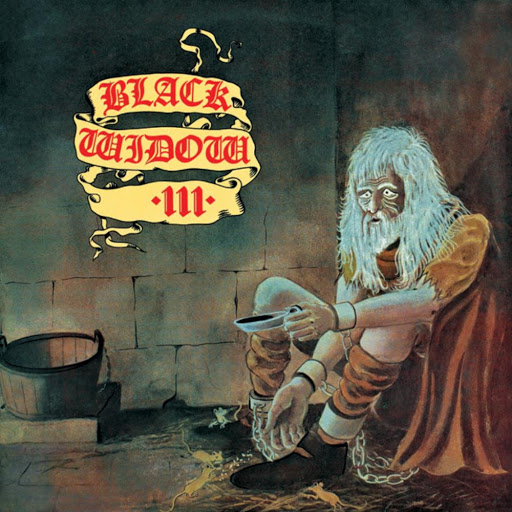 Black Widow III
Black Widow
Progresívny rock
CBS
1972
LP
6
LP Repertoire Records - V253 (2017, Europe) Remastered