Humble Pie byla anglická rocková kapela, kterou si pamatuji jako nedílnou součást diskoték (rockoték) první poloviny sedmdesátých let. Steve Marriott byl poměrně známou osobností už z post psychedelických Small Faces. Této kapele bylo vytýkáno, že příliš stojí na singlové produkci a není schopna napsat, nahrát a zaranžovat pořádné regulérní album. Asi to Marriotta hodně štvalo a proto zanechal Small Faces svému osudu (přetransformovali se ve Faces) a založil Humble Pie, aby dokázal, že podobné tvrzení je nesmysl.
Umělecky sice Humble Pie, podle mého soudu, Small Faces přesáhli, ale zase si nemyslím, že by jejich podíl výrazným způsobem ovlivnil vývoj britské hudební scény. To samozřejmě neznamená, že by kapela byla nějakou periferní záležitostí. Naopak, pokud byste hledali v těch časech ryzí rockovou skupinu na britské scéně, určitě byste je nemohli vynechat. Jejich koncertní vystoupení měla kvalitní úroveň, ale stála v drtivě většině na soundu dvou kytar, baskytary a bicích nástrojů (s občasným hostováním najatých hráčů). Syrový rock si zde podává ruce s blues ve velmi zdařilých dimenzích. Ve studiu si ovšem kapela mohla dovolit vstoupit do tématu i jinými zajímavějšími podněty, o čemž svědčí hned jejich první album…
DESPERATION – Vrčení hammondek v úvodu nabízí těžký sound podepřený syrovými kytarami, dunivou baskytarou a rozevlátými bicími nástroji. Marriottův vokál má zastřenou až chrčivou barvu, což se v daném druhu hudby přímo vyžadovalo. Framptonův vokál je o něco jasnější a otevřenější. Navzdory hammondkám a jinak vedeným basům, mám ale trochu pocit, jako by se ve frázování zpěvu kapela přibližovala k Rolling Stones koncem šedesátých let. Hammondky nahrál Peter Frampton a výtečné přímé hluboké basy Greg Ridley, bývalý člen Spooky Tooth. Vláčný sound prokresluje kytarové sólo Marriotta, které drží skvělou melodickou linku. Autorem je John Kay, vůdčí osobnost legendárních kanadských Steppenwolf.
STICK SHIFT – Hutný sound v pomalejším tempu zachovává i další skladba. Marriott a Frampton se zde dělí o kytarový prostor. Zatímco první z nich nahrál slide-kytaru a varhany, druhý má pěvecký prim. V refrénu skladba přidá na tempu, ale vzápětí se vrátí zpět do jakési přetransformované bluesové podoby, která nezní vůbec špatně a s varhanním soundem z pozadí nastolí psychedelické ozvěny své doby. Zajímavý příspěvek.
BUTTER MILK BOY – Úvod hodně připomene kanadské Steppenwolf (Born To Be Wild) díky použitému riffu. Je to klasický syrový rock své doby. O pěvecké party se zde tentokrát dělí Frampton s Ridleyem. Frampton tlačí více na hlasivky, zatímco Ridley má čistší hlas. Frampton nahrál vedle kytarových partů i klavír, zatímco Marriott vedle kytary ještě hammondky. Komplexní rocková skladba s výraznými bubenickými breaky Jerryho Shirleyho, ale i klouzavými Marriottovy tóny jeho sólující kytary.
GROWING CLOSER – Tuto skladbu napsal varhaník Small Faces – Ian McLagan a vrací tak Humble Pie částečně k jejich soundu. Frampton nahrál akustickou kytaru, zatímco Marriott výtečnou foukací harmoniku, ale i indické bubínky tabla. Basová linka je skvělá, stejně jako percussion a bicí nástroje Shirleyho. Máme zde také hostujícího flétnistu Lyna Dobsona. Až do samého závěru se můžeme opájet filigránskými tóny Framptonovy akustické kytary.
AS SAFE AS YESTERDAY IS – Mohutný sound sevřeného rocku. Marriott opět za hammondkami, ale i s kytarovými party a s vokální složkou, zato Frampton má sólový vokál, hraje elektrickou kytaru a navíc bubínky tabla. Skladba působí hodně syrově a celistvě, aniž by popírala melodický přínos. Psychedelické ozvěny jsou ve skladbě poměrně čitelné a my už rozeznáme hlasy Framptona a Marriotta, jako další poznávací znak kapely. Píseň má ovšem i okamžiky, kdy si uvědomíte, že když byste ořezali aranžmá na dřeň, bude to relativně jednoduchá, ale krásná melodická písnička. Sympaticky působí akustické vybrnkávání na kytaru v prostřídávání s varhanním a klavírním soundem s vokálními příspěvky. Výrazný rockový riff v unisonu obou kytar a baskytary má nosnou konstrukci, než je jakoby nečekaně ukončen.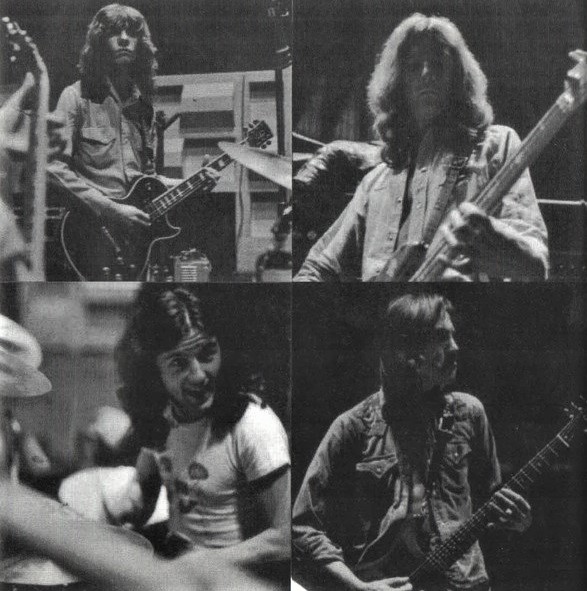 BANG! – Tuhle vlastní skladbu si i Marriott sólově zazpívá za přispění své kytarové hry, ale především klavírního tématu. Greg Ridley zde nahrál ostré a velmi důrazné basy ve spojení s bubenickými breaky Jerryho Shirleyho. Baskytara má hutný sound ve stylu Jacka Bruce. Jinak mám ale trochu pocit, jako bych poslouchal nějakou skladbu z alba Exile On Main Street od Rolling Stones, ale třeba se mi to jenom zdá. Ten sound je hodně identický. Skladba je energeticky velmi exponovaná a rockově přímočará.
ALABAMA '69 – Country blues podle nejlepších pravidel americké hudby, o čemž svědčí i samotný název z amerického jižanského prostředí. Frampton hraje na slide-kytaru, basové bubínky tabla a spojuje svůj emocionální projev s Marriottem, hrajícím na akustickou kytaru, foukací harmoniku a výrazně zpívá svým rozpoutaným způsobem. Z písně máme ten správný hospodský pohodový pocit, kdy zpívají nejen všichni kolem stolu, ale doslova celá hospoda a všichni se dobře baví. Se závěrečným protahovaným sborovým vokálem. Prostě, pohoda a paráda pod jižanským sluncem, ale vytvářena ve staré dobré Anglii.
I'LL GO ALONE – Velmi zajímavá experimentální skladba. Hostující Lyn Dobson zde nahrál party na flétnu, ale i na indický sitár(!). Obojí se výtečně prolíná s výborně preparovanými Ridleyovými basy, Framptonovou akustickou kytarou a klavírem, zatímco Marriott dodává druhou kytaru. Vynikající instrumentální skladba, která vnáší na album pokusy odbočit od standardního rocku jinými, třebaže dobově poplatnými směry.
A NIFTY LITTLE NUMBER LIKE YOU – Marriott hraje na hammondky (a docela zajímavě), ale vedle toho rovněž na kytaru a navíc ještě zpívá svým klasicky chraptivým způsobem, zatímco Frampton dodává další hlas i kytaru a blýskne se výborným kytarovým sólem. Úderný rock prvního plánu doplněný klavírními party a pořádně přiostřeným soundem. Výtečně šlapající rytmika – zejména vynikající basové figury Grega Ridleyho. Shirley nezůstává pozadu se svými bubenickými výpady. Rockandrollový nátěr nepřeslechnete, ale zároveň je to typ skladby, který vás napoprvé zaujme svou přímočarostí, útočností a nekompromisností, při zachování melodické linky a emocionálního nasazení. Ridley řádí na baskytaru ve velkém stylu a syrové kytary Marriotta a Framptona si podávají jednotlivá tématu v sólech, doprovodech i mezihrách. V závěru se Shirley blýskne minibubenickým sólem a skladba je uvedena do finále.
WHAT YOU WILL – V závěrečné skladbě se jako zpěvák prezentuje Frampton, vedle klavíru a kytary, zatímco hru na hammondky dodá Marriott, vedle kytary a svého vokálního přispění. Těžký zadek má svou důraznou hutnost, ale dynamicky se odstiňuje v jednotlivých tišších pasážích, kdy do hry vstupuje výtečné sólo na akustickou kytaru. Dlouhé tóny varhan, zpěvu v závěru opět prokreslují těžké údery bubenických breaků a cinkavé tóny akustické kytary se prolínají s emocionálním, trochu chaotickým, zpěvem.
Album As Safe As Yesterday Is vnímám pozitivně, místy mi ovšem nezní úplně originálně a svébytně, třebaže jeho hráčský potenciál je velmi vysoké rockové úrovně. Snaha propojit hudbu s občasnými experimenty vnáší prvek změny a přijde mi jako sympatická. Humble Pie měli možná smůlu, že v daném roce startovalo hodně významných alb. Třebaže jejich koncertní prezentace byly velice úspěšné, mezi těmi nejstěžejnějšími alby konce šedesátých let tahle deska přece jenom nestojí. Jejich studiovou kreativitu oceňuji čtyřmi hvězdičkami.
P. S.: Jen pro zajímavost – Natural Born Boogie, skladba Humble Pie, která měla slušnou odezvu díky singlu, inspirovala na počátku sedmdesátých let dnes už zapomenutou brněnskou rockovou kapelu R. I. Eagles v čele s talentovaným (bohužel, předčasně zesnulým) kytaristou Janem Millonigem natolik, že pod názvem Bonifác Sherry ji natočili na singl. Kapela i singl jsou dnes relikty minulosti…
SKLADBY:
01. Desperation (6:28)
02. Stick Shift (2:22)
03. Butter Milk Boy (4:22)
04. Growing Closer (3:13)
05. As Safe As Yesterday Is (6:05)
06. Bang! (3:24)
07. Alabama '69 (4:37)
08. I'll Go Alone (6:17)
09. A Nifty Little Number Like You (6:11)
10. What You Will (4:20)
SESTAVA:
Steve Marriott – vocal, guitar, harmonica, organ, goofs, tablas, piano
Peter Frampton – vocals, guitar, organ, tabla, bass tablas, piano
Greg Ridley – bass, vocals, happy noise, percussion, skins
Jerry Shirley – drums, grins and explosions, percussion, tablas, harpsichord, big ones, piano, lead thumbs
As Safe As Yesterday Is
Humble Pie
Hard Rock
Immediate
1969
LP
10