Holandskou skupinu Golden Earring jsem znal nejdříve z plakátů, fotografií, a všichni starší kolem mě o ní hovořili s respektem, ale kupodivu jsem se k nim dostal blíž až prostřednictvím výběru Supergroups, kde se nacházela "Zlatá náušnice" v takové společnosti jako byl Eric Clapton (After Midnight), Who (See Me, Feel Me), John Mayall (Took The Car), Curtis Mayfield (Sex Machine), Eric Burdon & War (Spill The Wine), prostě hity roku 1970.
Byl to jugoslávský výlisek labelu Jugoton s mizerným zvukem, ale Golden Earring zde měli skladbu Back Home, (psal se rok 1973 a to byla doba hard rocku), takže mě skladba dostala na první poslech. Kromě toho to byly správné vlasaté máničky a holandské kapely u nás měly velmi dobrou pověst, ať už jmenuji Focus, Cuby And Blizzard, Ekseption, Livin' Blues, Brainstorm nebo pop-rock Shocking Blue s ďábelsky krásnou Mariskou Veres…
Nějaký čas to sice trvalo, ale nakonec se eponymní album Golden Earring stalo součástí mé sbírky a dodnes se mi neoposlouchalo.
YELLOW AND BLUE – krásně akusticky rozbrnkané intro na kytaru se zádumčivou flétnou. Konejšivé, melancholické, zkřížení Led Zeppelin a Jethro Tull… možná trochu ano. Tak tohle jsou Golden Earring jedna z nejlepších holandských kapel své doby. Rockový idiom vstupuje do hudby ostrými záseky elektrické kytary a přechody bicích nástrojů a vlněním mellotronu. Střídání lyrické a ostré rockové fáze je velmi účinné a dynamicky velmi dobře působivé.
THE LONER – kytarový riff v úvodu má znaky hardrockového pojetí staršího typu. Skladba nemá nějakou složitou harmonickou strukturu a melodika je čitelná hned v prvním plánu. Baskytara zde přebírá melodickou linku a výrazně vystupuje do popředí. Unisona kytary a baskytary jsou zásadním atributem tehdejších časů. Zachování údernosti v čitelné melodické poloze. Mezihra nabídne dravé kytarové sólo George Kooymanse a výtečné baskytarové ataky Rinuse Gerritsena. Klasický rock v tom nejlepším balení.
THIS IS THE TIME OF THE YEAR – nostalgická nota. Posmutnělý hlas posléze získává na expresi ve vrcholícím falzetu a pak už se rozbíhá další úderné rockové téma s čitelnými akordickými běhy, které jsou zdůrazňovány průrazností v opakovaných schématech. O několik let poté ještě s větší drsností podobný model nacházím v některých skladbách skotských Nazareth. Úderná přímočará rytmika se propojuje s kytarovými party do jednolitého přehledného tvaru.
BIG TREE BLUE SEA – ve hře je opětně flétna. Tady jsou britští Jethro Tull čitelnější než v první zmíněné ukázce, ale pouze v úvodní části. Další postupy jsou už ryze v režii Golden Earring – andersonovský odér se o ně jenom otírá, ale nepoznamenává. Přesto se mi právě tahle skladba jeví jako zatím kompozičně nejzajímavější. Také se zde více pracuje s náladami, vyvolávajícími iluzivní asociace snových představ (flétna ve správných rukou má velkou moc), Barry Hay je výtečný hudebník, který zná svoji míru, ale v kapele má nezastupitelnou úlohu nejen jako flétnista, ale i jako zpěvák. Gerritsenova baskytara je příkladně velmi dobře zvládnutá, stejně tak i bubeník Cesar Zuiderwijk není žádný bubenický podprůměr.
THE WALL OF DOLLS – do rockové tematiky nám vstupuji prvky psychedelie. Velmi dobře to koresponduje s opačnou částí obalu alba, kde poněkud děsivě lze spatřit (zavěšené nebo přibité) panenky a všelijaké hračky na dřevěné stěně. Působivá je i vokální složka zpožděného hlasu a Kooymans na závěr skladby vystaví kytarové sólo s drásavým přídechem. Trochu tajemné a zvláštně přitažlivé.
BACK HOME – a už tu máme jednoznačný hit. Byl na zmíněném jugoslávském výběru Supergroups. Přímočaré, jednoduché a nekomplikované a přitom úderné hned v prvním plánu. Trochu mi zde Golden Earring připomínají beatlesovské chráněnce na Apple – Badfinger (No Matter What… pokud si trochu pamětníci dokáží poskládat asociace). Tohle je jasná klasická rocková hudba přelomu šedesátých a sedmdesátých let – hardrock prvního plánu – a Hayova flétna v závěru výtečně dokresluje atmosféru, stejně jako stupňovaný kytarový riff.
SEE SEE – akustické kytary, flétna a percussion, velmi zdařilé spojení pro příjemnou baladu a změna po předešlé přímočaré údernosti. Kvílivá Kooymansova kytara jenom dokresluje prostorový sound. Melancholicky vypravěčská poloha s těžko definovatelným vnitřním napětím a s velkým emocionálním přednesem jak v instrumentaci, tak ve vokálních partech, kterým napomáhá v pozadí mellotron. Závěrečné dlouhé kytarové tóny akcentují rány do tympánů.
I´M GOING TO SEND MY PIGEONS TO THE SKY – dravý syrově nekompromisní rockový úvod elektrické kytary a důrazných bicích nástrojů. Přesto se dokáží v patřičném okamžiku stáhnout, aby vynikl zpívaný hlas. Poté se už skladba rozbíhá v klasickém modelu rockové kompozice ve spojení s vokální linkou. Aranžmá je jednoduché, ale přesto účinné. Zatímco rytmika jede v hypnotických obrazech, kytara dostane příležitost se rozběhnout prostorem ve střední tónové poloze. Kooymans změní rejstřík a nová barva jeho kytarového sóla ovládne prostor jako majestátně kroužící dravec nad horskými vrcholy. Pro někoho dnes možná překonaný motiv, ale pro mě svědectví o vývoji rockového pojetí, kdy muzikanti ze země tulipánů se snaží vymanit z britských vzorů a přijít s něčím vlastním.
AS LONG AS THE WIND BLOWS – závěrečná skladba probíhá ve volném tempu, v němž vynikne zpívaný vokál a těžkopádné bicí dělají prostor výrazné baskytaře a dokreslujícím kytarovým partům. Vokální složka má svou porci melancholie a nálady zde mají jakýsi zádumčivý náboj. Kytarové ornamenty s dozvukem nepřebíjejí atmosféru, zato baskytara je výrazně vypíchnutá a získá si vás nejen barva jejího tónu, technická suverenita, ale i uměřené kreace, které povolují mollové a durové akordy a skladba se pomalu dostává do finále, stejně jako celé album.
Poctivá přímočará rocková hudba s hlubokými kořeny. Bylo mi sympatické, že dokázali včlenit do svého nástrojového inventáře i flétnu (nevím, jestli to bylo po vzoru Jethro Tull) a do standardního hardrockového zvuku přivést trochu jiný vítr. Neznám kompletní diskografii téhle kapely, abych mohl nějak zasvěceně o nich hovořit, ale na tomhle albu odvedli pořádný kus práce a myslím, že plný počet hvězdiček si album zaslouží.
A1. Yellow And Blue (Kooymans) 3:36
A2. The Loner (Kooymans) 6:09
A3. This Is The Time Of The Year (Kooymans) 3:34
A4. Big Tree, Blue Sea (Hay/Kooymans) 3:10
A5. The Wall Of Dolls (Hay/Gerritsen) 3:48
B1. Back Home (Kooymans) 3:49
B2. See, See (Hay) 3:29
B3. I'm Going To Send My Pigeons To The Sky (Kooymans) 5:57
B4. As Long As The Wind Blows (Kooymans) 5:21
Nahráno: v červenci 1970, Phonogram Studios, Holandsko
Zvuková režie: Albert J. Kos
Produkce: Fred Haayen
OBSAZENÍ:
Barry Hay – zpěv, flétna
George Kooymans – kytary, zpěv (A1, A3, B4)
Rinus Gerritsen – basová kytara, klávesové nástroje
Cesar Zuiderwijk – bicí nástroje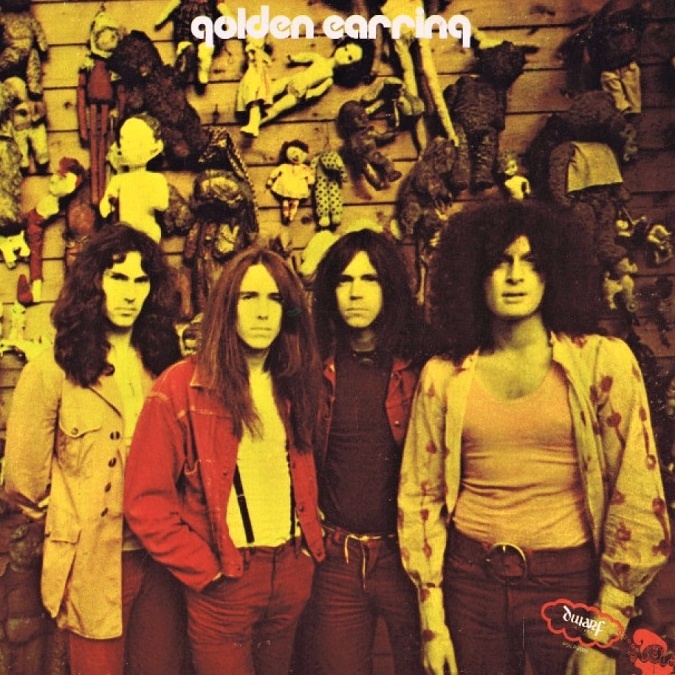 Golden Earring
Golden Earring
Hard Rock
Polydor
1970
LP
9