Britská progresívna skupina Yes vznikla v roku 1968 a napriek mnohým zmenám v zostave, občasným rozdeleniam a zmenám štýlu, pretrvala doteraz.
Spevák Jon Anderson (nar. 25.10.1944) s basgitaristom Chrisom Squireom (nar. 4.3.1948) založili skupinu Yes v r. 1968 v Londýne. Dohodli sa s ďalšími spoluhráčmi: Tony Kaye (nar. 11.1.1946) klávesy, Peter Banks (nar. 7.7.1947) gitary a Bill Bruford (nar. 17.5.1948) bicie. Prvé dôležité koncerty odohrali v roku 1968 v East Mersea Youth Camp a dokonca ako predkapela na rozlúčkovom koncerte s Cream v Royal Albert Hall. 
Ich prvý album, nazvaný Yes, bol vydaný 25.7.1969. Harmonické vokály dvojice Anderson – Squire sa stali poznávacím znamením a obchodnou značkou zvuku skupiny. V r. 1970 vydali druhý album, Time and Word.
Peter Banks nebol spokojný so žánrovým smerovaním skupiny a s vyhodením prvého manažéra Yes, Roya Flynna. Vyriešil to odchodom a založením vlastnej prog-rockovej skupiny Flash. Steve Howe (nar. 8.4.1947, pôvodne hral v skupine Tomorrow) súhlasil s účinkovaním v Yes a nahradil Banksa. Nový zvuk a nové kompozície boli zachytené na kritikmi dobre prijatom albume The Yes Album, zloženom celou skupinou. Je to ich prvý album, ktorý obsahuje len vlastné skladby.

V roku 1971 nastala ďalšia zmena v zostave. Klávesák Tony Kaye odišiel a na jeho miesto zasadol virtuóz Rick Wakeman (nar. 18.5.1949), známy z účinkovania v The Strawbs. Svojim vzhľadom na pódiu a hudobnými nápadmi posilnil a oživil imidž skupiny. Súčasne priniesol nový nástroj – mellotron. Yes s Wakemanom vydali album Fragile, v USA sa umiestnil v Top Ten. Štruktúra albumu je rozdelená do diel jednotlivých umelcov: Howe "Mood For a Day", Squire "The Fish", Wakeman "Cans and Brahms" atď. Nachádzajú sa tu aj dlhšie skladby, napríklad hit "Roundabout" alebo záverečná "Heart of the Sunrise". Na obale albumu sa po prvýkrát objavuje práca umelca Rogera Deana, ktorého diela sa neskôr stali symbolmi Yes.
Ďalší album Yes, Close to the Edge (1972) je jedným z najambicióznejších diel skupiny. Mnohí kritici považujú album za vrchol progresívneho rocku.
Po vydaní Close to the Edge odišiel bubeník Bill Bruford, ktorý sa neskôr pridal ku King Crimson. Ako náhrada za neho prišiel Alan White z Lennonovho Plastic Ono Band. Živá nahrávka 3LP Yessongs, nahraná medzi novembrom a decembrom 1972, je dôkazom špičkovej kvality hudobníkov a ich kompozícií. Neskôr sa v kinách premietal aj film Yessongs.
Tales from Topographic Oceans je názov dvojalbumu z roku 1973, na ktorom sú 4 skladby, každá okolo 20 minút. Kritika prijala album zmiešane, no komerčne bol úspešný. V Amerike dosiahol 6. pozíciu v rebríčkoch. Wakeman však nebol s albumom spokojný a do dnešného dňa je k nemu veľmi kritický. To bol jeden z faktorov, ktoré ho presvedčili, aby kapelu opustil. Urobil tak na konci turné roku 1974. Nahradil ho Patrick Moraz, švajčiarsky klávesák (nar. 24.6.1948), s ktorým v r. 1974 vydali ďalší radový album s názvom Relayer. Skupina pokračovala v tradícii písania dlhých skladieb, z čoho vzišla úvodná kompozícia The Gates of Delirium, inširovaná Tolstého dielom "Vojna a mier". Niektorí považujú album za jeden z najtvrdších v histórii skupiny.

Po prestávke v roku 1976, Yes nahrávajú nový, mnohými fanúšikmi vysoko hodnotený album Going for the One. Počas nahrávania odrazu Rick Wakeman prejavil chuť opäť sa vrátiť do Yes a tak bol Moraz poslaný do …preč a tak kompletné klávesové party patria Rickovi.   Skladby na albume sú relatívne krátke, až na 15-minútovú Awaken,  jednu z najlepších skladieb, akú kedy Yes zložili. Je to prvý album, ktorý po dlhej dobe neobsahuje grafiku od Rogera Deana, ale od firmy Hipgnosis. Výsledok je viac ako dobrý.
Album Tormato, vydaný v roku 1978, nebol veľkým komerčným úspechom aj z dôvodu vrcholiacej punkovej éry v Británii. Nájdeme tu sviežu úvodnú skladbu Future Times, hit Don't Kill The Whale, krásnu baladu Onward a song, ktorý najviac vystihuje Yes – On The Silent Wings Of Freedom.  No napriek veľkej kritike album získal platinovú dosku.
Turné v priebehu rokov 1978/1979 však bolo úspešné. Na konci roku 1979 skupina utrpela stratu, keď spolu s Andersonom odišiel aj Wakeman. Vzrastajúca frustrácia členov skupiny si vybrala svoju daň. Skupiny podobného smerovania ako Yes, boli označované za dinosaurov a treba tiež povedať, že všetci členovia skupiny boli a sú silné individuality. Spolupráca často škrípala a pri tvorbe albumov to neraz riadne iskrilo…
Na odporúčanie manažéra Briana Laneho boli pozvaní do skupiny Geoffrey Downes a spevák Trevor Horn (pop duo z The Buggles), aby pomohli s produkciou nového albumu. Pretože im Lane uznal plnohodnotné členstvo, prekvapilo to nielen skupinu, ale aj fanúšikov. Z tejto spolupráce sa neskôr v roku 1980 zrodil album Drama.
Na severoamerickom turné sa ukázalo, že Horn zvláda spev nového materiálu dobre, no s klasickými Yes skladbami má značné problémy. Po turné zvažovali, čo ďalej a usúdili, že každý by sa mal vydať vlastnou cestou. A tak skupina Yes zanikla. V marci 1981 manažment Yes definitívne oznámil, že skupina ďalej neexistuje. Boli vydané ešte posledné dva albumy ako symbol ukončenia kariéry skupiny: živý album Yesshows a kompilácia Classic Yes.
K oživeniu Yes prišlo v roku 1983, keď sa Squire a White skontaktovali s gitaristom Trevorom Rabinom (nar. 13.1.1954), ktorý súhlasil so spoluprácou. Zostavu doplnil pôvodný klávesák Tony Kaye. Squire pustil niektoré nové nahrávky Andersonovi, ten súhlasil a naspieval vokály.

A tak oficiálne oznámili comeback Yes, výsledkom čoho bol nový album 90125. Po šoku z albumu Drama (mimochodom, celkom schopnej nahrávky) prišiel ďalší. Došlo k  úplnej zmene štýlu. Dlhé prog-rockové tendencie pretavili do kratších a popovejších kompozícií, avšak s hardrockovou Rabinovou gitarou. Vďační fanúšikovia nakúpili vyše 6 miliónov kópií a tak sa zrodilo komerčne najúspešnejšie dielo Yes. Hit Owner of a Lonely Heart sa stal No.1 v hlavných, R&B a dokonca aj v disco rebríčkoch. Nasledovalo veľmi úspešné 90125 Tour.
V roku 1986 Yes začali nahrávanie druhého albumu v zostave White-Squire-Rabin-Anderson-Kaye. Avšak spory medzi producentom Hornom a Rabinom brzdili výrobu, a tak až v roku 1987 vyšiel nový album Big Generator. Obsahuje výrazné skladby, ako Rhythm of Love alebo Shoot High, Aim Low. Turné 1988 bolo zakončené koncertom v Madison Square Garden v New Yorku.

V priebehu 90. rokov sa uskutočnili mnohé projekty. Sformovala sa skupina ABWH (Anderson Bruford Wakeman Howe), ktorá sa však neskôr spojila s Yes (Squire White Kaye Rabin a aj Anderson) a vytvorili album Union (1991).

Album Talk, vydaný roku 1994, bol nahraný digitálne a obsahoval skladby poňaté v klasickom Yes štýle.
Projekt Keys to Ascension tvorili tri koncerty v San Luis Obispo z roku 1996. Vystúpenia boli nahraté a vydané ako dve 2CD a aj ako DVD. Súčasťou audio nahrávok boli aj nové štúdiové kompozície.
Ďalší album, jeden z najslabších od Yes, Open Your Eyes, skupina vydala v roku 1997.
K Yes sa pridal ruský hráč na klávesy Igor Koroshev, s ktorým nahrali fanúšikmi vysoko cenený nasledujúci album – The Ladder (1999).

Rok 2001 sa niesol v znamení nahrávky Magnification. Nehral tu žiadny klávesák, ale skupina angažovala 60-členný orchester s producentom Larrym Groupéom, ktorý do skladieb doplnil všetky orchestrálne aranžmá.
V nasledujúcom období podnikli viaceré väčšie projekty, ako napr. koncert s orchestrom Symphonic Live alebo vystúpenie Live In Montreux 2003, zvečnené na DVD (aj 2CD). Taktiež vyšlo mnoho kompilácii.
Po turné k 35. výročiu skupiny, od septembra 2004, boli Yes neaktívni štyri roky.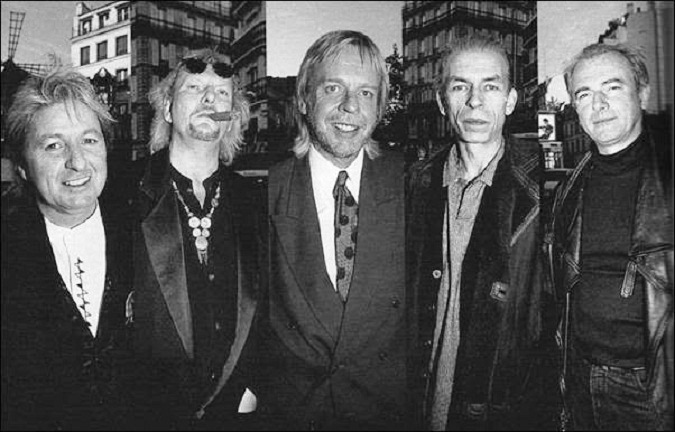 Po slabšom predaji albumu Magnification, Anderson na rozdiel od ostatných členov nemal záujem o nový štúdiový album.
K 40. výročiu skupiny naplánovali turné s názvom Close to the Edge and Back, malo začať v r. 2008. Neskôr Anderson vravel, že pre turné Yes nacvičili štyri nové, dlhšie skladby. Skupina sa tešila po dlhej prestávke a bola pripravená aktívne koncertovať a absolvovať celosvetové turné. No celá akcia bola náhle zrušená v máji 2008, po tom, čo Anderson dostal astmatický záchvat, diagnostikovali mu akútne respiračné zlyhanie a skončil v nemocnici.
Po štyroch rokoch odstávky, zvyšok Yes bol unavený z čakania na Andersonov návrat. Proste boli žhaví do koncertovania. Na začiatku septembra 2008 oznámili, že Andersona nahradili kanadským spevákom Benoîtom Davidom, členom skupiny Mystery a "Yes tribute band" Close to the Edge. Povolaním náhradníka cover skupiny Yes sa Jon Anderson cítil zradený a ponížený. V pôvodnej najklasickejšej zostave (Squire, Howe, White), s náhradným spevákom, Wakemana zastúpil jeho syn Oliver Wakeman, lebo Rick Wakeman nemohol koncertovať tiež zo zdravotných dôvodov.
V rokoch 2008 až 2010 Yes boli na turné s názvom In the Present Tour so suportom skupiny Asia a Petra Framptona. V roku 2009 však časť termínov museli zrušiť, lebo Squire potreboval urýchlenú operáciu nôh a čas na zotavenie. Na In the Present Tour sa predstavili prvýkrát aj na Slovensku, 31.10.2009 v Bratislave.
V auguste 2010 Yes oznámili, že zložili nový materiál na dvadsiaty štúdiový album. Howe vyvrátil zvesti, že Anderson bol pozvaný späť spievať na nahrávkach. Tvrdil, že všetko bude realizované vo vtedajšej zostave: Benoît David – spev, Chris Squire – bas g., spev, Steve Howe – gitary, spev, Alan White – bicie, Geoff Downes – klávesy, Trevor Horn – producent, spoluautor, spev.
Yes potom podpísali zmluvu s Frontiers Records a začali nahrávať v Los Angeles s Trevorom Hornom ako producentom. Väčšina albumu bola odvodená od niekoľkých piesní, napísaných Hornom a Downesom v priebehu roka 1980, keď boli členmi Yes a spolu vydali album Drama. Počas nahrávania usúdili, že by bolo rozumné, aby Olivera Wakemana vystriedal za klávesami Downes, pretože vraj má bližšie k materiálu. V marci 2011 skončili s nahrávaním a v júli bol vydaný pod názvom Fly from Here.
Na podporu nového albumu začali hneď v marci koncertovať, s názvom turné Rite of Spring and Fly from Here Tours. Vo vybraných termínoch spolu s Yes hrali skupiny Styx a Procol Harum.
V r. 2011 ešte vyšiel live album a DVD In the Present – Live from Lyon, záznam z predošlého turné.
Vo februári 2012 speváka Davida (ochorel) nahradil Jon Davison (ex-Glass Hammer).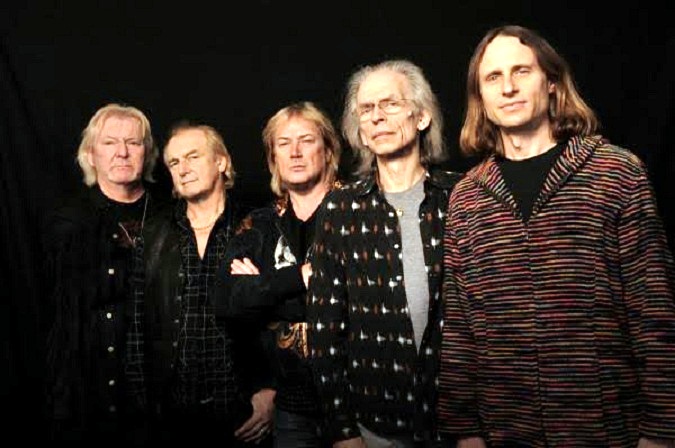 V auguste 2013 fanúšikovia začali kampaň pod názvom "Hlasy pre Yes", aby dostali Yes do  "Rock and Roll Hall of Fame". Kampaň viedli americkí mediálni experti, ktorí v minulosti pracovali v prezidentských volbách. Aby nebolo málo, zapojili aj bývalého prezidenta NBC  a bývalú riaditeľku Úradu pre politické záležitosti v Bielom dome. Ani to nepomohlo…
V novembri 2013 Anderson vyjadril želanie vrátiť sa v budúcnosti k Yes, na turné "o akom každý sníva" a súčasne brať nomináciu "Rock And Roll Hall of Fame" ako motív k reunionu. Howe sa však dal počuť, že to nie je vzájomná túžba.
Od marca 2013 do júna 2014 Yes absolvovali Three Album Tour, na ktorom hrali kompletné albumy The Yes Album, Close to the Edge and Going for the One.  
21. štúdiový album (a prvý s Davisonom) Heaven & Earth, nahrali od januára do marca 2014 v Los Angeles.  Na podporu novinky Yes koncertovali od júla do novembra 2014 po celom svete. Hrali komplet albumy Fragile a Close to the Edge, k tomu vybraté piesne z novinky.
V máji 2015 bola zverejnená správa, že Squire má akútnu leukémiu. V priebehu liečby ho prišiel zastúpiť na letné severoamerické turné bývalý gitarista skupiny, Billy Sherwood. Avšak skoro na to sa  Squireov stav zhoršil a zomrel 27. júna vo veku 67 rokov vo svojom dome vo Phoenixe, v Arizone. Downes najprv oznámil jeho odchod na Twitteri. Squire žiadal Whitea a Sherwooda, aby pokračovali v odkaze kapely, čo Sherwood komentoval: "Bolo to najdôležitejšie v jeho mysli a rád tak urobím."
Dňa 7.8.2015 v USA, prvýkrát v 47-ročnej histórii skupiny hrali bez Squirea. V októbri 2015 boli Yes druhýkrát nominovaní do Rock and Roll Hall of Fame, opäť neúspešne.
V apríli až júni 2016 na európskom turné hrali kompletné albumy Fragile a Drama. Na severoamerickom turné (júl-september) k tomu pridali skladby z albumu Tales from Topographic Oceans. Tu však White nebol, lebo musel podstúpiť chirurgický zákrok. Zastúpil ho americký bubeník Jay Schellen.
A tu by sme mohli zakončiť rozprávanie o jednej z najúspešnejších prog rockových skupín, ktorú nedávno postihol taký tragický ľudský i umelecký osud. No nebolo by to úplné bez zmienky o nečakanom a o to radostnejšiom pokračovaní odkazu skutočnej kvality Yes v podobe sviežej a veľmi úspešnej aktivity Jona Andersona.
Jon Anderson sa spojil so švédskym gitaristom Roine Stoltom a vytvorili nevšedne krásny album Anderson/Stolt – Invention of Knowledge, plný odkazov na hudbu Yes v najlepších časoch. Vyšiel 24.6.2016.
V auguste 2016 Jon Anderson, zverejnil poslednú správu, ktorú poslal v r. 2015 Chrisovi Squireovi pred smrťou basgitaristu.

Anderson povedal magazínu Newseek: "Mailoval som mu, lebo v tej dobe nemohol hovoriť. Povedal som mu; chcem ti poďakovať za tvoj život a za tvoju hudbu. Bez teba by som nemohol robiť, čo som robil a bolo požehnaním stretnúť ťa v mojom živote." Anderson pokračuje: "Ako hudobný partner bol proti mne. Boli sme jin a jang skupiny. Ak môžme tak vtipkovať, bol som Obi-Wan Kenobi a on bol Darth Vader. Krása toho bola v tom, že som mohol spievať idey a jeho basa reflektovala na moju pieseň, moje texty, moje všetko. Keď robíme koncerty s akoukoľvek hudbou Yes, vždy vravím –  určité veci musíte hrať tak, ako to hral Chris, pretože bez týchto nôt hlas nespieva správne." Anderson popisuje Squirea ako mimoriadneho hudobníka. "Hral na basu s dvomi krkmi, hral na 6-strunovú basu.. Bol jedným z prvých, ktorý to vyskúšal."
V máji 2016, bývalí členovia Yes – Anderson, Rabin a Wakeman, oznámili svoje plány na turné v októbri a novembri 2016. Chcú hrať skladby z ich budúceho albumu a z minulých albumov Yes. Podľa Andersona, chcú urobiť veľkú hudobno-vizuálnu show, ktorá by prebiehala viac ako päť rokov.
Jon Anderson získal cenu "Progressive Music Awards  –  2016 Prog God", ktorá mu bola odovzdaná v Londýne 1.9.2016.
Oficiálna web stránka:  YES
Použité zdroje:
Chris Welch: Na samém kraji útesu, 2009 Volvox Globator, 440 s. kniha;
Progarchives, Allmusic, Wikipedia, Teamrock1, Teamrock2.
Súčasná zostava Yes:
Steve Howe – gitary a iné strunové nástroje, spev (1970–81, 1990–92, 1995–doteraz)
Alan White –  bicie, perkusie, spev (1972–81, 1983–doteraz)
Geoff Downes – klávesy, spev (1980–81, 2011–doteraz)
Billy Sherwood – spev (1994, 1997-2000, 2015–doteraz; tiež ako producent v rokoch 1991, 1996-97 a 2014-15), gitara, klávesy  (1994, 1997–2000), basgitara (2015–doteraz)
Jon Davison – spev, akustická gitara, perkusie, klávesy (2012–doteraz)
Bývalí členovia:
Chris Squire – basgitara, spev, harmonika (1968–81, 1982–2015 do úmrtia)
Jon Anderson – sólo spev, akustická gitara, perkusie, keltská harfa (1968–80, 1982–88, 1990–2008)
Peter Banks – gitara, spev (1968–70; zomrel 2013)
Bill Bruford – bicie, perkusie (1968–72, 1990–92)
Tony Kaye – klávesy, spev (1968–71, 1982–83, 1984–94)
Tony O'Reilly – bicie (September – November 1968)
Rick Wakeman – klávesy (1971–74, 1976–80, 1990–92, 1995–96, 2002–4)
Patrick Moraz – klávesy (1974–76)
Trevor Horn – spev, basgitara (1980–81, tiež ako producent (1983-87, 2010-11)
Trevor Rabin – gitara, spev, klávesy, programovanie (1982–94)
Eddie Jobson – klávesy (1983-84)
Igor Khoroshev – klávesy, perkusie, spev (1997–2000)
Benoît David – sólo spev (2008–12)
Oliver Wakeman – klávesy (2008–11)
Tom Brislin – klávesy na koncertoch (2001)

DISKOGRAFIA:
Štúdiové albumy
1969 – Yes
1970 – Time and a Word
1971 – The Yes Album
1971 – Fragile
1972 – Close to the Edge
1973 – Tales from Topographic Oceans
1974 – Relayer
1975 – Yesterdays (Yes Album)
1977 – Going for the One
1978 – Tormato
1980 – Drama
1983 – 90125
1987 – Big Generator
1991 – Union
1994 – Talk
1996 – Keys to Ascension
1997 – Keys to Ascension 2
1997 – Open Your Eyes
1999 – The Ladder
2001 – Magnification
2011 – Fly from Here
2014 – Heaven & Earth
2021 – The Quest 
Live albumy
1973 – Yessongs (recorded: 1972)
1980 – Yesshows (recorded: 1976–78)
1985 – 9012Live: The Solos (recorded: 1984)
1996 – Keys to Ascension
1997 – Keys to Ascension 2
1997 – Something's Coming: The BBC Recordings 1969–1970
2000 – House of Yes: Live from House of Blues (rec.: 31 October 1999)
2003 – Live at Montreux 2003 (recorded: 14 July 2003)
2005 – The Word Is Live (recorded: 1970–88)
2009 – Symphonic Live (recorded: 22 November 2001)
2010 – Keys to Ascension (full)
2011 – Union Live (recorded: 1991)
2011 – Astral Traveller (BBC Sessions)
2011 – In the Present – Live from Lyon (rec.: 1 December 2009)
2014 – Songs from Tsongas (recorded: 15 May 2004)
2014 – Like It Is: Yes at the Bristol Hippodrome (rec.: 11 May 2014)
2015 – Progeny: Seven Shows from Seventy-Two (rec. 31 October – 20 November 1972)
2015 – Like It Is: Yes at the Mesa Arts Center (rec.: 12 August 2014)
ABWH:
1989 – Anderson, Bruford, Wakeman, Howe
1993 – An Evening of Yes Music Plus
2010 – Live at the NEC