V r. 1970 se rozešla blues rocková skupina Taste a kytarista Rory Gallagher nastoupil na sólovou dráhu. Napříště všechny aktivity už byly podepsány jeho jménem. Následně se obklopil novými hráči a protože získal díky producentu Joe Meekovi i nahrávací kontrakt, pustil se hned do budování nového repertoáru.
Druhé studiové album guitar hero Roryho Gallaghera s názvem Deuce je už dlouhá léta součástí mé sbírky, i po více jak čtyřiceti letech je stále uhrančivé a jeho poslech je intimním dobrodružstvím pro milovníka blues rocku, ale i akusticky laděných skladeb. Návraty k albům tohoto malého Ira považuji za zcela legitimní nejen pro posluchače, ale i pro kytaristy, kteří se rozhodli prozkoumávat spojení rocku a blues.
USED TO BE – Kompozici otevře dravá zkreslená elektrická kytara. Rytmika hraje přesně podle potřeb dané skladby. Dodává písni porci potřebné energie a tvoří páteř hutného základu Gallagherovu prostoru. Mezihra je příležitostí pro správně odpíchnuté sólo a Rory solí tóny s patřičnou bravurností sobě vlastní. Jeho hlas zní chraplavě a místy až přiškrceně, přesto však výtečně frázuje a ohýbá se v bluesovém feelingu. Skvělý model skladby pro koncertní prezentace na otevřených pódiích. Ve třiadvaceti letech už byl Gallagher vyzrálým instrumentalistou a tady nám o tom podává jasné svědectví.
I'M NOT AWAKE YET – Krásný úvod v mollových akordech. Píseň má nátisk irské balady. Zvoní v ní elektrická i akustické kytary a melodická linka je velmi příjemná. Rory Gallagher je nejen kytarista, textař, ale i zpěvák. Není to zpěvák v tom ryzím slova smyslu, spíš zpívající instrumentalista, ale do daného žánru se jeho hlas velice hodí. V mezihře nás zahrne krásným melodickým sólem na akustickou kytaru, kterou podpírá dobře vypilovaná baskytara Gerryho McAvoye a dusající bicí Wilgara Campbella. Klasický model bigbítové balady s čitelnými postupy, který si posluchače musí získat od prvního po poslední tón.
DON'T KNOW WHERE I'M GOING – Krásně rozbrnkané téma pro akustickou dvanáctistrunnou kytaru a použitou foukací harmoniku. Rory je zde v roli vypravěče a představuje nám píseň, kterou zdobí interpretací v tom nejlepším slova smyslu. Určitě i v takovém typu skladby mohl hledat inspiraci takový Petr Kalandra, kterého bych si dokázal v podobně pojaté písni představit i u nás. Není to country, ale je to lidová balada v tom nejlepším slova smyslu, trochu pod vlivem Boba Dylana.
MAYBE I WILL – Další skladba nám nabízí dlouhé záseky elektrické kytary za asistence důrazné baskytary. Zajímavá harmonická struktura s valivou rytmikou. Ve zklidnění přichází rozvolnění hry v rozkladech akordů a melancholickém interpretačním podílu, který je ovšem střídán sekavým doprovodem a dobře vypilovanou kytarovou instrumentací, po které jakoby lehce dýchl jazz. Dynamické odstínění je zcela očividně vedeno obsahem textu plným touhy a nezvládnutých emocí, které patří danému věku. Závěrečná katarze skladbu pořádně rozvibruje až ke konečnému závěru.
WHOLE LOT OF PEOPLE – McAvoy vložil do písně řádně průrazné basy a vířivé bicí Campbella odevzdávají pořádnou práci v dynamice i výrazu. Gallagher v umírněných doprovodech dává důraz na rytmičnost, ale i zpívané výrazivo, v němž jakoby zanechal lehký otisk velký Elvis (což je samozřejmě lehká nadsázka). Rocková jízda od začátku až do konce v první třídě bez zvukového zkreslení, ovšem za použití bottlenecku, kterým Gallagher výtečně vládne a rozechvívá svoje tóny. Kytarové kouzlení ve stereu je příjemným zákuskem.
IN YOUR TOWN – Klasický model blues rocku, který Roryho vrací zpět ke kapele Taste. Je to rytmickou strukturou a silovým drsným nátiskem. Baskytara a bicí se drží základní sdělné formule a pulsují v divokém tempu, které dokresluje kytarovou roli ve velkém stylu. Bottleneck v akci a svištivé tóny zahlcují sound. Takhle, ale možná ještě drsněji, hraje v dané době i Američan Johnny Winter. Nehledám zde nějaké šťouravé srovnání, ale při poslechu emocionální skladby se tomu mohu jen sotva vyhnout. Winter hraje ovšem ještě dravěji a hřmotněji, což Gallagher nežene až na hranu, ale ponechává si manévrovací prostor pro citlivější práci s dynamikou. V mohutném závěru nabídne bluesové kytarové variace s kvílivou vibrací.
SHOULD'VE LEARNT MY LESSON – Blues jako řemen. Začíná ve středním tempu a bluesman Gallagher si zde v hlase pohrává s emocionálním vyzněním jako dravější Fleetwood Mac s Peterem Greenem. Kytarové kudrlinky jako krajka dotvářejí strukturu klasického bluesového čísla o dvanácti taktech. Sólo v mezihře má ten správně rozvibrovaný tón. Třebaže Rory vytváří vlastní derivát blues, inspiraci americkými černošskými bluesmany nezapře. Tedy zejména Muddyho Waterse, se kterým dokonce následně i spolupracoval.
THERE'S A LIGHT – V téhle skladbě přichází na album jakési experimentování v bluesové formě. Tóny znějí hodně rozvibrovaně. Práce s nimi je ale výtečná, Rory hraje úsporně, spíš podle amerického modelu. Campbellovy bicí reagují s baskytarou v mírně jazzových postupech. Také způsob vedení zpěvu a kytarové doprovody nejsou ani bluesrockové, ba ani ve stylu rozbíhajícího se hard rocku. Pracuje se zde s náladotvorností a rozvíjením tónových postupů. Myslím, že hodně kytarových jazzmanů by dokázalo Roryho podíl s povděkem kvitovat, třebaže zde nemáme co do činění s klasickým jazzem. Dobře pojednaná unisono kytary a baskytary. Cítím zde dokonce i latinizované postupy, což může být věcí harmonických vrstvení, které zde ztrácejí ryzí rockovou platformu. Výborně se to poslouchá, zvláště když Rory pracuje na kytaře s flažolety a vibrační pákou svého Fendera Stratocastera.
OUT OF MY MIND – Výtečně pojednané blues v akustické podobě. Nikoliv v harmonické struktuře, ale ve výrazu. Kytarové doprovody a tónové běhy spojují folkové prvky s blues. Skvěle vypilovaná hra na akustické kytary natočené playbackem a do toho zpívaný projev vypravěčského typu. Je tady hodně energie, melodického jiskření a práce pravé ruky v koordinaci s levou je v preciznosti podání zcela příkladná.
CREST OF A WAVE – Poslední skladba je otevřena triumfálním kytarovým nástupem, který prokresluje celá kapela svým rytmickým podílem a kytarovým prolínáním základního riffu. Mezihra je opět hraná bottleneckem a svištění rozvibrovaného tónu se daří malému Irovi ve velkém formátu. Rory Gallagher zde prozkoumává nejen harmonickou strukturu a melodickou linku, ale i možnosti svých kytarových technik. Pořád jsme ale na melodické půdě a neklesáme do nějakých disharmonických šíleností a o tom, že Gallagher ctí základní formu, nemůžeme mít žádnou pochybnost. Campbellovy bicí a McAvoyova baskytara jsou neustále v dravém střehu a souzní s Gallagherovými kytarovými eskapádami. Není to Clapton, Lee, Taylor, Green, McPhee, Beck nebo Page, ale přesto je to další kytarový velikán, který stojí na počátku sedmdesátých let jako instrumentální maják bez jakékoliv pompéznosti na hodně vysoké rozeklané irské skále.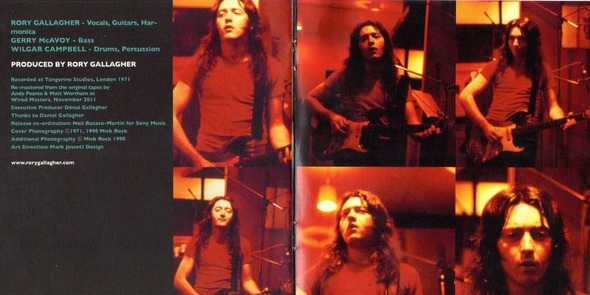 Hledat mezi Gallagherovými alby to nejzásadnější se vlastně nedá. Jejich úroveň je vyrovnaná, ať po stránce instrumentální, interpretační nebo aranžérské. Liší se pouze občasným hostováním saxofonu, klavíru nebo varhan, jinak jsou zakaleny do neměnného tvaru a i po čtyřiceti letech nijak nedevalvují. Proto je plný počet hvězdiček pro album Deuce jediným řešením.
SKLADBY:
01. Used To Be (5:06)
02. I'm Not Awake Yet (5:24)
03. Don't Know Where I'm Going (2:42)
04. Maybe I Will (4:15)
05. Whole Lot Of People (4:57)
06. In Your Town (5:47)
07. Should've Learnt My Lesson (3:36)
08. There's A Light (5:59)
09. Out Of My Mind (3:05)
10. Crest Of A Wave (6:00)
SESTAVA:
Rory Gallagher: vocal, guitars, harmonica
Gerry McAvoy: bass
Wilgar Campbell: drums, percussion
Deuce
Rory Gallagher
Blues Rock
Polydor
1971
LP
10