Iniciátorem zrodu hannoverské formace Eloy byl v roce 1969 kytarista Frank Bornemann, kterého v sestavě doplnila čtveřice Helmuth Draht, Manfred Wieczorke, Erich Schriever a Wolfgang Stöcker.
Úspěch v regionální soutěži byl jejich vstupenkou do nahrávacího studia Windrose v Hamburku, kde v roce 1970 vznikl singl Walk Alone/Daybreak, jenž s dalším svižným kouskem Vibrations of My Mind smysluplně doplňuje reedici prvního alba na předmětném CD.
Na jaře 1971 se Eloy do hanzovního města vrátili, aby s budoucím mistrem zvuku Konradem 'Conny' Plankem nahráli eponymní hardrockový debut, jehož originální obal vhodně koresponduje se Schrieverovými sociálně kritickými texty.
Desku, v domovině zvanou Mülltonne, možno brát jako nulté album, od všech následujících titulů se totiž liší měrou různě vrchovatou. Ani v nejmenším se však nejedná o výtku vůči této anomálii z katalogu kapely, naopak. Byla, je a zůstane jedinou popelnicí, pod jejíž víko lze doporučit nahlédnout i konzumentům lačnícím pouze a jen po porci kvalitní rockové hudby.
Fakt, že původní náklad čítal jen 5000 kusů, z nich dnes dělá nejdražší odpadové nádoby v dějinách německých komunálních služeb.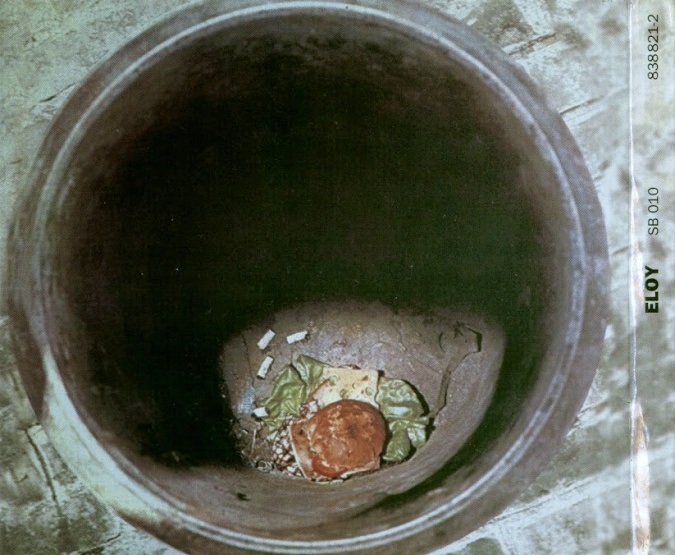 Už rozkuráženým minutovým intrem rozjetý zemitý song Today je výstižnou ukázkou všeho zdařilého dění na albu, jehož základem jsou kytarové vyhrávky a nápadité melodie, k nimž mi náramně padne i Schrieverův pěvecký projev.
Potřebný drajv neztratí ani směsice vynalézavých motivů a psychedelických momentů v třídílné protestní eko-písni Something Yellow, ani kapelová hymna Eloy, jejíž střední část vyplní perkusní soft sólo a vedle valivého riffu ji zdobí popěvek "In a land of freedom" nakažlivý jak chřipka a strach dohromady.
Své místo na albu by si snadno obhájil i nejsyrovější kus Song of a Paranoid Soldier, jenž líčí příběh psychicky zlomeného mladého muže vracejícího se z války, spolu s následujícím Hlasem revoluce, který je vším jenom ne sokolovskou agitkou, tvoří nejpádnější důkazy o skladatelském potenciálu dvojice Wieczorke/Schriever, z nichž druhý jmenovaný si přímo na tělo i hrdlo ušil i zpěvnou baladu Isle of Sun.
Jen závěrečnému číslu Dillus Roady by náramně slušel podtitul Gypsy, přesto je ale z celé nahrávky mnohem víc než jedna britská legenda cítit rukopis začínajícího Connyho Planka. A dobře že tak, nikdo další nedokázal vystihnout krautrockové kouzlo sedmdesátých let podobným způsobem.
I přes minimální Bornemannův skladatelský vklad se původní sestavě Eloy podařilo natočit prvotřídní dílo. Proč nepřidala žádné další, ozřejmil zakladatel kapely v jednom z pozdějších rozhovorů: "Erich Schriever byl politik s kytarou. Já jsem byl zpěvák s politickými názory."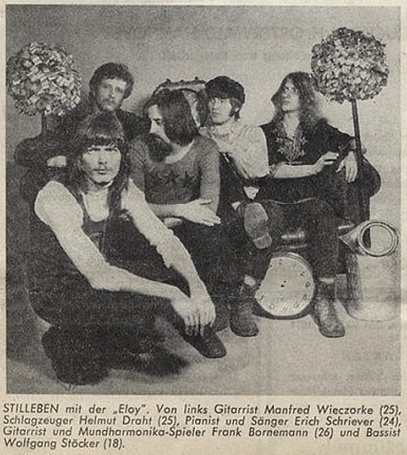 Frank Bornemann, podle mnohých majitel nejhorší angličtiny v hudebním světě, se tak na druhý pokus stal skutečným lídrem skupiny, zatímco Schriever se vrátil ke studiu a navěky opustil hudební branži. Pravda, schopný ex-muzikant, skladatel i pěvec v jedné osobě ještě dodal text k ústřední skladbě příštího alba, ale to už je jiná kapitola.
SKLADBY:
01. Today (Schriever/Wieczorke/Bornemann) 5:56
02. Something Yellow (Schriever/Wieczorke) 8:15
03. Eloy (Schriever/Bornemann/Wieczorke/Draht) 6:15
04. Song of a Paranoid Soldier (Wieczorke/Schriever) 4:50
05. Voice of Revolution (Wieczorke/Schriever) 3:07
06. Isle of Sun (Erich Schriever) 6:03
07. Dillus Roady (Wieczorke/Schriever/Bornemann) 6:32
Bonus tracks:
08. Walk Alone (Schriever/Wieczorke/Bornemann) 2:47
09. Daybreak (Schriever/Wieczorke/Bornemann) 2:45
10. Vibrations of My Mind (Wieczorke/Draht) 3:35
Nahráno: Star-Musik-Studios v Hamburku (duben 1971), bonusové skladby ve Windrose Studio, Hamburk (1970)
Zvuková režie: Conny Plank
Produkce: Peter M. Freiherr von Lepel
SESTAVA:
Frank Bornemann – kytara, harmonika, perkuse
Erich Schriever – zpěv, klávesy
Manfred Wieczorke – kytara, basová kytara, zpěv
Wolfgang Stöcker – basová kytara
Helmut Draht – bicí
Eloy
Eloy
Hard Rock
Philips
1971
LP
7
CD Philips/SPV, 2008