"Bude to příběh času a věčného hledání; jsem teďka nějakej špatnej, ale dodělám to, kdybych měl potit krev."
Josef Kainar
Šedesátá léta přinesla do společenského a kulturního života v Československu nevídanou míru volnosti a tvůrčí svobody, z níž těžila i domácí bigbítová scéna, jejíž mohutný rozmach doprovázený záplavou nových kapel a hudebních akcí vytvořil nezbytné podhoubí pro vznik celé řady pozoruhodných studiových nahrávek. Většina z nich však vznikala v již normalizačně ošoupané době, která rozklížila spoustu souborů, jejichž členstvo přijalo obživitelnější práci u populárních sólových interpretů nebo v zavedených estrádních orchestrech, či po splnění mise zvolilo cestu do emigrace.
A nebýt neúnavné činnosti zarputilého zaměstnance Supraphonu, kreativního producenta a příležitostného textaře Hynka Žalčíka, byla by československá rocková historie chudší o celou řadu klíčových položek. Kuře v hodinkách je jednou z nich.
Ke mně se album, mnohými považované za nejlepší dílo čs. rockové historie, dostalo s několikaletým odstupem až po znamenitém debutu C&K Vocalu se skladbami Rám příštích obrazů a Doky, vlaky, hlad a boty, což spolu s nepřeslechnutelnou přítomností dechaře Kubíka sehrálo hlavní roli v prvotním soudu.
A z odmítavého postoje mě dlouho nemohl zviklat ani fakt obecného velebení titulu kam jen ucho doslechlo, ani působivé Kainarovy texty, či výtvarně zajímavý dyzajn přebalu Ivany Jurné, která se s námětem vybízejícím k primitivní symbolice popasovala s přehledem.
Závažným klimatickým změnám navzdory ale nebyl všem dnům konec a tak se album mohlo zařadit mezi ta díla, nad nimiž jsem nezlomil hůl jednou provždy. A dobře jsem udělal. Stejně jako cenzor, přes něhož neprošel původní záměr natočit album se zpěvem v angličtině, která tehdy drtivou většinu domácích projektů odsoudila k marnosti.
A tak si už nějaký pátek na Kuřeti náramně pochutnávám. Je natolik svébytné a originální, že by mě nenapadlo vyčítat mu cizozemské inspirační zdroje nebo řešit, kam s ním stylově. Od prvních kroků lákavé Introdukce, přes strhující Rám příštích obrazů, břesknou Jenom láska ví kam, podmanivý Já a dým, zádumčivé Chvíle chvil, gradujících Pár století, úderné Doky, vlaky, hlad a boty, ještě údernější Stále dál, až po famózní finále je totiž nejen výživné, ale i zvukově vytříbené, aranžérsky pestré a neskutečně vyrovnané. A naplněné nádivkou zvanou energie. A báječně odzpívané, což platí i pro náhradního pěvce Ivana Khunta v Žalčíkově písni Stále dál, jak při čtyřicátinách alba potvrdil i hlavní vokalista Vladimír Mišík: "Byl to skvělý zpěvák, který měl jen smůlu, že já toho zpíval víc… Myslím, že to celé byla chemie lidí, co se v určitou dobu dostali k sobě a prostě to takhle vyšlo."
Co dodat. Snad jen, že kdybych byl Hladíkem, tak tehdy po poslechu Kuřete omlátím Mišíkovi Meditaci o hlavu.
Během šestiletého trvání prošlo Flamengo několika žánrovými i personálními proměnami. Albová sestava, která se uvedla singlem Každou chvíli/Týden v elektrickém městě, byla instrumentálně nejzdatnější a ve studiu naplno zúročila zkušenosti z živého obehrávání připraveného materiálu. Koncerty musely být kapitálním zážitkem!
Dokážu si představit natěšenost bigbítové obce, když se v Melodii dočetla, že se formace chystá vyrazit s novým pořadem vycházejícím z koncepce nahrávky, doplněné scénickými efekty, světly a projektory. Kapela však nedlouho po vydání alba přestala existovat. Pavel Fořt nastoupil k Heleně Vondráčkové, Jan Kubík a Vladimír 'Guma' Kulhánek odešli do Semaforu a Erno Šedivý s Ivanem Khuntem to vzali přes Energit do emigrace…
Kuře se tak ocitlo na indexu. Podle oficiálních údajů z oddělení dokumentace Supraphonu se ho stihlo prodat přesně 39 096 porcí, což je numero řádově vyšší, než se obecně tradovalo. A v rozporu se zažitým tvrzením o realizaci prvního reedičního vydání až v rámci porevoluční edice Trezor jsou i vinyly datované rokem 1974 (jeden kus mám doma).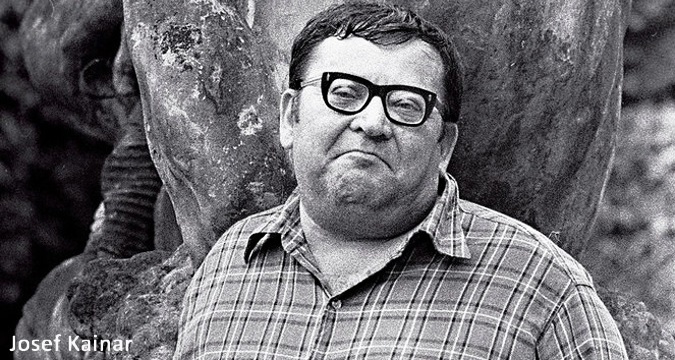 Ale co už. Hlavně, že Kuře v hodinkách neskončilo u ledu na věčné časy. Litovat tedy možno především faktu, že se vydání alba nedožil Josef Kainar. Uznávaný básník zemřel 16. listopadu 1971 na Dobříši ve věku 54 let.
SKLADBY:
A1. Kuře v hodinkách (Introdukce) (Jan Kubík) 2:28
A2. Rám příštích obrazů (Vladimír Mišík) 4:00
A3. Jenom láska ví kam (Flamengo) 2:56
A4. Já a dým (Vladimír Mišík) 4:46
A5. Chvíle chvil (Jan Kubík) 4:24
B1. Pár století (Vladimír Mišík) 6:33
B2. Doky, vlaky, hlad a boty (Jan Kubík) 4:34
B3. Stále dál (Ivan Khunt/Jan Kubík/Vladimír Kulhánek) 3:17
B4. Kuře v hodinkách (Jan Kubík) 5:39
Autorem textů je Josef Kainar, s výjimkou B3 (Hynek Žalčík)
Nahráno 28. 10. 1971 – 16. 3. 1972 v pražském studiu v Dejvicích
Hudební režie: Jan Spálený a Hynek Žalčík
Zvuková režie: Petr Kocfelda
Technická spolupráce: Milan Svoboda a Tomáš Štern
Aranže: Pavel Fořt
Produkce: Hynek Žalčík
SESTAVA:
Jan Kubík – tenor saxofon, flétna, klarinet, elektr. saxofon, zpěv
Pavel Fořt – kytara, akustická kytara, zpěv
Ivan Khunt – varhany, zpěv (B3)
Vladimír Guma Kulhánek – bas. kytara, zpěv
Jaroslav Erno Šedivý – bicí, percussion
Vladimír Mišík – zpěv, congo, akustická kytara
a hosté:
Petr Král – tenor saxofon (A1-A3)
Vladimír Hruška – baryton saxofon (A1-A3)
Ilja Bartošek – akustická kytara (A4)
Karel Velebný – vibrafon (B1)
Václav Hybš – smyčcový orchestr (A2, B1)
Kuře v hodinkách
Flamengo
Progresivní rock
Supraphon
1972
LP
9