CD+DVD Black Widow Records – BWRCD 173-2   /2015/
Velice pěkný CD+DVD set, obsahující remake LP Siegfried, il drago e altre storie z roku 1976. Původní, legendami opředené album skupina Errata Corrige natočila a vydala ve vlastní režii jenom pro sebe a pár nejbližších přátel a pak se v tichosti rozešla. Z pětistovky vylisovanejch kopií se postupem času vyloupla pěkná rarita, ale už od první reedice na CD (Vinyl Magic 1989) je tohle album naštěstí dobře dostupné…
V roce 2013 (soudím podle titulků na DVD, konkrétní datum jsem nikde nenašel), tedy o téměř čtyřicet let později se kapela dala zas dohromady v komplet původním složení a celou desku nahrála znova. A nejenom ona, do studia si navíc pozvala pár exkluzivních hostů, kteří se zhostili partů napsaných pro cello, hoboj, lesní roh, trumpetu, klarinet, nebo ságo.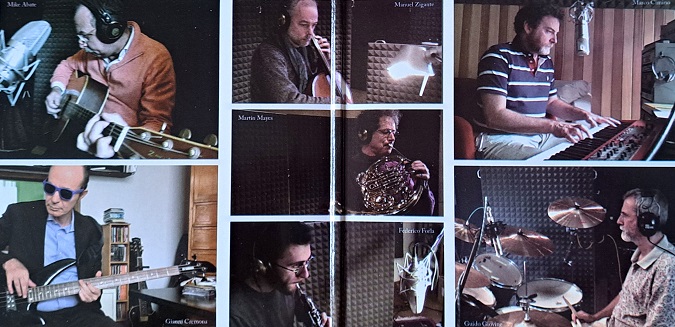 Já to původní album z roku 1976 miluju a vůbec nic bych na něm neměnil. Na to, že si ho kapela produkovala úplně sama hraje výborně a že nejde o profi snímek bych ani nepoznal. Nahrát ho komplet znova mi tedy nedávalo moc smysl, ale na výsledek jsem byl pochopitelně zvědavej. Bohužel, kromě nekvalitního náhledu obalu jsem nenašel jedinou audio, ani video ukázku a tak jsem kupoval zajíce v pytli, ale moje zkušenosti s vydavatelem Black Widow Records napovídaly, že nebudu litovat. Důkazem budiž krásná mini vinyl replika se dvěma nosiči, romanticky laděným obalem a čtyřstránkovým bookletem. Ten obsahuje krátkou historii Errata Corrige v italštině i angličtině, kredity a několik fotografií. Jak historických, tak z roku 2013 a dalších sedm barevnejch fotek z nahrávání je i uvnitř rozkládacího obalu.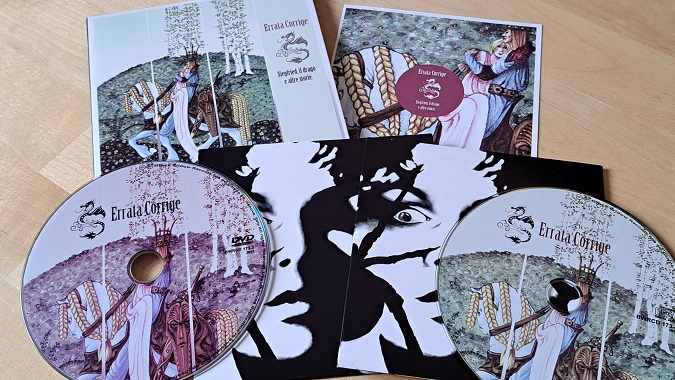 Nosič je to tedy pěknej a hudba? Kdo četl moji recenzi původní nahrávky z roku 1976 už ví, ale klidně to zopakuji. Je to křehký a melodický art rock v starosvětsky půvabném, pastorálním stylu a svou romanticky zasněnou atmosférou připomíná debuty Celeste, Pierrot Lunaire, nebo Reale Accademia di Musica. Pánům z Errata Corrige to i po těch čtyřiceti letech hraje jak z partesu a ten, kdo si zamiloval původní verzi zblajzne i remake, protože skladby Viaggio di saggezza, Siegfried (leggenda) a především do pěti kapitol rozepsaná suita Del cavaliere Citadel e del drago della foresta di Lucanor neztratily vůbec nic ze své hřejivé atmosféry a pohádkového kouzla.
Každá z těch pěti skladeb je při porovnání s původními verzemi o něco málo delší (nejvíc to dělá zhruba dvě minuty), ale žádných opravdu podstatných změn jsem si nevšiml. Asi nejvýraznější odchylku jsem zachytil v písni Siegfried (leggenda), do které kapela propašovala až nepříjemně disharmonickou vsuvku a po závěrečné Dal libro di bordo della "Adventure" se z ticha vynoří ještě minutku dlouhej skrytej bonus v angličtině. Pokud bych si sedl k přehrávači, střídal disky a jednotlivé tracky důkladně porovnával, nejspíš bych narazil ještě na něco dalšího, ale jde mi o celkový dojem a ten se od poslechu originální předlohy nijak neliší. Zvuk je sice plnější a o něco silnější, ale ani v tomhle případě nejde o nic vysloveně zásadního a mým uším lahodí.
Důležitým je rovněž fakt, že se podařilo zachovat navlas stejné, vesměs jemné a falsetem zpívané vokály. Lidskej hlas s přibývajícím věkem ztrácí jiskru, trochu hrubne a svůj podíl na výslovnosti má i tak zdánlivě podružná věc, jako jsou zuby. Chlapům z kapely muselo být v roce 2013 tak kolem šedesáti (spíš přes), ovšem zpívá jim to báječně a s těmi pěkně sladěnými vícehlasy si opravdu pohráli. Mírně pozměněné aranže a vstupy hoboje, lesního rohu, klarinetu, nebo trubky jsou už jen třešinkou na beztak chutném dortu.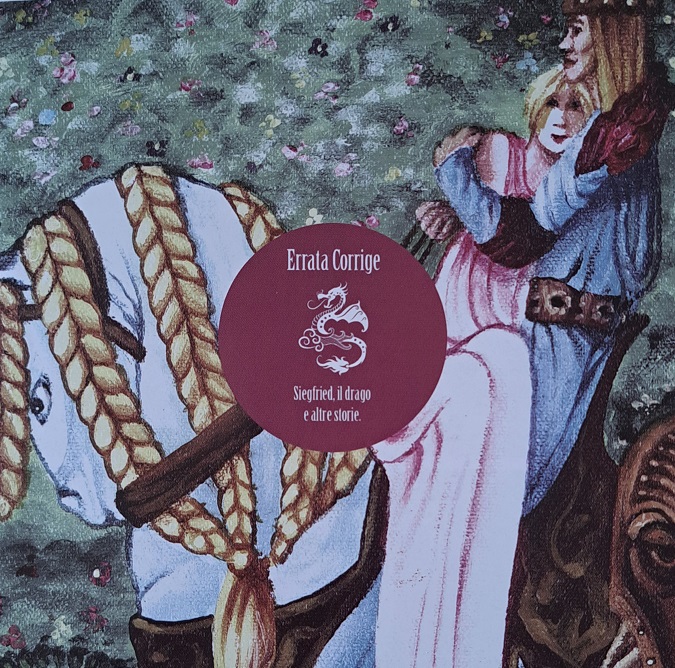 Zajímavé je, že stejně jako v případě původní nahrávky se kapela i v tomhle případě obešla bez externího producenta a všechno si nahrála sama, pod dohledem hráče na klávesy a flétnu Marca Cimina. A nejenom to, sama dala dohromady i obrazovej doprovod a stačilo k tomu jen několik po studiu rozmístěných malých kamer. Z nich pořízené záběry doplnily detaily na obličeje a ruce hudebníků, nahrávací techniku, nebo obrazovky počítačů. V postprodukci došlo ještě na různobarevné filtry, nebo efekty typu lomo, či obraz v obraze a dívá se na to opravdu dobře. Nutno počítat s tím, že nejde o live záznam, ale obrázkovej doprovod a hudba tedy s tím, co se děje na monitoru občas nesedí. Mě to nevadí ani v nejmenším, každou z těch písní beru jako takovej malej videoklip a vidět někdy soustředěné, jindy dobře se bavící hudebníky při jejich práci mi úplně stačí. A ještě něco, CD má dohromady přesně 36:43 min, ovšem DVD obsahuje další skladbu navíc. Je to kouzelná, do italštiny přetextovaná Cadence and Cascade od King Crimson…
Sice mám někdy dojem, že mnohými přehlížené DVD je dnes už prakticky mrtvé, ale já si bez něj svůj život hudebního fanouška neumím představit. Ve sbírce mám spoustu interesantních titulů (ELP, Maxophone, Locanda delle Fate, Goblin Rebirth, Antonius Rex, PFM, Le Orme, Delirium, Osanna, nebo Semiramis) a rád si k nim čas od času sednu. Remake alba Siegfried, il drago e altre storie nemám dlouho, ale okamžitě jsem si ho oblíbil a řadím jej k podobně laděným CD+DVD kompletům, jako jsou Alphataurus (Prime Numbers), nebo Höstsonaten (Alive in Theatre). Oba jsem ohodnotil za plnej počet a tady nemohu jinak. Fanoušek skupiny Errata Corrige a RPI obecně nemůže dostat nic lepšího.
SKLADBY:
1. Viaggio di saggezza (3:09)
2. Del cavaliere Citadel e del drago della foresta di Lucanor (11:54)
a) il richiamo
b) nella foresta
c) il drago
d) fuggi Citadel!
e) ritorno al villaggio
3. Siegfried (leggenda) (8:48)
4. Siegfried (mito) (5:24)
5. Dal libro di bordo della "Adventure" (5:06)
Bonus Track video: Cadence and Cascade
ERRATA CORRIGE are:
Mike Abate: acoustic and electric guitars, vocals
Gianni Cremona: bass, acoustic guitars, vocals
Guido Giovine: drums, percussions, vocals
Marco Cimino: all keyboards, flute, vocals
Manuel Zigante: cello
Martin Mayers: french horn
Federico Forla: oboe
Ivan Bert: trumpet
Diego Mascherpa: altosax, clarinet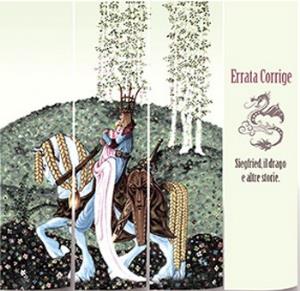 Siegfried, il drago e altre storie
Errata Corrige
Prog Rock
Black Widow Records
2015
CD+DVD
5+6
CD+DVD Black Widow Records – BWRCD 173-2 /2015/