CD+DVD AMS Records – AMS 227 CD /2013/
S ohledem na rok narození (1968) dnes už vlastně veterán italské hudební scény Fabio Zuffanti je respektovaným umělcem a zároveň workoholikem wilsonovského typu. Svoji stopu zanechal v celé řadě hudebních projektů a těmi, z mého pohledu nejzásadnějšími byly Finisterre, La Maschera di Cera a Höstsonaten. A právě těm se dnes podíváme trochu na zoubek…
Skupina Höstsonaten, pojmenovaná podle slavného filmu Ingmara Bergmana "Podzimní sonáta" debutovala v roce 1997, ale do srdcí fanoušků se zapsala především čtyřdílnou sérií "SeasonCycle Suite". Ta vycházela v letech 2008 – 2011 a každé z instrumentálních alb je věnováno jednomu ze čtyř ročních období. V roce 2012 Zuffanti zhudebnil báseň The Rime Of The Ancient Mariner (Píseň o starém námořníkovi) od Samuela Taylora Coleridge a o rok později vyšla její živá verze v podobě CD+DVD Alive In Theatre.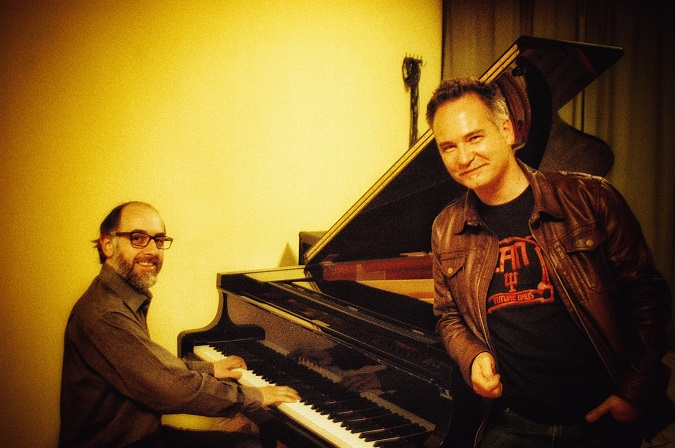 Záznam z janovského divadla "Verdi" pochází z 16.12.2012 a je to pastva nejenom pro uši, ono je i na co se dívat. Oba nosiče nabízejí víceméně to samé, ale raději koukám na DVD a při každé reprodukci u něj sedím, jak přikovanej. Po hudební stránce jsou to typičtí Höstsonaten a připomíná mi to muziku nejen ze "Season CycleSuite", ale aj dalších Zuffantiho projektů – La Maschera di Cera, nebo La Curva di Lesmo. Prostě symphonic prog jak podle učebnice, s plnotučným zvukem a převahou minimoogu s mellotronem. Pochopitelně to není jen o klávesách, sám Luca Scherani vytáhne aj tahací harmoniku a kapelu doprovází ještě dvojice děvčat – Joanne Roan (flétna) a Sylvia Trabucco (housle). Jak už jsem uvedl výš, celej koncept je zhudebněnou básní Samuela Taylora Coleridge a tudíž v angličtině. Za mě říkám bohužel, protože k podobně melodickému a vznešenému prog rocku by pasovala spíš italština…
Kapela sedí v levém rohu vzadu a je velmi statická, celé jeviště je vyhrazeno postupně čtyřem vokalistům a baletním tanečnicím / tanečníkům v pěkných a vypracovaných kostýmech. Choreografie je velmi povedená a místy i neobyčejně strhující. Spolu s hudbou, světly a kulisami vytváří nádherné obrazce a každá z následujících scén je lepší té předešlé.
Po velkolepém, instrumentálním prologu (Prologue) je tu první dějství (Part One) a s ním starej námořník (a rovněž starý známý z La Maschera di Cera) Alessandro Corvaglia. Jeho hereckej projev je sice poněkud topornej, ale zpěvák je to par excellence a téměř čtrnáct minut dlouhou skladbu zvládá i v pohybu bez nejmenšího zaváhání. Při sledování obrazu navíc vnímám především jeho hlas, protože na jevišti se pořád něco děje a když na něj vlétne Albatros, přestávám dýchat. Do kůže se zařezávající hudební motiv a tanec nádherné  Simony Angioloni patří k vrcholům programu, ovšem řada dalších jich bude teprve následovat.
V trochu "ostřejším" (po hudební stránce) druhém dějství (Part Two) hlavní roli převezme mladý námořník Gianmarco Farnè a je to čas práce, tance a radosti. Divoký rej mladých mužů a dívek utne teprve výtečná instrumentální mezihra Interlude, při které můžeme konečně detailněji nahlédnout do tváří stylově nalíčených Höstsonaten a třeba flétnistka s houslistkou vypadají opravdu děsivě…
Třetí část (Part Three) obsahuje několik takřka metalových laufů a neklid vyvolávající hudba je v naprostém souladu s jevištní choreografií. Nejdůležitější personou je tentokrát druhý z mladých námořníků Marco Dogliotti, ovšem jen do chvíle, než na scénu vstoupí Smrt. Smyslná, posádku decimující Morena Campus je dalším vrcholem představení a zdatně jí sekunduje Priscilla Bellino v roli přízračné "Life-in-Death" (Život ve smrti).
To nejlepší nakonec. V závěrečném dějství (Part Four) se na jevišti znovu objeví Simona Angioloni jako Albatros, ovšem tentokrát i zpívá a její part patří k nejlepším okamžikům celé show. Poslední postavou ve vedlejší roli je na špičkách cupitající Měsíc (Carlotta Ferrera), ale to už jsou na pódiu všichni účinkující a s nimi i velké finále. Po krátkém potlesku následuje ještě instrumentální Part Four Reprise, jako hudební doprovod k závěrečné děkovačce.
Původně jsem chtěl studiovou verzi, ale tu mi vyprodali a tak jsem sáhnul po téhle lajfce. Nelituju toho ani v nejmenším, protože zvuk má naprosto fantastickej a bez jediného falešného tónu. Obraz je sice trochu zrnitej, místy malinko rozklepanej, ale o to autentičtější. Chvílemi mám pocit, že stojím mezi tanečnicemi a při těch jejich postavičkách v přiléhavých kostýmech…
Zuffantimu se povedl další, já už nevím kolikátej meisterštyk a já ho s radostí zařadil do své domácí sbírky. Rozevírací papírová mini vinyl replika od AMS je luxusní (jak už je jejich dobrým zvykem), jedno z křidélek ukrývá CD, druhé DVD s pěkně naducaným bookletem. Ten obsahuje nejenom kredity, ale především spoustu parádních, barevnejch fotek. Tady není nad čím mudrovat, pět (mořskejch) hvězd jak vyšitejch.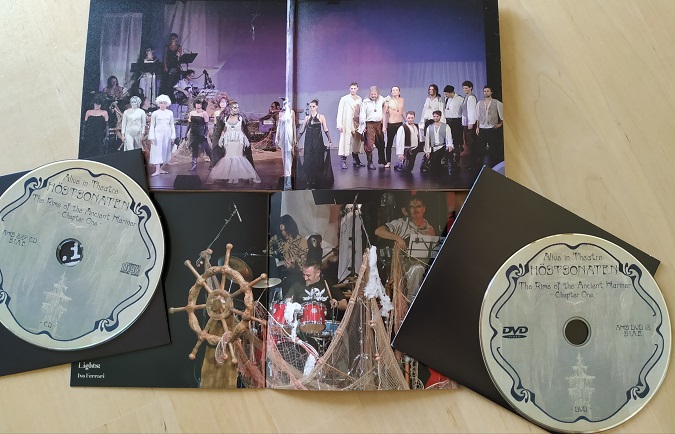 DVD
01. The Show  71:14
02. The Backstage 3:53
CD
01. Prologue  7:35
02. Part One  13:25
03. Part Two  9:35
04. Interlude  5:06
05. Part Three  17:34
06. Part Four  14:57
Musicians:
Fabio Zuffanti: Bass guitar, acoustic guitar, bass pedal
Maurizio Di Tollo: Drums
Simone Ritorto: Electric guitar
Luca Scherani: Keyboards, samples, accordion
Joanne Roan: Flute
Sylvia Trabucco: Violin
Singers:
Alessandro Corvaglia (The Mariner)
Gianmarco Farnè (The Young Mariner)
Marco Dogliotti (The Young Mariner)
Simona Angioloni (The Albatross)
Dancers & Choirs:
Priscilla Bellino (Death)
Morena Campus (Life-in-Death)
Carlotta Ferrera (The Moon)
Angela Morelli, Carola Biasetti, Daniele Mignemi, Edoardo Pallanca, Marco Valerio Pesce, Matteo Orione, Noemi Piga, Simone Pastorino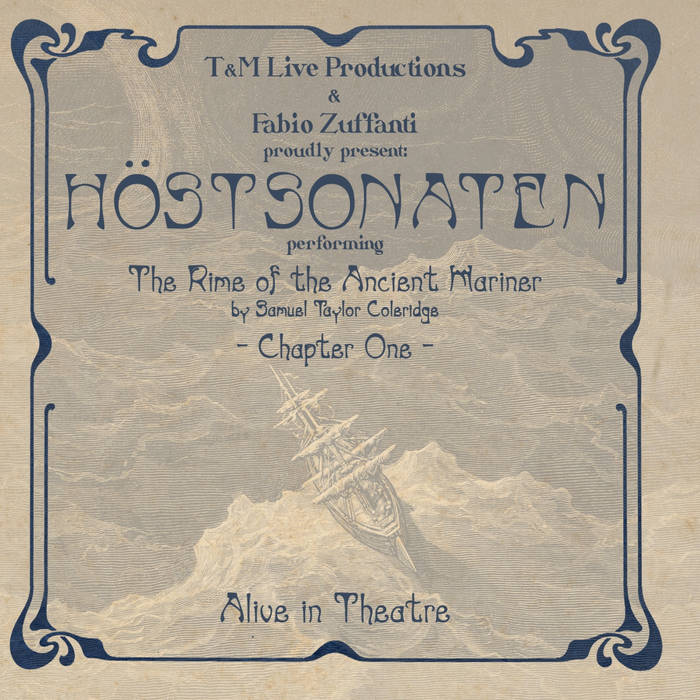 Höstsonaten
Alive In Theatre
Prog Rock
AMS Records
2013
CD, DVD
6+DVD
CD+DVD AMS Records – AMS 227 CD /2013/