CD Black Widow Records – BWRCD 046-2  /2001/
Teprve na třetím albu Le notti di Salem registruji první změnu v sestavě Abiogenesi. Klávesistu Patricka Menegalda nahradil (dočasně) Marco Cimino a za zmínku stojí i účast několika hostů, z nichž nejznámějším je Clive Beer-Jones z legendární britské úderky Black Widow…
A je to právě Clive Jones, který album Le notti di Salem (Noci v Salemu) zahajuje, i končí. Ve spolupráci s Kevinem Brooksem nahráli krátká varování Warning a I Warned You a i když se v nich neděje nic zásadního, jsou pěknou připomínkou jedné rockové legendy. Oba kraťasy vznikly v Londýně (Hello studios), Clive Jones nahrál vokály, klávesy a flétnu, Brooks další keyboardy a kytaru. A proč si Abiogenesi vybrali právě Salem? Nejspíš se inspirovali hororem Stephena Kinga "Salem's Lot", ale já bych vsadil svou umolousanou rádiovku na to, že půjde o narážku na Salemské čarodějnické procesy z roku 1692. Jeden z mála případů inkvizičního stíhání čarodějnic v Americe, při kterém zemřelo dvacet nevinných lidí. Téma sice neveselé, ba přímo truchlivé, ale k poněkud temnějším Abiogenesi báječně se hodí.

Po již zmíněné introdukci Warning by člověk čekal nějakej (bububu) bugr, ale kdepak. Skladba A Salem je hardrockem jak řemen, s dlouhou instrumentální vsuvkou a sprškou kytarových sól. Z levého kanálu (hostující) Gigi Venegoni, z pravého Toni D'Urso, jeden za osmnáct a druhej bez dvou za dvacet. Parádní duel s nerozhodným výsledkem.
Pecka A Salem se dosavadní tvorbě skupiny poněkud vymyká a to jak kompozicí, tak zvukem (hraje ostřeji a mnohem hlasitěji, než ostatní). Mám dojem, že tahle věc byla na desku zařazená až dodatečně, ovšem následující Echi nel buio už jsou Abiogenesi, jak vyšití. Její chmurnou, sugestivní atmosféru umocňují pomalé tempo s vytaženou baskytarou a nakřáplým hlasem Toniho D'Ursa, překvapením budiž prog rockové intermezzo s pěknými sóly na vibrafon a slide guitar. Nemlich stejným směrem si to pomalu šine i sedm minut dlouhá instrumentálka Abiogenesi 3. Příležitost vyniknout dostane zejména baskytarista Roberto Piccolo, ovšem tady nejde o nějaké špičkové výkony, alébrž o pečlivé budování atmosféry a to se kapele daří na výbornou.
Temnotu protínajícím paprskem světla je až pátá Nuove stelle. V kontextu alba překvapivě svižná, melodická písnička s pěknými sóly hammond organu a akustické kytary. Chytlavou skladbu Mr. Clive e Dr. Jones složil Clive Jones, ale je to takovej, kolem jednoho riffu točící se kolovrátek, kterej mě moc nebaví. Naštěstí má sotva čtyři minuty a příjemným oživením jsou kovově klapající harpsichord (čembalo) s o 106 kvákající kytarou. Temná, mellotronem podepřená Similia similibus curentur se vrací k dark progu a rezavým hřebíkem do rakve je takřka osm minut dlouhá instrumentálka Zaw (Zombie Abiogenetic War). Sugestivní, pomalu se táhnoucí věc s odkapávající atmosférou černou, jak dehet…
Vinylovou placku vydali Black Widow Records v limitované 500 ks edici v roce 2000, cédéčko ji následovalo 18.04.2001. Velkoformátovej booklet (osm stran) je skládací a obsahuje tracklist s kredity. Bonusem navíc jsou dvě malé fotografie skupiny, ale bohužel, moc toho na nich vidět není. Zvuk CD je undergroundově zastřenej (kromě skladby A Salem), ale v pohodě a nemám proti němu vážnějších výhrad.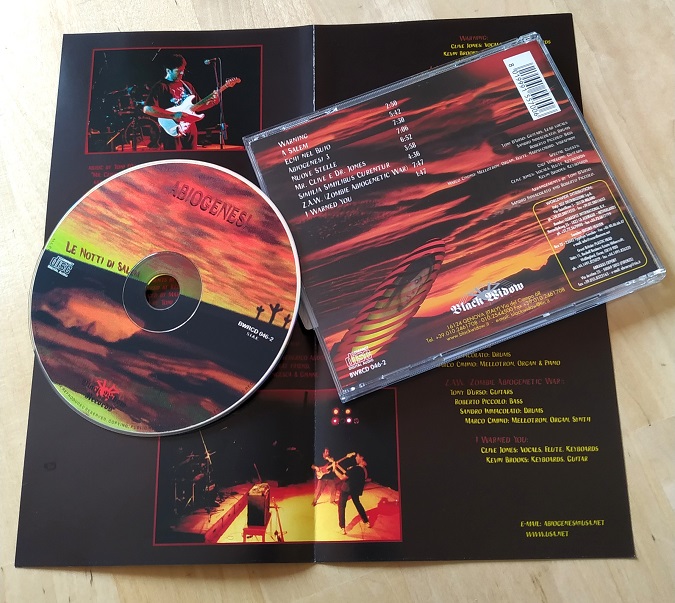 Kraťasy Warning a I Warned You jsou (možná) trochu zbytečné, kolovrátek Mr. Clive e Dr. Jones mě moc neba, ovšem zbytek alba už je dark progem té nejvyšší kvality. Slabší čtyřka.
SKLADBY:
1. Warning  2:50
2. A Salem  5:42
3. Echi nel buio  7:30
4. Abiogenesi 3  7:06
5. Nuove stelle  6:52
6. Mr. Clive e Dr. Jones  3:58
7. Similia similibus curentur  4:36
8. Zaw (Zombie Abiogenetic War)  7:47
9. I Warned You  1:47
SESTAVA:
Toni D'Urso – Guitars, Lead Vocals
Sandro Immacolato – Drums
Roberto Piccolo – Bass
Marco Cimino – Mellotron, Organ, Flute, Harpsichord, Vibraphon
+
Gigi Venegoni – Guitars
Clive Jones – Vocals, Flute, Keyboards
Kevin Brooks – Keyboards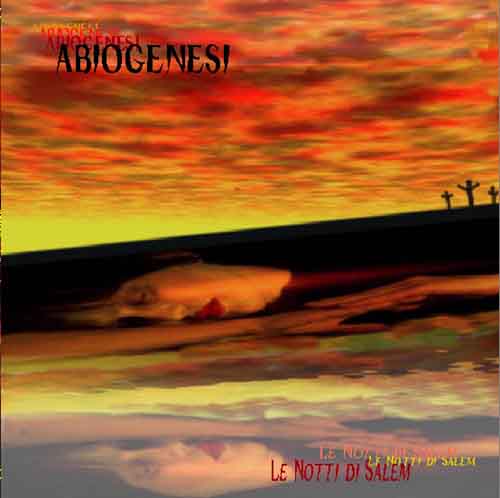 Le Notti Di Salem
Abiogenesi
Prog Rock
Black Widow Records
2000
LP
9
CD Black Widow Records – BWRCD 046-2 /2001/