CD BMG Japan, BVCM – 37585   /2005/
Na úplném začátku rozmachu italské art rockové scény z kraje sedmé dekády minulého století stála –  mimo jiné – i skupina Reale Accademia di Musica. Ta pochází z Říma a během první etapy své existence vydala dvě alba: eponymní debut (1972) a společný projekt s písničkářem Adrianem Montedurem (1974). Tady se však "akademici" zhostili spíš role doprovodného bandu (navíc v hodně pozměněné sestavě) a tak si pojďme raději představit onu výše uvedenou prvotinu.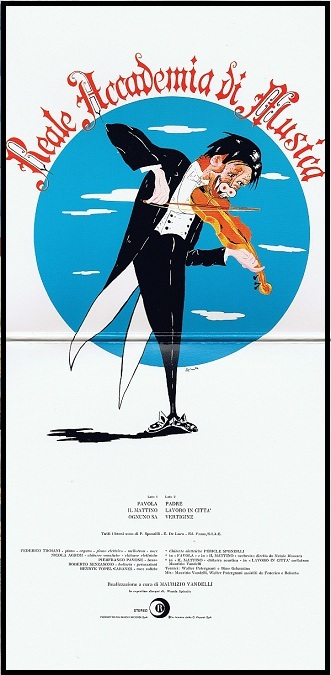 Šest skladeb, jedenačtyřicet minut melodramatického, nostalgického a emocemi našlapaného art rocku v typicky italském melodickém stylu. Dodnes si vzpomínám na první poslech z internetu a na to, jak dokonale mě rozstřelil. Během několika okamžiků jsem si byl jistej tím, že tohle prostě musím mít a vzápětí neváhal vysolit relativně vysokou částku za japonskej import. S ohledem na rok vydání je velmi těžké najít vhodnej příměr k jiné a známější kapele, ale když už, tak k těm klidnějším chvílím na prvních dvou deskách legendárních Premiata Forneria Marconi. O hudbu Reale Accademia di Musica však nebyl zájem a tak upadla do naprostého zapomnění.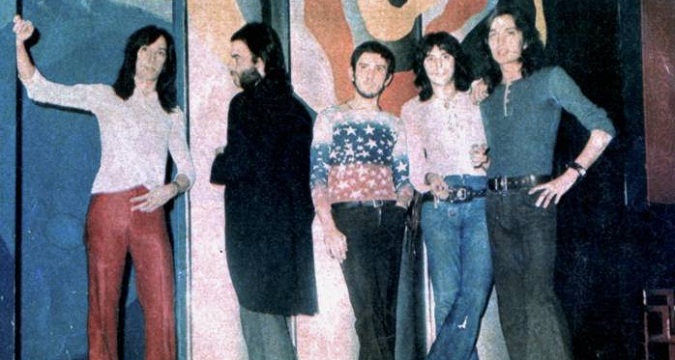 V první skladbě – Favola – je to především o posmutnělém vokálu a srdcervoucích melodiích s doprovodem krásně cinkajících akustických kytar a lehkým dotykem symfonického orchestru. Za první z vrcholů desky považuji následující píseň Il mattino, jejíž melodie mě dokáže vystřelit až někam do art rockového nebe. Teprve tady, v páté (4:22) minutě se poprvé přidávají bicí a když vzápětí klávesista Troiani (mimochodem jediný absolovent hudební akademie v sestavě skupiny) otevře stavidla svým classical rockovým eskapádám, chrochtám blahem a kopýtka mnu si spokojeností. Hlavním sólovým nástrojem je tady piáno a v podobném duchu pokračuje aj třetí Ognuno sa. Tempo je vláčné, melodie nádherná a sólovým nástrojem znovu především břinkající klimpr. Změna se dá rozpoznat jen na postu vokalisty, ten hlas je prostě jinej. Ruku do ohně bych za to samozřejmě nedal, ale španělského pěvce Cabanese tady zřejmě vystřídal klávesista Troiani…
Druhou a o něco energičtější polovinu desky zahajuje dramatická skladba Padre. Ve větší míře poprvé se ke slovu dostane aj elektrická kytara a poněkud tíživou atmosféru ještě umocňují chladně pohřební tóny varhan. Lavoro in città začíná malou klavírní etudou, ale prakticky vzápětí se přidají i dunivé údery bicích a zkreslené hammondky. Oba zpěváci se střídají a vše vyvrcholí pěkným refrénem, podepřeným táhlými tóny božského mellotronu. Je tady finále a s ním i druhý vrchol a zároveň nejtvrdší kousek na desce, Vertigine. Naříkavej zpěv za doprovodu kytar a vrčivejch varhan je parádní a všechno to doplňuje tlukot variabilních bicích. V instrumentální mezihře si vychutnávám pěkná sóla kytary a kláves a nechybí ani další classical rockovej výstup. Zkrátka a jednoduše – vynikající flák a parádní tečka za celým albem.
Původní asfalt vyšel u labelu Ricordi v dostatečném množství a tak se dá ještě dneska sehnat za docela rozumnou cenu. Reedicí na CD je celkem dost, tu poslední vydali Sony Music v roce 2016 a měla by být běžně k sehnání. Kotouček od BMG Japan se stal součástí kolekce Strange Days Presents: BMG Italian Rock Paper Sleeve Collection III a je to pěkná rozkládací mini vinyl replika s OBI a bookletem s japonskými klikyháky a texty písní v italštině. Zvuk je možná až zbytečně moc vyhulenej a vypulírovanej, ale hraje to (subjektivně) velmi pěkně a ve stereu širokém, jak ruské pláně.
SKLADBY:
Lato A
1. Favola – 3:44
2. Il mattino – 9:14
3. Ognuno sa – 5:19
Durata totale: 18:17
Lato B
4. Padre – 7:37
5. Lavoro in città – 5:54
6. Vertigine – 7:09
Durata totale: 20:40
SESTAVA:
Federico Troiani – voce, pianoforte, organo Hammond, Fender Rhodes, mellotron
Nicola Agrimi – chitarra acustica, chitarra elettrica
Pericle Sponzilli – chitarra elettrica
Pierfranco Pavone – basso
Roberto Senzasono – batteria, percussioni
Henryk Topel Cabanes – voce
+
Maurizio Vandelli – chitarra acustica (Il mattino), mellotron (Lavoro in città)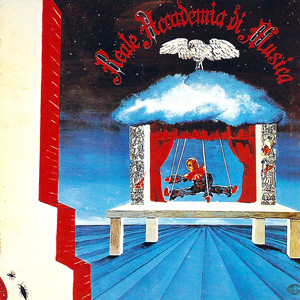 Reale Accademia Di Musica
Reale Accademia Di Musica
Prog rock
Ricordi
1972
LP
6
CD: BMG Japan, BVCM - 37585 /2005/