Sing Brother Sing – druhé řadové album britských Edgar Broughton Band – jsem znal v první polovině sedmdesátých let. Měl ho natočené jeden kamarád na magnetofonovém pásku a stávalo se pravidelnou součástí našich mejdanů, na kterých jsme tehdy těžce ujížděli jsa ovíněni, opevněni a okořalkováni. Nebylo zprvu vůbec jednoduché se s podobnou hudbou vyrovnat, ale poměrně brzy jsem k ní nakonec našel cestu a zatoužil jsem tuhle desku mít jako součást mé tehdy zvolna se rozšiřující sbírky vinylů.
Tři malí kluci se zmrzlinami v gotickém okně vypadali úplně neškodně, zato zadní strana obalu už odpovídala představám hudby a vlastně i vlasaté doby. Tři hodně zarostlí fešáci stojící zarputile u zdi gotického chrámu nevěstili nic "dobrého". Na dlouhou dobu to bylo moje jediné album téhle kapely a přiznám se, že když jsem chtěl trochu šokovat návštěvy a vykolejit je ze schémat Uriah Heep, Deep Purple, Wishbone Ash, tak jsem vždycky sáhl po tomhle albu. Dodnes mě spojuje s dobou a událostmi, které se nikdy nevrátí a také s lidmi, kteří se už nenávratně ztratili z mého života. Ta nelibozvučnost alba má v sobě stále cosi vzrušujícího a dráždivého, a tak se právě teď zkusím vrátit do první poloviny sedmdesátých let a znovu si to alespoň chvíli všechno zase prožít.
THERE'S NO VIBRATIONS, BUT WAIT! – První skladba jakoby měla charakter jam session. Opakující se hudební schéma, v němž kreativní rytmika, posílená percussion a doplněná základní basovou figurou, rozbíhá sofistikované téma, kde si mírně pokvákává elektrická kytara a hlas zpěváka má spíše charakter vypravěče. Tajemně znějí opakující se šeptavé hlasy. Ano, takhle vypadá britská psychedelie sedmdesátých let v Británii, v nefalšovaném undergroundovém kabátě. V hudbě občas slyším nápadné pípnutí. Že by cenzura vstupovala do sděleného textu?
THE MOTH: a) Moth, b) People, c) Peter – Zajímavé rozlamované akordy akustické kytary. Znějí skoro jako cembalo a mohu konstatovat, že tohle hudební téma má v sobě jakési neklidné tajemno, za nímž v čarovném přesahu doznívají percussion (zvonečky a žraločí zuby). I tady je obsah částečně zpívaného a částečně deklamovaného textu hodně důležitý a do tématu zcela nečekaně vstoupí směsice zmatených hlasů (jako návštěva v psychiatrické léčebně), která je doprovázená rytmikou a elektrickou kytarou. Potom se zpět vrací téma akustické kytary, z pozadí tlumené hammondky a syrově zkreslená elektrická kytara. Tahle alternativní poloha stála mimo hlavní proud tehdejšího startujícího hardrocku, ale také se nijak nehlásila k nějakým artrockovým polohám. Z jejich začátku bylo občas cítit zbytky bluesového odéru. Dodnes cítím nepopsatelné vibrace a pocity z téhle těžko zařaditelné hudby.
MOMMA'S REWARD (KEEP THEM FREAK'S A ROLLIN') – Dravé kytarové téma syrového pojetí nejen v soundu, ale i ve zpěvu, který se přibližuje k legendárnímu Captainu Beefheartovi. Řeřavá elektrická kytara uprostřed mezihry nasadí krátké pořádně rozeklané sólo, jako protipól chraptivým a ponuře dramatickým hlasům. Zajímavý alternativní model hudebního pojetí i vyjádření.
REFUGEE – Ortelný zvuk gongu, dramaticky a záměrně pateticky divadelně vypreparovaný hlas napůl zpívaného a napůl recitovaného tématu. Tohle vypadá jako alternativní divadelní představení. Směs nářku, odhodlání, nenávisti, ironie a bezradnosti. Edgar Broughton má pro všechna tahle hnutí lidské mysli velký talent. Dodnes vidím zakouřený obývák, kde se po zemi povalují opilí, spící, ale i stále reagující kamarádi, kteří se snaží najít v téhle skladbě nějaký záchytný bod.
OFFICER DAN – Steve Broughton je výtečný bubeník a líbí se mi jeho univerzalita, kdy ze své baterie dokáže, vedle běžných přechodu, dostat ty psychedelický perkusivní zvuky. Úvodní část zní jako hodně přetransformovaný rock and roll s ironicky nadsazeným elvisovským akcentem a se záměrně těžkopádnou rytmikou. Ten alternativní charakter tehdy každému neseděl, ale přesto se zde dá najít hodně vtipných momentů. Krátké zrychelné bláznění v rockandrollové fazóně na krátko osvěží, než se téma vrátí do původní polohy.
OLD GOPHER – Tohle je ovšem boogie jako řemen. Drsné, syrové, nekompromisně hřmotné a neuhlazované. Přesto je zde hudba melodicky čitelná a nijak se nesnaží přivádět sem nějakou nestravitelnou avantgardu. Kdo chce, tak v interpretaci a v částečném pojetí (odmyslíme-li si tu drsnost a syrovost) uslyší třeba i The Doors. Dusavé, hrubé, ale přesto živočišně přesvědčivé a ryzí pro toho, kdo umí číst mezi řádky. Baskytarista Art Grant prokazuje svoje kvality, aniž by měl zapotřebí uchylovat se k nějakým exhibicím. Přesvědčivý příklad hudby obnažené až na dřeň, která nic nepředstírá.
APHRODITE je z úplně jiného soudku. Uhlazené kytarové party Edgara Broughtona kloužou a jemně se tetelí v přehledné harmonii. Art Grant a Steve Broughton se rytmicky výtečně doplňují. Steve Broughton sem, vedle mírně přitlumených bicích, vkládá rytmické přechody na conga a timbales. Hladivé dvojhlasy odvádějí tuhle píseň do klidné polohy, třebaže můžeme soudit, že obsah textu má svoje pikanterie, které jdou v protikladu s onou hranou uhlazeností. Ostatně zpívat o řecké bohyni lásky se dá i v britském undergroundu, ale po svém.
GRANMA – Broughtonovy bicí nástroje už rozeznáte. Mají svůj charakteristický model hry, postupy, styl a hlavně výtečně podkreslují tohle téma. Edgar Broughton si hraje s klouzavými tóny a střídání hlasů Edgara a Arta Granta – jednoho syrového, jednoho naříkavě táhlého, se spojuje s kytarovými experimenty. Vše se ovšem děje na poměrně krátkém formátu. Takže když se do skladby trochu ponoříte, je u konce.
PSYCHOPATH: a) The Psychopath, b) Is For Butterflies – Výmluvný název napovídá, že zde nepůjde rozhodně o nic pozitivního a libozvučného. Ostatně vzápětí se tahle teorie potvrzuje. Zdůraznit ve dvou částech skladby stavy psychopaticky nemocného člověka a dát tomu ten správný background chtělo nejenom kus odvahy, představivosti, ale i odhodlání. Svištivé kvílivé zvuky přes minimalisticky znějící opakované téma některé posluchače asi vyvede z konceptu. Konejšivé umírněné téma další části mi přijde podezřelé, stejně jako hlas, který zdraví malou dívenku a snaží se získat její pozornost a důvěru. Něco pro pedofily? Chci věřit tomu, že tomu tak není, ale v tomhle pojetí nás může čekat cokoliv. Stejně tak jako v hudbě Franka Zappy a již jednou zmíněného Captaina Beefhearta. Šustění rumba koulí a opakované přechody na timbales s čitelnou basovou linkou mohou mnohé napovídat. Podivný šepot, nebo snad oddychování spícího nebo číhajícího člověka může vyvolávat různé asociace.
IT'S FALLING AWAY – Poslední skladba také, zdá se, nemá jasnou kompoziční stavbu a pracuje s náladami a vzájemnými asociacemi. Spojují se zde bloudivé tóny elektrické kytary, přechody na bicí nástroje a opakující se baskytarový mlýnek. V pozadí se ozývají podivné vokální linky. Psychedelické vize získávají velký prostor pro sebevyjádření. A také to tady trochu voní po psychotropních látkách a jakémsi vnitřním zpomalení mysli. Závěr je pojednán v nezřetelném zvukovém odeznívání a album je najednou u konce.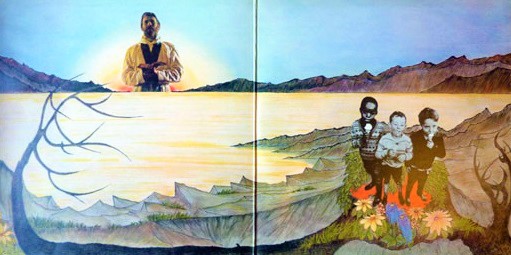 Bylo dost odvážné prosazovat na britském trhu album Sing Brother Sing. Hudební scéna už sice měla první překvapení za sebou díky debutnímu albu Wasa Wasa z předešlého roku, ale tu šli Edgar Broughton Band ještě dál. Producent Peter Jenner měl ve studiu Abbey Road a firmě EMI zajisté velmi dobrou pověst, proto mohl prosadit podobný typ hudby na pobočné etiketě Harvest. V každém případě stála kapela v příkrém protipólu vůči standardní komerční pop-music a dráždila středostavovského měšťáka a dotvářela vlastní subkulturu. Z alba cítím silný hudební přesah a zajímavé aranžérské postupy, proto vítám, že vznikají i kapely tohoto typu. Čtyři hvězdičky albu náleží zcela určitě! 
SKLADBY:
01. There's No Vibrations, But Wait! /E. Broughton/ 4:10
02. The Moth
—- a) The Moth /E. Broughton/ 1:45
—- b) The People /A. Grant, E. Broughton, S. Broughton/ 1:00
—- c) Peter /E. Broughton/ 2:27
03. Momma's Reward (Keep Them Freak's A Rollin') /E. Broughton/ 3:05
04. Refugee /E. Broughton/ 3:29
05. Officer Dan /S. Broughton/ 1:36
06. Old Gopher /S. Broughton/ 3:50
07. Aphrodite /E. Broughton/ 4:04
08. Granma /E. Broughton/ 2:24
09. Psychopath
—- a) The Psychopath /E. Broughton/ 2:19
—- b) Is For Butterflies /A. Grant, S. Broughton/ 4:30
10. It's Falling Away /E. Broughton/ 5:30
NOTES:
Recorded between July 1969 and February 1970 at EMI Studios, Abbey Road, London.
On rear sleeve and insert: "This album is dedicated to the conspiracy."
SESTAVA:
Edgar Broughton – vocals, guitar
Arthur Grant – bass guitar, vocals
Steve Broughton – drums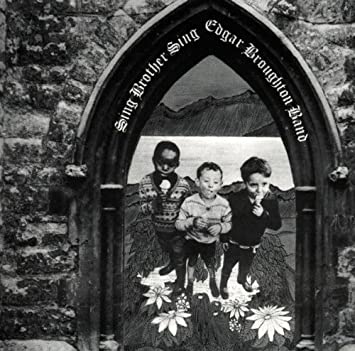 Sing Brother Sing
Edgar Broughton Band
Psychedelic Rock
Harvest
1970
LP
10