Hovorí sa, že nájdete (hľadajte) v dobrej spoločnosti a myslím si, že drvivá väčšina obyvateľstva Čiech, Moravy a Slovenska aj podstatu a životnú múdrosť sveta nájde v dobrej spoločnosti. Čo si však počať s opačným koncom spoločenstva, zlou spoločnosťou a dá sa vôbec niečo dobré nájsť na druhom konci pomyslenej rovnice. Nuž ja som sa vydal cestou – necestou k poznaniu, že… treba si pustiť vinylovú platňu s názvom Bad Company – Straight Shooter.
Najprv boli Free a ich All Right Now a ja som neriešil vznik Bad Company, lebo Paul Rodgers mi stelesňoval obe kapely do jednej skupiny. Pravdupovediac ani som nepátral po rozdieloch v hudbe a zostavách oboch spomínaných kapiel. Zrejma za rozpadom Free stála drogová závislosť Kossofa a zoznámenia Paula Rodgersa s Mickom Ralphsom, keď boli ako predkapela Mott the Hoople.

Bad Company a ich druhá strela v poradí na vinylovej platni z roku 1975 s názvom Straight Shooter je dôkazom, že sa dá nájsť v ich tvorbe veľa dobrého, poučného, romanticko-hardrockového hudobného kumštu ostrieľaných hudobníkov.
Anglická hardrocková skupina Bad Company vznikla v roku 1973. Bola to superskupina zložená z bývalého basgitaristu King Crimson Boza Burrella, bývalého gitaristu skupiny Mott the Hoople Micka Ralphsa, speváka Paula Rodgersa a bubeníka Simona Kirkeho, obaja boli zo skupiny Free v ktorej boli 5 rokov a vydali 7 LP platní.
Skupiny King Crimson, Free a Mott the Hoople, zoradené podľa významu svojej tvorby v terajšej dobe dávali tušiť, že kapele sa bude dariť. Ich prvý album s eponymným názvom Bad Company vydaný v roku 1974 bol veľmi úspešný aj v USA a ich singel z jedničky Can't Get Enough of Your Love dosiahol v Billboarde číslo jedna. Ralphsovu pieseň odmietol predtým Ian Hunter z Mott the Hoople, lebo sa mu nepáčila. Bad Company voľným spôsobom pokračovali v hudobnom štýle Free, ale hudba Bad Company bola uhľadenejšia a viac vyhovovala amererickému poslucháčovi.
Na vydavateľskej značke Led Zeppelin "Swan Song Records" boli Bad Company prvou podpísanou skupinou s manažérom LZ Petrom Grantom. Na Swan Song vydavávali platne aj nemenej známi Pretty Things a škótska speváčka Maggie Reilly.
Kapela zrejme mala dostatok hudobného materiálu, pretože už tri mesiace po vydaní prvej platne Bad Company sa nasťahovali do zámku Clearwell a nahrali 8 piesní z pripravovanej dvojky. Pôvodný materiál zo zámku sa potom objavil pri remastrovanej reedícii v neskoršom období na CD, alebo na 2LP. Mám vydanie 2 LP remasterované v Abbey Road na 1/2 rýchlosť s raritnými verziami skladieb a to dnes recenzujem. Zvuk je výborný a naozaj dobrý pre uši. Nič nevytŕča, nič nie je skryté a celý album sa výborne počúva. Frekvenčne dnes je už trošku málo cinkavý a činely neznejú ako pri novodobých nahrávkach, ale atmosféra a hudobný, ale aj textový dosah je okúzľujúci.
Paul Rodgers vo svojich textoch spieva najviac o láske a vzťahoch medzi ním ( jednoduchý muž) a ženami s rôznymi zaľúbeniami k nemu. Raz je to o rozchode, druhýkrát o návrate, túžbe, naplnení sna, alebo iba o normálnych ľudských životoch, láske, porozumení, nezhodách.
Bad Company – Straight Shooter (1975)
1. Good Lovin' Gone Bad
Prvú skladbu albumu napísal Mick Ralphs. Je to odvážna hardrocková skladba Bad Company s príjemným a razantným riffom gitary. Pieseň je dobrým otváracím číslo a zrejme preto bola vydaná na singli tri mesiace pred vydaním albumu. Kapela sa rytmicky nikam neženie a skôr to vypadá ako spanilá jazda s dobre naolejovaným súkolím. Vodiaca linka Ralphsovej gitary je dobrá, ale zaujala ma aj basová gitara Boza Burrella. Hrá veľmi spoľahlivo a akoby nenápadne, ale to je iba zdanie. Každý dotyk na basovú strunu mi pripadá ako premyslený a dlho skúšaný. Zaujímavosťou je úvodný štvorbubnový prechod Kirkeho bicích na začiatku skladby. Vzápätí nastupuje gitara s riffom. Práve Simon Kirke dodal zvuku Bad Company akúsi odlišnosť od razantnejších bubeníkov v rockových kapelách. Svoje bubnovanie podriadil melódii a jednoduchému rytmu skladieb, nikam sa svojimi bicími netlačí a skôr ostáva vzadu. Počas svojej bubeníckej kariéry si zachoval klasickú zostavu a nikdy nepridával rôzne bubny a činely do svojej výbavy. Úvodný brejk v skladbe je presne výpočet bubnov v Kirkeho zostave. Pri prvých úderoch na bicie v tejto singlovej piesni je práve jeho úvodné krátke sólo príjemným prekvapením. Potom sa Simon s celou kapelou rozbehne do peknej piesne s výborným feelingom. Jeho bubnovanie je na prvý posluch veľmi jednoduché, ale precízne a málokto si asi uvedomí, že v tom je sila rytmu a zvuku Bad Company. Ak by som to mal zjednodušiť: pár úderov do taktu a potom činelový akcent. Hotovo, nič viac, ale aj nehudobník dokáže presne zvládnuť jeho rytmus a zabúchať si ho na kolene, alebo stole. Mick Ralphs je iný ako Kossof vo Free a svojou sólovou gitarou vnáša do Bad Company skrytý drive a spoločne s Rodgersovým spevom vytvárajú dvojicu, ktorá sa vzájomne výborne dopĺňa. Ralphsove riffy su niekedy veľmi jednoznačné a hoci príliš netvorí v piesňach ich verzie, je mienkotvorným fenoménom piesní Bad Company.
2. Feel Like Makin' Love
Úžasný hit Bad Company a dobre znejúca rocková pieseň s krásnou melódiou a taktiež výborným textom Paula Rodgersa. Skladbu napísali Mick Ralphs a Paul Rodgers. Počul som ju mnohokrát a vždy sa pozastavím nad dokonalosťou a umom skladateľov. Nástroje skvele znejú a jednoduchá nahrávka vždy vyzdvihne Rodgersov spev. Paul Rodgers nemal nikdy prenikavý hlas, ale vedel vycítiť náladu piesne a dodal vždy svoj nezameniteľný podiel do celkovej podoby. Je to aj v tomto prípade a vzdávam mu hold. Dnes po toľkých rokoch mu iba vyčítam, že text piesne nerozvinul do viac veršov a namiesto zbytočného opakovania sloganu a názvu piesne mohol pridať niečo konkrétnejšie. Pieseň začal písať Paul Rodgers v roku 1968, vtedy bol ešte v kapele Free a koncertovali v San Francisku. Podľa jeho vyjadrenia potom cestoval stopom do mestečka Rio Nido s niekoľkými neznámymi ľudmi a stanoval v lese. Neskôr (o niekoľko rokov) zahral hudobný nápad Mickovi Ralphsovi a ten pridal refrén a riff na gitaru. Vyjadrenia členov kapely o vzniku piesne sa trošku líšia. Podľa Simona Kirkeho je pieseň vlastne zložená z dvoch piesní a myslím si, že má absolútnu pravdu. Tvrdí, že on povedal Mickovi, aby obaja svoje piesne spojili dohromady a tak vznikla táto skvelá vec. Pri písaní tejto recenzie som sa stretol s názormi, že texty Bad Company sú banálne a triviálne. Nuž neviem, ale mne sa to celkom nezdá, lebo začať pieseň slovami: "Miláčik, keď na teba myslím, myslím na lásku" je životná pravda a tento pocit majú milióny ľudí súčasne na celom svete pri pomyslení na blízkeho človeka. Melodický začiatok, ktorý sa pokojne rozvíja je skvostný a refrén skladby je pekne a dobre vystavaný.
3. Weep No More
Plačlivka od bubeníka Simona Kirka je smutnou vecou o láske, odchode a návrate. Znovu sa rieši bolestný život zamilovaných v podobe hardrockovej skladby, hoci táto škatuľka v podobe Bad Company nie je tou pravdivou informáciou. Ale nebudem tápať vo veciach, ktoré nie sú dôležité. Simon Kirke neskladal veľa piesní a táto hoci nie je zlá, nenapĺňa kvalitu predošlých dvoch. V skladbe sa pridávajú sláčikové nástroje a klávesy, aranžoval Jimmi Horowitz (manžel speváčky Leslie Duncan, spolupracovala s Eltonom Johnom). Rytmus je trošku rozbitý a celkovo patrí skladba k tým, ktoré pri počúvaní albumu rád dopočúvam do konca čo najrýchlejšie.
4. Shooting Star
Podľa mňa najlepšia pieseň na tomto albume je z pera Paula Rodgersa. Text je krásny, jedoducho znejúci, ale veľavravne napísaný. Zaoberá sa náznakovo smrťou Jimiho Henrixa (a iných hudobníkov) v zajatí drog a alkoholu. Práve pochopenie textu pridá piesni na význame a odkaz, alebo posolstvo je dominantou celej nádhery. Paul Rodgers spieva o malom chlapcovi menom Johny, ktorý sa chcel stať rockovou hviezdou po vypočutí piesne Love me do od Beatles. Podarilo sa mu to, ale doplatil v mladom veku na drogy a našiel svoju smrť na posteli s flašou whisky a tabletkami na spanie pri hlave. Sú krásne slová piesne:
"Johnny's life passed him by like a warm summer day. If you listen to the wind, You can still hear him play.
Johnyho život ubehol ako teplý slnečný deň. Ale ak počúvaš vietor, stále ho môžeš počuť hrať."
Časovo text nekorešponduje s Jimim Hendrixom (školák počúva Love me do – rok 1962), vtedy mal Jimi Hendrix už viac ako 20 rokov, ale polemiky sa vedú dodnes. Smutnou stranou textu je akoby predpovedanie nešťastného konca Paula Kossofa (Free) a Tommyho Bolina (James Gang, Deep Purple) o pár mesiacov neskoršie po vydaní piesne.
Hudobne je to dielo vysokej kvality a striedanie nálady je skvelé a dojímavé. V prvom rade si treba všimnúť Rodgersov spev, ktorý absolútne svojím zafarbením a náladou prežíva ťažký text piesne. Mick Ralphs, so svojou gitarou a podkreslením Paulovho spevu, je skvelým hráčom. Boz Burrell sa vycibril v hre na basgitaru a jeho ničím nešperkovaná, ale presná hra s Kirkovými bicími je stenou v pozadí, ktorá sa nedá zbúrať. Jednoducho skvelá vec. Pre zaujímavosť uvediem, že Rodgers, Kirke a Ralphs pri zakladaní Bad Company hľadali basgitaristu. Keď konečne našli Boza Burrella, ktorý hral v King Crimson, boli nadšení, neváhali a zobrali ho do kapely. Boz im potom povedal, že na basgitaru hrá asi rok a stále sa len učí, ale v kapele ostal napriek tomu, že basu veľmi neovládal.
5. Deal With The Preacher
Na tejto skladbe sa znovu podieľala dvojica Ralphs/Rodgers. Rocková pieseň otvára druhú stranu albumu a je jasné, že z dramaturgického hľadiska sa použila rezká oduševnená vec. Skvelý gitarový riff Ralphsa dotvorený Burrellovou basou je ľahko zapamätateľný a je divné, že ho nikto predtým nehral a neobjavil. Skladba sa premení na melancholickú baladu v pomalej časti, aby sa znovu stala rockovou záležitosťou. Znovu by som mohol písať o súhre kapely, ktorá hrá bez neviem akých efektov a zvuk je prirodzený (naturálny). Bad Company nemali v skladbách veľa rôznorodých motívov a držali sa striktne riffu, slohe a refrénu v piesniach. Paul Rodgers tak ako v tomto prípade rozvinul v záverečnom finále svoj blues-rockový náboj. To je inak tiež poznávací znak Bad Company, často končili svoje piesne Rodgersovými záverečnými variáciami spevu a opakovaním textu piesne.
6. Wild Fire Women
Divá ohnivá žena od Ralphsa a Rodgersa je výborná rocková skladba a zaradenie na tento album je pekným oživením celej LP. Je zvláštne, že doplnenie bicích tamburínou vytvorí zrazu rytmicky napínavý hudobný život piesne. Poslucháč akoby ožil a celá skladba s Rogersovým spevom je živou vodou celej kapely. Text v skratke je o dlhej nočnej ceste po diaľnici (Paula Rodgersa), ktorý spieva, že nie je bohvieaký muž, ale potrebuje lásku a ide za ženou, ktorá má niečo, čo ho rozpáli a… No skrátka Wild Fire Women. Zaujímavý je zvuk Ralphsovej gitary, ktorý je fázovo posunutý a efektný. Tiež sa prejavuje významným rytmom Kirkeho kopáku a nezlomnou basou Boz Burrella. V závere je počuť viac efektov ako je v nahrávkach Bad Company bežné.
7. Anna
Anna je ďaľšou skladbou, ktorá pôsobí ako výplň a hoci textovo sa príliš nelíši od predchádzajúcich piesní je trošku iná. Pomalá skladba v jednoduchej úprave. Poznateľný zvuk Bad Company sa pomaly odvíja a "slaďák" zaľúbenosti a vyznávajúci lásku jednoduchej ženy s jednoduchým chlapom je dobré, že bez trápenia skončí. Dnes po toľkých rokoch je skladba akoby zastaralá a niečo jej chýba, aby bola považovaná za dobrú. Skladbu napísal bubeník Simon Kirke a prejavuje sa tu jeho menší potenciál v napísaní dobrej skladby. Simon Kirke, hoci bol bubeník v kapele, ovládal hru na klavír a gitaru, takže skladanie piesní (aj keď v malom počte) mu nerobilo problém. Ale dvojici Ralphs/Rodgers sa nemohol vyrovnať.
8. Call On Me
"Zavolaj mi" je už z iného cesta. Gitary sa stratili a klávesy hrajú ústrednú melódiu piesne stredného prúdu. Niečo na pomedzí dnešnej coutry a pop songu. Text je aj dnes aktuálny a priateľský:
"Ak máš špatnú chvíľu (padá dážď, ak potrebuješ lásku, ak si vyhorený, keď ti je zima a si osamelý) zavolaj ma, budem stáť po tvojom boku…"
Nie je to zlá pieseň, dá sa v pohode počúvať. Ukazuje skladateľa piesne Paula Rodgersa v inej atmosfére ako melodického pisateľa. Je len na uváženie, či práve tento druh záverečnej skladby bol vhodný, lebo po skončení posledných sekúnd albumu ostane pocit z počutého v polohe, ktorá veľmi nesvedčí rockovej kapele.
Album sa nahrával v roku 1974 na starom gotickom zámku Clearwell Castle v Gloucestershire. Zámok bol postavený v roku 1727 a fungoval v 20-storočí ako múzeum. V jesenných a zimných mesiacoch okolo roku 1970 bol zatvorený a prenajímaný na skúšanie rockovým kapelám. Dnes je známy tým, že poskytuje služby v oblasti sobášov. V obrovských miestnostiach sa v zime nekúrilo, ale zámok používali Led Zeppellin a The Who. Traduje sa, že nebyť Clearwell Castle, nebolo by Black Sabbath. Staré fotografie Ozzyho a celej kapely z neďalekej rieky Wye (dlhá 225 km), ktorá je hraničnou riekou Anglicka a Walesu, sú dnes vyjadrením bezstarostnosti a slobody mladíkov, ktorí vytvorili nesmrteľné epochálne piesne.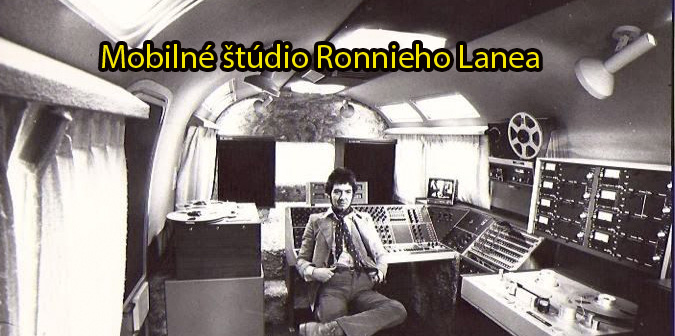 Na nahrávanie skladieb Bad Company nechal priviesť Peter Grant mobilné štúdio Ronnieho Lanea, ktoré bolo v autobusovom prívese a všetky káble viedli zo zámku von do prívesu. Napríklad toto nahrávacie mobilné štúdio bolo použité pri vzniku albumu skupiny The Who – Quadrophenia a albumu Led Zeppelin – Physical Graffiti.
Pretože Bad Company patrili pod zeppellinovskú značku Swan Song a manažér Grant a najmä Jimmy Page kapele pomáhali, mohli skúšať v zámku Clearwell a nahrávať svoju LP platňu v septembri 1974. Nahrávalo sa spoločne, ale kapela bola pravdepodobne rozmiestnená ďaleko od seba a Kirke bubnoval zrejme oddelený od ostatných. Nahrávku na zámku zrealizoval dvorný zvukár Laneovho štúdia a kapely Ron Nevison. Na záznam bol použitý 16-stopý magnetofón, 6 stôp bolo pre bicie, jedna-dve stopy pre Ralphsovu gitaru, Boz Burrell mal obyčajne iba jednu stopu a Paul využíval dve stopy na spev. Ostatné voľné stopy na 16-stopom magnetofóne boli využité na vokály, alebo iné záležitosti, pretože kapela efekty a prídavné nástroje skoro vôbec nepoužívala a bolo málo dohrávok. Ron Nevison má na krku veľmi veľa albumov z rock histórie (Led Zeppelin, Who, Thin Lizzy, UFO, Ozzy…) a 5 cien Grammy.

V tejto časti recenzie albumu sa musím pristaviť pri basgitaristovi a zakladajúcom členovi Small Faces Ronniem Laneovi. V roku 1968 priviezol z USA autobusový príves Airstream Travel, ktorý vybavil nahrávacím zariadením a v roku 1972 začalo jeho mobilné štúdio pracovať naplno. V dobe, kedy nahrávali Bad Company svoj druhý album, už bol v prívese 16-stopý Studer a zvuk z mobilného štúdia bol výnimočne dobrý a uznávaný medzi hudobníkmi. Veľmi dobrá akustika prívesu a jeho zaoblené hrany dokázali zvukárom dať pocit istoty a dynamiky pri nahrávaní nástrojov. Zvuk bicích nahraný pomocou MLS, ako sa v skratke štúdio nazývalo, bol výnimočne na tú dobu dobrý a Ron Nevison dokonale poznal svoj príves po technickej stránke. Na odposluch boli používané reprobedne značky Tannoy.
Práve on vybudoval štúdio a stále sa zdokonaľoval vo svojej práci. Výpočet albumov, ktoré sa nahrali pomocou Laneovho mobilného štúdia je závratný a mená a názvy albumov sú z prvej kategórie, veľakrát ide o cenené live nahrávky. Nahrávka zo zámku bola zmixovaná Nevisonom v Londýne v Air Studios z dôvodu, že mobilné štúdio logicky nedisponovalo vybavením naozajstného zvukového štúdia.
Obal platne s kockami z kasína urobila firma Hipgnosis, ktorá vtedy patrila k absolútnej špičke v oblasti obalov LP. Prečo sú tam kocky z kasína asi nikto nevie, nedopátral som sa významu. "Straight Shooter" znamená priamu strelu, tak prečo dve kocky (keď už, tak mali tam byť dve šestky?" Celá kapela stojí nad stolom v kasíne, ale naozaj neviem z akého dôvodu. Ak niekto vie, nech odpovie.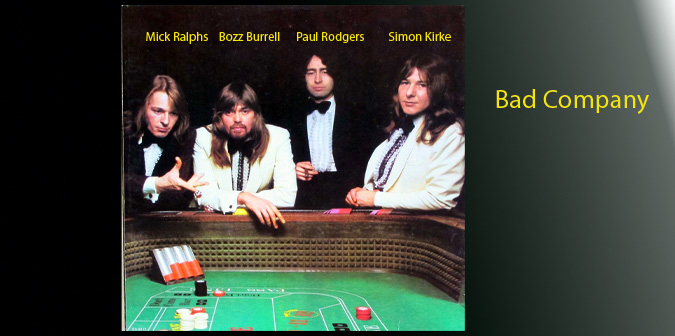 POZNÁMKA AUTORA: Odpovedal Comrade, ďakujem za vysvetlenie a s dovolením dopĺňam do recenzie.
"Výraz "straight shooter" v angličtine znamená – čestný/poctivý človek (opak falošného), ale aj priamy/otvorený (čo na srdci, to na jazyku) – takže viete, čo od neho môžete čakať.
"Shooter" je ten, kto práve hádže kockami v hre v kocky (tzv. craps). 5 a 6 = 11 je tzv. "natural" a jedná sa o víťazný hod. Štvorčíslie na pravej kocke je sériové čislo kocky. V kasínach majú kocky sériové čísla, aby sa zabránilo podvodom/zámene kociek za cinknuté.
Súčet 3+9+1+7 je 20, resp. 2+0, čo môže byť interpretované aj tak, že sa jedná o druhý album kapely. Ale kde je pravda, to asi vedia iba dizajnéri z Hipgnosis (a možno kapela)…"
Grafické štúdio bolo dieťaťom dvoch študentov umeleckej školy Storma Thorgersona a Aubrey Powella. V roku 1973 sa k nim pridal Peter Christhoperson. Pôsobili v rokoch 1968-1982; napr. obaly albumov Pink Floyd – More, Ummagumma, Atom Heart Mother, Meddle… T. Rex, Pretty Things, Black Sabbath, UFO, 10cc, Bad Company, Led Zeppelin, AC/DC, Scorpions, Yes, Emerson, Lake & Palmer, Def Leppard, Paul McCartney & Wings, Alan Parsons Project, Genesis, Peter Gabriel, Electric Light Orchestra, Police, Rainbow, Styx, XTC a Al Stewart.
Moje vydanie LP je remasterované v Abbey Road na 1/2 rýchlosť a zvuk je vynikajúci a veľmi čitateľný. Vydanie má aj druhú LP, ktorá obsahuje všetkých osem piesní albumu. Sú to buď pracovné verzie, alebo iné verzie skladieb z albumu. Práve tu je počuť, ako jednoducho kapela pristupovala k nahrávke a ako málo používala efekty. Celá druhá platňa dokazuje, že chlapci to na zámku hrali s jasným cieľom pokračovať v úspechu po vydarenom debute.
Malý počet skladieb – osem, tak ako z prvého albumu vraví tiež o malej zásobe dobrých skladieb a dve z albumu môžeme považovať za nutné zlo. Je to kvôli minutáži LP platne a aj tak sú obe dve platne (debut a aj Straight Shooter) pod hracou dobou 40-minút a hudobné motívy by sme ľahko spočítali. Osem skladieb a krátka minutáž, ale môže byť aj kvôli lepšej dynamike a frekvenčnému rozsahu dlhohrajúcej platne. (Už som o tom písal, relatívna rýchlosť ihly voči otáčajúcej sa platni s väčším polomerom na kraji platne, alebo stredovke.) Kapelu mal pod palcom manažér Led Zeppelin Peter Grant a ten bol schopný hocičoho, podľa Rodgersa jeho vplyv na úspech kapely bol enormný. On bol tou osobou, ktorá ich hnala dopredu a pobádala k písaniu piesní a rockovým koncertom.
Nech je ako chce a dĺžka hracej doby prvých dvoch platní je malá, Bad Company patria k zlatému fondu anglickej rockovej hudby. Niektoré z ich piesní ostanú nesmrteľné a budú vždy dopĺňat jeden z najväčších hitov minulého storočia, kapelu Free a ich All Right Now.
Paul Rodgers sa dozvedel o smrti Paula Kossofa (mal 26 rokov, zomrel 19.03.1976 počas letu z Los Angeles do New Yorku na pľúcnu embóliu) na koncertnom turné v USA a dodnes ho mrzí, že mu nevedeli pomôcť a za tri roky sa z vynikajúceho muzikanta stala obeť drogovej závislosti, hoci Kossoff bral drogy už ako 15-ročný. To je už ale smutná história rockových hudobníkov, ktorá k recenzii Straight Shooter nepatrí, ale všetko so všetkým súvisí. S konštatovaním, že všetko je teraz v poriadku by som dal za priamu strelu zlej spoločnosti 4 hviezdičky z 5 s prižmúreným okom za dve piesne Simona Kirkeho v mínuse. Ale snahu treba oceniť a tri hviezdy by sa mi zdali príliš mimo terča.
SKLADBY:
1. Good Lovin' Gone Bad 3:35
2. Feel Like Makin' Love 5:12
3. Weep No More 3:59
4. Shooting Star 6:14
5. Deal With The Preacher 5:01
6. Wild Fire Woman 4:32
7. Anna 3:41
8. Call On Me 6:03
BAD COMPANY:
Paul Rodgers – spev, klavír, gitara
Mick Ralphs – gitara
Boz Burrell – basa
Simon Kirke – bicie
NOTES:
Piesne boli nahrávané v septembri 1974 v Clearwell Castle a mixované v Air Studios London.
Zvukový inžinier: Ron Nevison
Producent: Bad Company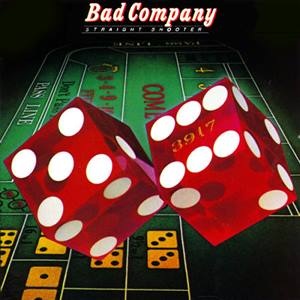 Straight Shooter
Bad Company
Hard Rock
UK - Island Records; US - Swan Song
1975
LP
8
2xLP Swan Song /2015/