Obal platinového piateho albumu skupiny Foghat pôsobiacej v USA sťa nepochopení odpadlíci Savoy Brown v rodnom Anglicku je bláznovstvo čítankového typu. Sediaci bubeník Roger Earl na newyorskej ulici chytajúci udicou "čudesno" v otvorenom kanalizačnom labyrinte len svedčí o nemožnosti možného.

Fotografia bola vytvorená v nedeľu ráno v New Yorku blízko kancelárie , kde kapela úradovala. Len čo sa Roger (bol vášnivý rybár) usadil na škatuľu od mydla nad poklopom prišlo auto newyorskej polície a policajti pri stiahnutom okienku kričia na Earla: "Hej, máš rybársky lístok?" a smejú sa. Potom ho spútali a odfotili sa s ním. Fotografiu obalu platne (ktorý vymyslel ich bývalý producent a hráč na basgitaru Nick Jameson) nakoniec predsa len urobili s celou kapelou nad poklopom a náhodnými divákmi. Earlova fotografia na prednej strane nie je veľmi kvalitná, možno to ale bol úmysel tvorcu obalu? Srší z nej však radosť a pohoda.
Starší pán na zadnej strane obalu prízvukoval: "Toto je moja ulica, čo tu robíš?!" Bolo to na East 11th Street a zrejme ten poklop je tam dodnes, lebo existujú fotografie z neskoršieho obdobia, kde je kapela a diváci už aj asi s rodinnými príslušníkmi. Neviem či mám v tomto smere úplnú pravdu. Viem ale to, že LP držím v rukách a rád si ju znovu položím na tanier gramofónu a vychutnám si album v celej jeho kráse.
Foghat – Fool For The City (1975)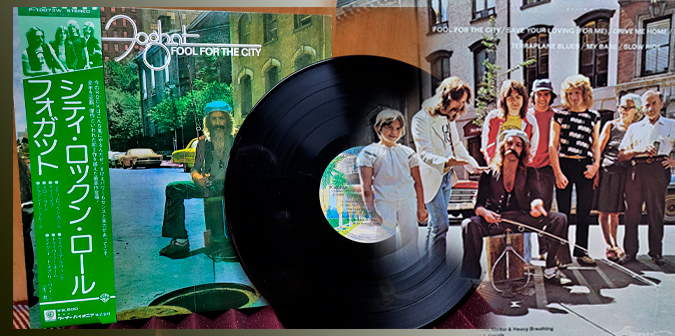 1. Fool For The City
Rázny úvodný hardrockový singel a otváracia skladba albumu. Ja, vidiecky chlapec sa vôbec nemôžem stotožniť s textom skladby, ktorý ospevuje mestský život. To je moja temná dilema života, niečo ako povestné "byť či nebyť. Skladba sa mi páčí, ale s textom nesúhlasím. Určite opisujú konkrétny mestský život New Yorku, kde kapela v neďalekom Port Jeffersone žila. Pieseň je postavená na rýchlom tempe, ktoré má v sebe skrytý úvodný riff, ktorý sa celú skladbu vlastne nezmení. Spev je vzdialený echo efektom, na tú dobu uprednostňovaný zvukový prejav. Hrdelný vysoký spev Peveretta je podporovaný vokálmi, sound skupiny je priamočiary a jasný od prvých sekúnd. Bicie sú trošku skryté za gitarami, aj keď niekedy vyjdú do popredia. Kvílivý zvuk dvojice gitár však stále hrá prvé husle.
2. My Babe
Úvodný gitarový riff osamotenej gitary vzápätí doplní celá kapela a odvinie jednoduchú, ale ľúbivú rock&rollovú odrhovačku. V refréne si zaspieva zborovo kapela a poznateľný sound Foghat s kvíliacimi gitarami nenechá nikoho na pochybách, že kapela vie hrať vynikajúco. Skupina skladbu prevzala od The Righteous Brothers (1963), ktorú napísali Bobby Hatfield a Bill Medley. Stará skladba pôvodne v klasickej orchestrálnej podobe s dychovými nástrojmi je rockovou bombou v podaní Foghatu. Tu sa ukazuje Rod Price v svojom hraní na slide gitaru, kde jeho kĺzavé tóny sú veľmi dobre podporované šlapajúcim rytmom Earla na bicích.
3. Slow Ride
Skladba začína bicími, pridáva sa Peverettova gitara a jedna z najlepších skladieb albumu sa pomalejšie rynie dopredu. Zaujímavý zvuk nastáva po odspievaní refrénu z úvodu a basová gitara v prekvapujúcom rytme navodí celkom príjemnú atmosféru. Pieseň je evidentne prepracovaná do detailov a častá zvuková kulisa a zmeny rytmu jej dodávajú zauímavosť. Kapela nahrávala "Slow Ride" v štúdiu, kde asi po troch minútach nahravky piesne vypadla elektrina. Vrátili sa k rozrobenému projektu asi o dva týždne a problém bol získať podobný zvuk ako na úvodnom sedení a dokončiť pieseň v dĺžke 8 minút.
Text skladby "Slow Ride, take it easy" je jasný a naozaj treba sedieť niekde v krčme blízko cesty a pokojne piť vychladené pivo po pokojnej jazde na motorke. Aj keď náznak erotiky v texte nedá pokoj asi žiadnemu chlapovi. Možno ešte k tomu chrúmať hot dog, alebo hamburger a snívať. Počúvať Slow Ride je pohľadenie pre dušu a uši, pekná a dobrá vec. Dnes je to najpočúvanejšia skladba od Peveretta na Youtube. Za zmienku stojí aj výborná basa Nicka Jamesona, chrumkavá, jemná a krásne dudlajúca.
4. Terraplane Blues
Ak sa niekomu páči blues, Foghat to tu napáli ako z prvej ligy a pieseň je ďaľšou, ktorá sa veľmi dobre počúva. Znovu prebraná stará vec od mississipského bluesového Roberta Johnsona. Skladbu nahral už v roku 1936. Na začiatku skoro podobná originálu, ale po pár sekundách prichádza dravosť a energia .Kvílivá gitara z ľavej strany stereobázy, bicie v strede v jednoduchom rytme v podpore rytmickej basy a druhá doprovodná gitara v nemennom zvuku. Rod Price znovu používa na prste slide trubičku je to náramne počuť. Skladba je v miernom tempe, ale netreba nad ňou lámať ruku. Páči sa mi.
5. Save Your Loving (For Me)
Ďaľšia pekná melódia, zdvojené gitary a tentokrát basová gitara, ktorá od prvého úderu na struny basovou linkou udá pekný a čistý zvuk celej skladbe. Foghat sa netrápili s efektami gitár, hrajú stále v tých istých podobách. Spev je stále dominantne vysoký a echom vzdialený. Skladbu napísali spoločne Peverett/Price.
6. Drive Me Home
Rock&rollová vypalovačka. Ničím sa nelíši od tisícok podobných. Boogie klavír, ktorý nesmie chýbať a frázovaním podporujúci úderný rytmus. Nick Jameson priniesol do kapely aj klávesy a klavír. V skladbe sa dočkáme aj sóla na bicie so spevom a rôznych zvukových efektov. Je to skôr skladba do počtu, aby bola dodržaná hracia doba LP.
7. Take It Or Leave It
Zober, alebo nechaj tak. Nuž asi zoberiem, lebo Foghat mám rád a táto záverečka s pekným soundom, akustickou gitarou a ľúbivou melódiou sa mi veľmi páči. Zvukársky krásne nahratá pieseň s vychytávkami, ktoré pôsobia ako malé iskričky ma zaujala na prvé počutie. Kontrastne pôsobí vzdialený spev v priestore a detailne zosnímané nástroje. Jamesonove klávesy a pokojný popový zvuk je ako z iného súdka. Prvý príznak orientácie na iný druh hudby? Neviem, lebo Peverett mal veľmi veľké znalosti z histórie hudby a orientoval sa v rôznych hudobných smeroch.
Foghat so svojím "bláznom do mesta" nie sú ničím výnimoční a nemôžu sa rovnať s najlepšími. Dosiahli však na iný piedestál, sú kapelou plnou života, entuziazmu a hravosti v jednoduchosti. Komu sa dostanú pod kožu už ich len tak ľahko nezatratí a tak ako aj ja, sa k nim často vráti. Áno, LP Fool for the City je asi najlepšia vec od Foghat, ale hlavne ich prvotina a všetky ďalšie albumy skrývajú čaro muzikálnosti.
Na piatom albume skupiny má veľký podiel úspešnosti aj nový basgitarista a producent Nick Jameson, ktorý priniesol do skupiny nový vietor a skladby sa posunuli viac k širšiemu okruhu poslucháčov. Dve výnimočné piesne spopularizovali skupinu v Amerike a asi nebolo živáčika, ktorý by ich hity nepočul v rádiu.
Počúval a recenzoval som japonské vydanie, kde je zvuk omnoho živší a plnší. Mám rád japonské vydania, takže aj to bol istotne dôvod mojej málo kritickej recenzie. Vzhľadom na celkovú tvorbu Foghat, jeho rôzne vývojové fázy a aj v rámci amerického boogie-blues- hard rocku mi vychádza iba jedna varianta hodnotenia. Jednoducho: 5 hviezdičiek z 5.
Foghat:
Dave Peverett – gitara, hlavný vokál
Rod "The Bottle" Price – gitara, slide gitara, vokály
Nick Jameson – basová gitara, klávesy, gitara, vokály
Roger Earl – bicie
Produkcia a zvukový majster: Nick Jameson
Nahrávané v Suntreader Studios, Sharon, Vermont, USA /1974/.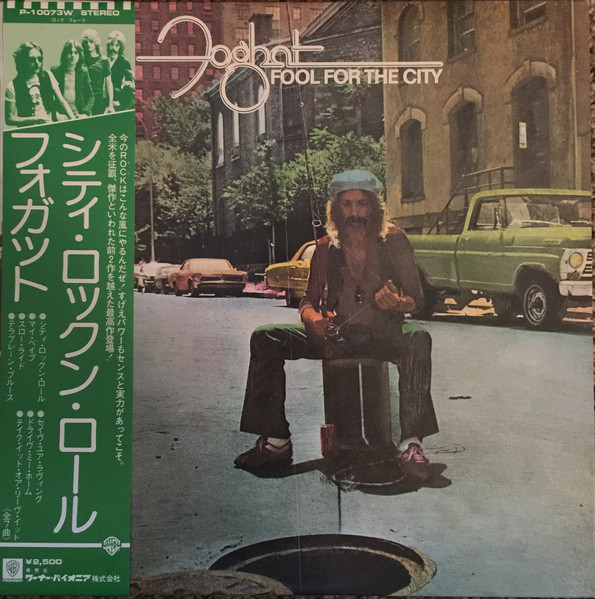 Fool For The City
Foghat
Hard Rock, Blues Rock
Bearsville
1975
LP
7
LP Bearsville P-10073W /1975, Japan/