Pre rýchle predstavenie: Queens of the Stone Age je americká stoner rocková kapela, ktorá sa pohybuje, istým spôsobom, aj v alternatíve. Jej zakladateľom je Joshua Homme. Gitarista a spevák v jednej osobe. Je aj zakladajúcim členom kapely, ktorá ako jedna z prvých začala stoner rock hrať. Ide o legendárnu kapelu Kyuss. Z oficiálnych zdrojov, facebook, hehe, som zachytil, že sa po mnohých rokoch chystá reunion. Bližšie som nepátral, ale dúfam, že to vyjde. Ďalej stoja za zmienku Hommeove projekty ako blues-garage rocková Eagles of Death Metal a superskupina Them Crooked Vultures, v ktorej hrajú Dave Grohl (Nirvana, Foo Fighters) a John Paul Jones (Led Zeppelin, Seasick Steve), hoci posledná spomenutá 10 rokov nevydala nič nové, oficiálne nie je rozpadnutá.
Joshua Homme má projektov viac než dosť. Rozhodne sa nenudí, ale jeho domovská kapela stále zostáva Queens of the Stone Age. Villains je ich už siedmy štúdiový album, ktorý vyšiel v roku 2017. Na moje samotné prekvapenie ide o celkom nečakanú zmes, veľmi originálnu, ktorá úž nemá tie presne na mieru stavané prvky hard-stoner rocku. A v podstate porušuje akoby zaužívané kvóty tohto žánru, čo niekomu sadnúť môže, a niekomu zase nie. Nie že by sa to v minulosti na predošlých nahrávkach nedialo, ale tuto je to až šokujúce. Pri prvom počúvaní som len zachytával a lapal zvukové aspekty, toľko synťákov, rôznych iných nástrojov, atmosférických vzruchov a to všetko popretkávané klasickým, čudným zvukom Hommeovej gitary. Nerád používam výrazy, ktoré len maľujú text a človek si nedokáže predstaviť konkrétnu myšlienku (ani zvuk ani obraz), ale tá gitara sa nedá vyjadriť iným slovom ako čudná. Neviem teraz, ani sa mi nechce pátrať potom, od čoho má taký dutý, priestorový až jaskyňový zvuk, asi veľa reverbu a tube efektu. Neviem. Ale spoznávam to v každej jeho hre, v každej jeho skladbe, v každej jeho kapele.
Villains síce žáner definovaný má, ale je tu toho toľko, že nie každý to dokáže stráviť. Zarytým "stonerákom" by som to asi neodporučil. Svižné skladby striedajú pomalšie a každým ďalším vypočutím je obsah, ktorý nemusím, stále menší a menší. V momentálnom rozpoložení je Villains mojim druhým najobľúbenejším a počúvanejším albumom od QOTSA (Hneď po Rated R z roku 2000. Tú hodnotím maximálne. Je to pre mňa vrchol v rámci žánru aj kapely.). To však neplatí u každého, hlavne u fanúšikov. Hoci odborná kritika prijala túto nahrávku pozitívne, a v podstate s nimi viac-menej súhlasím, tak fanúšikovia kapely a stoner rocku ako takého, nie sú Villains pozitívne naklonení. Moje facebookovo-sociologické pátranie zistilo, že v dvoch anketách na oficiálnych a fanúšikovských stránkach skončil tento album na poslednom mieste. Nie každý dokáže stráviť takú zmenu. Aj keď pri veľmi pozornom počúvaní to nie je zase úplne iný svet.
Za najlepšie skladby považujem úvodnú Feet Don't Fail Me, Domesticated Animals, Head Like a Haunted House a za absolútny vrchol The Evil Has Landed. To je geniálna vec, ktorú treba počuť. Ten riff, dole klobúk, neviem sa ho prejesť. Gitara tu je agresívna, plná kompresie a do toho je namixovaný akoby spevákov moderný popový prejav. Dva absolútne odlišné svety. Ale dokopy je to zaujímavé a priťahuje ma to.  Za prúser považujem prvý singel The Way You Used to Do. Takýto klišé rock'n'roll je len vatičkou albumu, hoci RNR mám rád a refrén je dobrý, chytľavý, tuto mi to fakt nesedí, radšej preskakujem. A aby som nezabudol. Grafika obalu sa mi tiež celkom páči. Moje hodnotenie je 4 z 5*.
SKLADBY:
1. Feet Don't Fail Me
2. The Way You Used to Do
3. Domesticated Animals
4. Fortress
5. Head Like a Haunted House
6. Un-Reborn Again
7. Hideaway
8. The Evil Has Landed
9. Villains of Circumstance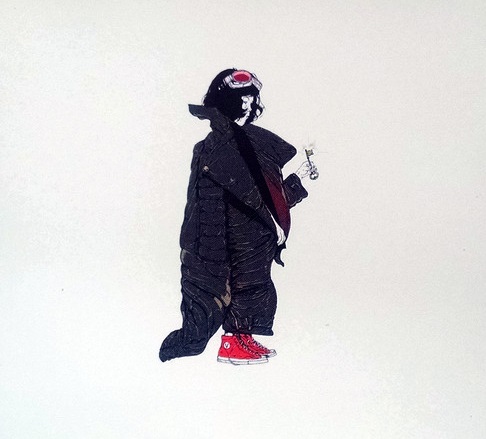 ZOSTAVA:
Josh Homme – lead vocals, guitars
Troy Van Leeuwen – guitars, keys, backing vocals
Dean Fertita – keys, guitar, backing vocals
Michael Shuman – bass guitar, vocals
Jon Theodore – drums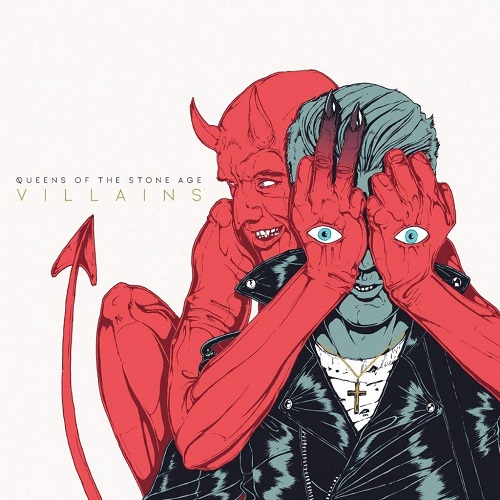 Villains
Queens of the Stone Age
Stoner rock, alternatívny rock
Matador Records
2017
CD, LP, FLAC
9