Album Canis Lupus jsem zcela náhodně objevil v r. 1973 v katalogu obchodní firmy HMV, který mi tehdy poslala moje teta z Londýna, abych si vybral novinky, které tehdy tenhle obchodní gigant na Oxford Street v City Of Westminster nabízel.
Album jsem pochopitelně neznal, ale zaujal mě obal. Krásný vlk (jako z pohádky) na obalu přitáhl mou pozornost. Když jsem se potom dozvěděl, že za projektem stojí houslový mistr Darryl Way, že tam kytarové party nahrál John Etheridge (člen Soft Machine) a produkce se ujal Ian McDonald, multiinstrumentalista z raných King Crimson, nebylo proč váhat a moje zvědavost zvítězila. Canis Lupus jsem si zapsal do "pořadníku" – protože v dané době u mě vítězily takové kapely jako Led Zeppelin, Deep Purple, Uriah Heep, Grand Funk Railroad, Jethro Tull. Po čase přišla řada i na tohle dílo. Dnes mám album v CD formátu i se dvěma bonusy.
THE VOID – Varhanní úvod s poněkud pochmurnou atmosférou, která ovšem zvolna graduje, až se z ní zrodí konkrétní tvar. Bicí a baskytara předvádějí výtečnou souhru v osobitých postupech stojících na prahu jazzu. Je tady ovšem vynikající kytarové téma od Johna Etheridge, s výraznou praxí v Soft Machine. Zpěvák tohoto společenství, baskytarista Dek Messecar má hlas, který navozuje atmosféru raných King Crimson – ostatně i produkce alba je v rukou bývalého Crimsona – Iana McDonalda. Hudba je ovšem energičtější. Není agresivní a dravá, přesto je plná emocí a expresí v jiném slova smyslu a instrumentálně výtečně pojednaná.
ISOLATION WALTZ – Zajímavě propracované opakující se schéma baskytary a bicích nástrojů podepřených elektrickou kytarou a elektrickými houslemi. Aranžmá na vysoké úrovni. Propojení rocku a jazzu (nikoliv jazzrocku) po ryze britském způsobu. Darryl Way citlivým vstupem svých houslí dokresluje atmosféru. Má jedinečný tah smyčcem, ze kterého je cítit klasické vzdělání, které dal do služeb progresivní hudby. Baskytarové party Messecara mají pořadně přiostřený tón, který vystupuje do prostoru místy výrazněji než bicí Iana Mosleyho. Kdo rád poslouchá Jacka Bruce, Johna Entwistla a Roy Babbingtona – ví o čem mluvím. Vynikající ukázka progresivního rocku, který nezapudil melodickou linku.
GO DOWN – Melancholické téma rozvolní atmosféru a máme tady rozjímavou baladu. Messecar má zajímavě jímavý hlas, chlapecky bezradný, podmanivý. Etheridge nám předvede, že je stejně výtečným kytaristou i na akustickou kytaru. Téměř klasické téma a prstová technika navodí precizně vypilovanou hru. Královským způsobem zahrané a procítěné. Baskytara a bicí nástroje jsou mírně upozaděny, aby nenarušovaly celkovou atmosféru písně, střídající mollové, durové a septimové akordy ve zvláštních obrazcích. Messecarův hlas je rozkročen mezi Gregem Lakem a Paulem McCartneym a hezky se poslouchá. Závěr ovšem náleží opět vynikající Etheridgeově akustické kytaře. Fantazie!
WOLF – Zapojení ARP synthesizeru Darrylem Wayem nám otevírá další skladbu. Zajímavě prokreslované dynamické rozdíly mezi jednotlivými částmi skladby. Chvíli poklidné melodické obraty a chvíli důraznější akcentování zejména v rytmických breacích Mosleyho. Way střídá synthesizer a svoje housle, které dokáže dostat do správných proporcí s Messecarovým hlasem. Opět je třeba pochválit aranžérskou a produkční spolupráci Waye a McDonalda. Etheridge dostane příležitost v závěru skladby vložit elasticky pružné kytarové sólo, výtečné jako v předešlých případech.
CADENZA – Tahle kompozice aspiruje (pravděpodobně) na jakýsi vrchol alba. Way zde servíruje vynikající houslové party, za které by ho určitě pochválil i samotný Nicollo Paganini. Etheridge famózním způsobem vypálí kytarové sólo v neuvěřitelně rychlých výměnách tónů a místy stačí hrát ještě v oktávách – bez zkreslení, aplikace wah wah pedálu a přesto je herně v dané době na výši ještě dál, než mnozí hardrockoví dravci. Messecar vloží výtečný baskytarový vstup, následovaný Mosleyho bicí baterií. Technicky bezchybné a přesto pocitově kreativní. Další část skladby se hodně přibližuje progresivnímu jazzu. Elektrická kytara nyní použije syrovější tón a nad tím vším se vznáší sférické kouzlení ARP synthesizeru. Muzikantská lahůdka.
CHANSON SANS PAROLES – Mírně se zvolní – opět příležitost pro housle. Playbackovaná témata se prolínají a rytmický základ jim poskytuje především baskytara a trochu zbytečně upozaděné bicí nástroje. Way je mistrem svého nástroje – podává o tom zcela přesvědčivý důkaz. Další část skladby se odehrává v jakési kontemplaci klavíru, jazzově znějící kytary, šustivých činelů a nastoluje se nám ležérní pařížská atmosféra pozdního podzimu. Křišťálové klavírní tóny hostujícího Iana McDonalda mají kouzlo nechtěného. Etheridge na elektrickou kytaru kouzlí svými dlouhými sférickými tóny a rytmika zvolna přidává na dynamice a celá kompozice získává dramatičtější a rozpoutanější energetický potenciál, který bych přirovnal málem k ženskému orgasmu. Dochází ke zklidnění a houslové téma zcela ovládne prostor s důraznými rytmickými běhy. Další mistrovská práce na albu, mírně se míjející s některými postupy na prvním albu Curved Air – Air Conditioning.
McDONALD'S LAMENT – Pochmurné úvodní téma na elektrické piano a Etheridge rozeznívá na elektrickou kytaru tklivé flažolety. Posmutnělé houslové tóny jsou jakýmsi výrazem nářku. Šustění Mosleyho činelů z pozadí dodává mírně mahavishnovskou rozjímavou atmosféru ve spojení s houslemi a elektrickým pianem. Skladba zvolna nabírá na dynamickém napětí a lehce, ale neodvratně zintenzivňuje napětí. Děje se tak ale stále v relativně umírněných obrazcích. Instrumentace se přizpůsobuje Wayovým houslím, které jsou páteří celé kompozice. Pak, jakoby zvolna vyprchávalo napětí a kytarové rozklady se v jazzových náladách rozplývají spolu s houslovým tématem v nekonečnu, korunovány tlumeným šustěním činelů.

Bonusy:
SPRING FEVER – Výraznější rockové riffy doprovázeny divokým nástupem houslí se přizpůsobí zpívanému projevu a přesně podle zákonů barokní fugy zde Messecar basovým tématem (podobně jako Louis Cennamo na prvním albu Renaissance) piluje melodickou linku. Struktura skladby je relativně jednoduchá, aranžmá v pečlivých detailech dodává správné koření. Radost poslouchat instrumentální epilog v daném tématu.
WOLF (single version) – Editovaná verze skladby Wolf, která byla vytipována pro samostatný singl. Crimsonovské postupy se zde nezapřou, přesto mají hlubší melodické téma, spíš ve stylu Premiata Forneria Marconi. Etheridge, propojen s bzučením Wayova synthesizeru, vytváří kytarou spojovací můstek. Výtečné instrumentální proporce dávají prostor téhle kapele vyniknout – závěr ovšem náleží Johnu Etheridgeovi a jeho suverénním kytarovým tónům.
Z alba jsem nadšen po všech stránkách. Myslím, že je to skutečný majstrštyk, který patří do sbírky každého přemýšlivého posluchače progresivního rocku první poloviny sedmdesátých let.
Pět hvězdiček!
SKLADBY:
1. The Void (4:35)
2. Isolation Waltz (4:37)
3. Go Down (4:45)
4. Wolf (4:06)
5. Cadenza (4:48)
6. Chanson Sans Paroles (6:28)
7. McDonald's Lament (7:10)
SESTAVA:
Darryl Way – violin, viola, keyboards
John Etheridge – guitar
Dek Messecar – bass, vocals
Ian Mosley – drums
+
Ian McDonald – piano & tambourine (6), producer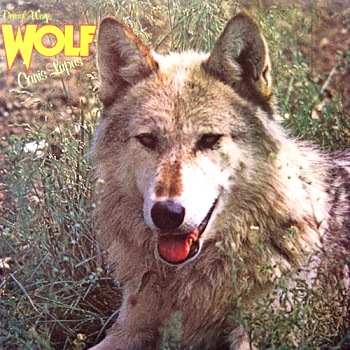 Canis Lupus
Darryl Way's Wolf
Prog Rock
Deram
1973
LP
7
CD - Esoteric Recordings /2008/