Gryphon sice nepatří mezi nejznámější britské rockové skupiny 70. let, ale bezesporu jsou jednou z nejvíce jedinečných a nejzajímavějších. Pětice alb z let 1973 až 1977 dokumentuje neustálé hledačství a evoluční vývoj – od převážně akustického kvarteta inspirovaného středověkou a renesanční muzikou k elegantnímu progrockovému formátu.
Samotná story Gryphon začala koncem léta 1971, kdy sedmnáctiletého Graema Taylora z lokální amatérské hardrockové formace Juggernaut oslovil spolužák Richard Harvey, aby se připojil k duu Harvey & Gulland, osiřelému po odchodu kytaristy Chrise Wilsona. Zanedlouho se přidává bubeník Juggernaut David Oberlé (1953). Z téže kapely pocházel i budoucí basák Gryphon Phil Nestor. Původní název Spellthorn si mládenci mění na Gryphon.
Richard Harvey a Brian Gulland (dvojice tvořící páteř skupiny) byli studenti londýnské Royal College Of Music. Zejména Harvey (ročník 1953) byl virtuózní muzikant, ovládající řadu i exotických nástrojů (fagot, malý lesní roh, zvonkohru, klarinet, hoboj, kytaru, bouzouki – uvádí, že mu jich prošlo při studiu rukama na 700, z toho jich u Gryphon použil více jak 30!). Jeho hluboký zájem o hudbu prorůstal až ke středověké muzice, což se promítlo zejména na debutovém LP Gryphon, nevyhýbal se však ani rocku, folku a současné artificiální tvorbě. Spolužák Gulland (1951) měl podobné hudební cítění, a tak není divu, že se oba sešli v ansámblu Musica Reservata zaměřeném na renesanční hudbu, což dokládá album 16th Century French Dance Music z roku 1972.
Po měsících zkoušení a výběru materiálu vychází u firmy Translantic Records (produkce Laurence Aston a Adam Skeaping) již zmíněné první album Gryphon (1973), furiantsky spojující středověké a renesanční taneční melodie, tradiční britské lidové písně a vlastní, citlivě stylizované kompozice členů skupiny. Nechybí ani legrácky, viz závěrečná "jarmareční humoreska" The Devil And The Farmer's Wife.
Rozkošatělá hudba s exotickou a umnou instrumentací, vycházející z dávných ostrovních tradic, přitáhla pozornost části médií i elitních posluchačů. Gryphon se okamžitě stali v určitých kruzích kultovní záležitostí, vystupují nejenom na rockových pódiích, ale i ve folkových klubech a katedrálách, účinkují takřka na všech kanálech slovutné BBC (viz později vydané záznamy). V téže době dostávají nabídku sira Petera Halla z National Theatre Company a po krátkém turné komponují doprovod k jeho adaptaci Shakespearovy hry Tempest (Bouře).
Dvojku Midnight Mushrumps z roku 1974 nahrála již ve své vlastní produkci nová sestava rozšířená o baskytaristu Philipa Nestora (1952). Úvodním titulním 19minutovým opusem inspirovaným prací na zmíněném divadelním kusu se Gryphon hluboce ponořili do tajemných nepoznaných vod progresivního rocku. Dříve tak oblíbené úpravy letitých tradicionálů zastupovala jediná The Ploughboy's Dream. Nejvíc se muzikantsky vydováděli Harvey s Gullandem, vyzkoušeli si několik neobvyklých nástrojů a postupů.
Pro většinu fanoušků jde o nejlepší album Gryphon.
Třetí LP Red Queen To Gryphon Three (1974), o jehož produkci se opět Gryphon postarali sami, je kompletně instrumentální sestávající ze čtyř dlouhých, symfonicky strukturovaných a přitom svým duchem rockových kompozic, inspirovaných královskou hrou v šach. Zanedlouho po vydání (jako jediné vyšlo i v USA) na podzim téhož roku cestují Gryphon – coby support – na americkém turné artrockových Yes (Harvey a Gullard se znali s Rickem Wakemanem z Royal College Of Music). Díky tomu hrají v Madison Square Guarden i v houstonské Astrodome, poskytují rozhovory americkým rozhlasovým stanicím.
Dokonce se dočkají profesionálních live záznamů, které ale vycházejí až v posledních letech. "Byli to krušné a zároveň krásné dva měsíce," vzpomíná Harvey. V sestavě se mezitím etabloval nový hráč na basu Malcolm Bennett (později hrál s dalšími členy Gryphon na sólovém počinu Stevea Howea Beginnings z roku 1975). Jako hosté se nahrávání trojky účastnili varhaník Ernest Hart a hráč na akustickou basu Peter Redding.
Na 4. albu Raindance (1975) se mísí dozvuky minulosti s přehlednějším pojetím směřovaným k širším posluchačským vrstvám. Například některé pasáže v rozsáhlé (Ein Klein) Heldenleben Richarda Harveye jsou až popové, Taylorova Don't Say Go evokuje Cata Stevense a Mother Nature's Son si Gryphon překvapivě vypůjčili od Beatles. Výraznou pozici v soundu kapely zaujala Bennettova flétna.
Vlastními silami produkované Raindance bylo posledním albem pro Transatlantic, skupina posléze podepsala kontrakt s Brianem Laneem, manažerem Yes, a přestěhovala se do stáje EMI (sublabel Harvest).
Nečekaně přišlo malé personální a stylové zemětřesení. Odchází Graeme Taylor (připojuje se k Ashley Hutching's Albion Band), přichází Bob Foster, pryč je také baskytarista a flétnista Malcolm Bennett (nahrazuje jej Jonathan Davie), za bicí usedá Alex Baird z glasgowské folkrockové skupiny Contraband (předtím údajně fungoval v souboru Stumble, jenž na konci sixties založil Midge Ure). Oberlé se tím pádem soustřeďuje na zpěv. Personální rošády završuje angažování talentovaného Tima Sebastiana do role dvorního textaře.
David Oberlé v jednom rozhovoru připomíná, že zřetelně posunutý hudební tvar pátého alba Treason (1977) byl vyvolán tlakem firmy EMI a najatého producenta Mikea Thornea. Pro rané Gryphon typické – bohatě rozkošatělé a starodávnou muzikou inspirované – pasáže byly definitivně nahrazeny přímočařejší artrockovou líbivostí, výraznými melodiemi a harmoniemi, soundem zahuštěným mohutnou baterií kláves, četnými dynamickými přechody, vícehlasy. Zkrátka lecčím na způsob tehdejších Genesis či Camel.
Gryphon však již nedostali příležitost svůj inovovaný styl a sound obhájit před fanoušky. Punková exploze nekompromisně smetla v letech 1976-77 z rockového piedestalu vše velkolepé, přemýšlivé a starosvětské. Gryphon, podobně jako mnozí další, končí.
Ze všech členů Gryphon byl a je nejaktivnější Richard Harvey. Již v roce 1975 vydal album Division On A Ground. Spolupracoval s Alanem Stivellem na Before Landing (1977) i na zakázkovém albu A New Way Of Seeing z roku 1979, o kterém se dlouho nevědělo. Následovalo Italian Recorder Concertos (1982), kdy za pomoci London Vivaldi Orchestra řízeného Monicou Huggettovou hraje klasická díla italských mistrů Vivaldiho, Sammartiniho a A. Scarlattiho. Dalším kusem, na němž se podílel je Brass at la Sauve-Majeure z roku 1983 (alias Fanfare For The Common Man – název reedice z roku 1993), pro které skládá několik kompozic a diriguje těleso Brass of Aquitaine & London. V roce 1986 vychází The Genteel Companion, kde Harvey opět prezentuje díla starých mistrů. Naproti tomu šestnáct kompozic alba Evening Falls (1989) pochází od autorů z oblasti populární hudby (Enya, Mark Knopfler, Eric Clapton, Ennio Morricone, L. Webber, Kenny G). Jedním z najatých muzikantů je i starý kumpán z Gryphon – kytarista Graeme Taylor.
Spolupracoval s plejádou známých osobností a skupin, namátkově pár jmen z jeho portofolia: Paul McCartney, Hans Zimmer, Gerry Rafferty, Kate Bush, Wire, Paul Brett, John Williams, Stanley Myers.
Věnoval se i televizní hudbě. Po Game, Set & Match (1988) společně s Elvisem Costellem komponuje pro britskou TV stanici Channel 4 hudbu k její televizní sérii G.B.H. (1991) a za čas si tuto spolupráci zopakuje u dalšího televizního titulu Jake's Progress (1995). V roce 1996 vychází výběr z jeho tvorby Shroud For A Nightingale. Další díla už jen výčtem: Animal Farm (1999), Arabian Nights (2000), The Plague And The Moon (2000), Silk & Bamboo (2001), Suriyothai (2001), Terrahawks (1983, vydáno až 2002), Love Underground (2003), Luther (2003), Colditz (2005), Three (2005), Death Of A President (2006), King Naresuan (2007)… Detailní biografii i diskografii najdete na www.richardharvey.net.
Brian Gulland nějaký čas působil ve francouzské folkové skupině Malicorne. I on zabrousil do oblasti filmové tvorby a občas hostuje.
Graeme Taylor mimo jiné spolupracoval s Albion Bandem, Johnem Tamsem, John Kirkpatrick Bandem, Home Service, Ashley Hutchings.
Dave Oberlé se stal producentem v oblasti hard & heavy plus manažérem heavymetalového magazínu Kerrang!, sem tam si někde zazpívá anebo zatrsá, naposledy na albu Martina Orforda The Old Road (2008).
Bubeník Alex Baird se koncem 70. let ocitl v sestavě novovlnné popové skupiny Jags.
Phil Nestor přesídlil do Austrálie.
V září 2007 bylo oznámeno na webových stránkách Gryphon, že skupina připravuje nové album, za rok se objevil dodatek, že na desce se pracuje, a pak dlouho nic…
V sobotu 6. června 2009, dvaatřicet let po svém posledním vystoupení, se znovuzrození Gryphon představují v Queen Elizabeth Hall v Londýně. Na pódiu byli čtyři původní členové: Richard Harvey, Brian Gulland, Graeme Taylor a Dave Oberlé. Po odehrání skladeb z debutu se připojil Jon Davie (poslední baskytarista, hrál na Treason) a nový člen, multiinstrumentalista a hudební skladatel Graham Preskett.
Gryphon lze vřele doporučit každému žánrově svobodomyslnému milovníkovi hudebních starožitností.
Hudebníci – nástroje – (sestavy):
Brian Gulland – klávesy, fagot, malý lesní roh, anglický roh, zpěv (A) (B) (C) (D)
Richard Harvey – klávesy, klarinet, malý lesní roh, mandolína, zvonkohra, píšťala, krumhorn, saxofon (A) (B) (C) (D)
David Oberlé – bicí, perkuse, tympány, sólový zpěv (A) (B) (C) (D)
Graeme Taylor – baskytara, kytara, klávesy (A) (B) (C) (D)
Philip Nestor – baskytara (B)
Malcolm Bennett – baskytara, flétna (C)
Alex Baird – bicí (D)
Jonathan Davie – baskytara (D)
Bob Foster – kytara (D)
Albová diskografie:
1. (A) Gryphon (1973, Transatlantic)
2. (B) Midnight Mushrumps (1974, Transatlantic)
3. (B) Red Queen To Gryphon Three (1974, Transatlantic)
4. (C) Raindance (1975, Transatlantic)
5. (D) Treason (1977, Harvest)
6. (B+C) About As Curious As It Can Be (2002, Hux Records)
7. (B) Glastonbury Carol (2003, Hux Records)
Live nahrávky na oficiálním bootlegu (6) pocházejí z koncertů pro BBC Radio 1 z let 1974 a 75, následující titul (7) obsahuje živé nahrávky pro BBC z let 1972 a 74, plus "ztracený" singl (1973).
Kompilace, singly a ostatní nahrávky: viz Discogs

Jaromír Merhaut pro Rock+ 2011
P. S. 2020: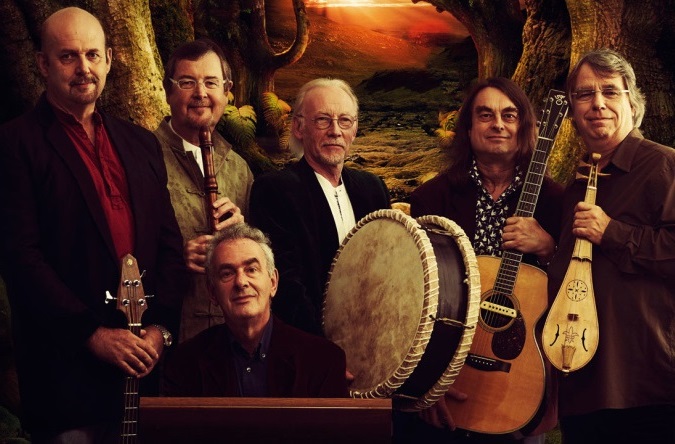 2014: Gryphon hlásí další comeback.
2015: Kvintet Harvey, Taylor, Gulland, Oberlé, Graham Preskett (klávesy, mandolína, housle, kytara, perkuse) odehraje mezi 12. a 29. květnem šestici koncertů v Anglii.
2016: Zaneprázdněný Richard Harvey končí, aby se mohl naplno věnovat svým dalším projektům.
2016: Sestavu doplnili Keith Thompson (rekordér, hoboj, krumhorn) a basista Rory McFarlane.
2016: Další vystoupení, mj. na tradičním festivalu folkové a rockové hudby Fairport's Cropredy Convention nebo v Union Chapel, charitativním centru pro bezdomovce v londýnském Islingtonu.
2017: Skupina vyráží za hranice k jedinému koncertu v nizozemském Zaandamu.
2018: Po 41 letech vychází nové studiové album ReInvention. Povedlo se náramně.
2019: Koncert v uměleckém centru The Met v Bury, starobylém městě na řece Irwell.
2020: V listopadu 2020 je na světě sedmé studiové album Get Out Of My Father's Car!, vydané znovu ve vlastní režii. Přijímáno s rozpaky.
2020: Aktuální sestava: Brian Gulland, Dave Oberlé, Graeme Taylor, Rob Levy (baskytara), Andy Findon (dechové nástroje), Clare Taylor (housle, klávesy).
Gryphon na Tidalu: K online poslechu jsou alba 1, 2, 3, 4 ve verzích BMG/Sanctuary, 2018.