S hodnocením dosud posledního alba "Forever Black" od amerických Cirith Ungol jsem záměrně delší čas počkal, aby opadlo prvotní nadšení, jež se mě zmocnilo hned po zjištění, že se připravuje, a které dál trvalo i po jeho vydání…
Bezmála třináct měsíců od premiérového poslechu už je, myslím, dostatečná doba na to, abych se k nahrávce vyjádřil, bez obav z nekritické euforie.
Tak do toho…
Potemnělou atmosférou do zvuku větru zazní zlověstně roh, aby si snad někdo nemyslel, že teď nastanou projasněné a jásavé chvíle… Krátké intro "The Call" povolává do zbraně, takže povstanou legie v "Legions Arise", aby rychle dohnaly vše, co svou přes dvacet let trvající nečinností zameškaly. Hned tu máme jeden z vrcholů alba; ale bez obav, čeká jich na nás víc…
Následuje skladba ve středním tempu, valivá "The Frost Monstreme", a jako buldozer před sebou hrne vše, co má v cestě.
Nyní se rozhoří "The Fire Divine", ponurá píseň s textem o ještě ponuřejší budoucnosti…
"A slepci povedou slepce
přímo do božského ohně…
Jste slepí k tomu, co vidíte?
K bolesti, ke strachu, k utrpení?"
Přichází konec první strany vinylu a s ním druhý vrchol nahrávky, pátá "Stormbringer"…
Do akustického začátku zazní, poměrně vzácný, níže položený zpěv Tima Bakera, a určitě to skladbě svědčí; sice se vzápětí ozve zase dobře známý "jekot", ale k přitvrzenému pokračování by se ani hlas z úvodu nehodil… Druhá nejdelší věc alba je vážně povedená.
Stranu B na desce otvírá "Fractus Promissum" s hutnými riffy, jako by vypůjčenými od "praotce metalu" Tonyho Iommiho a následně ještě pokovovanými; sabbatovská záležitost, která nemůže urazit a patří k nadprůměrným skladbám, jako ostatně všech devět na tomto počinu.
Na řadě je noční můra… Ne snad, že by nejdelší skladba alba byla nějaká děsná; naopak, jde o již třetí vrchol nahrávky. Šlapavá a silně atmosférická, to je "Nightmare"…
Předposlední "Before Tommorow" opět vyvolá ducha dávných Black Sabbath, aby ho zkřížila s echem starých Cirith Ungol, a mohla vzniknout věc třetího tisíciletí (nepopírající to druhé).
A je tady závěr, a s ním magická devítka… Titulní skladba je rovněž posledním vrcholem desky, která se bezpochyby náramně povedla. Svou stopáží třetí nejdelší "Forever Black" je skvělým zakončením devětatřicetiminutového alba, jehož vydání by se ještě před šesti lety zdálo být čirou utopií…
Znovuzrození Cirith Ungol stvořili moderně znějící album, které navazuje na to lepší z předešlých nahrávek, a je jejich důstojným pokračováním.
1. The Call (1:04)
2. Legions Arise (3:19)
3. The Frost Monstreme (5:15)
4. The Fire Divine (3:51)
5. Stormbringer (5:58)
6. Fractus Promissum (4:08)
7. Nightmare (5:59)
8. Before Tomorrow (3:57)
9. Forever Black (5:34)
Tim Baker – vocals
Robert Garven – drums, horns of chaos
Greg Lindstrom – guitar
Jim Barraza – guitar
Jarvis Leatherby – bass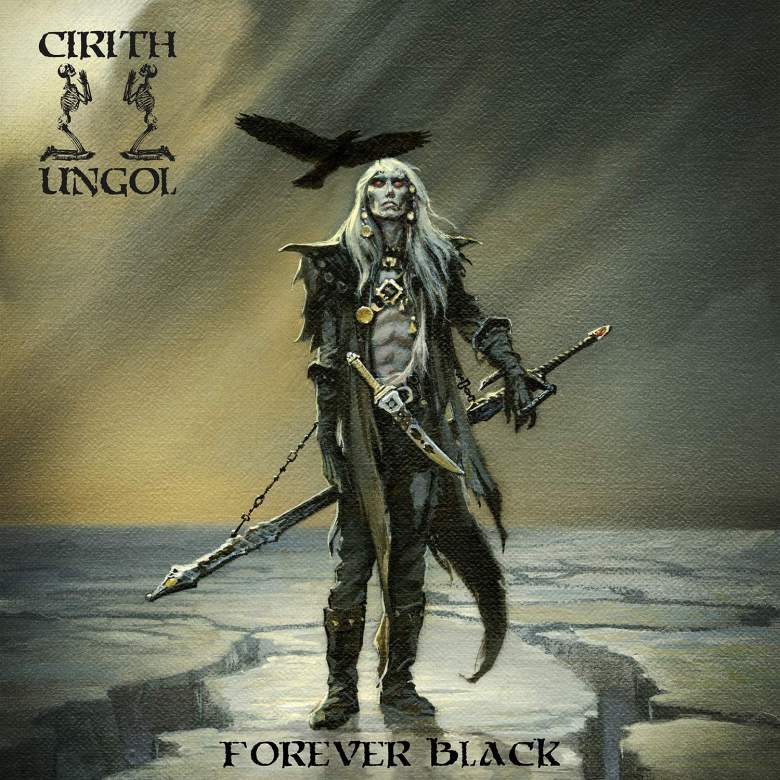 Forever Black
Cirith Ungol
Heavy Metal
Metal Blade
2020
LP
9