Skupinu Gryphon založili na začiatku 70. rokov Richard Harvey (recorder, keys) a Brian Gulland (bassoon, crumhorn). Už vtedy bolo zrejmé, že to nebude tuctová muzika a albumy, ktoré vydali, boli zvláštnym amalgámom stredoveku a progresívnej hudby, so zdravým pomerom folku. Napriek zreteľnému používaniu rôznych renesančných dychových nástrojov preniesli svoju hudbu do prítomnosti. Hoci za preskúmanie stojí všetkých päť albumov, dva z nich – Midnight Mushrumps a Red Queen To Gryphon Three z roku 1974, sú nepochybne klasikou. Po vydaní Treason (1977) však kapela zanikla. Harvey si vybudoval meno ako nájomný hráč a začal komponovať hudbu pre divadlo, televíziu a film.
Čo vari nikto nečakal, po "krátkej" prestávke, trvajúcej zhruba štyridsať rokov, traja zo zakladajúcich členov Gryphon – Graeme Taylor, Dave Oberlé a Brian Gulland – pocítili potrebu znovu sa spojiť a vydať úplne nové dielo. Pridali sa k nim Graham Preskett, Andrew Findon a Rory McFarlane. Spoločnými silami vytvorili album, ktorý, napriek skutočnosti, že vyšiel v 21. storočí, presne zapadá do ozubeného súkolia značky Gryphon. Takže, jasné pokračovanie klasiky a o to je moje konštatovanie radostnejšie.
V dnešnej dobe je naozaj málo fanúšikov progresívnej hudby, ktorí zažili a poznajú potešenie z tvorby Gryphon. Zreteľne sa ukazuje, koľko medzier majú vo svojom hudobnom vzdelaní. Na rozdiel od nich, túto skupinu milujem už roky a poznám všetkých 5 pôvodných albumov. Jedného dňa som rozprával s kamarátom a povedal mu, že práve počúvam Midnight Mushrumps a on na to, že vyšiel nový album, ktorý sotva pochopím! Gryphon, hoci v inom zložení, znie stále rovnako ako Gryphon a nikto iný. Progresívne, stredoveko, folkovo. A ak už nič iné, môže Vám rozšíriť hudobné obzory. Napr. mnohí ani netušia, podobne ako ja, že k dispozícii sú aj basové a sopránové verzie crumhorns! Je to skupina, ktorá opätovne vyrazila na svoju jedinečnú cestu, hoci značne nedocenenú, akoby ani nebola preč. Musím povedať, že z jej návratu mám obrovskú radosť.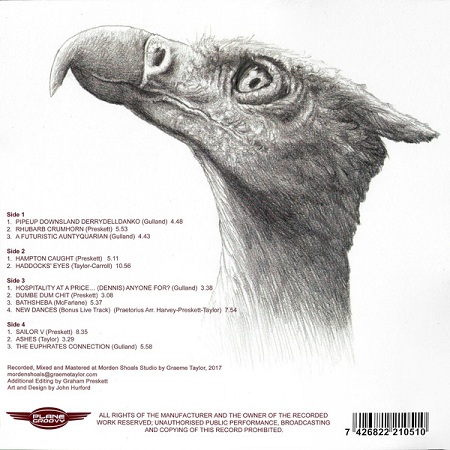 Gryphon môžem počúvať celý deň, a práve tak aj činím. ReInvention je ľahko stráviteľný, plný svetla a potešenia. Skupina je späť s albumom, ktorý je úplne nevyhnutný a rovnako dôležitý. Ak ste sa s týmito chlapcami doteraz náhodou nestretli, máte skvelú príležitosť. A Vy, ktorým skutočne chýbali, vedzte, že konečne existuje aj novší album, ktorý Vás určite vzruší a poteší.
SKLADBY:
01. Pipe Up Downsland DerryDellDanko (4:49)
02. Rhubarb Crumhorn (5:56)
03. A Futuristic Auntyquarian (5:58)
04. Haddocks' Eyes (10:58)
05. Hampton Caught (5:12)
06. Hospitality At A Price… Anyone For? (3:11)
07. Dumbe Dum Chit (3:08)
08. Bathsheba (5:37)
09. Sailor V (8:37)
10. Ashes (3:32)
11. The Euphrates Connection (4:43)
Bonus track  – LP: C4 – New Dances /Live/ (7:54)
ZOSTAVA:
Graeme Taylor – acoustic & electric guitars, producer
Graham Preskett – violin, mandolin, keyboards, harmonica
Brian Gulland – bassoon, bass crumhorn, baritone sax, recorders, piano, vocalisations
Andrew Findon – flute, piccolo, fife, soprano crumhorn, soprano sax, clarinet
Rory McFarlane – electric & double basses
Dave Oberlé – drums, percussion, vocals
ReInvention
Gryphon
Prog Rock, Folk Rock
Gryphon/Plane Groovy
2018
CD, 2LP
11/12