Poslouchám Sabotage a křičím JÓÓÓÓÓÓÓ odškrtávajíc si další progresivní dílko od Black Sabbath s Ozzym Osbournem. Stále mi připadá neuvěřitelné, kam se tahle kapela dokázala na dvojici nahrávek z let 73 a 75 pohnout. Jejich první dvě desky jsou nesmrtelné, debut díky záhrobní atmosféře a temné náladě, dvojka skrze nadpozemské a nesmrtelné hity. Ale ty nejlepší Sabbath s "ukvílencem" Ozzym jsou Sabbath Bloody Sabbath a právě Sabotage. To mi nikdo nevymluví, páč jedině hluchý by tohle nepoznal.
Hřmotný zeppelinovský riff otevírá úvodní štych Hole in the Sky. Ozzy zpívá, tak nějak… prostě zpívá, nekvílí, nepiští, ale velice pečlivě a harmonicky artikuluje. Doslova záhrobní atmosféru navozuje zvuk kytary á la míchačka na maltu v Symptom of the Universe. Často coverovaná skladba v sobě spojuje starší dobu temného debutu s pokrokovými myšlenkami dneška. Ward do škopků buší jako smyslu zbavený a Iommiho riffy a vyhrávky jsou tady legendární. Přechod do akustické polohy je pastvou pro uši. Tou je i další schizoidní záležitost Megalomania. Podobný náladotvorný klenot dosud Black Sabbath nesložili, tohle se musí slyšet a prožít. Na desku minulou jsem si rozpomnul při melodiích v The Thrill of it All. A znovu k okultismu, tím je načichlá momentka Supertzar. Je to tu jako na houpačce. Am I Going Insane (Radio) obrací kormidlo nazpět do prog-rockových vod, přístupnost a legrácky neměli dosud v tvorbě Sabbath tak výraznou odezvu. Desku uzatvárá děsivá monster záležitost The Writ. Tady máme celý svět Sabotage jak na dlani.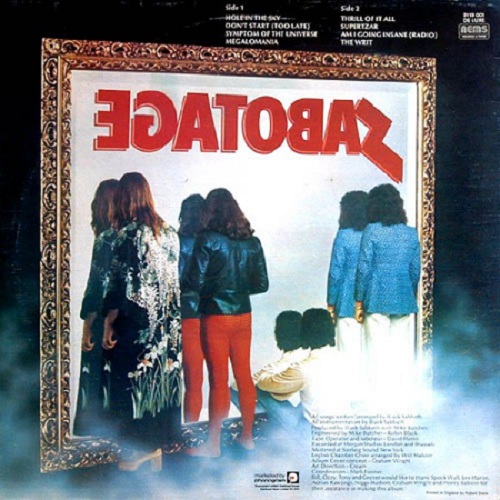 Škoda je, že deskou Sabotage tahle pekelně kvalitní progresivní jízda končí. Slovy klasika – stejně nemůže nic trvat věčně. Tohle se ale klukům moc a moc povedlo. Bodování? No nenechte se vysmát.
SKLADBY:
1. Hole in the Sky (4:00)
2. Don't Start (Too Late) (0:49)
3. Symptom of the Universe (6:28)
4. Megalomania (9:40)
5. The Thrill of it All (5:52)
6. Supertzar (3:42)
7. Am I Going Insane (Radio) (4:15)
8. The Writ (8:09)
9. Blow on a Jug [hidden track] (0:39)
SESTAVA:
Ozzy Osbourne – vocals
Tony Iommi – guitars, piano, synth, organ, harp
Geezer Butler – bass
Bill Ward – drums, percussion, piano & backing vocals (8 outro)
+
English Chamber Choir – chorus (6)
Will Malone – chorus arrangements
Sabotage
Black Sabbath
Hard Rock
NEMS
1975
LP
9