Canterbury (canterburská scéna) je jednou z významných odnoží artrockovej hudby 70. rokov, ktorá je pomenovaná podľa britského regiónu, kde kapely s týmto zameraním vznikli. Jej hlavní predstavitelia sú známi v celej svojej škále: od pôvodne ťažkých, jazzovo orientovaných Soft Machine, cez psychedelických Gong, klasikov subžánru Hetfield & North,  National Health a Khan, až po melodicky najstráviteľnejších  Caravan.
Canterbury má (resp. malo) svojich zastáncov aj v iných krajinách sveta: taliansky Picchio Dal Pozzo, japonský Six North, belgický Pazop, švajčiarsky (jednoalbumový, ale kultový) Island, americké kapely However a Volaré sú toho celkom jasným dôkazom. Aj progrockoví hrdinovia dnešnej doby, britsko-švédsky súbor Tangent, vychádza vo svojej produkcii z canterbury, ako jedného z elementárnych zdrojov svojej hudobnej inšpirácie. Všeobecne je však príliv nových kapiel vychádzajúcich z canterburskej scény veľmi zriedkavý.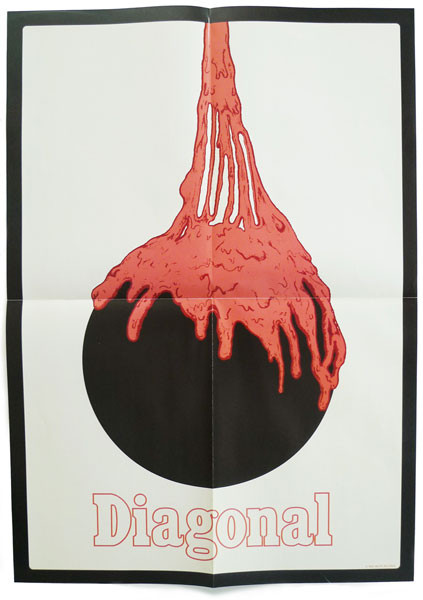 Jednou z tých, ktoré sa objavili relatívne nedávno, ako blesk z čistého neba (a rovnako je zložená z muzikantov už "v najlepších rokoch") s hodne silným albumom, sú Diagonal z Brightonu. Pôvodne sedemčlenná kapela, ktorej hudba so svojím archaickým, analógovo pôsobiacim zvukom, vracia staromilcov do raných 70. rokov. Aj minutáž albumu je konzervatívna – vinylová (album vlastne súbežne na vinyle aj vyšiel). Za výrazné individuality súboru považujem sólového speváka a klávesáka Alexa Crispina a hráča na altsaxofón, klarinet a flautu Nicholasa Whittakera, ktorí mierou vrchovatou prispievajú ku tej správnej atmosfére albumu, dávajúcemu realistický pocit, že vyšiel takmer o 40 rokov skôr ako je realita…
Semi Permeable Men-Brain (10:54) – je typický canterburský náter – dynamicky sa ženúca skladba s naliehavým spevom Alexa Crispina, pri plnom zvuku nástrojovej inštrumentácie s výbornou gradáciou.
Child Of The Thunder-Cloud – (8:49) sa rozbieha od pomalého tandemu piano-altsaxofón do silne melancholickej pasáže a cez bubenícku vsuvku do jazzového finále s vokálom, skresleným vocoderom.
Deathwatch (7:18) – chvejivo plačlivý hlas à la Richard Sinclair  (Caravan) v opare krásne smutnej atmosféry prechádza do prostrednej, a capella spievanej časti a končí motívom skreslenej gitary za postupného sa pridávania dychových nástrojov a syntetizátorov. Harmonická výstavba skladby je skutočne parádna.
Cannon Misfire (5:32) – je inštrumentálny jazzrock/fusion à la Soft Machine v ich najlepšom období, výrazná rytmika (dominujú basgitara a bicie), saxofón a skreslený zvuk silne podladenej gitary. Tiež skvelý kúsok.
Pact (14:00) – archaické Hammondky, podladená gitara, základný bluesový motív, Alex Crispin spieva, akoby chcel vypustiť dušu na dlaň, aranžérsky typický zvuk opusov canterburskej scény, skutočne ako spred 35-40 rokov. Krásna mellotronová pasáž uprostred vás prenesie do mystických krajín zo štetcov a obrazov Rogera Deana a finále dvoch gitár na organovom podklade, dôstojné termínu "canterbury" vás pomaly vynáša späť do dennej reality z exkurzie po raných 70. rokoch…
Z doteraz troch vydaných štúdiových albumov zatiaľ jednoznačne najlepšie dielo skupiny…
Hodnotenie: 4,5
SKLADBY:
1. Semi Permeable Men-Brain (10:54)
2. Child of the Thunder-Cloud (8:49)
3. Deathwatch (7:18)
4. Cannon Misfire (5:32)
5. Pact (14:00)
ZOSTAVA:
Alex Crispin – lead vocals, piano, organ, synth, percussion
Nicholas Richards – guitar, percussion
David Wileman – electric & acoustic guitars, percussion
Ross Hossack – Mellotron, synth
Nicholas Whittaker – alto saxophone, clarinet, flute, recorder, backing vocals
Daniel Pomlett – bass
Luke Foster – drums, percussion
Diagonal
Diagonal
Prog Rock
Rise Above Records
2008
CD, LP
5