Něco málo přes rok po přelomovém albu "Hammerheart" vychází další vynikající nahrávka švédského černokněžníka Quorthona a jeho Bathory, nazvaná "Twilight Of The Gods". Je fakt, že dosud z dílny vikinského kovotepce nic špatného nevzešlo, ale jistým přešlapům se v budoucnu pochopitelně nevyhnul ani on.
To ovšem rozhodně není případ "Soumraku bohů". Tenhle počin navazuje plynule na předchozí mistrovský kousek, pokračuje v jím vytyčené cestě a dál rozvíjí a obohacuje jeho přínos. Posun není sice nijak výrazný a obě nahrávky jsou si v mnohém podobné, v žádném případě však nejde o pouhé zopakování stejného modelu. V daleko větší míře jsou zde slyšitelné vlivy děl klasiků, zejména Richarda Wagnera, Johanna Sebastiana Bacha, Ludwiga van Beethovena a Gustava Holsta. Od posledně jmenovaného si dokonce Quorthon vypůjčil část skladby "Jupiter, The Bringer Of Jollity" ze suity "The Planets, op. 32", která, pod názvem "Hammerheart" a opatřena textem, album uzavírá.
"Twilight Of The Gods" je druhým počinem nového směřování kapely, proto se rovněž zde nachází čistý vokál, často podpořen sborovými zpěvy, akustické a pomalé pasáže, stejně jako rozmáchlé kompozice, v textech pak témata z vikinské éry, ale i Nietzschem ovlivněné úvahy v úvodní, bezmála čtvrthodinové skladbě, Twilight Of The Gods.
Ačkoliv se nejedná (a ani nemůže jednat) o takové překvapení, jako u předchůdce, jde bezpochyby o významné a vysoce kvalitní dílo.
01. Prologue – Twilight Of The Gods – Epilogue (14:06)
02. Through Blood By Thunder (7:05)
03. Blood And Iron (9:34)
04. Uder The Runes (5:59)
05. To Enter Your Mountain (7:36)
06. Bond Of Blood (7:37)
07. Hammerheart (4:42)
Quorthon – guitars, vocals, bass, drums
Kothaar – bass
Vvornth – drums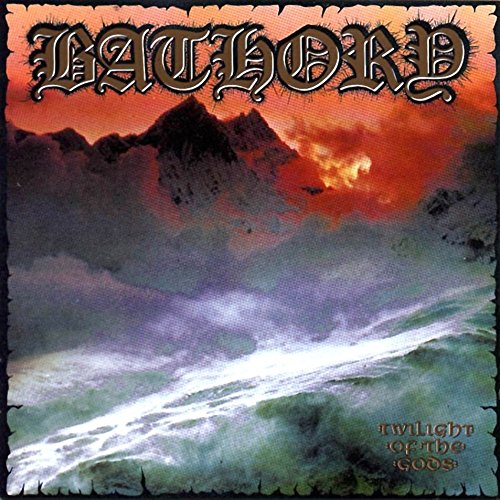 Twilight Of The Gods
Bathory
Black Metal, Viking Metal
Black Mark
1991
LP
7