CD Strange Days Records, Cramps Records – POCE-1142  /2007/
Jazz-rock mým denním chlebem nikdy nebyl a nebude a při zmínce o fusion panáčkuju, jak hlídkující surikata. Okolo fanoušky výborně hodnoceného debutu skupiny Arti e Mestieri jsem tak léta jen ostražitě našlapoval a čekal na to, až nastane vhodná příležitost. V dostupnejch recenzích se navíc pořád opakovalo přirovnání k italské odpovědi na Mahavishnu Orchestra a to mi taky nepřidalo…
Všechno se to změnilo asi před šesti lety, když sem kolega Dmitry M. Epstein umístil recku koncertního alba First Live In Japan z roku 2007. Teprve potom jsem dal debutu Tilt konečně šanci a mrkal na drát. Mahavishnu Orchestra? Ale kdeže, těch bolestivejch, free jazzovejch výpadů je tady jen pár. Kytara prakticky nevyčnívá a houslista Giovanni Vigliar hraje daleko ukázněnějším stylem, než Jerry Goodman. Navíc bych vypíchnul ještě porci přívětivých melodií a špetku, téměř šeptem zpívaných vokálů v italštině, připomínajících PFM v jejich prvním období. Zkrátka, album Tilt mě zaujalo tak, že jsem si ho chtěl koupit, ale v rozletu mi bránila skutečnost, že nebylo k mání. Teprve před pár týdny jsem využil nabídky jednoho bazaru a cédéčko si – spolu s druhou deskou kapely Nuova Idea – konečně pořídil a protože jde o pěknou vinyl repliku od japonských Strange Days Records, mám z něj (i přes vyšší pořizovací cenu) velikou radost.
Skupinu Arti e Mestieri založil v roce 1974 ex The Trip bubeník Furio Chirico, ke kterému se přidali kytarista Gigi Venegoni, dechař Arturo Vitale, baskytarista Marco Gallesi a hráč na housle (a příležitostný zpěvák) Giovanni Vigliar. Všichni z formace Il sogno di Archimede. Teprve potom, co do party přibyl ještě talentovaný klávesista Beppe Crovella byla sestava komplet a upsala se labelu Cramps, pod jehož křídla patřila další italská fusion legenda Area.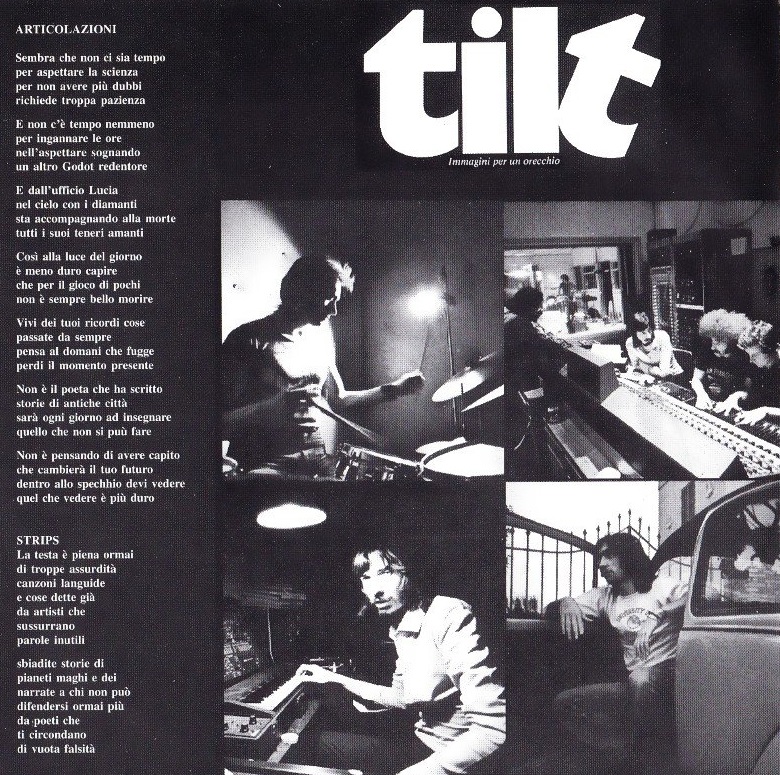 Poprvé si spolu celá kapela vrzla v Miláně, na Festivalu del re nudo a vzápětí odjela do Říma, aby v Chantalain studiích nahrála svoje první dlouhohrající album. To se na trhu objevilo v dubnu 1974 (tenkrát to šlo děsným fofrem) a kromě názvu Tilt dostalo ještě podtitul   Immagini per un orecchio (Obrázky pro ucho).
Jsem toho názoru, že na první skladbě záleží a vysoce energická Gravità 9,81 je toho důkazem. Nebýt jí, možná bych se s albem nakonec minul, ale tohle je trefa rovnou na komoru. Technickej náklep s melodickým a snadno zapamatovatelným leitmotivem, kterej zatne drápek do kůže každého, na podobnou vlnu naladěného fanouška. Není divu, že se z ní postupem času vyklubal "hit", kterej kapelu provázel prakticky po celou její kariéru. Pravda, v závěru dlouhého a stále trýznivějšího sóla na saxofon už se trochu kroutím, ale dá se to vydržet. Kór když je tady náplast v podobě opojně melodické, na vlnách mellotronu plovoucí Strips. Ta obsahuje dokonce trochu nesmělého, téměř šeptem zpívaného vokálu v italštině a tak mi (i díky houslím) připomíná PFM z roku 1972.
Bezprostředně navazující Corrosione je krátkou saxofonovou fanfárou, vytvářející předmostí pro vpád nevázané, rozpustile vyzývavé fusion nakládačky Positivo/Negativo a především v její druhé polovině jsou to virtuózní bakchanálie. Furio Chirico tady (a nejenom tady) potvrzuje, že patří k bubenické extratřídě a z jeho výkonu, připomínajícího živelnou katastrofu jsem úplně auf. Prvních pět kusů tvoří jednu suitu, na obalu původního alba označenou jako 1´Parte a tím posledním je skladba In cammino. Z počátku melancholicky zadumaná, ale postupně stále zrychlující, s několika energickými laufy navrch.
Druhou stranu původní vinylové desky otevíral kraťas Farenheit. Tu melodii, spolu se sametově hebkým zvukem saxofonu miluju a spolu se Strips jde o mé dva nejoblíbenější dílky celé kolekce, ovšem pozor, následující Articolazioni jim šlape zdatně na paty. Ambiciózní, téměř čtrnáct minut dlouhá skládačka obsahuje hodně symfonických harmonií, ale nechybí ani brutálně rychlé, instrumentální vsuvky. Navíc je to teprve druhá skladba se zpěvem v italštině a přehršel chytlavejch melodií z ní dělá adepta na vůbec nejlepší položku celého alba. Je fakt výborná, což však nemůžu říct o závěrečné, syntezátorové kakofonii Tilt. Bez té bych se tedy klidně obešel a těch dvě a půl minuty je až zbytečně moc…
Jednoduchá (tedy nikoli rozkládací) mini vinyl replika vydaná ve spolupráci Strange Days a Cramps Records je velice pěknou zmenšeninou originálního alba. Všechny podstatné údaje jsou vytištěné na obalu, texty a portréty členů kapely najdeme na vnitřní papírové vložce, do které je zasunutý samotný kotouč. Dál už je tady jen přiložený booklet v japonštině a nechybí ani OBI. Nijak přeřvaný zvuk se mi zdá subjektivně dobrý, ale trochu mu schází basová složka. To se však dá snadno vyřešit pomocí korekce na stereo zesilovači.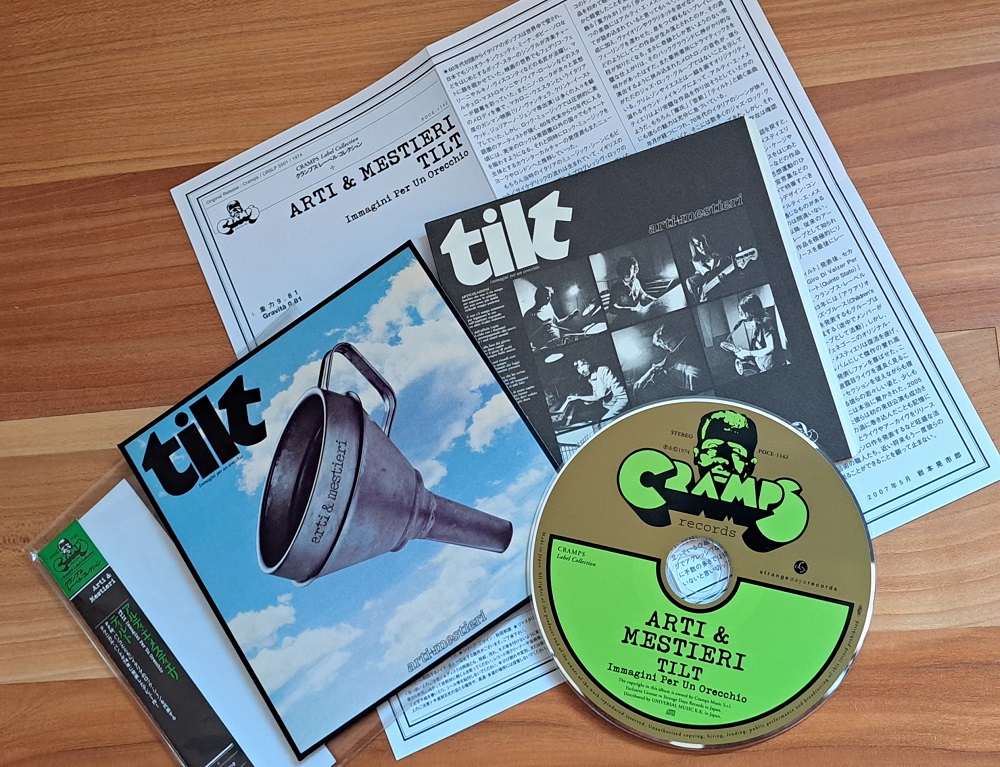 Fusion sice poslouchám jen okrajově, ale tohle je velice dobré album a jsem rád, že ho mám. Sconcerto od Il Baricentro mám sice ještě o chloupek raději, ale eLPíčku Crac! od stájovejch kolegů Area se minimálně vyrovná. Ostatně, muzika Arti e Mestieri mě drapla tak, že jsem si následně koupil i jejich druhou desku Giro di valzer per domani (1975), ale o té až někdy jindy.
SKLADBY:
1. Gravità 9,81 – 4:05
2. Strips – 4:39
3. Corrosione – 1:37
4. Positivo/Negativo – 3:29
5. In cammino – 5:36
6. Farenheit – 1:15
7. Articolazioni – 13:24
8. Tilt – 2:29
SESTAVA:
Gigi Venegoni – chitarra, sintetizzatore A.R.P.
Arturo Vitale – sassofono soprano, sassofono baritono, clarinetto, clarinetto basso, vibrafono
Beppe Crovella – pianoforte elettrico, pianoforte acustico, sintetizzatore A.R.P., mellotron, organo Hammond
Giovanni Vigliar – violino, voce, percussioni
Marco Gallesi – basso
Furio Chirico – batteria, percussioni
Tilt - Immagini Per Un Orecchio
Arti e Mestieri
Jazz Rock, Fusion, Prog Rock
Cramps Records
1974
LP
8
CD Strange Days Records, Cramps Records – POCE-1142 /2007/