CD VM 2000 – VM CD 078  /2000/
Italská rocková skupina Il Baricentro pochází z Říma a vznikla v druhé polovině sedmdesátých let. Bubeník Piero Mangini s basistou Toniem Napoletanem byli relativními nováčky, ovšem bratři Francesco a Giovanni Boccuzziovi už spolu hráli v kapelách Della venis a Festa mobile. O jejich jediném albu Diario di viaggio della Festa mobile (1973) jsem tady před časem psal, ovšem muzika Il Baricentro je o něčem docela jiném.Svezla se na vlně v té době populárního jazz-rocku a během pátrání po historických souvislostech jsem se často setkával s odkazy na tvorbu Weather Report, Return To Forever, nebo Mahavishnu Orchestra…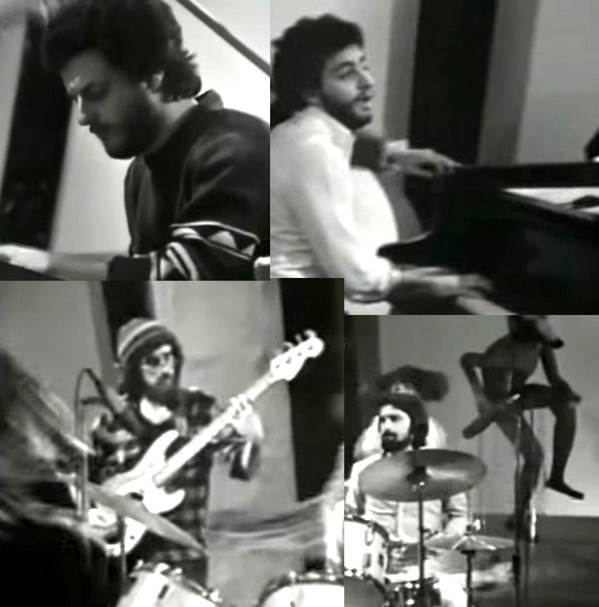 Můj vztah k jazz-rocku je poněkud vlažnej, výše uvedené legendy neposlouchám a tak ta jména nemůžu potvrdit, ale Mahavishnu Orchestra? To asi ne. Před lety jsem si dvě desky koupil a mám je spojené (možná mylně, dlouho jsem je neslyšel) především s vyčnívajícím a urputně sólujícím kytaristou Johnem McLaughlinem, ovšem u Il Baricentro je tomu jinak. Kytara tady pochopitelně nechybí, ale její role je vedlejší a prim hrají především klávesové nástroje bratří Boccuzziových. Jejich arzenál je skutečně bohatej a škoda, že se nedochoval podrobnější soupis použitého vybavení (booklet se omezuje na obecné termíny "electric and acoustic keyboards", nebo "synthesizer"), protože je to mana pro moje zmlsaná a v zaměstnání těžce zkoušená ouška. Do široka rozkročené stereo, brilantní přednes a křišťálově čistej zvuk lákají k opakovaným reprodukcím a mají velký vliv na můj celkově pozitivní dojem z celého alba.
Debut se nahrával od prosince 1975 do ledna následujícího roku ve studiu Chantalain v Římě a při celkové stopáži 42 minut obsahuje sedm, ryze instrumentálních skladeb. Z mého pohledu nejlepší je hned ta úplně první, tedy Sconcerto a nedivím se tomu, že po ní pojmenovali celou desku. Je to svižná, energií napumpovaná jízda s precizní rytmikou a kaskádami klávesových sól. Nic takového už se na desce neopakuje, ale to neznamená, že by nebylo co poslouchat. Následující, deset minut dlouhá Lido bianco je pozdně odpolední pohodičkou u líně se převalujícího Jaderského moře. Na sluncem vyběleném písku a s oblíbeným drinkem v ruce. Střídmé bicí se dostanou ke slovu jen občas a siestu tak ruší jen tlumená hudba z opodál stojícího plážového baru.
Ve středním tempu šlapající Meridioni e paralelli je přehlídkou hráčské virtuozity bratrů Boccuzziových a o chlup zajímavější mi přijde až navazující Afka. Repetitivní, rytmickej základ mi připomíná Gentle Giant a Piero Mangini do toho tepe s matematickou přesností. Sice kolovrátek, ale pořádně komplikovanej a zbytek kapely na něj roubuje rozličné perkuse a klávesová sóla. Po dvou složitějších kompozicích je dobré trochu si odfrknout a vhod tak přijde baladicky laděná Pietre di luna. V překladu "měsíční kameny" dokážou v každém z nás probudit jemnost a laskavost a přesně tak je to i se samotnou skladbou.
Bratři Boccuzziovi jsou původem z Bari (odtud název Il Baricentro) a před odchodem do Říma spolu hráli v kapele Della venis. Stejnojmenná skladba se nachází pod předvolbou číslo šest a je to čistě klávesovej ambient, úplně bez perkusních nástrojů. Závěrečná Comunque… (Todo modo) šlape, jak dobře namazanej stroj a kromě nezbytných kláves si s chutí zasóluje aj brblající basa. Za to sólo jsem chtěl Napoletanovi vyseknout upřímnou poklonu, ale podle kreditů v bookletu ho s největší pravděpodobností nahrál  Francesco Boccuzzi…
A to je všechno. O dva roky později Il Baricentro nahráli ještě eLPíčko Trusciant a pak se rozpadli. Znovu se nakrátko sešli až v letech 1983-84, ovšem v triu a zůstal po nich disco singl Tittle Tattle. Francesco Boccuzzi se odstěhoval do USA, Giovanni zůstal v Římě, ale oba se dál věnovali muzice jako studioví hráči. Složili hudbu k rockové opeře Androidi (na LP vyšla v roce 1989) a spolupracovali rovněž na desce Bassingher (1985) zpěváka a skladatele Ernesta Bassignana.
Původní album vydalo EMI a to v dostatečně velkém množství. Po bazarech a aukcích se tak dá ještě dneska koupit za slušnou cenu a navíc se v posledních letech objevilo i několik dalších vinylových reedic. S cédéčky je to podstatně horší a discogs uvádí jen dvě italská vydání, Mellow Records (1994) a VM 2000 z roku 2000. K mání sice jsou, ale za ceny od 50 Euro a to už je – na digitál – docela láce. Nosič od VM 2000 je v klasickém jewel boxu s transparentním trayem a kromě samotného CD obsahuje čtyřstránkovej booklet s kredity, sestavou skupiny a předmluvou od Gina Castalda.
S jazz-rockem musím opatrně, po kapkách a v minimálním množství, ale tohle album mě opravdu baví. Kvůli článku jsem ho teď v posledním týdnu sjížděl dvakrát denně a nemám s ním absolutně žádnej problém. Dal bych tři a půl, ale za brilantní přednes a průzračně čistej zvuk ještě půl hvězdičky přidám.
SKLADBY:
1. Sconcerto  4:54
2. Lido bianco  9:56
3. Meridioni e paralleli  6:12
4. Afka  6:22
5. Pietre di luna  4:26
6. Della venis  4:17
7. Comunque… (Todo modo)  5:27
SESTAVA:
Francesco Boccuzzi – electric and acoustic keyboards, synthesizer, electric guitar, percussion, keyboards, synthesizer and bass solos
Vanni Boccuzzi – electric and acoustic keyboards, string keyboard, percussion
Tonio Napoletano – bass, percussion
Piero Mangini – drums, percussion
Sconcerto
Il Baricentro
Jazz Rock
EMI
1976
LP
7
CD VM 2000 – VM CD 078 /2000/