V německých undergroundovějších končinách vznikla spousta zajímavé, dechberoucí muziky; netřeba asi jmenovat skupinu Can… nebo Stevenem Wilsonem oblíbeného Klause Schulzeho a vůbec celou oblast progresivní elektroniky… a pak je tu také skupina Amon Düül II. 
Sedmé studiové album této legendární krautrockové kapely nabízí úplně jinou hudbu než instrumentální pekelnou kosmickou psychedelií napuštěná první dvě kultovní alba Phallus Dei (1969) a Yeti (1970). Ta udělala kapele jméno a to byl/je také důvod, proč se toto podle mě neprávem podceňované album netěší velké oblibě, viz hodnocení na progarchives, nepřibližující se ani třem bodům. Já nesouhlasím, hudba je to jiná, ale jiný automaticky neznamená špatný, Amon Düül II byla kapela, která se prostě vyvíjela.
První polovinu alba tvoří písničky, normální klasicky rockové písničky, což někdo náročný a zmlsaný může brát jako odsouzení, ale lze to také brát jako pochvalu. Já s nimi problém nemám.
To hlavní pak přichází na druhé straně alba; nejdelší skladba na této desce Da Guadeloop je výborná krautrocková instrumentálka, progrock jak vyšitej… Kdybych měl někomu doporučit skladbu, která by měla být představitelem, symbolem stylu krautrock, vybral bych úvodní instrumentálku od kolegů Faust z jejich alba Faust IV (1973) nebo právě tuto jamově znějící kompozici.
Následuje překrásná baladická Lonely Woman – je zajímavé, kolika tvrďáckým kapelám šly baladické love songy – Rolling Stones, Deep Purple, Black Sabbath, Amon Düül II…
Liquid Whisper je další nádherná skladbička zpívaná neobvykle křehce Renatou Knaup… trochu připomínající Beatles v druhé půli šedesátých let.
Desku uzavírá další krátká píseň Archy The Robot, která se mi líbila už napoprvé, když jsem tohle album slyšel. Dechové nástroje v ní trochu připomínají opět Beatles. Z alba je koneckonců lehounce cítit ovlivnění právě již zmíněných Beatles, ale také Velvet Underground a Briana Ena.
Dávám zasloužené 4 hvězdičky, podle mě si album nízké hodnocení nezaslouží, není tu žádná popová vata jako třeba na předcházejícím albu Vive La Trance (1973). Pro posluchače progrocku Amon Düül II nepolíbené doporučuji klidně na začátek toto album – asi bych tuhle kapelu nenaposlouchával chronologicky, pokud nejste fandové třeba raných Pink Floyd nebo Tangerine Dream…
SKLADBY:
1. I Can't Wait Part 1 + 2 (6:18)
2. Mirror (4:21)
3. Traveller (4:23)
4. You're Not Alone (6:55)
5. Explode Like A Star (4:00)
6. Da Guadeloop (7:03)
7. Lonely Woman (4:44)
8. Liquid Whisper (3:24)
9. Archy The Robot (3:30)
SESTAVA:
Renate Knaup – vocals
Chris Karrer – acoustic & electric guitars, violin, tenor sax, vocals
John Weinzierl – acoustic & electric guitars
Falk Rogner – synthesizer
Lothar Meid – bass, acoustic guitar, vocals, string & brass arrangements
Peter Leopold – drums, percussion, acoustic guitar
+
Jürgen Korduletsch "Wild Willy" – accordion, percussion, vocals
Thor Baldursson – keyboards
Chris Balder – strings
Rudy Nagora – sax
Bobby Jones – sax
Olaf Kübler – flute, soprano sax
Ludwig Popp – French horn
Bob Chatwin – trumpet
Lee Harper – trumpet
Hermann Jalowitzki – snare drum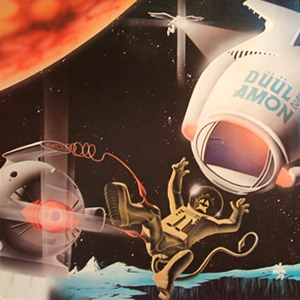 Hijack
Amon Düül II
Krautrock, Prog Rock, Psychedelic Rock
Nova
1974
LP
9