Příběh All Them Witches je o tvrdé práci rockové kapely z Nashville, která si pomalu, ale jistě vybudovala v podstatě z nuly renomé na mezinárodní hudební scéně, což se povedlo mizivému promile jejich ostatních  souputníků.

Chlapi z ATW dříve nahrávali své desky v obýváku na čtyřstopej magneťák, na chatě v horách a v malých bytových studiích, či v tom vlastním, které si vybavili v bývalém kostele. Ani to obrovské množství nejmodernější techniky nenapomohlo (jak jinak) ke vzniku nového repertoáru. Proto zvolili opačnou cestu, přesunuli se i se zvoleným producentem Mikey Allredem, kterej s ATW již vytvořil desku Dying Surfer Meets His Maker, do Abbey Road Studia v Londýně, přímo do studia Two, kde nahrávali třeba Beatles. Zde se v přísně ohraničeném časovém rozmezí devíti dnů vrhli na nedodělaná torza skladeb (kde jedinou připravenou skladbou byla See You Next Fall). Nasáli inspiraci přímo z temných prostor studia plných vintage analogových mašinek a dokončili osm skladeb.
Základem nové desky Nothing As The Ideal se staly hypnoticky psychedelické, valivé songy, které připomínají jam rytmické sekce Pink Floyd z počátku sedmdesátek se současnými Tool a drsným feelingem Kyuss. Tu částečnou větší hutnost oproti předešlé tvorbě zapříčinila jistě i nepřítomnost klávesáka Jonathana Drapera v sestavě, který kapelu v roce 2018 opustil.
K takovým skladbám lze zařadit hned úvodní Saturnine & Iron Jaw s pomalu dvouminutovým intrem, které kombinuje industriální ruchy s jemným prohrabováním strun. Praví fandové zde zaznamenají patero úderů zvonů, jež symbolizují počet předchozích nahrávek souboru a krásné výšivky na kytaru za pomocí slidu. Přímočarý stoner rock ve svižnějším balení bez zbytečných okras přináší druhá Enemy Of My Enemy a Lights Out. Krátké a úderné sólíčko na konci skladeb zaručeno!
To nejzajímavější z celého alba se nachází na pozici 4-6. V See You Next Fall se po horrorovém intru rozjíždí halucinogenní rytmika, která v této skladbě hraje prim, později připojivší se kytara spíše jen tak krouží kolem, občas jsme obdařemi skřípavým sólem. Tento jam měl původní stopáž 45 min. Pátá The Children Of Coyote Woman (pamatujete na Marriage a Death of Coyote Woman z druhé desky ATW ?) se nese v  duchu country a blues, ale nebojte žádný Johnny Cash se nezjeví, atmoška je zadumaná stejně, jak tomu je u ostatní produkce. K tomuto jejich  poměrně tradičnímu úletu je k vidění dost ujetej videoklip.
Zvuk přetáčených pásků uvádí  navazující píseň se zvláštním názvem 41, která mě dokáže vždy dostat svou hutnou uhrančivostí do extáze. V jednoduchém postupu je síla,  asi má současná nejoblíbenější záležitost!
Pro zklidnění je na albu umístěn i akustický Everest (jakýsi úryvek melodie zahraný na kytaru) a melancholická Rats in Ruins, která je takovou malou zádušní mší za tuto desku. Kytara s basou stále variují dokola jeden vzorec a Michaelův hlas ze záhrobí se s námi loučí, vše zaniká v hluku vazbících kytar, jednoduchá melodie skladby však skrze něj až do konce prozařuje, jako světélko naděje….
Závěrem: Pokud odečteme intra, outra a akustický předěl Everest, kapela vyprodukovala 35 minut hypnotického materiálu s již znatelnými rozpoznávacími prvky ATW, které obsahují mix stoner rocku, metalu, psychedelie, blues i country. Na vinylu přepychový zvuk umocňuje celkové jednolitější a monotónější vyznění, kratší stopáž však zaručuje udržení posluchačovy pozornosti.
O rozbor abstraktních textů jsem se nepokoušel, neb krom The Children Of Coyote Woman, která pojednává o Romolusovi a Removi, mi pravý obsah uniká. Stejně jsou na to prý i členové ATW.
Pokud bych parafrázoval název desky Nothing as The  Ideal, tak si myslím, že skoro ideální je poslední deska All Them Witches. O tomto albu se dle mého bude hodně psát a čtyřku dávám jen proto, abych mohl následující kotouček ohodnotit bodováním absolutním.
SKLADBY:
01. Saturnine & Iron Jaw
02. Enemy of My Enemy
03. Everest
04. See You Next Fall
05. The Children of Coyote Woman
06. 41
07. Lights Out
08. Rats in Ruin
SESTAVA:
Michael Parks Jr. – Vocals/Bass/Guitar
Ben McLeod – Guitar
Robby Staebler – Drums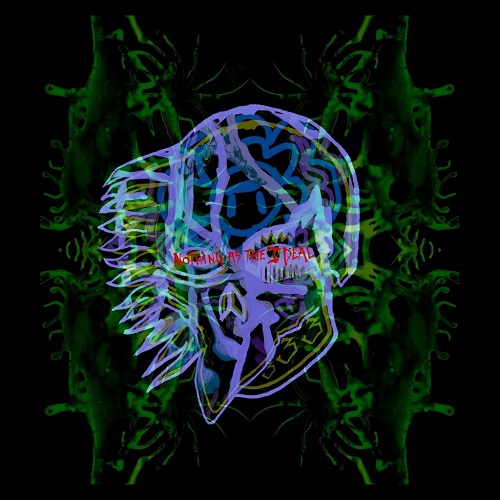 Nothing As The Ideal
NW5421
All Them Witches
Psychedelic Rock, Blues Rock, Stoner Rock
New West Records
2020
LP
8
LP