URIAH HEEP – FIREFLY, 1977
"Uriah Heep by nikdy nebyli tak úspěšní bez Kena Hensleyho. Nemají rádi, když to říkám, ale je to naprostá pravda."
Gerry Bron, 11/2004
V sobotu 3. dubna 1976 se v nizozemském Haagu, oblíbeném sídle celé řady nepochybně nepostradatelných mezinárodních organizací, uskutečnilo finále 21. ročníku přísně apolitické písňové soutěže Eurovize.
Zástupcem tehdejšího západního Německa bylo multietnické vokální těleso Les Humphries Singers, jehož dlouholetou oporou byl John Lawton, frontman Lucifer's Friend. Vystoupení s písní Sing Sang Song ale nenavázalo na předchozí hitparádové úspěchy formace v kontinentální Evropě (Mexiko, 1972; Mama Loo, 1973; Kansas City, 1974) a stačilo pouze na nelichotivé patnácté místo.
Kdo by čekal, že se o pouhých osm měsíců později v Maconu, devadesátitisícovém městě v centrální časti amerického státu Georgia, týž John Lawton poprvé představí jako nový zpěvák Uriah Heep? Leč stalo se, přestože ve hře o nástupnictví po odejitém Davidu Byronovi byla jména jako Ian Hunter (Mott the Hoople), Gary Holton (Heavy Metal Kids), či David Coverdale (Deep Purple).
V Lawtonův prospěch však bezpochyby hlasitěji než popsané úletové angažmá promluvily výkony ve zmíněné krautrockové grupě, či dobrozdání od Rogera Glovera, s nímž o dva roky dřív epizodně spolupracoval na koncepčním projektu The Butterfly Ball and the Grasshopper's Feast. A klíčovou roli zřejmě sehrála míra jeho popularity v Německu, zóně enormního zájmu Gerryho Brona, manažera a producenta Uriah Heep.
Koncertní premiéru v jejich sestavě si 8. prosince 1976 v maconské hale Coliseum odbyl rovněž baskytarista Trevor Bolder z Bowieho doprovodného bandu The Spiders From Mars, v pořadí již pátý muž na tomto nestabilním postu.
Při vystoupení zazněla hned polovina skladeb z připraveného alba (Do You Know, Firefly, Sympathy a Who Needs Me), které personálně obměněná kapela natočila během října a listopadu v komplexu Roundhouse Studios v Londýně.
V dalším průběhu dvouměsíčního turné, při němž Uriah Heep plnili úlohu předkapely domácích Kiss, byl příležitostně zařazován i song The Hanging Tree. Působivý otvírák britského vydání LP, které pod titulem Firefly vyšlo v únoru 1977, byl výsledkem Hensleyho začínající spolupráce s americkým skladatelem, textařem a muzikantem Jackem Williamsem.
Zážitek z nadějného rozjezdu jubilejní studiovky ještě umocní prvotřídní číslo Been Away Too Long a sympaticky vyzní rovněž jízlivý Kerslakeův příspěvek Who Needs Me, který si bicmen (v kreditech uvedený s čerstvou přezdívkou 'The Bear') ušil přímo na tělo. Podle informací doby totiž nebylo vůbec jednoduché přes Brona prosadit na album jiný materiál, než z pera Hensleyho. Důvody jsou nasnadě. Singlová Wise Man tak měla své místo jisté nejen proto, že mocný producent žil v přesvědčení, že tahle balada pojednává o něm.
Kdyby mi dal možnost zasáhnout do tracklistu alba, odnesl by to zdánlivě svěží rokenrolový kus Do You Know, jehož ideální náhradou se nabízel být neprávem odložený klenot A Far Better Way. Mírně pokleslou náladu však vzápětí zvedne atmosférická Rollin' On, co se jen tak líně převaluje, jak to taky svedu a mám rád. A vydržím i víc než šest a půl minuty. Siestu ale naruší absolutní vrchol alba i celé Lawtonovy heep-éry, budiž mu tedy odpuštěno. Nese název Sympathy, stal se lokálním hitem a rozhodující měrou přispěl k přijetí nové sestavy mnoha starými fanoušky. Jsem jedním z nich.
A samotné finále? Černobílé jak noc a den. V unavené první půli z titulní písně zaujme pouze Hensleyho zpěv, druhá část komplet na výbornou. Přesně jako skutečná svatojánská muška, která své světlo vypne a znovu zapne. Celkově příznivý dojem z díla nepošramotí, jen připomene některá předchozí varování všem tradicionalistům. Bude hůř!
Osmatřicet albových minut každopádně potvrdilo, že Uriah Heep nehledali klon Davida Byrona (ani by nenašli), ale vydali se zcela opačným směrem. Jiný zpěvák, jiný sound. I pro samotného Lawtona bylo důležité, aby nebyl vnímán jako snaha o Byronovu kopii, ke zdůraznění vlastní identity tak neváhal zvolit úděsnou glamovou image s make-upem.
S Uriah Heep natočil ještě dvě solidní studiovky (Innocent Victim, 1977 a Fallen Angel, 1978), zatímco živé dvojalbum Live In Europe '79 (1986) přineslo cenné svědectví o tom, jak se snažil popasovat s Byronovým repertoárem. Výsledek je ovšem tristní.
Ken Hensley sice správně předpokládal, že Lawtonův hlas by kapele mohl dodat nový rozměr – koneckonců právě album Firefly je toho zářným příkladem – jakoby se ale pozapomnělo, že na koncertech budou žádána i nepostradatelná starší čísla.
Rozevírací přebal desky na mě nikdy nepřestal působit jako nepodařená imitace fantaskní krajiny Rogera Deana, odjakživa proto favorizuju jeho vnitřní část s kreslenými portréty všech členů kapely. Díky Hensleyho nevídané vstřícnosti a trpělivosti ji zdobí od prosince 2007 také jeho originální autogram, hned pod původním přetištěným podpisem. Radost pohledět!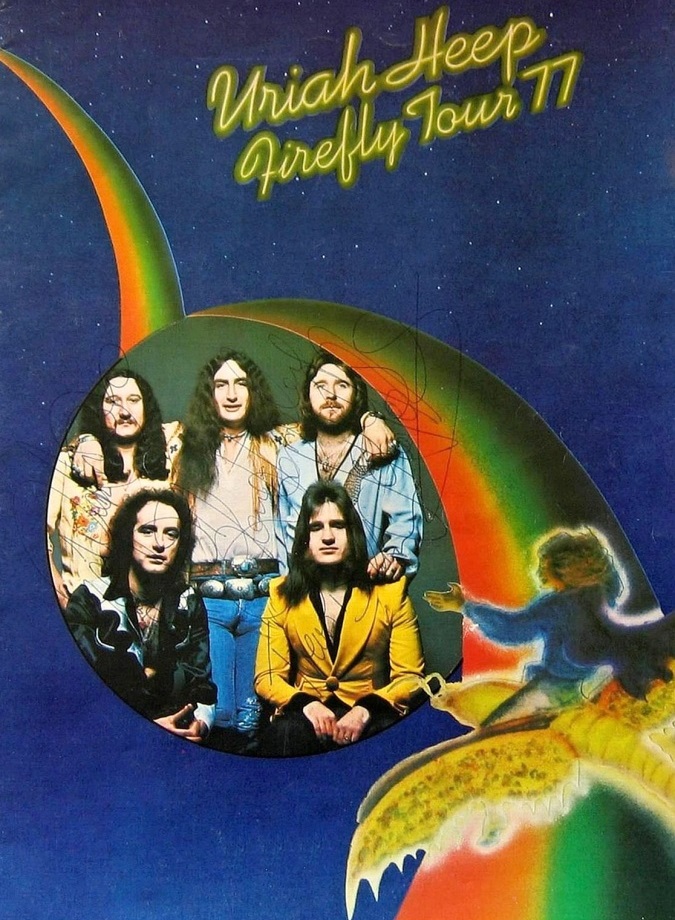 PS: Při poslechu z CD volím pořadí stop podle amerického vydání alba, tedy: Been Away Too Long – Sympathy – Who Needs Me – Wise Man – The Hanging Tree – Rollin' On – Do You Know – Firefly. Jen tak, pro osvěžení.
SKLADBY:
A1. The Hanging Tree (Ken Hensley/Jack Williams) 3.40
A2. Been Away Too Long (Ken Hensley) 5.03
A3. Who Needs Me (Lee Kerslake) 3.38
A4. Wise Man (Ken Hensley) 4.40
B1. Do You Know (Ken Hensley) 3.14
B2. Rollin' On (Ken Hensley) 6.21
B3. Sympathy (Ken Hensley) 4.48
B4. Firefly (Ken Hensley) 6.17
Nahráno: The Roundhouse Recording Studios, Londýn (říjen – listopad 1976)
Zvuková režie: Peter Gallen
Asistence: John Gallen
Produkce: Gerry Bron
SESTAVA:
Ken Hensley – klávesy, kytary, zpěv (B4)
Mick Box – sólová kytara
Lee 'The Bear' Kerslake – bicí, perkuse, zpěv (B4)
John Lawton – zpěv (vyjma B4)
Trevor Bolder – basová kytara
Firefly
Uriah Heep
Hard Rock
Bronze Records
1977
LP
8