Hrstka vyznavačů souboru je pravděpodobně stejně (ne)početná, jako jednotka obránců misijní stanice Alamo na sklonku zimy 1836. Ta se však v současnosti stala jednou z nejnavštěvovanějších turistických lokací v Texasu. Kéž by se podobné satisfakce dočkalo i album…
Sestava memphiské formace Alamo prodělala řadu změn, většinu "průchozích" jmen však už dávno odvál čas. Jisto je, že u zrodu stáli basista Ken Woodley a bubeník Richard Rosebrough se zkušeností z lokálních The Jokers a z natáčení alba Home Sweet Home (1970) muzikanta, producenta, zvukaře a fotografa Terryho Manninga*. K nim se připojil kytarista Larry Raspberry, který měl za sebou slavnou hudební etapu s The Gentrys – v roce 1965 nazpíval jejich milionový hit Keep On Dancing, #4 singlové hitparády Billboardu.
Kapela působila jako trio až do nástupu Larryho Davise, který převzal basu, zatímco Woodley si ke zpěvu přibral klávesy, jež budou dominovat novému soundu. Změna k lepšímu zaujala místního podnikavce Phillipa Raulse, který skupině pomohl ke smlouvě s Atlantic Records. Před vydáním eponymního alba, jež vznikalo ve studiu Ardent v Memphisu, firma sjednala několik větších vystoupení ve snaze představit kapelu širšímu okruhu posluchačstva. Nejpočetnější dav slyšel Alamo v New Orleans, kde předskakovali The Allman Brothers Band.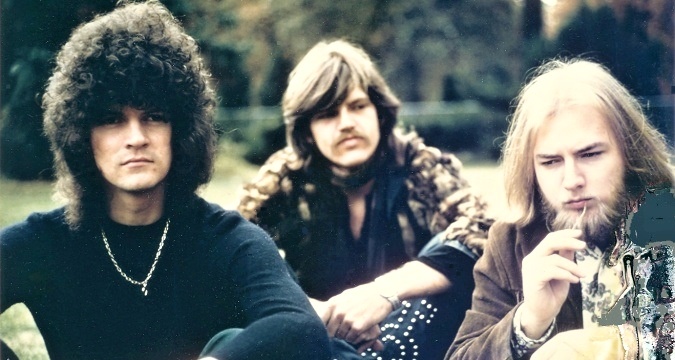 Po návratu do Memphisu a několika koncertech v místních sálech se po neshodách s ostatními členy kapely jen pár dnů před vydáním alba odporoučel Raspberry, který znovu nedokázal zkrotit své sólové ambice. Po jeho odchodu firma ztratila o Alamo veškerý zájem, zatímco odpadlík podepsal smlouvu na singl. Skladba Considerations vyšla v květnu 1972 v mono i stereo verzi, avšak s nulovým ohlasem.
O poznání líp se dařilo až projektu Larry Raspberry & The Highsteppers, který ve druhé polovině 70. let natočil tři alba (Highsteppin' And Fancy Dancin', 1974, In The Pink, 1975 a No Accident, 1979) a dokumentární film JIVEASSP přibližující příběh kapely, která funguje dodnes. Zmínit třeba i dvě frontmanovy herecké role – v televizním filmu This Is Elvis (1981) a kultovní klasice I Was a Zombie for the F.B.I. (1982).
Bubeník Richard Rosebrough po rozpadu Alamo nastoupil k Lee Baker & The Agitators, zahrál si s The Hot Dogs (album Say What You Mean, 1973) a natáčel s Big Star Alexe Chiltona a Chrise Bella** (alba Radio City, 1974 a Third, 1978/nahráno '74), jimž později vypomáhal i na sólových albech. V Ardent Studios pracoval jako zvukový mistr.
Ken Woodley byl jedním z hostů na albu Dixie Fried (1972) Jima Dickinsona a s Rosebroughem se opakovaně sešel při natáčení Chiltonových a Bellových projektů (za všechny jeden nepochopitelně odložený I Am the Cosmos, 1992/nahráno '74).
DISKOGRAFIE:
1971 – Alamo (Atlantic Records)
__________________________________________________
* Pro New Musical Express nafotil Chucka Berryho, Procol Harum, Steppenwolf, Janis Joplin, Jimiho Hendrixe a mnoho dalších. Je také autorem jednoho z posledních snímků Martina Luthera Kinga (den před atentátem). V lednu 2015 vydal své druhé album Heaven Knows.
** Po autonehodě našel Chris Bell své místo v "Klubu 27". Jeho pohřeb se konal 28. prosince 1978, v den Chiltonových narozenin…