Mnozí fandové Aerosmith považují své miláčky za největší rockovou kapelu všech dob hned po jejich vzorech Rolling Stones. Takové označení je značně diskutabilní, ale ve dvou časově ohraničených prostorech by se s podobným výrokem dalo souhlasit. 
Poprvé byla kapela na samotné špici popularity v polovině sedmdesátých let, kdy svými výtvory Toys in the Attic a Rocks sklízela vavříny po celém světě. Drogovými excesy a nesváry uvnitř kapely se však pánové ze svého trůnu vyšoupli sami.
V polovině let osmdesátých si hudebníci k sobě našli cestu znovu, a začali od píky budovat své ztracené renomé. Jedna lepší nahrávka střídala druhou a po stanutí na olympu s Permanent Vacation, potvrzením pozic nahrávkou Pump, byl sestrojen žebřík vedoucí přímo do oblak pojmenovaný Get a Grip.
Co na tom, že někteří "zarytí" vyčítají desce přílišnou přeslazenost v baladách. Za obehranost písní Cryin, Crazy a Amazing vděčíme radiostanicím a pořadům typu Eso, které provařené fláky nasazovali každou chvíli, jen aby neztratili sledovanost, které tímto řádně podruřovali pod kotel. Jenže skladby samotné za to nemohou a špatné rozhodně nejsou. Především Perryho gradovaným sólem rozbouřená Amazing za pozornost rozhodně stojí. Jenže největší kvalitu tu nemají balady, ale songy klasické. Šťavnaté bifteky made in Aerosmith, a že jich tu je požehnaně.
Recept na to, jak hned od začátku přetáhnout publikum na svou stranu, vám dá kapela prostřednictvím energií nadupaného Intra a songu Eat the Rich. Ve vysokých obrátkách pokračuje skvělou Fever a největší bombou na desce je (ne, opravdu to není žádná ze zdejších balad) famózní esence všeho rockového s názvem Livin on the Edge. Ve středních tempech vás rozemele Perryho Walk on Down a stejně úderná hymna Shut up and Dance. Šťavnatí smithi s posluchačem smýkají po podlaze tak intenzivně, že veškerý odpor je předem marný. Další rockem nabuzenou pecku Line up vystřídá ještě testotorenem nacucanější Cant's Stop Messin'. Člověk si tak říká, bože, kde ti smithi tenkrát sebrali takovou dávku energie. Že by občas pomohla nějaká bílá lajna? 🙂 Možná, ale něco mi říká, že okolo devadesátého byli kluci čistí jako padlý sníh 🙂 – jak příslovečné.

Brucem Fairbairnem další zvukově vymazlená deska (u mixu stál dokonce grungeový guru Brendan O'Brien) je neskutečnou, více jak hodinu trvající rockovou náloží, na které bych neměnil jedinou notu. Desky následující mě už neberou, a domnívám se, že šli s kvalitou neskutečně dolů. To správné "vystřízlivění" přišlo až po devatenácti (!!!!!) letech u desky Music From Another Dimension. Ale o tom až někdy příště.
Ať už si o velkohubém Tylerovi a jeho společnících myslíme cokoli, úspěch jdoucí v tomto případě s kvalitním skladatelským materiálem jim upřít nemůžeme. Jedna z nejlepších rockových desek všech dob.
SKLADBY:
01. Intro
02. Eat The Rich
03. Get A Grip
04. Fever
05. Livin' On The Edge
06. Flesh
07. Walk On Down
08. Shut Up And Dance
09. Cryin'
10. Gotta Love It
11. Crazy
12. Line Up
13. Cant's Stop Messin'
14. Amazing
15. Boogie Man
SESTAVA:
Steven Tyler – lead vocals, keyboards, mandolin, harmonica, additional percussion
Joe Perry – guitar, backing vocals, lead vocals on "Walk on Down"
Brad Whitford – guitar, lead guitar on "Fever", "Gotta Love It", and "Flesh"
Tom Hamilton – bass guitar, bass solo on "Gotta Love It"
Joey Kramer – drums
+
hosté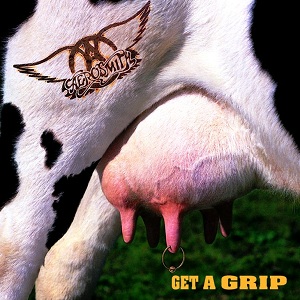 Get A Grip
Aerosmith
Hard Rock
Geffen Records
1993
LP, CD
15