Debut Alcatrazz, No Parole from Rock 'n' Roll, patří dle mého k těm výrazně lepším hard rockovým nahrávkám osmdesátých let. Yngwie Malmsteen se držel stranou svých exhibic a nejsilnější zbraní alba samotného zůstávají písně ve svém základním schema.

Příliv nadšení pominul s příchodem druhé kolekce Disturbing the Peace, na které už účinkuje Steve Vai. Jeho hra není špatná, ale ani nějak dech beroucí a chyba spíš než v jeho přístupu bude v samotných kompozicích, které síly jedničky už nedosahují. I proto jsem byl velmi zvědav, jak si v nových podmínkách, příchodem nového, už třetího, kytaristy Dannyho Johnsona kapela povede dál a navíc jak přistoupí k sílící vlně glam rockových kapel ze zámoří. 
Alcatrazz se s osudem poprali více než zdatně a třetí deska Dangerous Games tak nemá důvod se za svou náplň stydět. Bonnet a spol. se malinko více otevřeli době a trhu. Bicí zní víc osmdesátkově a vetší porci si ukrajují i klávesy. Jako výrazně lepší se mi zdá strana druhá. Z první vyčuhují snad jen úvodní cover It's My Life od Animals, druhá No Imagination, a velký hit Ohayo Tokyo. Béčko se povedlo celé a tak nemá cenu jmenovat, největší direkt mi přivodí vždy krásnou melodií napěchovaná The Witchwood a sametová Double Man. Jinak, Graham Bonnet zpívá znovu skvěle a k novici Danny Johnsonovi, který nijak neexhibuje, rovněž nemám žádných výhrad.
V této desce by se mohli jako v zrcadle najít všichni příznivci Bonnetovi éry v Rainbow. Těch po světě sice moc neběhá a oproti Dio-vské době to byl z tehdejšího i dnešního pohledu znatelný sešup dolů, přesto podobný, hitově šmrncnutý hard rock vzor osmdesát někdy do nálady sednout dokáže a pro někoho nemusí tento produkt znamenat, že se jedná o kýč patřící pouze do starého železa. 3,5*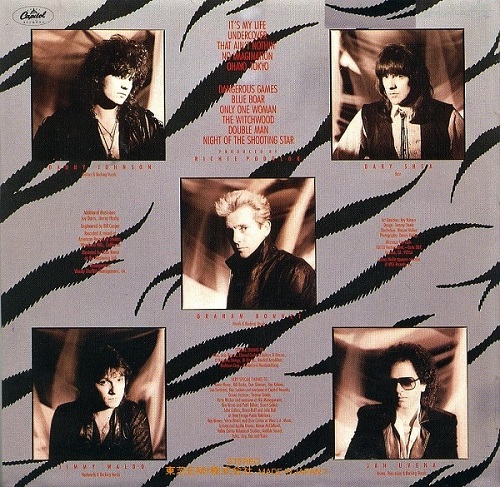 SKLADBY:
01. It's My Life (Carl D'Erico, Roger Atkins) 4:10
02. Undercover (Danny Johnson, Jimmy Waldo, Jo Eime, Graham Bonnet) 3:41
03. That Ain't Nothin' (Johnson, Waldo, Eime, Bonnet, Gary Shea, Jan Uvena) 3:53
04. No Imagination (Eime, Bonnet) 3:16
05. Ohayo Tokyo (Eime, Bonnet) 2:59
06. Dangerous Games (Johnson) 3:26
07. Blue Boar (Johnson, Waldo, Eime, Bonnet) 3:14
08. Only One Woman (Barry Gibb, Maurice Gibb, Robin Gibb) 3:43
09. The Witchwood (Johnson, Waldo, Eime, Bonnet) 4:00
10. Double Man (Johnson, Waldo, Eime, Bonnet, Shea, Uvena) 4:30
11. Night of the Shooting Star (Eime, Bonnet) 1:04
SESTAVA:
Graham Bonnet – vocals
Danny Johnson – guitar, backing vocals
Jimmy Waldo – keyboards, backing vocals
Gary Shea – bass
Jan Uvena – drums, percussion, backing vocals
+
Performer [Additional Musicians] – Jay Davis, Jimmy Haslip
Dangerous Games
Alcatrazz
Hard Rock, Heavy Metal
Capitol Records
1986
LP
11