Texaské trio ZZ Top jsem objevil relativně dávno. First Album mě přišlo takové ještě nedovařené, ale přece jenom nadějné a tak jsem si ho časem pořídil. Na dlouho to bylo od nich jediné album a přistihl jsem se při tom, že tuhle hudbu nějak zvlášť nevyhledávám a čekal jsem, kdy se můj postoj k prvnímu albu nějak pozmění. Přišlo mi takové nedodělané a dokonce jsem tehdy nabyl dojmu, že to kapela na víc jak dvě-tři alba nedotáhne. Jak vidno, výrazně jsem se zmýlil. V dalších letech jsem se zvolna prokousával jejich repertoárem a nakonec jsem po těch "průzkumech" zatoužil mít doma jediné album – Tres Hombres, které se mi dodnes líbí a ke kterému se vracím.
WAITIN' FOR THE BUS – Dobře vypilovaný riff je nosným stavebním základem první skladby a jak vidno, kapela na něm vystaví celou kompozici. Baskytara a kytara v unisonu objíždějí dané téma a bicí nástroje úderně podmiňují celou atmosféru, do které se vešla i foukací harmonika.
JESUS JUST LEFT CHICAGO – Druhá skladba se rozjíždí vláčněji jako shuffle a klouzající kytara navozuje správnou bluesovou atmosféru. Rytmicky se tu neděje nic výjimečného a dá se předpokládat, že se to moc nezmění a tak bude záviset na kytaře a zpěvu, jak si s daným tématem poradí. Při poslechu písně si vybavím Dear Jill z repertoáru Blodwyn Pig na jejich prvním albu a popravdě řečeno – Mick Abrahams ohýbá bluesové tóny sugestivněji než Billy Gibbons. Skladba ovšem nepostrádá dravost a syrovost. Milovníci klasického blues rocku mohou být spokojeni. Rytmika Franka Bearda a Dustyho Hilla je ovšem stále stejná a neproměnlivá.
BEER DRINKERS & HELL RAISERS – Výraznější nástup a šlape nám tady další skladba, v níž se Gibbons jako zpěvák střídá s Hillem a krásně je cítit rozdíl jejich hlasové barevnosti. Ani jeden ani druhý nemají žádný mimořádný hlasový fond, ale výtečně frázují a zastřený Gibbonsův hlas doplňuje výše položený Hillův. Kytarová jízda a Gibbonsova sóla, asi by to nestačilo k ničemu víc, než k tanci. Ostatně ZZ Top byli silní především na pódiu a ve studiu se toho nějak moc nedělo.
MASTER OF SPARKS – Skladba se pohybuje v daných šablonách a jako šicí stroj je zde opisována melodická a basová linka s takovou úporností, že mě to začíná připadat bez nápadu a zároveň chápu, že tenhle typ hudby často vyvolával vytváření všelijakých coverkapel, protože naučit se hrát podle podobného modelu bylo nejen podmanivé, ale především žádané. Gibbons v mezihře vypálí dobře vykonstruované sólo a pak se vrátí do vyšlapané stezičky. Rytmika jede pořád ve stejném stylu bez breaků a akcentovaných dob.
HOT, BLUE AND RIGHTEOUS – Kapela výrazně zpomalí a máme tady pomalé blues s opravdovým vnitřním feelingem, kde se kytarový mlýnek s mollovými a durovými akordy zvolna proměňuje a vzniká tak balada, která je na albu nanejvýš žádána. Tahle skladba kapele sluší a i když nakřáplý Gibbonsův hlas moc podnětů k přemýšlení neskýtá, je třeba uznat jistou mysteriózní vibraci. Kytarové sólo je ovšem excelentní. Zatím nejpodmanivější, jaké jsem na albu zaslechl. Neplýtvá se tady tóny, ale melancholická melodie a sázené tóny s dobře seřízeným sborem se hlouběji vrývají do paměti.
MOVE ME ON DOWN THE LINE – Dravá rychlost přináší další skladbu. Klasický mlýnek a opět je zřejmé, že upadneme do jistého klišé, kde se bude omílat jedno téma dokola. Souhra je evidentní, podepřena nespočtem koncertů, takže po instrumentální stránce toho ZZ Top nelze moc vytknout. Invence je ovšem držena na uzdě tak, aby se náhodou předčasně nevystřílel veškerý prach a bylo s čím a proti čemu bojovat. Na zábavu dobrý model hudby, který musel zabírat.
PRECIOUS AND GRACE – Téměř sabbathovský riff se zařízne do uší a přináší pregnantnější skladbu, která zaútočí na pudy. Instrumentálně se tady ale neděje pořád nic mimořádného nebo nic, co bych už v jiných obměnách neslyšel od jiných kapel. Baskytara je sice hodně čitelná, ale nepříliš vývojová. Na albu mi chybí výraznější podíl slide kytary, nebo steel kytary a také zde pauzíruje foukací harmonika, o klavíru a varhanách nemluvě. Mnoha skladbám by takové proměny prospěly, ale byl zde cílený záměr vytvořit ryze kytarovou hudbu, což se víceméně podařilo.
LA GRANGE – Čím se asi bude lišit další skladba od předešlé? Tlukotem dřev, větší prokomponovaností, anebo to bude kopíráková hudba? Gibbons v mezihře předvede, že hrát skutečně umí na výbornou, ale ty doprovody mě umoří. Neustále omílaný riff (ukradený v přetransformované podobě Muddy Watersovi) více energetického potenciálu nepřivolá. Znovu si uvědomuj proč nemám rád Status Quo a to jejich omílané dřevní boogie a rock and roll. Dravost nechybí, energetický potenciál je nabuzen, ale nápady, podněty, proměny se konat nebudou.
SHIEK – Tohle je jiná káva. Skladba má pojednou jiný zvuk a to poměrně výrazně. Taky zde se dokola objíždí dané téma, je tady ale více rytmických proměn a větší barevnost ve feelingu. Výtečné do klubu, nebo hospodského sálu. Gibbons v mezihře proměňuje svoje hledačství na filigránskou práci s tóny. Jiný kytarista by nás zasypal snopy jiskernatých tónů a Gibbons víceméně ohýbá tóny za pomocí wah wah pedálu. Beardovy bicí nástroje jsou ovšem podpírány ozvěnou hry na conga, což je určitě vítané proměnění. Nenajdeme zde žádnou melodii, ale rytmické základy v rozviklané harmonii s cinkáním zvonku a melancholickými akordy v rozkladech. Hudba se na pár vteřin ztratí a pak se opět celé téma vrátí zpět a zaútočí na nás v obvyklé pregnantnosti. Docela vtipně zde působí ohnutí vlnovkovitého tónu, což vypadá jako přiznávka na saxofon, ale jinak si hraje Gibbons s wah wah pedálem a blues se zde rozhodlo pro námluvy s funkem a svádí to k improvizacím.
HAVE YOU HEARD? – Emocionální pocity vkládané do zpěvu a zkreslené kytarové výjezdy působí přitažlivě, ale jsem už unaven z té onanie rytmických obrazců. Model hry bicích a baskytary je až příliš moc čitelný a také nudný. Gibbons to vyvažuje kytarovými tématy, které mají svou sílu, ale všechno je tady příliš prvoplánové. Chybí zde osobitější bluesový shouter a větší pestrost v aranžmá a instrumentaci. Formálně je ale skladba v pořádku, ale už jsme na konci a musíme se vyrovnat s tím, co jsme poslouchali.
Třebaže největší sláva ZZ Top povstala až v osmdesátých letech (to už se o nich hovořilo jako o kultu blues rocku), přestal jsem je cíleně vyhledávat. Proč? Tu slávu jsem jim nezáviděl a řekl bych, že jsem ji jim naopak přál, ale když do blues vstoupí sekvencery a zvuk rytmiky je preparován pro větší pregnantnost elektronicky, není to nic pro mě. Blues a elektronika – to je nebe a dudy a tak jsem nechal kult rašit mimo můj cílený zájem. Také jsem nabyl dojmu, že z téhle kapely jsou HODNĚ cítit prachy a že hudba je podřízena vydělávání a posilování vlastního ega.
Myslím, že za ZZ Top sedmdesátých let zůstalo hodně zajímavé hudby a stylového pojetí, ale v dané oblasti jsem si našel jiné "hrdiny" a tohle dřevorubecké trio už dnes dál nějak nevnímám. Když Texas – tak raději Johnny Winter a Stevie Ray Vaughan. Tím se nechci dotknout cítění jejich skalních příznivců, protože u nás jich má tohle trio opravdu hodně, ale ta šablonovitost a schematičnost podání mě odrazují. Jeden můj kamarád, který je specialista na různé deriváty blues, jednou utrousil: "Na rozdíl od Katapultu tihle hoši umějí hrát, ale na Cream, Canned Heat, Ten Years After, Free, Groundhogs, Savoy Brown, Tucky Buzzard nemají, ale budou to umět prodat!" (Bez mého dalšího komentáře.)
Album Tres Hombres na čtyři hvězdičky dosáhne.
SKLADBY:
01. Waitin' For The Bus (Gibbons, Hill) – 2:59
02. Jesus Just Left Chicago (Gibbons, Hill, Beard) – 3:30
03. Beer Drinkers & Hell Raisers (Gibbons, Hill, Beard) – 3:23
04. Master Of Sparks (Gibbons) – 3:33
05. Hot, Blue And Righteous (Gibbons) – 3:14
06. Move Me On Down The Line (Gibbons, Hill) – 2:32
07. Precious And Grace (Gibbons, Hill, Beard) – 3:09
08. La Grange (Gibbons, Hill, Beard) – 3:52
09. Shiek (Gibbons, Hill) – 4:05
10. Have You Heard? (Gibbons, Hill) – 3:15
SESTAVA:
Billy Gibbons – guitar, vocals
Dusty Hill – bass, vocals
Frank "Rube" Beard – drums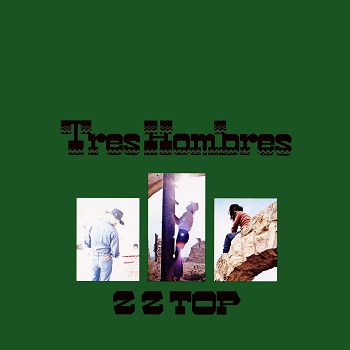 Tres Hombres
ZZ Top
Blues Rock, Texas Blues, Electric Blues
London Records
1973
LP
10