V roce 1967 byla pouhými dvěma skladbami definována podstata symfonického classical rocku, subžánru progresivního rocku, s nímž se v odvozené podobě setkáváme mimo jiné také u tzv. symphonic metalu. A Whiter Shade of Pale PROCOL HARUM a Nights In White Satin MOODY BLUES představují dva rozdílné přístupy k fúzi rocku a tzv. vážné hudby. Bělejší odstín bledé organicky včleňuje klasická Bachova barokní témata do rockového soundu, opřeného o velebný zvuk hammondek a klavíru. Noci v bílém saténu se naproti tomu opírají o smyčce zakleté v pásech mellotronu a odkaz hudebního romantismu.
POSMUTNĚLÝ BĚLEJŠÍ ODSTÍN BLEDÉ: PROCOL HARUM
Nejenom kaleidoskopičtí BEATLES a rozezpívaní BEACH BOYS posunovali v sedmašedesátém hranice moderní populární hudby. 12. května 1967 spatřila světlo světa skladba A Whiter Shade of Pale, organicky spojující jako žádná jiná předtím svět popu a tzv. vážné hudby. Všechny předchozí a mnohé následující pokusy takříkajíc drhly ve švu.
PROCOL HARUM se podle legendy pojmenovali po kočce. Čí, jakého plemene, proč a jak – v tom se jednotlivé verze rozcházejí. Ostatně, kolem vzniku skupiny a jejích prvních sestav dodnes kolují docela barvité příběhy, často se vzájemně popírající.
Zásadním a nezpochybnitelným momentem je ale setkání zpěváka a klavíristy Garyho Brookera s textařem Keithem Reidem na podzim roku 1966, kdy na východ od Londýna dospěla pár měsíců předtím ke konci tříletá existence skupiny kamarádů ze školy, THE PARAMOUNTS, v sestavě s Garym a mimo jiné i kytaristou Robinem Trowerem. Kapela krátce doprovázela i bosonohou Sandy Shaw.
V krátké době vzniklo vícero společných písní dvojice Brooker a Reid. Neměl je však kdo hrát, proto společně vypsali konkurs na muzikanty v nově se utvářející skupině, inzerované coby projekt se zvukem THE YOUNG RASCALS a hloubkou sdělení Boba Dylana. Pro představu, sám Felix Cavaliere popsal představu hudby svých THE YOUNG RASCALS jako kombinaci hlasu Marvina Gaye, piana Raye Charlese, varhan Jimmyho Smitha, produkce Phila Spectora a písní BEATLES. Když se nad trochu velkohubým prohlášením zamyslíte, máte před sebou zřetelné kontury tvorby PROCOL HARUM.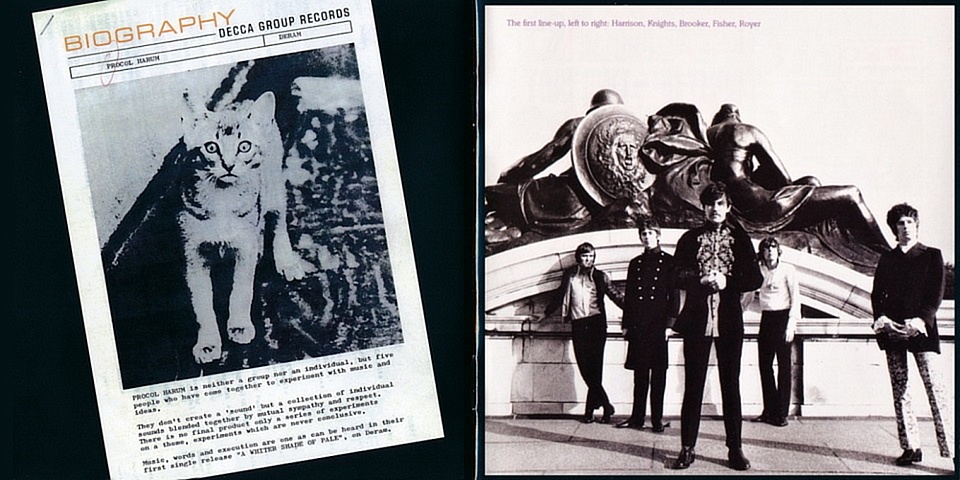 Jména muzikantů, co prošli prvním výběrovým kolem a začali nacvičovat skladby, historie přesně nezaznamenala, podstatná je až druhá sestava s hráčem na Hammondovy varhany, Matthewem Fisherem, kytaristou Rayem Royerem, bubeníkem Bobbym Harrisonem, baskytaristou Davidem Knightsem a samozřejmě Garym Brookerem s Keithem Reidem po boku. Sice odehrála jen tucet koncertů a nahrála jedinou skladbu, ale jakou! Nic na tom, že se dodatečně zjistilo, že na A Whiter Shade of Pale bubnoval ostřílený jazzman Bill Eyden. Obdržel za to prý 15 liber, tantiémy nehrajícího Harrisona dosáhly zakrátko deseti tisíc. K narovnání došlo později.
Velkým a ještě před deseti lety soudně aktuálním (viz dále) osobním příběhem je účast a podíl varhaníka Matthewa Fishera. Ten ke vzniku slavné skladby mimo jiné vyřkl: "Původně měla píseň deset minut s různými klavírními a varhanními sóly. Uvědomili jsme si ale, že bychom měli vybrat jen ty nejlepší části." Ke své slavné varhanní předehře uvedl: "Vždy jsem miloval Bachovu 'Mši h moll'. Nikdy se mi neohrála, nezprotivila, poslouchám ji od svých třinácti dodnes. Intro 'A Whiter Shade Of Pale' je jí opravdu inspirováno, přidal jsem něco z dalších svých oblíbených skladeb. Všichni víme, že dál už se Brookerova píseň točí kolem Bachovy 'Air on a G-string'. Často na ni narážím v jukeboxech. Je to o to víc překvapující, když uvážíme, že jde podstatou o karaoke klasiky! Sama původní nahrávka je magická, nedá se na ní nic vylepšit. Skladbu jako takovou podali podle mě lépe než my Aretha Franklin i Otis Redding. Naopak Tom Jones si na ní vylámal zuby."
Fisher nepřikládá žádný vyšší smysl slovům: "Existuje mnoho přístupů k textu 'A Whiter Shade Of Pale'. Někdo se soustředí na náladu, jiní se snaží najít skrytý smysl slov. Další pak pracují na ryze emocionální úrovni, a najdou se i tací, co si text jen pozpěvují při tanci."
Sám autor, Keith Reid, kdysi mimo jiné řekl: "Svým způsobem jde o film, opravdu se můj text snaží vykouzlit náladu a vyprávět příběh. Je o vztahu postavy, místa a dějové linky, jež je spojuje, nejsou to jenom poslepované fragmenty." Jindy se zase rozhovořil o velkém ovlivnění surrealistou Dalím a francouzským filmem, jmenovitě uvádí Godardova Bláznivého Petříčka s Belmondem a "bezpříběhový" Loni v Marienbadu režiséra Alaina Resnaise.
Co se týče samotného názvu skladby a jeho významu, tak v roce 1997 si Reid stěžoval, že fráze A Whiter Shade of Pale se stala součástí běžné řeči, dokonce se ocitla v The Oxford Dictionary of Modern Quotations, a on z toho nic nemá. V roce 1967 však přiznal, že větu 'Jsi bělejší odstín bledé' slyšel na končícím večírku od Guye Stevense, jenž takto nad ránem počastoval svou značně společensky unavenou manželku Dianu.
Sama kapela si od písně podle Reidových slov nic velkého neslibovala, A Whiter Shade of Pale byla jednou z tuctu nacvičovaných skladeb, nakonec dostala z prvních čtyř hotových nahrávek při vydání na SP přednost před původně uvažovanou Salad Days (Are Here Again). A začaly se dít věci: za měsíc #1 singlového žebříčku UK, kde singl setrval šest týdnů. V USA #5 v žebříčku Bilboardu, dohromady více jak deset milionů prodaných kusů. Později získala píseň, spolu s Bohemian Rhapsody QUEEN, ocenění za nejlepší britský popový singl let 1952-1977. Současně je tato dvojice veřejně najhranějšími písněmi na britských ostrovech.
Paul McCartney prozradil, že A Whiter Shade of Pale hrála, když se setkal s Lindou Eastman v O'Nails klubu v Londýně, a že ji vždycky vnímal jako jejich společnou píseň. Také John Lennon měl song hodně rád.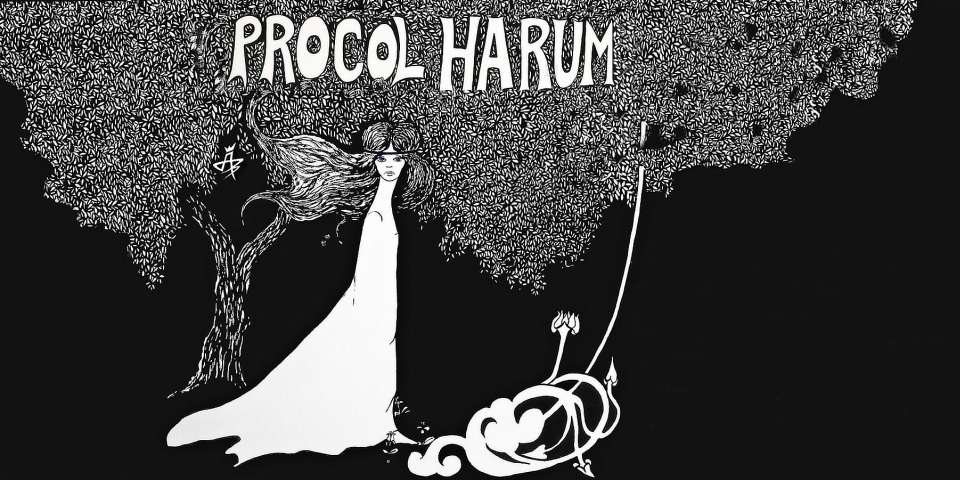 Téměř 40 let poté, co skladba spatřila světlo světa, obrátil se Matthew Fisher, jenž v ní preludoval na varhany, na soud s tvrzením, že si zaslouží skladatelský podíl z honorářů. Po několika houpačkových soudních rozhodnutích nakonec definitivně uspěl až ve Sněmovně lordů, kdy mu byly přiznány autorské tantiémy za každé další užití díla ve výši 40%.
Potěšený Fisher byl o své pravdě přesvědčen: "Každý o mém podílu na skladbě věděl." Jeden z pěti soudců, kteří rozhodovali kauzu, baronka Hale, řekla: "Jako jedna z těch, co si pamatují 60. léta, jsem ráda, že autor památné varhanní předehry konečně dosáhnul zadostiučinění, jež mu náleží."
Z pohledu fanouška a audiofila je nepříjemné je, že se ztratily původní vícestopé záznamy, takže nebylo možno provést nový signovaný remix se současnými studiovými možnostmi, například po vzoru diskografie GENESIS.
ROMANTICKÉ NOCI V BÍLÉM SATÉNU: MOODY BLUES
8. října 1967 byly nahrány a 10. listopadu 1967 vydány sladce melancholické Noci v bílém saténu nově zformovanými MOODY BLUES v sestavě: Justin Hayward – akustická kytara, zpěv; Ray Thomas – flétna, doprovodné vokály; Mike Pinder – mellotron, doprovodné vokály, přednes veršů, gong; John Lodge – baskytara, doprovodné vokály; Greame Edge – bicí, perkuse, doprovodné vokály.
Nights In White Satin obohatily svět moderní populární hudby o jednu z nejjímavějších kompozic a mellotronový smyčcový "orchestr", byť prvními pokusníky byli Graham Bond a Manfred Mann již v roce 1965. Pro muzikology jsem opsal informaci, že skladba je v e moll s využitím neapolského akordu.
Justin Hayward napsal píseň coby devatenáctiletý jinoch poté, co mu prý přítelkyně nesmyslně darovala saténové povlečení. Jak prozaické vysvětlení vzniku uhrančivé milostné písně o nenaplněné lásce. Nocím vládne Pinderův mellotron způsobem, jenž napořád definoval sound MOODY BLUES.
Singlová verze byla nakonec vydána bez orchestrálních přílepků LONDON FESTIVAL ORCHESTRA a vkládané Graemeovy poezie. Kratší, násilně nastříhaná, se naštěstí neujala, zatímco bezmála pětiminutovou můžeme stále slýchávat průběžně na vlnách a ipinách rozhlasových stanic ze všech koutů světa.
Je zajímavé, že napoprvé se Noci v bílém saténu příliš neprosadily, doma skončily na #19 a za oceánem se ani nedostaly do první stovky (#103). Jen Nizozemci (#1) rozpoznali saténovou výjimečnost napoprvé. Svět Nocím propadl až v roce 1972: #2 v USA, #1 v Kanadě, #9 UK. To už ale měli MOODY BLUES za sebou velkolepou kariéru jedné z nejúspěšnějších světových skupin té doby, kdy každé z jejich sedmi alb výrazně bodovalo na obou stranách Atlantiku a nezřídka (4x) trůnilo na pozici #1v UK/US.
Malá perlička. Francouzští srandisti LES JELLY ROLL přidali na přebal své verze kouzelnou větičku "Jedná se o původní verzi 'Nights In White Satin". Koncem devadesátek kdosi na tuto zapomenutou poznámku narouboval falešný příběh o tom, jak MOODY BLUES nic nevymysleli, ale "Noc" koupili od italské skupiny, a museli si na to dokonce vzít úvěr. Kdyby na vše neskočil slovutný sběratelský magazín Record Collector, neměli by hudební konspirátoři svátek.
Dejme slovo přímým účastníkům, samotným muzikantům, kteří u příležitosti reedičního vydání debutu popsali dobové události přerodu MOODY BLUES a vzniku Days Of Future Passed formou rozhovoru s Johnem Reedem, ve kterém mimo jiné sami označili Days Of Future Passed za rockovou symfonii.
Jak jste dokázali za jeden pouhý rok převléci MOODY BLUES z ne moc originálního R & B, v jeden z nejprodávanějších outfitů?
John Lodge (JL): V létě roku 1966 jsme se sešli v nové sestavě: Justin, já, Ray, Graeme. Věděli jsme, že dál nemůže být MOODY BLUES období Go Now, a tak padlo rozhodnutí přestěhovat se do Belgie, malého městečka Mouscron, a začat psát. V tamějších klubech jsme vydělávali peníze na živobytí a mohli v klidu komponovat svou vlastní novou muziku. Začali jsme experimentovat s harmoniemi, což bylo velmi důležité – a to se stalo základem nových MOODY BLUES. Zaměřili jsme se na kontrapunkt, kdy harmonie šly proti hlavní melodické lince.
Ray Thomas (RT): Byli jsme všichni vyznavači rokenrolu, jen Justin byl i trochu do folku, tudíž naše raná fúze stylů měla přirozený průběh.
JL: Po náratu do Anglie jsme poslali některé ukázky nových písniček firmě Decca, což vyústilo ve vydání několika singlů, Fly Me High a poté Love And Beauty, která už má výrazné harmonie. To bylo zlomovým bodem.
Také nahrávání několik rozhlasových relací v roce 1967, ne?
JL: To je pravda. V BBC jsme nahráli několik novinek, které se pak hráli na Radio 1. Úplně první verze Nights In White Satin byla dělána pro BBC. Při jejím poslechu v režii studia jsme si najednou uvědomili, čeho jsme vlastně dosáhli.
Jaký je příběh vzniku alba Days Of Future Passed?
JL: Decca nás kontaktovala, jestli bychom zaznamenali naši verzi Dvořákovy 'Novosvětské symfonie' s doprovodným orchestrem. Vyžádali jsme si studio jen pro sebe, čili aby nám bylo k dispozici 24 hodin denně a nenahrával v něm nikdo jiný. Oni souhlasili, a teprve poté jsme jim řekli, že namísto použití Dvořákových melodií bychom raději využili naše vlastní písničky.
RT: Days Of Future Passed mělo být svým způsobem předváděcím albem, chtěli, aby vedle rokenrolu zněla i klasická hudba, a tak vynikla velká dynamika jejich vícestopé novinky, DSS (Deramic Sound System). Neměli jsme žádné zkušenosti s nahráváním s orchestrem, a navíc jsme chtěli hrát nové skladby i naživo, proto jsme se s dirigentem a aranžérem Peterem Knightem nakonec domluvili na odděleném nahrávání, kdy on napsal, zaranžoval a spolu s LONDON FESTIVAL ORCHESTRA nahrál orchestrální předehry a předěly. Vše probíhalo v uvolněné hippie náladě se spoustou kadidla a barevných světel.
Jak jste se dostali k použití mellotronu?
RT: Mike Pinder spolupracoval počátkem šedesátých let s birminghamským výrobcem mellotronů, firmou Streetly Electronic, coby tester. Byl nástrojem nadšen. První jsme získali z birminghamského společenského klubu Dunlop – nikdo tam na něj totiž nebyl schopen hrát! Nebyl to rozhodně nástroj na cestování. Ve Spojených státech častěji stávkoval než hrál, byl extrémně háklivý na kvalitu elektrické napájecí sítě. Nestabilní napětí a frekvence jej spolehlivě rozhodily, takže na zkoušce vše OK, a večer katastrofa.
50 let poté oslavují svá přelomová díla současné sestavy PROCOL HARUM i MOODY BLUES speciálními turné! Další a další generace tak mohou prožít naplno Bělejší odstíny bledé i Noci v bílém saténu.
Více na:
https://www.procolharum.com/
http://www.moodybluestoday.com/