Psychedelie ovládla v druhé polovině šedesátých let nejenom slunnou Kalifornii, ale i podstatně chladnější Londýn. Hudba otevřela díky drogám svou Pandořinu skříňku, která mnohé slibovala, leccos splnila, ale vše si nakonec vybrala krvavě zpět, viz útrpně spalující příběh Syda Barretta, stvořitele PINK FLOYD.
Namísto rozverných mods se uměleckých otěží swingujícího Londýna v roce 1966 zmocnili vlasatci s rozšířeným vědomím, často středostavovští studenti uměleckých škol. O to víc vyniká genialita BEATLES, kteří nejenom že lačně vnímali všechny posuny a podněty, ale dokonce je stačili v předstihu před samými autory přetavit v široce sdělnou novátorskou muziku.
Docházelo k paradoxům, kdy například PINK FLOYD Syda Barretta s něčím objevným přišli v říjnu šestašedesátého na pódiu, pod nímž se v davu pohyboval Paul McCartney, aby se pak za půl roku na vlastní prvotině nechali v podstatě sami sebou zpětně inspirovat nápady ze souběžně nahrávaného Seržanta, viz například názvuky A Day In The Life ve skladbě Paintbox, anebo třpytné odlesky Lucy In The Sky With Diamonds na Point Me On The Sky.
SJETÉ UFO NAD LONDÝNEM
Ač v provozu jen něco přes půlrok, od prosince 1966 do července 1967, stal se suterénní klub UFO v dnes již neexistujícím baráku na čísle popisném 31 Tottenham Court Road kaleidoskopickým katalyzátorem londýnské psychedelické scény.
U zrodu stála zdánlivě nesourodá dvojice John Hopkins & Joe Boyd. První, Brit, byl původně jaderný fyzik, posléze umělecký fotograf a levicový aktivista, a nakonec také aktivní organizátor rockového undergroundu. Druhý, Američan, fungoval od dob studií coby hudební producent a manažer. Když založil londýnskou pobočku labelu Electra Records, produkoval rané PINK FLOYD a SOFT MACHINE.
Oba jmenované soubory klub UFO nejen otevíraly, ale ještě se do něj vícekrát vrátily. PINK FLOYD desetkrát, SOFT MACHINE osmkrát. Původní prostor se stal obětí vlastního úspěchu, protože přestal kapacitně stačit. 28. července 1967 se na původní adrese odehrál poslední koncert, stylově opět s Pink FLOYD, po boku s FAIRPORT CONVENCTION a SHIVA'S CHILDREN.
Novým domovem UFO se stal dodnes fungující Roundhouse v severozápadním Londýně. Původně šlo o železniční točnu, jejíž kopule stylově evokuje zbytnělý vesmírný talíř.
Kdo chtěl držet prst na tepu dějin, ten se v UFO musel objevit, ať již na pódiu anebo v hledišti či zákulisí. Jazzrockoví experimentátoři BONZO DOG DOO DAH BAND, ohniví CRAZY WORLD OF ARTHUR BROWN, TOMORROW se Stevem Howeem (YES), bluesrockoví průkopníci GRAHAM BOND ORGANISATION, velební PROCOL HARUM, barvití THE MOVE, z nichž po letech vznikli ELO, popoví THE SMOKE, Denny Laine z MOODY BLUES, rhytm & bluesoví PRETTY THINGS, otec britského blues – Alexis Korner, Monterey man ERIC BURDON & THE NEW ANIMALS, FAMILY Rogera Chapmana, psychedeličtí folkaři THE INCREDIBLE STRING BAND, bubeník od Mayalla Aynsley Dunbar, kytarový novátor Jeff Beck, TEN YEARS AFTER střelhbitého axemana Alvina Leea – to vše jsou jména, jež v klubu UFO přistála na pódiu.
ZROZENÍ PINK FLOYD
Ze všech jmenovaných byli erbovní kosmickou skupinou nepochybně PINK FLOYD. Ti se postupně vyvinuli z průměrné rhythm & bluesové skupiny ABDABS. Exploze Sydova talentu smetla veškeré napodobování a přehrávání cizího repertoáru.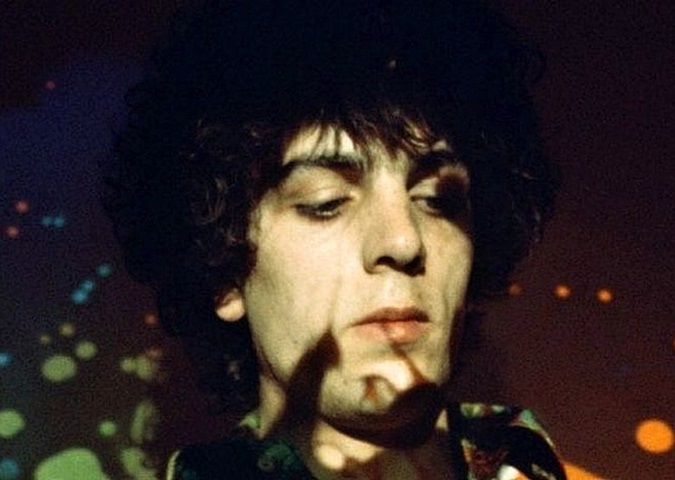 V hudebním výrazu raných PINK FLOYD se mimo jiné zrcadlila i studentská léta tří členů strávená v Cambridgi, historickém universitním městě na sever od Londýna.
Roger Keith Barrett, George Roger Waters a David Jon Gilmour pocházeli z dobře zajištěných rodin. Nedílnou součástí jejich výchovy byla také sobotní umělecká škola, kde se zpočátku věnovali především malování. Jedním z mládežnické party byl Storm Thongerson, později slavný autor mnoha přebalů rockových alb, samozřejmě i některých floydovských. Malebné oblasti Grantchester Meadows ostatně vzdali PINK FLOYD hold ve skladbách Fat Old Sun a Grantchester Meadows.
Barretovým učitelem na kytaru byl David Gilmour. Právě on stál za některými Sydovi připisovanými originálními výrazovými prvky kytarové hry, například glissandem. Perličkou je fakt, že Sydovou první kytarou byla československá Futurama, vyvážená na přelomu padesátých a šedesátých let blatenskou firmou Rezonet i do Spojeného království. Na Rezonetky, představené světu na EXPO 58 v Bruselu, hráli ve svých muzikantských začátcích mimo jiné George Harrison, John Paul Jones, Albert Lee, Jimmy Page i Eric Clapton. Málo známá, ale milá česká stopa ve světovém bigbítu.
Před nástupem BEATLES všichni ostrovní mladí a lační přehrávali zejména americký rokenrolový repertoár. Z členů PINK FLOYD byl výjimkou Richard Wright, jenž se nejprve věnoval vážné hudbě, do doby než jej uhranula Gershwinova opera Porgy and Bess v provedení jazzmana Milese Davise. V té době Richard ovládal nejenom klavír, ale i dechové nástroje a kytaru.
Čtveřice Barrett, Waters, Mason a Wright se poprvé potkala v již zmíněném kvintetu ABDABS, z něhož zakrátko odešel kytarista Bob Klose. Stihl se ještě podílet na několika nahrávkách (pořízených pod názvem THE TEA SET na vánoce 1964), které se nedávno staly součástí reprezentativního boxu The Early Years 1965-1972.
"V počátcích jsme byli opravdu amatérskou kapelou. Do roku 1966 jsem mohl mít odbubnovánu tak stovku hodin," vzpomíná Nick Mason, "o rok později už plus minus sedm set."
Rychlý přechod od stoneovského pojetí rhytm & blues vysvětluje slovy: "Když jsme začali dělat na Pištci, měli jsme všehovšudy už jen dvě nebo tři Sydovy věci v pastorační náladě – ,The Scarecrow', ,The Gnome' a ,Bike'. Pracoval na ,Interstellar Overdrive' a ,Astronomy Domine', které byly docela husté, nebál bych se přirovnání k avantgardnímu thrash metalu. Syd byl neuvěřitelně kreativní, protože oba hudebně zcela protichůdné koncepty přišly od něj a v jeden okamžik.
Určitě jsme v době našich raných vystoupení v UFO neabsolvovali žádný acid trip. Tedy až na Syda, my tři ostatní jsme byli pivaři. Uvědomili jsme si ale, že je pro nás výhodou, budeme-li vnímáni jako vůdčí britská skupina psychedelické revoluce. Naše spojení s psychedelickou scénou bylo spíše intelektuální než pocitové. Se zakladateli klubu UFO nás spojovala například láska k beatnické poezii."
DÉMONI ZAKLETÍ V LSD
V sedmašedesátém působili PINK FLOYD navenek jako konsolidovaná skupina, co na jaře vydala melodicky chytlavý, avšak textem lehce kontroverzní debutový singl Arnold Layne, jenž se propracoval na dvacáté místo singlové hitparády. Současně ale svou "nenormálností" popudil rozhlasáky z BBC a překvapivě i pirátských volnomyšlenkářských stanic Radio London a Radio Caroline.
Ke skladbě vznikly dokonce dva filmové klipy, černobílý s kluky poskakujícími v kabátech na pláži ve Witteringu, a druhý, méně známý, ale umělecky svébytnější, pořízený v sousedství kostela sv. Michala v Highgate.
Záběry PINK FLOYD na klubovém pódiu za zvuků See Emily Play pro změnu ukazují kudrnáče ve fiží a stylizovaných "uniformách". Filmová koláž k Interstellar Overdrive pak Syda v pruhovaném triku, Rogera s frajersky nasazenými tmavými zrcadlovkami, k tomu pár holek, něco odhalených stehýnek i prsíček. Nafilmované Astronomy Domine kralují fascinující a samy o sobě halucinogenní světelné olejomalby, vytvořené pomocí primitivních pomůcek – sad stacionárních i rotujících skel, na teplo a světlo reagujících látek, například olejů a potravinářských barev.
I na sebevětší úlety se v klubu UFO tančilo, anebo aspoň vlnilo či třáslo. Jinde občas dole lítali flašky, splašky a zuby, jak vzpomíná Nick Mason.
Uvnitř skupiny se však již zavrtal otrávený červ. Sydovy problémy začaly ohrožovat samotnou existenci souboru. Když se vzpouzel nadále otevírat pusu na playback v televizním Top Of The Pops, kam se kapela v červenci 1967 podruhé propracovala díky úspěchu dalšího singlu See Emily Play, o nic dramatického nešlo, jeho odpor ke komerci všichni znali a víceméně respektovali, byť sami po úspěchu toužili. Když však začal Syd mít výpadky přímo na pódiu, šlo do tuhého.
Nick Mason ve své autobiografické knize cituje June Child, sekretářku manažera Petera Jennera, která lakonicky poznamenala: "Syd to přehnal s LSD. Spousta lidí si může občas zobnout a žít normálním životem, ale střihnout si každý den tři nebo čtyři tripy…"
PŘÍLIŠ POZDĚ NA ZÁCHRANU
Debutové album The Piper At The Gates Of Dawn (s odkazem na božského flétnistu Pana) je navzdory Sydovým problémům považováno za jedno z nejzásadnějších nejenom v ranku psychedelického rocku.
Významnou pozitivní úlohu sehrál producent Norman Smith. Dokázal vměstnat beze ztráty květinky improvizované pódiové kusy do sevřenější studiové podoby, příkladově Interstellar Overdrive, která při vystoupeních dosahovala až dvacetiminutové délky, vměstnal do poloviční stopáže. A sjetého nekomunikativního Syda operativně nahradil ostatními členy kapely. "Uvědomil jsem si, že se Sydem jen ztrácím čas," okomentoval dění v Abbey Road po letech.
LP vyšlo 5. srpna a vyšplhalo se až na šesté místo v Británii. Amerika PINK FLOYD prozatím víceméně ignorovala (#131). Nezabralo ani turné, už jen proto, že Syd byl prostě kaput.
Dejme opět slovo June Child: "Našla jsem ho v šatně, byl úplně mimo. S Rogerem Watersem jsme jej postavili na nohy a nějak dostali na jeviště. Diváci Syda halasně uvítali, milovali jej. Kapela začala hrát a on jen tak stál. Kytara mu bez hnutí visela na krku a ruce bezvládně visely." Nepomohl ani léčebný pobyt ve Španělsku.
Nahrávání druhého alba začalo bezprostředně po vydání prvního. Syd se zúčastnil sekvencí pořízených do konce roku. V lednu 1968 byl zcela a navždy nahrazen jeho dávným přítelem, Davidem Gilmourem. Jedinou skladbou, kde je pohromadě pětice Gilmour, Barrett, Waters, Mason a Wright je Set the Controls for the Heart of the Sun.
Na památný okamžik, kdy se Roger v cestovním buse zeptal ostatních, zda-li se mají stavit pro Syda, a jedním hlasem zaznělo ne, vzpomíná Mason se smíšenými pocity: "Absolvovali jsme několik vystoupení coby pětice, už s Davidem. Zajímavé je, že si stále pamatuji onen pocit uklidnění, když jsme Syda nezvedli. A je to zajímavé, protože byl hlavním skladatelem a frontmanem. Přesto jsme se bez něj najednou cítili pohodlně."
"Není to zábavný příběh," uvedl Waters svou vzpomínku na Syda v nedávném televizním vystoupení. Jak vidno, trauma z vyhazovu nemocného kamaráda přetrvává mezi aktéry dodnes.
Když v pátek 7. července 2006 Syd Barrett vydechl naposledy, zbylo v něm navenek pramálo z uhrančivě krásného mladíka, jehož pohled byl propastně hluboký, až vás jímala závrať. Avšak někde uvnitř jistojistě zůstal zaklet démant, co svým krátkým intenzivním vzplanutím rozzářil rockovou scénu jako Supernova.
Snad je mu tam někde v nekonečném prostoru mezi hvězdami dobře…