Mesačné archívy: marec 2016
Výborný hard rock zabudnutej skupiny z USA. Led Zeppelin má svoje "schody", ale "modlitba" Granicus v ničom nezaostáva – fantázia!!!
Včera mě po měsíci navštívil pan eBay……

AC/DC – Highway to Hell (1979/2003)
Pete BROWN & Phil RYAN – Road of Cobras (2010)
DOORS – Doors (1967/2007)
DOORS – The Soft Parade (1969/1991)
DOORS – Morrison Hotel (1970/2007)  VIAC Nákup z eBay →
Co jiného, než právě přidávané album…
In Through The Out Door

Led Zeppelin

Rock

Swan Song

1979

LP

7

31. marca 1944 sa narodil gitarista a skladateľ Mick Ralphs – pri tejto príležitosti som vytiahol debut skupiny Bad Company.
Mick, všetko najlepšie!
V dobe svojho vzniku som túto výbornú platňu prehliadol 🙂 Bachmani so saxíkom 🙂 Za čias Not Fragile nemysliteľné.
Veľmi dobrý hard rock z Japonska, uznávaný aj kritikou. Gitarista a skladateľ Kazuo Takeda bol silno ovplyvnený tvorbou Led Zeppelin, Black Sabbath, Mountain…
Dárek z té doby od známé. US parta hard and heavy, hraná dokonce i v porodnici.
Hard rock, Holandsko – môj najobľúbenejší album od tejto skupiny.
Prvotina kapely. Glam poprock najvyššej akosti. Zlatá puberta a gymnaziálne večierky 🙂 V 1971. roku sa štyria teenageri dali dokopy s road-managerom Zombies, Davidom Blaylockom a vznikla kapela Hello. Spolupracoval s nimi aj člen kapely Argent, Russ Ballard. 
Naprostá folk rocková pohoda, UK kapela udělala navzdory datumu 2015′ křehkou a niternou nahrávku. 
Kapela přirovnávaná k Dream Theater, tady 2CD či DVD koncertu + výběr koncertů. Pěkné nasazení, profesionální provedení.
Norská kapela se ukázala, navzdory všem, že její prog metal, navzdory složitosti, zahraje "levou zadní". Mám je radši, než DT.
Kdo by neznal speedovou ikonu? Germánie dávala v těch letech nepřeberné množství kvalitních kapel.
Boxsety v "knižnej" podobe som si obľúbil. Zväčša predstavujú prierez kariérou skupiny, ktorá toho nahrala viac ako dosť a samozrejmosťou je bonusový materiál, ktorý sa inde nevyskytuje. Box of Pearls, venovaný najslávnejšej rockovej speváčke všetkých čias – Janis Joplin, sa však vymyká.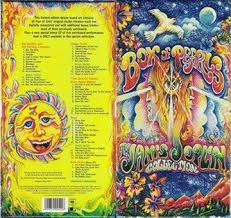 Box Of Pearls - Limited Deluxe Edition

Janis Joplin

blues rock, psychedelic rock, acid rock

Sony Music

2013

CD