"…cítím jenom proto, abych věděl, jak cítit…"
Nelekejte se roku vydání. Jedná se o kompilaci skladeb téhle kapely z let 1972-1975. Máte rádi vášnivě divokou stránku Van der Graaf Generator? Instrumentální prostory, kdy se ke skládání dostávají i Hugh Banton a David Jackson? Instrumentální mezihry, znějící jako ze řetězu utržené improvizace, což je jedna z poznávacích značek Van der Graaf Generator, kvůli které nevzniká (skladby nejsou nějak jednoduše pevně uchopitelné) od téhle kapely moc coververzí? Což v jednom rozhovoru uvádí i sám Peter Hammill… Pak je tohle album pro vás to pravé.
Pro mě je tohle album velkým klenotem, ani sekundu (doslova) se u něj nenudím, ba naopak. I části, které znějí jen jako pouhopouhé domácí jamování, jsou parádní, nabité nápady a atmosférou/energií, jakou dokázali vytvořit jen Van der Graaf Generator v té době.
První skladba je Hammillova zpívaná věc, kterou VdGG nahráli v roce 1973, v roce, kdy vlastně oficiálně neexistovali. Osobní, ironický text doprovází melodie, která pro svou určitou relativní hitovost moc VdGG nepřipomíná. Ale proč ne. Ovšem potom přichází Rift valey, pod kterou je podepsán už Hammill, Jackson a Evans. Je to divoká věc nahraná v roce 1975, část hudebního motivu kapela použila následující rok na albu World record. Následuje funky úlet Tarzan, který kapela nahrála v roce 1974 a autorství dané instrumentálky je připsáno celé skupině. Skladba Coil night vznikla v roce 1975 a jejím autorem je saxofonista David Jackson. Je to takový instrumentální jam, ale VdGG jsou v ní rozpoznatelní.
Potom ale přichází to, co přichází. Instrumentální zappovská koláž Time vaults je něco neslýchaného. Obsahuje krátké, výborné hudební motivy, které Hammill (nebo VdGG) bohužel nerozvinuli nikde dále. V celku tak tenhle slepenec s různou kvalitou nahrání působí bizarně, ale zajímavě. Následuje instrumentálka Drift (I hope it won't) z roku 1972, jejímž autorem je Hugh Banton a klidně si ji dokážu představit v nějaké další kompozici, která by se objevila na Pawn hearts, jako mezihru. Bohužel technická kvalita nahrávky není opět ideální. Ale i tak to stojí za to. Jedeme dál. Ta největší překvapení teprve přicházejí. Skladba Roncevaux je Hammillovo dílo z roku 1972 a kapela ho stihla předvést živě např. v Itálii téhož roku. Vynikající, divoká, delší kompozice, žádný instrumentální jam, ale propracovaná skladba se zpěvem i famózními hudebními výkony. Emoce tu z Hammilla cákají na všechny strany… Skladba přechází v instrumentálku It all went up (někdy uváděná jako It all went red), zkomponovanou v téže době, pravděpodobně doslova. Je to Hammillova (vzhledem k povaze skladby je to s podivem) instrumentální skladba a je to nejlepší věc na albu. Jako by vypadla ze skladby Killer nebo z čehokoli na Pawn hearts. Je to těžká, téměř neúnosná, neobvykle psychedelická jízda, hudební nevlastní bratříček skladby Gog Magog (kompozice z Hammillova alba In camera). Bantonovy varhany jsou temně psychedelicky hluboké, saxofon Jacksona nejdříve Hugha zklidněně doprovází, ale potom se rozbouří. Intenzivní psychedelické nálady klesají jak vlny moře, jsou chvíli dole, pak nahoře. Nevím, co by tato kompozice udělala s člověkem na LSD. Skladba graduje, Banton snad u téhle kompozice nemohl za klávesami sedět, ne, u toho se nedá sedět, je to hodně vášnivý. Jackson s Bantonem začne v závěru šílet, ocitáme se… hudba zní jako intenzivní podmaz z nějaké příšerné hororové scény a skladba pomalu končí s Evansovým frenetickým bubnováním… Přechází po "opravdu vhodně zvoleném" smíchu (zvláštní smysl pro humor, ale proč ne) ve Faint and forsaken z roku 1975. Úvod naprosto originální, je to hudebně HODNĚ silné a nikde jinde (alespoň studiově) nezaznamenané – varhaník Banton zní jako temný Keith Emerson, poté skladba přejde v hudební pasáž známou z Hammillovy sólovky Silent corner and the empty stage. A na samý závěr tu máme mizerně technicky zaznamenanou kompozici Black room z roku 1972, kdy VdGG ještě asi nevěděli, že se do roku 1975 odmlčí. Hammill ji použil v roce 1973 na svém sólovém albu Chameleon in shadow of the night. Peter zde jako zpěvák předvádí vynikající výkon. Jakmile se dostane k části, kdy zpívá/recituje "I'm only talking about myself" – tak toto několikrát zopakuje (na jeho zmíněné sólovce to tak není) a díky tomu tak tato pasáž zní ještě víc maniacky než na albu Chameleon in shadow of the night. Celá tahle kompozice je skvělou ukázkou temného, procítěného progrocku, celá zní jako… Kdyby byl Edgar Allan Poe hudebník, musel by skládat a znít takhle.
Dal jsem si tohle CD jako zvukovou kulisu, vděčný to lék proti skleróze. Polovinu alba jsem měl zase husí kůži. A to ho znám nazpaměť. Je plné emocí, ale na míle vzdálené jakékoli podobě jednoduššího veselí. Ale zároveň plné síly, vášní a elánu celé zúčastněné čtyřky. Vždycky jsem VdGG spíš považoval víc za vášnivou, než ponurou skupinu. A nad hudbou létají Hammillovy zmatené, filozofické otazníky. Jednoznačně doporučuji nejen fandům VdGG, pokud dané album nemají, ale i fandům psychedeličtějšího krautrocku, raných (míněno do roku 1974) King Crimson nebo Pink Floyd před Dark side of the moon.
I když se pokouším vylézt z ulity relativní zaujatosti (a je to fuška) – tak, nemůžu si pomoct – za těch let, co poslouchám hudbu, jsem toho slyšel opakovaně docela dost a nemůžu dát této byť kompilaci rarit méně než plný počet hvězdiček. Některé instrumentálky si dodnes asi dvacet let občas pobrukuju v duchu třeba v metru, takže absence melodií netřeba se bát. Byť Hammill potencionální posluchače v CD brožurce varuje, že tahle kolekce je určena spíš pro "VdGGaficionados" – skalní příznivce VdGG. Jeden z nich v roce 1976 nebo 1977 načmáral na Hammillovo auto: "Hammill je Bůh" … 
"Ale už dost, Honzo!" říká mi mé druhé já. Dobře, Končím. S psaním tohoto pokusu o recenzi. A nakonec i dávám v rámci objektivity (spíš kvůli technické kvalitě některých nahrávek) "pouhé" čtyři hvězdičky z pěti.
SKLADBY:
01. The Liquidator /Hammill/ 5:24
02. Rift Valley /Jackson, Evans, Hammill/ 4:40
03. Tarzan /Jackson, Evans, Banton, Hammill/ 2:09
04. Coil Night /Jackson/ 4:12
05. Time Vaults 3:33
06. Drift (I Hope It Won't) /Banton/ 2:40
07. Roncevaux /Hammill/ 6:55
08. It All Went Up /Jackson, Evans, Hammill/ 4:07
09. Faint and Forsaken /Hammill/ 2:45
10. Blackroom /Hammill/ 8:52
SESTAVA:
Peter Hammill – vocals (tracks: 1, 2, 7, 10), guitar (tracks: 2.), bass (tracks: 4.), organ (tracks: 8.), piano (tracks: 1 to 3, 7, 9, 10)
Guy Evans – drums (tracks: 1 to 4, 6 to 10)
Hugh Banton – organ (tracks: 6 to 10, bass (tracks: 1, 3, 4)
David Jackson – saxophone (tracks: 1 to 4, 6 to 10), piano (tracks: 4)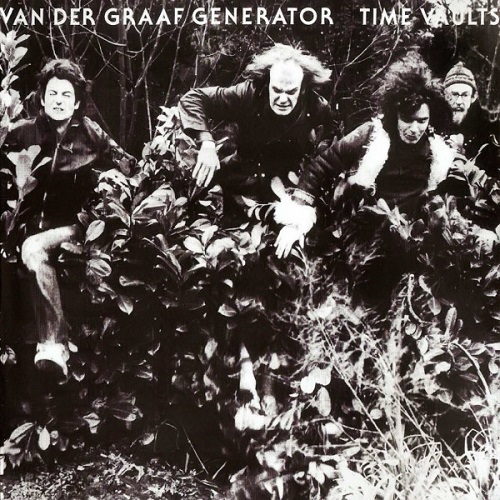 Time Vaults
Van Der Graaf Generator
Prog Rock
Sofa Sound
1982
Cassette
10
CD, Thunderbolt ‎– CDTB 106 /1992, UK/