Box Set Universal Music Italia s.r.l. – 0602527316451  /2010/
Tritons byli kapelou s velmi krátkou životností, ale o to zajímavějším příběhem: Psal se rok 1972 a ve hvězdných New Trolls to pořádně vřelo. Zakladatelé skupiny – Vittorio De Scalzi a Nico Di Palo – si šli po krku tak, že už se to nedalo dál vydržet a jeden musel z kola ven. Nakonec to byl Di Palo, kterej posbíral zbytek sestavy New Trolls a bitvu o práva na používání jména kapely svěřil právníkům. To se samozřejmě vleklo a oba znesváření kohouti pokračovali v hudební kariéře s novými spoluhráči. De Scalzi založil kapelu N. T. Atomic System a Di Palo kývnul na jméno Ibis. Dlužno dodat, že tomu bylo až po hlasování čtenářů v anketě vyhlášené časopisem Ciao 2001.
Sestava Nico Di Palo (kytara, zpěv), Maurizio Salvi (klávesy), Frank Laugelli (basa, zpěv) a Gianni Belleno (buben) napochodovala do studia, aby připravila první album Ibis (tehdy stále bez názvu kapely, jen s otazníkem na přebalu desky) Canti d'innocenza, canti d'esperienza, které vydala společnost Fonit v roce 1973. Při jeho nahrávání si jen tak pro radost střihla cover skladby I Can't Get No Satisfaction, kterej se ve Fonit rozhodli vydat na samostatném singlu pod jménem Tritons. A zadělali tím tak na pořádnej zmatek…
Ze singlu Satisfaction se totiž vyklubal obrovskej hit, ale to už si Ibis – kterým mezitím zběhl bubeník Belleno, jehož nahradil Ric Parnell z Atomic Rooster – splnili svoje závazky u Fonit a odešli k Polydoru. Tam se rozhodli kout železo, dokud bylo žhavé a vrhli na trh dlouhohrající album Tritons, opět s názvem Satisfaction. Asi aby se to nepletlo. Jenomže ve Fonit se nechtěli vzdát zlatého prasátka a pod jménem Tritons vydali další desku s názvem Country Rock Live (Fonit International 1973), kterou nahráli – pochopitelně v naprosté tajnosti – britští Roy Young Band. A to nebylo všechno, o rok později se objevilo ještě jedno album "falešných" Tritons, pojmenované Rock On The Road…
Nelenil ani bubeník Gianni Belleno, který vycítil příležitost a sestavil squadru Johny dei Tritons. Smlouvu podepsal s labelem Magma (který založil druhý ex New Trolls Vittorio De Scalzi!) a debutoval singlem Twist and shout/My child (1973), který o necelý rok později následovalo album Twist and shout with Satisfaction. Ano, opět Satisfaction. Posledním zápisem do diskografie byl pak další singl, vydaný v roce 1976.
Zkrátka a dobře, na úspěchu jedné předělávky se snažil přiživit kde kdo a tak je v tom trochu blázinec. Ti jediní a praví Tritons jsou však vlastně Ibis, spolupracující s partičkou pěti hudebníků najatých firmou Polydor a jejich jedinou velkou deskou Satisfaction z roku 1973.
Tak, personálie bychom měli a teď k desce samotné. Album Satisfaction je kolekcí čtyř vlastních skladeb, doplněnou stejným počtem předělávek. Kromě titulní pecky od Rolling Stones jsou tu ještě With A Girl Like You kapely The Troggs, klasickej rock'n'roll Rock Around The Clock a Sunny Afternoon britských The Kinks. Sice "jen" coververze, ale přepracované a zahrané s vlastním vkladem v podobě pořádné dávky nadhledu. Třeba Rock Around The Clock začíná jak nějakej pošahanej valčík s pořádně ujetým zpěvem a podobně je na tom aj značně ležérní verze písničky Satisfaction. Ta se originálu vzdaluje na míle daleko a s ním srovnatelnej nápřah dostane až v posledních třiceti vteřinách…
Vlastní písničky nepřekypují nijak velkou originalitou, ale aspoň nevyčnívaj a s těmi svérázně pojatými předělávkami tvoří vyrovnanej celek. Jedinou výjimkou a mou nejoblíbenější peckou na albu je takřka dvanáct minut dlouhé latino Paso Robles. Jde o instrumentálku s rytmem nakažlivým, jak cholera a  nemít obě nohy levé, dám se do tance. Je pod ní podepsanej kytarista Jimmy Villotti a všichni Tritoni se v ní pěkně vyřádili.
Z alba Satisfaction čiší pohoda a dobrá nálada. Instrumentální výkony všech zainteresovaných hudebníků jsou excelentní, zvuk výbornej a angličtina bez nejmenší chybičky. Nevědět o těch okolnostech kolem, tak bych na italskej původ nahrávky nevsadil ani zlámanou grešli.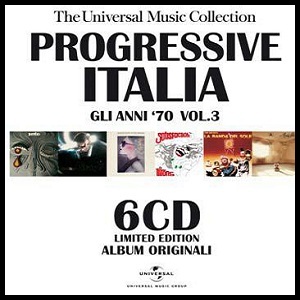 Původní album vyšlo ve velkém nákladu a i dnes se dá sehnat za rozumnou cenu. Horší už je to s reedicemi, které podle discogs snad ani neexistují a jediné známé vydání na CD je součástí box setu Progressive Italia gli anni '70 Vol. 3, vydaného v roce 2010.
Dát téhle desce víc, jak tři hvězdičky by byl – asi – zločin, ale poslouchá se výborně a jsem rád, že ji mám.
SKLADBY:
1. With A Girl Like You – 4:10
2. Screwinsnort Ball – 4:50
3. Rock Around The Clock – 4:40
4. Free Heaven In Time – 4:40
5. I Can't Get No Satisfaction – 4:15
6. Rain Storm Fever – 4:00
7. Paso Robles – 11:40
8. Sunny Afternoon – 5:27
SESTAVA:
Nico Di Palo – chitarra, voce
Maurizio Salvi – tastiere
Frank Laugelli – basso
Ric Parnell – batteria
+
Kamsin Urzino (voce)
Jimmy Villotti (chitarra)
Roger Mazzoncini (tastiere)
Gilberto Faggioli (basso)
Daniel Palella (batteria)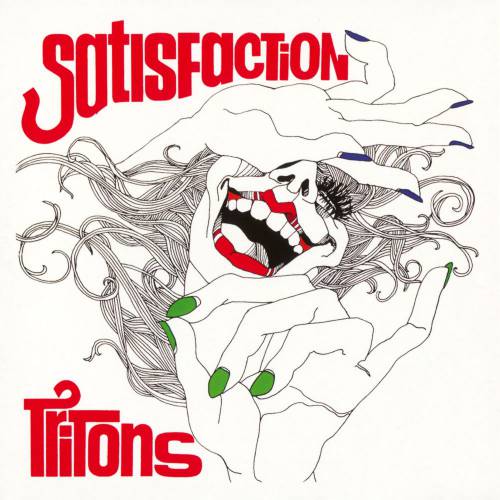 Satisfaction
Tritons
Rock
Polydor
1973
LP
8
Box Set Universal Music Italia s.r.l. /2010/