Každý, kto sa trošku zaujíma o tvrdšiu rockovú hudbu, vie, o čom je táto nahrávka. Má zmysel rozoberať ju skladbu po skladbe, hoci už bola tisíckrát rozobratá do špiku kostí? Do akej ligy patrí skupina UFO? Je to super divízia, či iba najvyššia okresná súťaž? Čo priniesla do sveta rockovej hudby? Zaslúži si našu pozornosť, úctu? Odpovede nechám na odborníkov, nebudem sa im miešať do remesla. Vlastne je už všetko dávno zodpovedané. O silnej britskej hard rockovej štvorke máme všetci jasno, tento rebríček určil vývoj, štýlotvornosť týchto skupín. Tieto zásluhy im nikto neberie, ale, priznajme si, v srdci je to u mnohých z nás úplne inak. Za seba dodám, že sa hlboko klaniam pred značkou UFO.
Nerobím si štatistiku počúvateľnosti, ale toto je určite jeden z najčastejšie hraných CD nosičov v mojom prehrávači. Mám iných, oveľa obľúbenejších favoritov a ich muziku, no UFO a Phenomenon mám tiež veľmi rád. Je to začiatok nového obdobia v živote skupiny. Éry, ktorá mi sedí a zároveň ma priviedla k tejto formácii. Je to až taký výnimočný album, s dychvyrážajúcimi hráčskymi výkonmi a skvelými hudobnými nápadmi? Naozaj to neviem a ani to neriešim. Skrátka, tento hard rock mi prirástol k srdcu, od prvého tónu úvodnej Too Young To No, až po záverečnú Queen Of The Deep. Mne to prináša obrovskú pohodu, relax, zábavu. Nebudem to ďalej naťahovať, nemienim vyzdvihovať hráčske umenie žiadneho jednotlivca. Toto bol silný kolektív, ktorý vtedy ťahal za jeden povraz.
V živote sa stretávame so všeličím. Nie je to iba radosť, úspech, šťastie. Prídu okamihy, ktoré by sme najradšej vymazali zo svojej mysle. Bohužiaľ, je to tak a nikdy sa to nezmení. Hovorí sa, že hudba je najlepší liek. Ťažko tvrdiť, či to zaberá na každého, na mňa áno. Pomáha mi v zložitých situáciách. Nenachádzam žiadne racionálne vysvetlenie, ale Phenomenon je jeden z tých zvláštnych výtvorov, ktoré ma držia nad vodou. Je to zázračný doktor na všetky moje choroby, starosti, trápenia.
Skladby:
01. Too Young To Know (Way, Mogg) 3:07
02. Crystal Light (Schenker, Mogg) 3:44
03. Doctor Doctor (Schenker, Mogg) 4:10
04. Space Child (Schenker, Mogg) 3:58
05. Rock Bottom (Schenker, Mogg) 6:30
06. Oh My (UFO) 2:26
07. Time On My Hands (Schenker, Mogg) 4:10
08. Built For Comfort (Willie Dixon) 3:01
09. Lipstick Traces (Schenker) 2:17
10. Queen Of The Deep (Schenker, Mogg) 5:43
Zostava:
Phil Mogg – vocals
Michael Schenker – guitar
Pete Way – bass
Andy Parker – drums
Ďalšie informácie o albume na Discogs.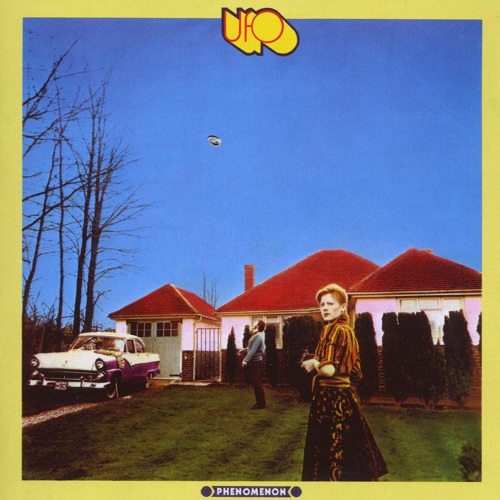 Phenomenon
UFO
hard rock
Chrysalis
1974
LP
10
CD - Chrysalis, 2007