"No konečne!" Toto mi preletelo hlavou, už pri prvých tónoch tohto kompilačného albumu, nepochybne pozoruhodnej, aj keď nie známej kapely, konečne z československých luhov a hájov, pričom označenie "pôvodu krajiny" je vlastne nesmierne relatívne…Keď roku 1994 založil gitarista, spevák a hráč na klávesové nástroje, Trevor Tabone, z pre nás exotickej Malty s partiou rovnako ladených kamarátov progresívne rockovo ladenú kapelu, nikto iste netušil, akými turbulenciami personálneho, ale aj regionálneho charakteru Different Light prejdú.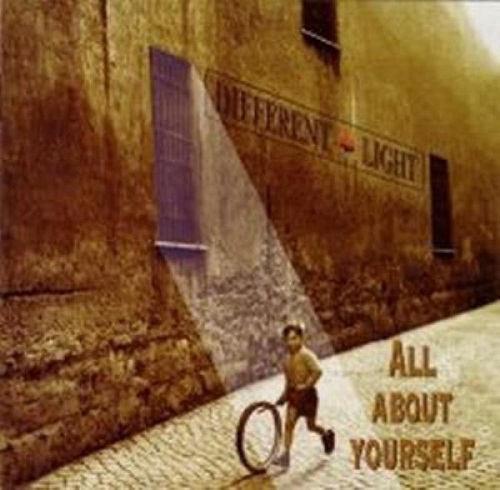 V štvorčlennom klasickom inštrumentálnom obsadení (spev istí celkom spoľahlivo sám Trevor) vydali v roku 1996 prvotinu All About Yourself z ktorej sa na kompilačnom albume nachádzajú prvé štyri songy – s podtitulom Inception. Album prináša nesmierne príjemný prog rock, aký na prelome 80. a 90. rokov hrávali raný Pendragon, Twelfth Night, ale hlavne kapely z tzv. druhej línie britského (neo)prog rocku, ktoré osobne považujem dnes už za kultové – Castanarc, Final Conflict, Abel Ganz či Multi-Story. Krásna a prirodzená melodičnosť a súčasne pomerne výrazná dramatičnosť týchto kompozícií im dáva čaro a popri vyššie spomínaných britských súboroch by iste vyšli vo vzájomnej priamej konfrontácii v pohode – so štítom. Different Light hodne koncertovali po území rodnej Malty, dokonca si ich ako support pre svoje koncerty v septembri 1998 vybral aj Fish, pôvodný frontman Marillion.
Ako to v živote býva, vzťahy ku nežnejšiemu pohlaviu robia aj v rockových kapelách personálny vietor, v prípade Different Light dokonca tak zásadný, že kapela je definitívne "na cucky". Doslova v predvečer rozpadu ešte nahrávajú materiál, ktorý je na kompilácii prezentovaný ešte stále v pôvodnom duchu a prakticky aj personálnom obsadení (korekcia je na poste hlavného gitaristu) skladbami The Eyelid Movie Show a Educating Jesus. Trevor Tabone potom odchádza do Prahy, kde sa usádza a snaží sa sformovať novú kapelu, stále pod pôvodným menom. Folk progová skladbička Takeshi'c Castle je prvou lastovičkou nového pôsobiska a spolu s predošlými dvoma kompozíciami je na kompilácii zaradená v chronologickom v podtitule Transition.
Treťou etapou tak v histórii Different Light, ako aj tejto kompilácie je obdobie nahrávania "českého" albumu Icons That Weep, druhej to radovky v doterajšom pôsobení bandu. Trevor Tabone dal dokopy partiu profesionálnych hudobníkov a v obmedzených podmienkach vznikla placka s pokojnejším, oproti jednotke istým spôsobom uhladenejším obsahom. Deväťminútová A Creature of Habit je však celkom intenzívnou reminiscenciou na staré "dobré" časy a charakteru soundu z ranného obdobia kapely na Malte. Songy (8 až 12) sú na tomto výbere označené podtitulom Conciliation.
Po tomto v podstate štúdiovom projekte dochádza opäť k zásadnej zmene a Trevor postavil v súčasnosti funkčnú, plne medzinárodnú koncertnú kapelu s úplne otvorenou perspektívou do budúcnosti. Zostava Bill Etheridge (V. Británia) – gitara, Ricardo Simoes (Portugalsko) – gitara, Brian Reagan (USA) – bicie a perkusie, Jirka Matoušek (Česko) – basgitara, doprovodné vokály a samozrejme Trevor Trabone (Malta) – sólový spev, klávesové nástroje, texty a hudba – je nanajvýš exotická. Je skutočne razantnou výzvou pre nepochybne suchotami a žalostným deficitom trpiacimi regiónmi Čiech, Moravy a Slovenska v oblasti prílevu progresívneho rocku na domácej scéne (aj keď v období globalizácie je to vlastne skoro irelevantné…)
Samotný album Il Suono Della Luce (Zvuk svetla) má iste v prvom rade edukačný charakter pre vnímavého poslucháča a fanúšika štandardného progresívneho rocku (symfonického progrocku i neoprogu).
Po mnohonásobnom posluchu mi silne prirástli k srdcu najmä kompozície z ranného obdobia Different Light – This Is Only the Beginning je pomerne razantná melodická skladba so zmenou štruktúry v jej strednej časti, najdlhšia, dvanásťminútová Burning Memories je klasický členite štrukturovaný prog rockový opus, a pravdepodobne vrchol albumu (aj keď pri kompiláciách je to ošemetné), pre mňa aj istou melanchóliou za počiatkom 90. rokov, keď novovznikajúce art / prog rockové spolky konečne vytlačili zo statickej scény 80. rokov (z pohľadu náročnejšieho a vnímavejšieho poslucháča) prebytok novovlných a punkových skupín…
In the Grey a Victim's Eye View plynule dopĺňajú pendragonovské obdobie soundu kapely – bohaté aranžmá, sýty zvuk gitár a klávesových plôch a celkom suverénny vokálny prejav Trevorovho rockového tenoru. The Eyelid Movie Show a Educating Jesus veľmi plynule nadväzujú na predošlé dve skladby a sú stále ešte výrazným pôvodným rukopisom zabehnutej a skvele zohratej kapely na sklonku jej "maltského" pôsobenia. Zvukovo a aranžérsky snáď dokonca Top doterajšej tvorby. Jasným zlomom na albe je poloakustická Takeshi'c Castle – odľahčený folk popový song so ženským doprovodným vokálom, evidentný vplyv českej domácej scény na progera Trevora…
Angel Incarnate je svojim spôsobom pokračovaním ústupkov od pôvodnej prog rockovej plnosti a istej bombastičnosti zvuku  Different Light, je skôr intímnejším kúskom na tejto placke. A Creature of Habit je vlastne druhým opusom na tomto výbere a vlastne aj istým retrom pôvodných ambícií skupiny (či Trevora?). Druhý vrchol albumu, v tomto žánri takmer dokonalé.
Solitary Heart a A Life in a Day sú jednoduchšie príjemné songy, s istým singlovým (pop rockovým) potenciálom. The Few of Us je už len kratučkým a komornejším epilógom za prechádzkou po celkove zaujímavom albume.
Mám veľmi príjemný pocit, že na našej scéne (českej i slovenskej) sa objavila kapela (nie nová a nie celkom naša), ktorá vypĺňa nesmierne pustý priestor toho, čomu sa v celom svete bežne vraví prog rock, či neoprog. Je to malá oáza na púšti, kde dominuje (pri istej úcte) oneskorený metal, punk a potom už len kvantá úbohého popu… Ale vďaka za to a ešte raz – konečne!
SKLADBY:
Inception (1992-1996)
01. This Is Only the Beginning
02. Burning Memories
03. In the Grey
04. Victim's Eye View
Transition (1997-2002)
05. The Eyelid Movie Show
06. Educating Jesus
07. Takeshi'c Castle
08. Angel Incarnate
Conciliation (2003-2009)
09. A Creature of Habit
10. Solitary Heart
11. A Life in a Day
12. The Few of Us
ZOSTAVA: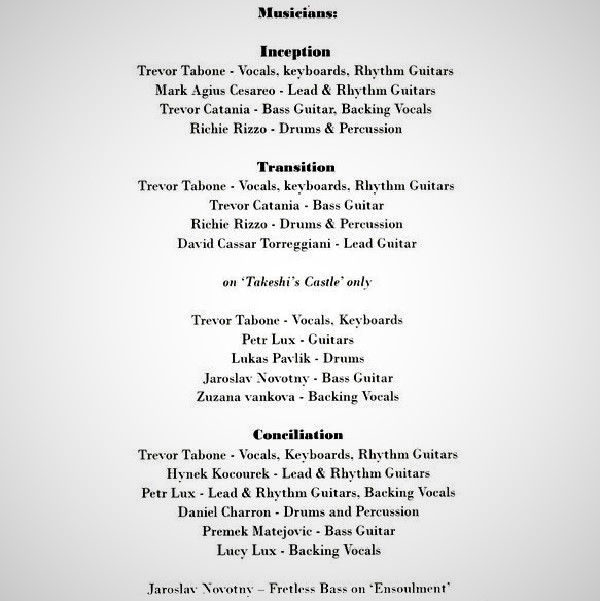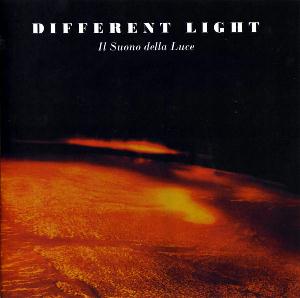 Il Suono della Luce
Different Light
Prog Rock
Different Light Self-released
2011
CD
12