Začnem trocha obšírnejšie…
Keď v roku 1997 vydala kapela THE NIGHT WATCH, pochádzajúca z talianskeho Milána, svoj debut a vlastne jediný album Twilight, hudobný svet bol obohatený o mimoriadne vzácny príspevok k najvýraznejšej ére fenoménu GENESIS. V THE NIGHT WATCH sa stretli dve veľmi silné hudobné osobnosti – gabrielovsky intonujúci spevák Simone Rossetti a hackettovsky skladajúci a hrajúci gitarista Francesco Zago, ktorý album navyše obohatil aj fragmentami crimsonovského chápania progresívneho rocku.
Platí však nepísané pravidlo, že dvaja kohúti na jednom smetisku nemôžu dlho spolu fungovať, hudobné cítenie a ambície Francesca Zaga presahovali limity symfonického progrocku a neoprogu, a tak veľmi nádejná kapela odišla do hudobnej histórie. Simone Rossetti v tradícii ortodoxného soundu GENESIS poskladal personálne celkom novú skupinu s kontinuálnym názvom THE WATCH a namieril ju do stále viac neoprogových vôd, ale to už je iný príbeh…


Francesco Zago sa verejnosti čiastočne vytratil z povedomia, aby v roku 2005 bol jedným z dvoch iniciátorov vzniku nahrávacej a vydavateľskej spoločnosti AltrOck Productions v Miláne, ktorá veľmi výrazne prispieva k rozširovaniu obzorov skutočnej progresivity v hudbe a vydáva albumy skupín i projektov, spájajúcich subžánre ako sú symfonický progresívny rock, Canterbury, jazzrock/fusion, RIO a mnohé ďalšie do viac-menej jediného termínu "avant-prog" a to nielen z Talianska, ale aj z iných krajín sveta. Prvou lastovičkou AltrOck Productions sa stal album symfonického projektu YŪGEN, vlajkovej lode tohto vydavateľstva, s názvom Labirinto d'Acqua, vydaný na konci roku 2006…
Album Death By Water je v chronológii tvorby YŪGEN tretím vyložene štandardným a skladateľsky plnohodnotným štúdiovým počinom. YŪGEN bol od počiatku postavený na skladateľských a aranžérskych schopnostiach tandemu Paolo "Ske" Botta / Francesco Zago, tretím vyložene stabilným členom projektu je pianista Maurizio Fasoli (a všetci traja sú aj súčasťou symfo-progových NOT A GOOD SIGN a ambientne znejúcich EMPTY DAYS). Personálna variabilita ostatných členov projektu pochádza z prostredia v Taliansku hudobne klasicky vzdelaných a úspešne pôsobiacich hudobníkov, príležitostne doplňovaných o osobnosti z výrazne spriaznenej, obdobne orientovanej americkej kapely THINKING PLAGUE.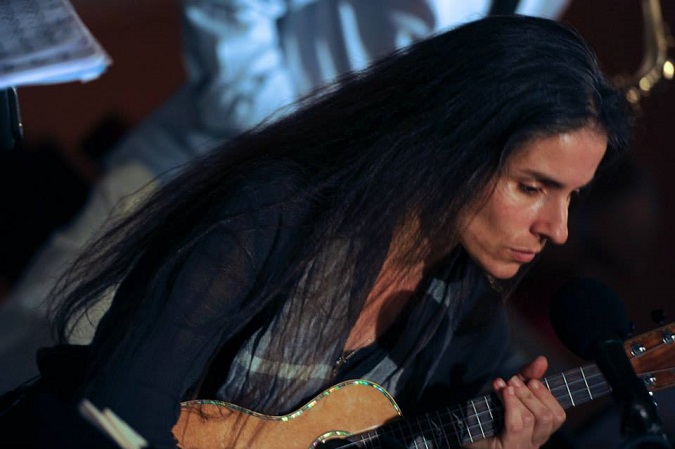 Na pomerne úspornej časovej ploche albumu (42 minút) sa toho deje skutočne veľa. Hlavným atribútom je tu nesmierna rozmanitosť a rôznorodosť parciálnych kompozícií. Zatiaľ čo prológový album Labirinto d'Acqua bol striktne inštrumentálny, na dvojke Iridule spievala fragmenty Elaine Di Falco (THINKING PLAGUE), na Death By Water mimo nej, a tak ako ona, rovnako dvakrát dostáva priestor excentrická Dalila Kayros zo Sardínie.
Dramaturgia štyroch spievaných z celkove desiatich rôzne dlhých trackov je v konečnom dôsledku silne pôsobivá. Zatiaľ čo Dalila Kayros je hlasovo mixom istej hysteričnosti a afektovanosti (v pozitívnom zmysle slova) Björk a punkovej priamočiarosti a drsného drajvu Niny Hagen, spev Elaine Di Falco je veľmi príjemný, hlbšie posadený mezzosoprán, vyvolávajúci príjemné melancholické a nostalgické pocity. Navyše v úvodnej, pre YŪGEN charakteristickej RIO kompozícii, Cinically Correct text zo slovíčkami v taliančine a japončine Dalila Kayros skôr šteká a vypľúva, ako spieva a v predposlednej expresívnej a pochmúrno-desivej Der Schnee je text v nemeckom jazyku (autor Duns Grünbein). Oproti tomu, obe diametrálne odlišné a nádherné skladbičky, spievané Elaine Di Falco (As It Was a A House) sú chronologicky dômyselne umiestnené za tie, čo spieva Dalila Kayros, čo má istým spôsobom aj efektný terapeutický účinok…
Celý album Death By Water je kompozične a aranžérsky dielom Francesca Zaga, na rozdiel od Labirinto d'Acqua a Iridule, kde bol jeho rovnocenným partnerom Paolo "Ske" Botta. Akosi nepochybujem, že pri zostavovaní playlistu tohto diela mal Francesco Zago azda najväčšiu prácu a dilemu, čo zo zásobárne svojich skladieb a v akom poradí na CD uložiť. Nakoniec sa mu to podarilo bizarne fenomenálnym spôsobom a po mnohonásobnom posluchu to proste skvele funguje…
Veľmi významné sú tu aj krátke skladby/fragmenty (Undermurmur, Ten Years After, Drum'n'stick) v podstate odkazujúce na tvorbu KING CRIMSON, resp. spôsob skladania muzikantov, ktorí prešli touto mimoriadne významnou kapelou pod vedením Roberta Frippa.
Titulná Death By Water je nádherná ukážka melodického jazzového cítenia Francesca Zaga a skutočne evokuje niektoré najlepšie skladateľské kusy z repertoáru PAT METHENY GROUP. Jazzovo/avantgardným cvičením sa dá nazvať zdanlivo nesúvisiaca dvojica na seba nadväzujúcich kompozícii Studio 9 a As A Matter Of Breath, istá logika ich umiestenia na albume sa dá pochopiť asi skutočne až ich dlhodobejším posluchom.
Death By Water ako celok nie je určite album pre každého, rozumej bežného konzumenta. Iste to nie je ani hudba pre nejakých falošných elitárov, či snobov, ale objavovať silu a skutočnú hĺbku takto koncipovanej hudby je niečo naozaj úžasné. Projekt YŪGEN je podľa môjho názoru najpresvedčivejší spôsob sebarealizácie a hudobného vyjadrovania sa osobnosti, akou Francesco Zago celkom nepochybne je. Aj týmto albumom YŪGEN potvrdzuje, že patrí celkom prirodzene do rovnocennej spoločnosti zásadných telies subžánru, ako sú frankofónne legendy UNIVERS ZERO, PRESENT, ART ZOYD, americké THINKING PLAGUE, či 5UU'S, dokonca v niektorých aspektoch ich už aj predstihuje…
SKLADBY:
01. Cinically Correct (7:48)
02. Undermurmur (1:31)
03. Death By Water (5:06)
04. Ten Years After (1:12)
05. As It Was (4:58)
06. Studio 9 (2:36)
07. As A Matter Of Breath (9:27)
08. Drum'n'stick (2:12)
09. Der Schnee (6:05)
10. A House (1:25)
Total Time: 42:20

ZOSTAVA:
Dalila Kayros – vocals
Elaine Di Falco – vocals
Francesco Zago – electric, acoustic & 12-string guitars, Mellotron
Stefano Ferrian – 8-string guitar, tenor & alto saxes, Chapman stick
Paolo "Ske" Botta – e-piano, Hammond, ARP synth
Maurizio Fasoli – piano
Valerio Cipollone – soprano sax, piccolo flue, bass clarinet
Peter Schmid – tuba, contrabass clarinet, contrabass flute
Fedele Stucchi – trombone, euphonium
Alessandro Cassani – electric bass
Matteo Lorito – double bass
Michele Salgarello – drums
Carmelo Miceli – drums
Giuseppe A. Olivini – percussion, Theremin, toy piano
Jacopo Costa – vibes, marimba, glockenspiel, zymbalon
+
Simone Quatrana – piano (7,9)
Massimo Dolce – guitar (3)
Dave Willey – Portuguese guitar (10), accordion (5)
Taiko Lecco (Chiara Codetta, Gabriella Imbergamo, Giacomo Micheli, Giorgio Galimberti, Tobia Galimberti Samulele Galimberti) – drum ensemble
Death By Water
Yūgen
Prog Rock
AltrOck
2016
CD
10