Tento článok nadväzuje na môj predošlý žurnál, kde som vyjadril nádej, že sa s Tonym Currentim stretnem na jeho rozlúčkovom vystúpení v Taliansku. A tak sa aj stalo.
V zápchach až do Verony
Keď ma Tony v máji kontaktoval ohľadom dátumu koncertu, ktorý mal odohrať s talianskym coverbandom Overdose74 neďaleko Verony, neváhal som a obratom som zavolal kamošovi do Turína, aby sme sa dohodli na ďalšom postupe. Do jednej z metropol regiónu Benátsko sme napokon cestovali autom v deň koncertu. Ten sa mal odohrať 16. júna 2023 v mestečku Isola Della Scala s plánovaným začiatkom o pol desiatej večer. Realita však bola trochu iná…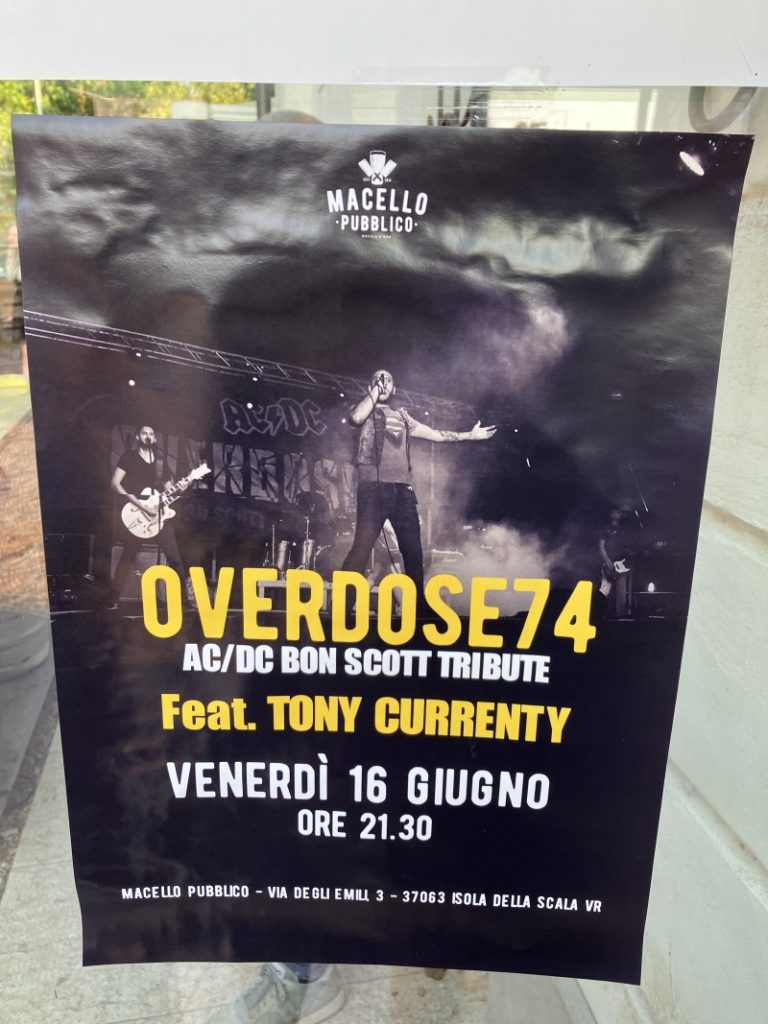 Na upchatej autostráde sa samozrejme podpísalo to, že bol piatok poobede, ale cesta v kolóne cez Miláno bola fakt peklo. A diaľnice boli viac či menej plné až ku Gardskému jazeru, ktoré je už kúsok od Verony. Tam sa ale naša cesta neskončila, keďže miesto koncertu bolo v obci južne od "mesta Rómea a Júlie."
Po ubytovaní sa v hoteli vo vedľajšej obci sme vyrazili do dejiska večerného vystúpenia. Zhodou okolností, v ten istý večer sa konal vo veronskej Arena di Verona, ktorá je staršia než rímske Koloseum, výročný koncert pri príležitosti storočnice operného festivalu v Aréne, ktorý vysielala štátna televízia aj za účasti talianskeho prezidenta. Na druhý deň sme využili príležitosť a Veronu aj s Arénou sme si popozerali.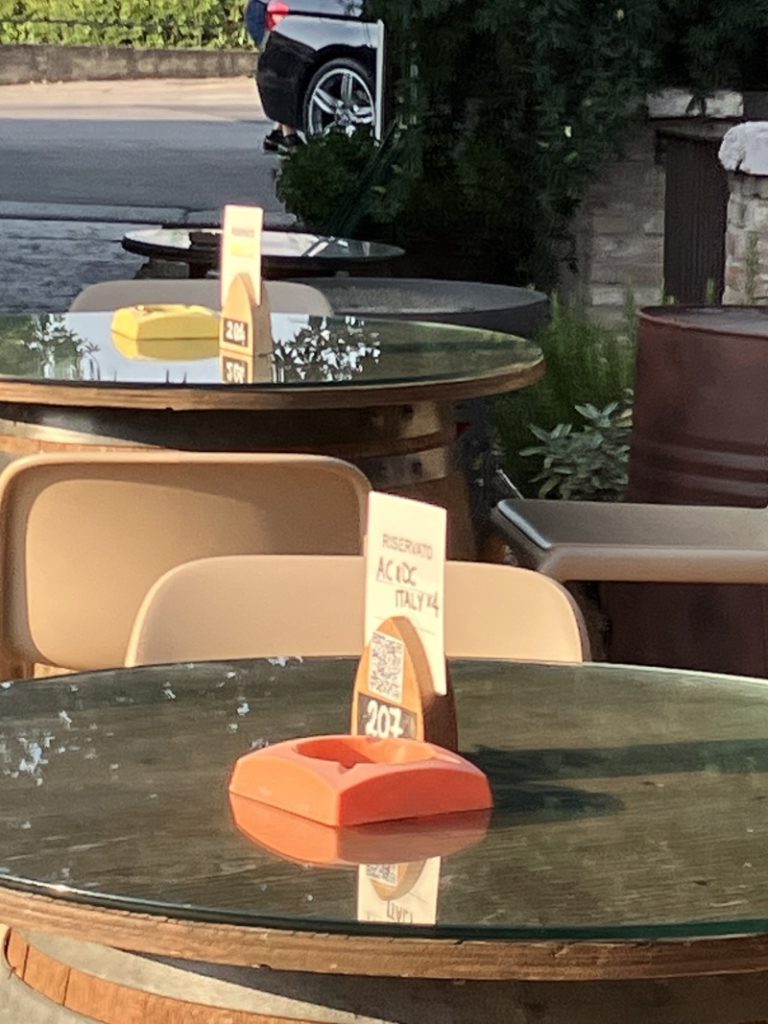 Privítanie s Tonym
Okolo siedmej večer, za krásneho letného počasia, sme dorazili do podniku Macello Pubblico, čo je vlastne jeden veľký bar s kuchyňou a nádvorím, kde je vonkajšie sedenie a pódium. Tony posedával vonku aj s jeho priateľkou a v pokoji si vychutnával cigaretu. Hneď sme sa zvítali a aj chlapsky objali. Srandovné bolo, že na moju angličtinu mi odpovedal po taliansky. Zjavne bol prepnutý do talianskeho módu. Keďže času na pokec bolo ešte dosť a s kamošom sme boli hladní, šli sme si po svojom. Tonymu som však doniesol jeden špeciálny darček, ktorému sa potešil (foto je na konci článku).
Keď kamarát volal pár dni dozadu ohľadom rezervácie, pani na druhej strane linky povedala, že uvidí čo sa bude dať robiť. Nakoniec z toho bolo najlepšie miesto, rovno oproti pódiu. Dokonca aj členovia talianskeho fanklubu s názvom AC/DC Italia mali horšie miesto od nás. Tak sme sa spokojne usadili a objednali si. Tony sa medzitým okoloidúc ospravedlnil, že sa idú na hotel prezliecť. Podnik stále zíval prázdnotou, zjavne bolo na domácich ešte príliš skoro. S postupným západom slnka sa však miesto začalo zapĺňať.
Vrtochy počasia
Celý deň bolo krásne slnečné počasie a na oblohe ani mráčka. Avšak k večeru sa obloha začala zaťahovať mračnami a po zotmení prišli aj blesky a hromy. Našťastie iba v diaľke, ale okolo pol desiatej začalo popŕchať. V tom momente už boli bicie na pódiu skryté pod plachtou a zvyšná aparatúra poschovávaná. Začiatok koncertu sa tak musel odložiť a všetci dúfali, že sa počasie umúdri.
Tony sa medzitým pri nás pristavil a kecali sme s ním dobrú polhodinu. Čakanie sa vyplatilo, keďže dovtedy ho pozamestnávali ostatní, vrátane členov AC/DC Italia fanklubu. O to viac potešilo, že prišiel za nami sám. Spomenul, že domáci mali objednaný aj stan na prekrytie pódia, ale ráno ho odvolali, keďže bolo perfektné počasie…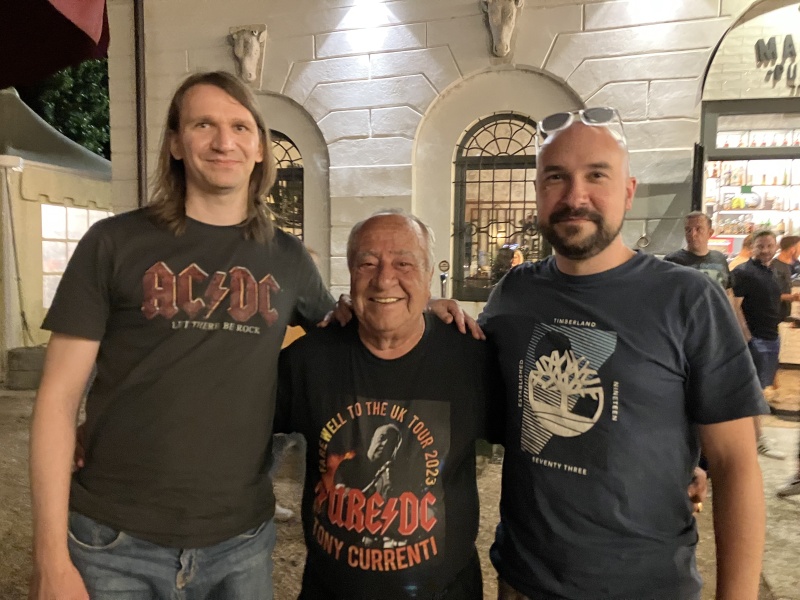 V máji premiérovo odohral štyri koncerty vo Francúzsku s coverbandom The Scotts a odozva vraj bola fantastická. Posledné vystúpenie v jednom známom klube neďaleko Nancy bolo dopredu vypredané a veľa fanúšikov, ktorí sa nedostali dnu, čakalo pred podnikom, aby sa po koncerte mohli s Tonym stretnúť, odfotiť a vypýtať si jeho autogram. Napriek tomu, že tento rok chcel Tony s koncertovaním po Európe definitívne skončiť, vyzerá to tak, že v budúcnosti sa ešte dá nahovoriť na pár vystúpení s The Scotts.
Tony nás dokonca predstavil aj talianskej sesternici speváka AC/DC Briana Johnsona (ktorého mama bola pôvodom Talianka). Tá Tonyho vystúpenia v Taliansku zvykne navštíviť a bolo tomu tak aj tentoraz. Dokonca býva pri Turíne, ako môj kamoš, tak sme sa smiali, že aký je svet malý.
Technické problémy
Počasie sa nakoniec umúdrilo a tak krátko po jedenástej (!) večer sa koncert mohol začať. Ten poznamenali technické problémy, keď sólový gitarista dlho nevedel vylúdiť z aparátu žiaden tón a keď sa tak stalo, boleli z toho uši. Bojoval s tým celý koncert. A aj speváka hneval mikrofón. Nakoniec si však počas vystúpenia vymenil kábel a výpadky zmizli.
Predstavenie začalo, ako inak, otvarákom menom Live Wire. Video mi YouTube nepovolí vložiť, ale po kliknutí na song si je možné ho pozrieť. Prvú hodinku odohral za bicími sedemdesiatnik Tony a set bol plný klasík – z debutového albumu napríklad She's Got Balls, ale aj songy ako Rock 'n' Roll Damnation, Highway to Hell či It's a Long Way to the Top. Horevyššie je video s Gimme a Bullet, počas ktorého mali problémy "Angus" aj "Bon" ale zvyšok kapely sa tým nenechal vykoľajiť a pokračoval ďalej aj bez nich. Aj to patrí k rock & rollu.
Druhú polovicu koncertu odohral stály bubeník kapely, ktorý je o nejakú tú dekádu od Tonyho mladší a tak sa pridalo aj na razancii a tempe. Za všetko hovorí frenetická Let There Be Rock, počas ktorej sa spevák odel do kňažského hávu. V priebehu tohto songu došlo k úsmevnému momentu, keď ku mne znenazdajky prišiel tlouštík, ktorý stál za výčapom a dal mi vypiť pivo. Natáčajúc video som ho nevidel, až keď som periférne zbadal pohár s pivom pri mojej hlave a sprvoti som nevedel či ma nechce ním obliať, ale v momente som pochopil, že mi chce dať lognúť si a tak som aj urobil.
Setlist bol výborný, to sa musí nechať – Bad Boy Boogie aj komplet so striptízovou sekciou (vrátané odhaleného zadku, čomu sa potešili najmä dámy v publiku) sa len tak nevidí. Tam tuším aj koncert skončil, ale publikum si vypýtalo prídavok – tlouštík z výčapu zhúkol na mladého gitaristu, ktorý mal už odpojený kábel a jeho: "Daj volume, prekristapána!" spustilo salvu smiechu. A tak sme sa dočkali ešte šlágrov ako If You Want Blood a Jailbreak, ktoré si užíval najmä rytmický gitarista. Ten bol celkovo dosť solídny a spolu so spevákom podali na štandardy AC/DC coverbandov dobré výkony. S najmladším členom kapely "Angusom" to už bolo horšie. Ten bol najslabším článkom Overdose74 a potreboval by viac cvičiť. Pred koncertom pobehoval v dámskom tričku s logom Pornhubu a tak asi pred gitarou uprednostňuje inú činnosť…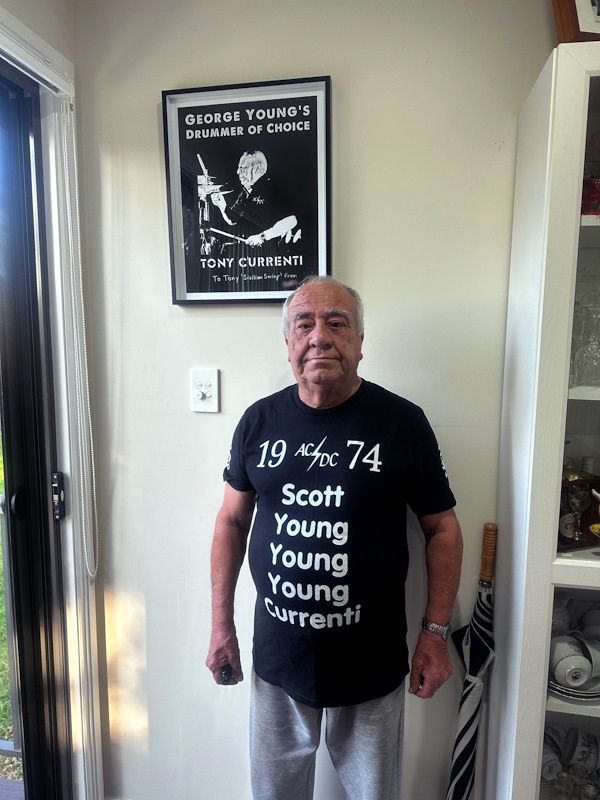 Koniec zvoniec
Koncert skončil okolo jednej v noci – u nás vskutku niečo nevídané, ale tak iný kraj, iný mrav. Večer sme si však užili, a to bolo to hlavné. Po zaplatení na bare nám pred odchodom naliala pani barmanka limoncello na rozlúčku, a po ňom sme sa ešte pozdravili s Tonym a zaželali mu pekný zvyšok dovolenky na jeho rodnej Sicílii.
Či to bolo posledné európske vystúpenie Tonyho Currentiho neviem povedať, ale som rád, že som ho zažil. A pred pár týždňami mi Tony poslal aj foto už zo Sydney aj s darčekmi odo mňa. Ten čo som mu daroval v decembri minulého roka napokon nevisí v pizzerii, ale uňho doma…