Britskou skupinu Warhorse jsem poprvé uslyšel v Divadle hudby v rámci pořadu Underground, do té doby jsem o skupině tohoto jména neměl ponětí. Proto si taky vybavuji, že už tehdy bylo zmiňováno jméno jejich zakladatele Nicka Simpera, bývalého člena Deep Purple, který s nimi zažil období hledání vlastní tváře a odešel před jejich raketovým nástupem. Jména ostatních hudebníků jsem neznal. Škoda, že kapela nezůstala souputníkem Deep Purple i v dalších letech. Myslím, že by se po několika letech dotáhla na jejich úroveň, třebaže za cenu některých personálních proměn. Osud kapely ale neměl mít úspěšnost mnohaleté závratné kariéry. Přesto si myslím, že eponymní album Warhorse byl výtečný debut!
VULTURE BLOOD – nezřetelné ševelení psychedelických hammondek upamatovává na Iron Butterfly nebo Vanilla Fudge až do okamžiku, než nastoupí jasný rockový odpich a skladba se rozběhne v hardrockovém modelu britského typu. Zpěvák Ashley Holt je ovšem třída. Třebaže jeho hlas je nahrán v poměru k instrumentaci ve zvláštním poměru, musím konstatovat, že je to rockový shouter mimořádných kvalit, který mohl být ozdobou každé pořádné rockové kapely. Vliv Iana Gillana je zde nezpochybnitelný. Instrumentální předností kapely je výtečná souhra rytmiky melodicky podchycených basů Nicka Simpera a Maca Pooleho. Má dravý spád, třebaže bicí nevykazují větší technickou kreativitu navzdory rockové údernosti. Kytarista Ged Peck hraje dobře nastavené party v rámci komplexního pojetí a zatím se mi nezdá, že by to byl dravý guitar hero, ale spíš poctivý zkušený řemeslník.
NO CHANCE – zvuk další skladby je jaksi málo dynamický s ohledem na hutnost skladby. Basové linky a bicí jsou jakoby nahrány v nějaké krabici a varhany a kytaru slyším v jakémsi oparu a s matným přínosem pro skladbu, která se mi jinak jeví jako velmi zdařilá rocková balada. Jednoznačně zde vévodí Ashley Holt svým dramatickým vokálem a v mezihře Frank Wilson na hammondky přidá na intenzitě tříštivému zvuku. Výtečné vokální party následuje cválavá baskytarová práce, neurotický rytmus bicích za doprovodu vokální linky a patetických varhan. Skladba budí dojem štvanice, ale má onen majestátní odér typický pro přelom šesté a sedmé dekády. Wilson na hammondky trochu v duchu Jona Lorda nasadí energickou mezihru a Ged Peck vypiluje kytarové sólo. Nahrávce ale chybí hlubší dynamika, muzikantsky je ovšem kapela naprosto v pořádku.
BURNING – klasický hardrockový úvod s téměř pochodovými bicími a melodickou basovou linkou. Hammondky používají oblíbené tremolo a elektrická kytara se opře do nosného riffu. Peck postrádá blackmoreovský švih a kreativitu, ale v daném formátu se jedná o dobře pojednaný hardrock. Simperova baskytara vyšívá důraznou melodickou linii a o jejich kvalitách není sporu. Chybí ji jenom lépe nastavený průraznější zvuk. Kytarové kreace se drží v mezích technických možností kytaristy a tak se spíš sází na razantní akcenty a vypilovaná unisono s baskytarou, než na nějaké ďábelské jízdy. Na hammondky je zjevně Wilson větší třída než Peck na kytaru, ale zatím mi tahle subjektivní okolnost nijak nebrání vnímat skladbu jako poctivý hardrock první generace. Ano, teď se Peck rozběhl. Vliv Blackmorea nemohu nepostřehnout, ale zároveň Peck má čitelnější mantinely a nejde do nějakých bezbřehých extrémů. Hřmotný závěr přesně v duchu daného žánru.
ST. LOUIS – přehledný rockový riff a skladba se odvíjí jako klubko spletené vlny. Dobře zaranžovaná skladba pro kapelu, kde sborový zpěv překrývá výtečný projev Ashleyho Holta. Obdivuji jeho energetický potenciál. Skladba se podáním blíží do jakési fúze hardrocku a gospelu. Správně nabuzené akcenty narušuje wah wah pedál elektrické kytary a Wilson řádí na hammondky jako správně odvázaný hudebník při nekonečném jamu. Nevím, jestli se skladba prosadila samostatně jako singl, ale řekl bych, že jisté hitové ambice ji nelze upřít, třebaže na rok 1970 byla do nějaké hitparády hodně tvrdá.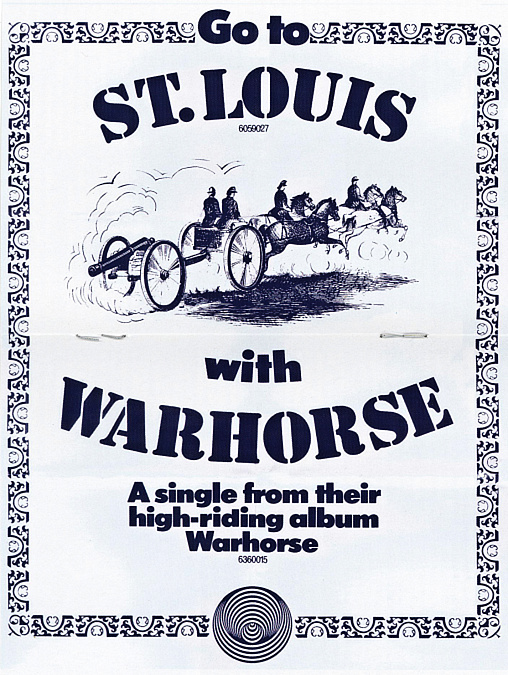 RITUAL – další klasický model hardrockového běsnění s výraznou cválající baskytarovou linkou, která zde drží hlavní slovo s důraznými bicími. Kytara odsekává akordy a zajímavější jsou především varhany a hlas zpívajícího frontmana. Dokážu si představit, jak podobný model skladby mohl inspirovat řadu našich domácích kapel, které na Plzeňsku v sedmdesátých letech objížděly venkovské tancovačky. Kytarové party sice nemají dravost a kytaristickou zuřivost a také postrádám větší barevnost hry, i když v mezihře se Ged Peck na poměry kapely opravdu vyznamenává a sází melodické tóny s hodinářskou přesností rutinního hráče. Hammondky přelévají svůj sound od doprovodu po sólující okamžiky až do komplexního finále.
SOLITUDE – do hry vstupuje akustické kytara a z pozadí přichází téměř kostelní chorál a kombinace klavírního a varhanního soundu. Prolínání nástinu Vanilla Fudge a Uriah Heep je poměrně čitelné. Vyzpívat pocity samoty se Holtovi daří mistrovským způsobem. Jeho hlas má zvučnost, patetický timbr, dramatický náboj a odevzdanost interpretačního mistrovství. Kombinace akustické kytary a mírně nahallované elektrické kytary zní zajímavě, ale podle mého soudu dost krátce. Holt má v hlase divadelní patos a myslím, že by zvládl i některé operní party. Neječí, nekvílí a netlačí na hlasivky škrceným tlakem, ale zpívá přirozeně plnými ústy. Opravdu zpěvák podle mého gusta. Tady se ovšem Peck na elektrickou kytaru opravdu překonává a nabízí prozatím nejsilnější kytarový podíl na albu. Další velmi přesvědčivý podíl na albové produkci vyšší kategorie.
WOMAN OF THE DEVIL – podivné přelévání varhanního soundu se zatlumenými tympány, než nastoupí rockový akcent. Mezihra ovšem zní jako úryvek z nějaké církevní hudby. Potemnělost soundu připomíná nějaký zlověstný zakázaný obřad, což ostatně koresponduje se samotným názvem skladby, až se zvolna kapela dostává do stále rychlejší a dramatičtější pozice. Nakonec se Warhorse přihlásí dravým rockovým drivem ve stylu Atomic Rooster. Simper řádí v basových harmoniích a Pooleovy bicí hrají sekané zrychlované rytmy. V poslední skladbě se instrumentace dostává do dravější polohy a hammondky nepostrádají hodně podnětné kreativity. Elektrická kytara získává větší elastický švih a Peck se nijak nešetří v prezentaci. V obecném pojednání zde doznívají psychedelické ozvěny a kapela se nebojí přitlačit na pilu s patřičnou razancí. Holt je ovšem zpívající frontman! Jeho hlas je opravdu cenná devíza pro tuhle kapelu a jsme v závěru…
Ashley Holt se mi připomněl v r. 1976 na albu Ricka Wakemana No Earthly Connection. Zde podává přímo heroický výkon, jinak jsem jeho jméno ztratil z dohledu. Historie se k Warhorse zachovala opravdu macešsky a dneska je tahle kapela zapomenutým pojmem, což se mi jeví jako maximálně nespravedlivé. Je pravda, že sejmutý hudební záznam nemá onu průraznost Deep Purple, nebo plastičnost Uriah Heep a dravost takových Grand Funk Railroad, přesto tkví na tomhle zapomenutém albu tolik energetického zázemí, že člověk žasne. Jsem mezi čtyřmi až pěti hvězdičkami, ale vyšší počet bude zcela na místě. Ashley Holt mě zcela dostává a nepřestávám žasnout nad tím, že se jeho talent neprosadil v masovějším pojetí.
SKLADBY:
A1. Vulture Blood 6:13
A2. No Chance 6:22
A3. Burning 6:17
A4. St. Louis 3:50
B1. Ritual 4:54
B2. Solitude 8:48
B3. Woman of the Devil 7:16
Autorství skladeb: Warhorse s výjimkou A4 (Vanda/Young)
Nahráno: Trident Studios
Design přebalu, fotografie: Keef
Grafická úprava: Sandy Field
Produkce: Ian Kimmet & Warhorse
Obsazení:
Nick Simper – baskytara
Ashley Holt – zpěv
Ged Peck – kytara
Mac Poole – bicí
Frank Wilson – klávesy
Warhorse
Warhorse
Hard Rock
Vertigo
1970
LP
7