Už nevím, v jaké knize jsem to četl, jestli to byla Definitivní zpověď Pink Floyd nebo Odysea zvaná Pink Floyd, ale každopádně v jedné z těch knih je Rickovo album Wet Dream dost shozeno jako popík okořeněný nevýrazným jazzem a já blbec jsem se tím nechal tak odradit, že jsem si toto album pořídil teprve před několika lety! A jak jsem byl příjemně překvapen!
Sólo výlet Ricka Wrighta vyšel v roce 1978, v době, kdy se schopný textař Roger Waters cítil čím dál tím víc také jako jediný schopný a předurčený tvůrce hudby Pink Floyd. Tak není divu, že po Animals a před The Wall (což je opravdu kromě hudby ke Comfortable Numb a Run Like Hell vlastně Rogerovo album) měli Rick i Dave v rukávu svoje věci, které našly uplatnění na sólových albech.
David Gilmour v roce 1978 vydal stejnojmenné album a Rick Wright vydal Wet Dream. Dokonce i Nick Mason natočil se svými přáteli Nick Mason´s Fictitious Sports, zappovsky rozverné album v ničem nepřipomínající Pink Floyd; album vyšlo až v roce 1981.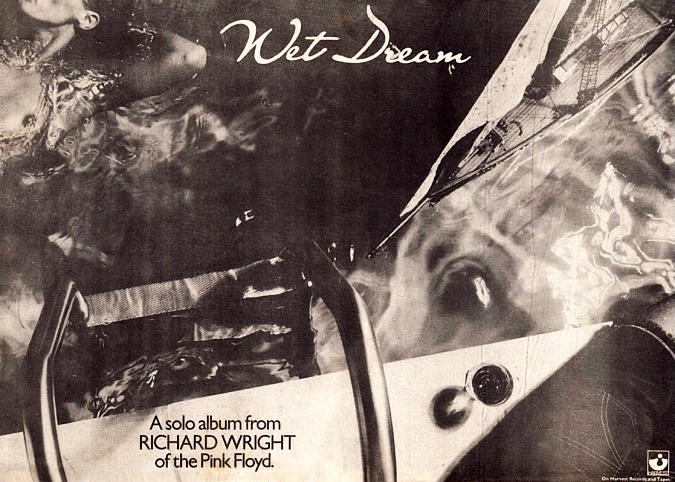 Ale zpět k Wet Dream. Hodně fandů klasických Pink Floyd má toto těžko sehnatelné album rádo. Četl jsem názory, že to hodně připomíná Obscured by Clouds a něco na tom opravdu je… V každém případě Rickovo album jasně ukazuje, že Pink Floyd nebyl jen Roger, nebo Roger a Dave, nebo v počátcích jen Syd. Nezapomínejme, že Rick napsal pro Pink Floyd řadu skvělých skladeb, vzpomeňme třeba z raného období Remember a Day nebo Paintbox. O originálním, rozpoznatelném způsobu hraní nemluvě – zejména v počátcích, kdy si Rick rozuměl hudebně se Sydem nejvíc, právě jeho "východní" klávesové improvizace velkou měrou přispívaly k psychedelickému soundu a image skupiny.
Album Wet Dream mám rád celé. Není to vůbec laciný popík, ale opravdu floydovsky znějící hudba (ne že by to muselo být nějaké kategorické měřítko), založená samozřejmě na klávesách, ale ne v takové míře, jako na Broken China. Svůj prostor dostaly i kytarové nástroje a zejména výborný saxofon, který se mi zde líbí se svou jazzovou, nepodbízivou podbarveností mnohem více než třeba na The Dark Side of the Moon.
Nejvíce hodnotím na tomto albu instrumentálky, což je oblast, která byla vždy Rickovi blízká. Mediterranean C, Cat Cruise nebo Waves nám ukazují Rickův talent v plném světle a kdyby album (nechápu proč) ve své době tak nepropadlo a neamputovalo Rickovi další část jeho už tak podlomeného sebevědomí, mohli jsme se od něho dočkat mnohem více alb, než jen podivného rock/pop/funky/synth pop experimentu Identity (samozřejmě potom v roce 1996 spatřilo světlo světla Rickovo smutné album – nicméně veledílo – Broken China). Vždyť si jen vzpomeňme, jak byl Rick potěšen úspěchem své skladby Wearing the Inside Out z alba Division Bell – jak se mu vrátila invence do žil a výsledkem bylo výborné, již zmíněné album Broken China.
Takže, pokud nejste "zatvrzelí Watersovci" a máte rádi hudbu klasických Pink Floyd, myslím, že vás toto album nemůže zklamat.
P. S. Velké plus tohoto alba jsou také texty, zejména v melancholické skladbě Against the Odds. Ať Rickovi s texty pomáhal kdokoli, nebo ať je psal sám, jedno se mu upřít nedá – jako jedinému ze všech členů Pink Floyd (nepočítám-li několik sólo písní Syda Barretta) Rickovi nedělá problém zpívat o vztahu muž – žena. U Pink Floyd to bylo dost nepopulární téma a to už od dob, kdy Floydi vystartovali k hvězdnému nebi se svým Arnold Layne…
SKLADBY:
A1. Mediterranean C 3:51
A2. Against The Odds 3:57
A3. Cat Cruise 5:13
A4. Summer Elegy 4:52
A5. Waves 4:18
B1. Holiday 6:11
B2. Mad Yannis Dance 3:18
B3. Drop In From The Top 3:24
B4. Pink's Song 3:23
B5. Funky Deux 4:56
Autorem všech skladeb je Rick Wright, s výjimkou A2 (Rick a Juliette Wrightovi)
Nahráno: Super Bear Studios
Přebal: Hipgnosis
Produkce: Rick Wright
Rick Wright – piano, klávesy, elektrické piano, Hammondovy varhany, syntezátor, zpěv
Snowy White – kytary
Larry Steele – baskytara
Reg Isadore – bicí, perkuse
Mel Collins – saxofon, lesní roh, flétna
Wet Dream
Richard Wright
Prog Rock
Harvest
1978
LP
10