Robina Trowera jsem objevil v britských Procol Harum, s nimiž nahrál i jejich celosvětový hit A Whiter Shade of Pale. Dlouhou dobu se mi ale zdálo, že je Trower až "příliš" součástí skupiny a že nedostává výraznější příležitost k vlastnímu sebevyjádření. Ono to samozřejmě neplatilo úplně stoprocentně, na dalších albech už byly jeho kytarové party čitelnější a výraznější, Procol Harum ale měli svoje pevné harmonie, sbory a hammondovský a klavírní sound a preferovat do popředí kytaru nebylo v jejich primárním zájmu. Třebaže na výborném albu Broken Barricades (1971) už jeho hráčský post nabýval výraznějších rozměrů, rozhodl se kapelu opustit a vydal se vlastním směrem.
Album Bridge of Sighs (Most vzdechů) se objevilo na jaře 1974 a znamenalo raketový nástup jeho sólové kariéry. Odbornými kritiky bylo vyhodnoceno jako Album roku 1974 a jeho jméno se skloňovalo s úctou. Nebylo prostě možné, abych po tolika výtečných referencích nechal jeho jméno bez povšimnutí a tak jsem na něho zamířil svoji pozornost. Ano, Robin Trower byl prostě opravdu formát!
DAY OF THE EAGLE – mocný začátek. A je to tu zase. Nelze zde totiž neslyšet výrazný odér legendárního Jimiho Hendrixe. Sound Trowerovy kytary, přes výtečné marshally a jeho Fender Stratocaster se na něm výrazně podepisují. Není to ovšem snaha vytvořit nějaký další hendrixovský derivát, ale přeslechnout to nelze. Ostatně řada kytaristů chtěla navázat na Hendrixův odkaz, ať už jmenujeme Randyho Californiu, Franka Marina, Jeana-Paula Burellyho… Po energickém začátku dochází ke zklidnění v bluesovém duchu, kde rytmika zvýrazňuje svoje pozice, ale prostor ponechává Trowerovým kytarovým ambicím.
BRIDGE OF SIGHS – cinkání zvonečků a rozechvívání strun nám famózního Jimiho připomene ještě výrazněji. Pro skladbu je typický valivý zpomalený zvuk, do kterého se zařezává mírně zastřený a přesto výrazný Dewarův vokál a důrazné bicí nástroje Isidorea. Trower natahuje tóny a vyměňuje rozlamované akordy s přeznívajícím soundem. Jakoby se zde do vašich uší měl vmísit neviditelný dech. Už ho ale slyšíme. Přichází z pozadí ve svištivých tónech s názvukem vichřice. Pochmurná nálada prýští z každého vyměňovaného akordu a playbackovaných kytarových partů, které se vrací s ozvěnou. Do svištění větru se ozývají nezřetelné šeplavé hlasy a vichřice nabývá na síle, aby se pak zvolna stáhla do pozadí a Trower nabídne do skladby nové harmonické vize, rozkládaných akordů, zvolna cinkajících. Dewar mi místy může připadat jako David Coverdale, bez patetického procítění. Trower do kytarového tématu aplikuje wah wah pedál, ale nastaví mu spíše kulatý tón a kytarové playbacky přinášejí další kytarové předivo s odlišnými barvami tónu. Isidore popřává prostor svým dvěma velkým šlapákům a skladba se odvádí do zklidnění.
IN THIS PLACE – rytmus vám připomene v prvotní fázi Gypsy Eyes z Electric Ladyland. Pak už ovšem skladba získá rockovou přímočarost a Dewar vedle svého bluesově nakřáplého zpěvu (teď trochu v duchu Paula Rodgerse v období Free) zdařile drtí basové figury za přesné asistence Isidoreových bicích nástrojů. Trower používá techniku protahovaných strun, ale také hry na přitlumených strunách a škrabání a udržuje stálé napětí. Famózní bluesrockové číslo.
THE FOOL AND ME – výtečně pumpující rytmika dusajících basů a přesně předoucích bicích vytváří prostor pro Trowerovo kytarové téma. Isidore je výtečný bubeník a sází svoje rytmické předivo do přesných proporcí, včetně svěžích breaků. Trower za aplikace wah wah pedálu rozehrává výtečné kytarové sólo, které má švih expresi a výrazný energetický potenciál. Stačí přitom škrábat struny a perkusivními zvuky držet krok s Isidorem.
TOO ROLLING STONED – v rychlém tempu zůstáváme a jedeme opět první třídou ve zrychleném vlaku. Žádní "Rolling Stones" se nekonají. Poctivé úderné bluesrockové téma, které Trower výtečně proměňuje v hudebních metaforách a za doprovodu bubenických breaků a pořádně přiostřeného soundu. Náhle dojde ke zpomalení a důrazné bluesové akcenty se vrývají do tvrdé půdy s opakujícím se tématem jako při jamování, kterému dokresluje atmosféru výtečně frázující Dewar. Trower nabídne další kytarové sólo, které má precizně vystavěné od základního tónu a které dále rozvíjí s přeznívajícím ohýbaným soundem. Ve druhé polovině osmdesátých let se v podobných vodách pohyboval za oceánem Stevie Ray Vaughan, v téhle době ovšem jeho jméno ještě nikdo neznal. Kytarové erupce zvolna odeznívají v prostorovém nekonečnu.
ABOUT TO BEGIN – pomalá skladba s bloudivými tóny, které kreslí impresivní nálady, do kterých tikají bicí nástroje a jen velmi subtilně vstupují basy. Prostor získává zpívající Dewar, který má smysl pro procítěnou baladu, se kterou máme co do činění. Klouzavé tóny z pozadí se snoubí s prolamovanými akordy doprovodu a cítíme podvečerně podmanivou atmosféru stmívání a útlumu, se kterými Trower a jeho kolegové z kapely dovedou výtečně zacházet. V závěru máme pocit, že tímto způsobem vznikl originální útvar jakési ukolébavky, jak se v angloamerickém prostředí říká mazlivě: lullaby.
LADY LOVE – živější skladba přináší víc vzruchu a rockové přímočarosti. Isidoreovy bicí nástroje šlapou v přesně vymezeném tempu, ale on stačí do hry vkládat ještě občasné breaky a údery na kravský zvonec. Dewar dodává pružnou basovou linku a správně přiostřený hlas a je tu samozřejmě Trower s živočišně vyprecizovanými kytarovými party. Žádná ze skladeb nenudí nadměrným formátem a tím se album posouvá do snadné poslouchatelnosti, aniž bychom měli pocit, že se zde Trower snaží zalíbit nějakými komerčními ústupky.
LITTLE BIT OF SYMPATHY – v ještě rychlejším tempu se přihlásí poslední skladba. Trower se zde blýskne výtečně vystavěným kytarovým sólem, Isidore vedle bicích nástrojů nahrál i řadu přechodů na percussion, čímž rozšířil rytmické obrazce. Dewar odzpívá svoje party a pak popřeje prostor živým basovým modulacím, které si velmi dobře padnou do noty s bubenickou baterií. Trower odevzdává vynikající práci. Z jeho tónu cítíme jistotu, eleganci, suverenitu podání a lehkost sázených tónů. Není to Rory Gallagher, není to Miller Anderson, Tony McPhee… je to zkrátka ROBIN TROWER!
Produkci alba mu udělal bývalý kolega z Procol Harum, varhaník Matthew Fisher a zvukové režie se ujal známý Geoff Emerick, který spolupracoval ve studiu Abbey Road se slavnými Beatles. Pokud máte rádi blues rock, je tohle album pro vás jasná volba bez nějakých kompromisů. Trower je vynalézavý kytarista, který technicky bezpečně ovládá všechna pole svého nástroje, má precizní sound i tón. Ostatně to o něm říká i slavný baskytarový mág Jack Bruce, který s ním několikrát spolupracoval, stejně jako s bubeníkem Regem Isidorem.
Ještě bych měl doplnit, že baskytarista James Dewar také není úplně neznámé jméno. Působil v řadách skotských bluesrockerů Stone The Crows, kde vedle výtečné Maggie Bellové mohl občas uplatnit i svoje pěvecké vlohy.
Nepapouškuji mínění hudebních kritiků, ale i já jim musím dát za pravdu – album Most vzdechů si zaslouží plný počet hvězdiček!
SKLADBY:
A1. Day of The Eagle 5:04
A2. Bridge of Sighs 5:05
A3. In This Place 4:28
A4. The Fool And Me 3:57
B1. Too Rolling Stoned 7:29
B2. About To Begin 3:43
B3. Lady Love 3:21
B4. Little Bit of Sympathy 4:20
Autorem skladeb je Robin Trower s výjimkou A4 a B3 (Trower/Dewar)
Nahráno: 1973 – 74 v Air Studios, Londýn
Zvuková režie: Geoff Emerick
Produkce: Matthew Fisher
OBSAZENÍ:
Robin Trower – kytara
James Dewar – basová kytara, zpěv
Reg Isidore – bicí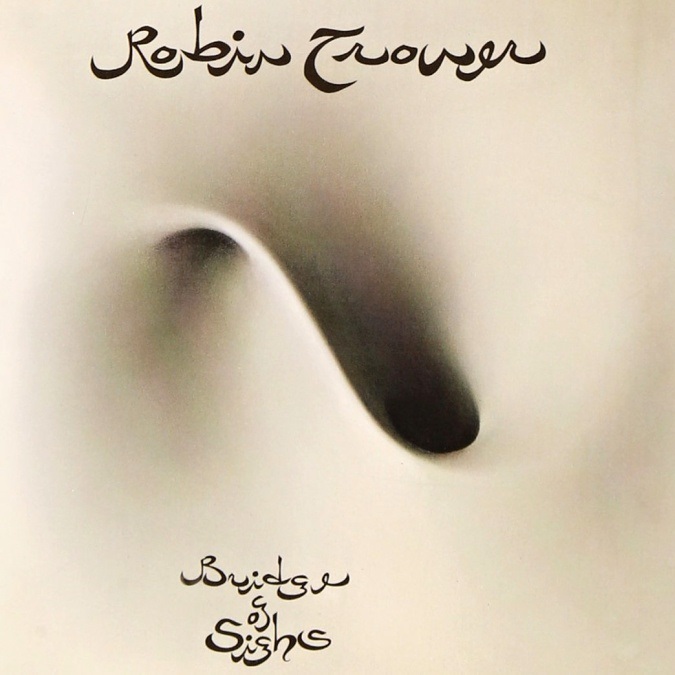 Bridge of Sighs
Robin Trower
Hard/Blues Rock
Chrysalis
1974
LP
8