Album Operation: Mindcrime je bez nadsádzky "otcom progresívneho metalu", navyše koncepčného charakteru a skupinu QUEENSRŸCHE postavil na piedestál tohto subžánru. V čase, keď Dream Theater boli ešte len v plienkach a Fates Warning hľadali svoju hudobnú tvár…
Viem, popísalo sa o ňom veľa. O dejovej línii, akomsi psychologickom (psychiatrickom) trileri s prvkami sci-fi a s dávkou mystiky, sa zmieňovať nebudem, ale tá muzika. Stále budem vnímať Operation: Mindcrime ako styčný bod medzi metalovou scénou (najmä špičkou NWOBHM: Iron Maiden, Judas Priest, Saxon a US thrash metalovou scénou: Metallica, Anthrax, Slayer, Testament), art rockom a nastupujúcou vlnou kapiel, pohybujúcich sa vo vodách, kde sa mieša hard rock, progresívny rock a náročnejšie formy heavy metalu.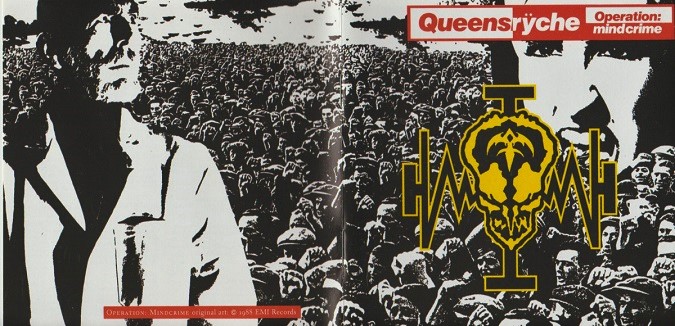 Nesmierne množstvo hudobných nápadov, motívov, akordov, v podstate splývajúce skladby s dramatickými textovo ruchovými vsuvkami, razantné zmeny tempa, rytmiky, nálad, dynamiky. To všetko okorenené vrcholnými výkonmi hlavných protagonistov albumu, ktorými sú spevák Geoff Tate a gitarista Chris DeGarmo. Kompozície, ktoré už vošli do dejín rockovej hudby navždy: takmer 11 minútový opus Suite Sister Mary, skladby Revolution Calling, titulná Operation: Mindcrime, The Mission, Breaking The Silence, I Don't Believe In Love a hlavne záverečná, pre mňa geniálna Eyes Of A Stranger.
Metalová hudba (vrátane prog metalu) je pre mňa v podstate len okrajovou záležitosťou, Operation: Mindcrime je však jedna z najväčších výnimiek. Album, ku ktorému sa vždy budem vracať s radosťou i s nostalgiou. Opus magnum kapely zo Seattlu, ku ktorému sa už vlastne ani nepriblížila. Sorry, vyznávači Empire a Promised Land.
SKLADBY:
01. I Remember Now (1:17)
02. Anarchy-X (1:27)
03. Revolution Calling (4:42)
04. Operation: Mindcrime (4:43)
05. Speak (3:42)
06. Spreading The Disease (4:07)
07. The Mission (5:46)
08. Suite Sister Mary (10:41)
09. The Needle Lies (3:08)
10. Electric Requiem (1:22)
11. Breaking The Silence (4:34)
12. I Don't Believe In Love (4:23)
13. Waiting For 22 (1:05)
14. My Empty Room (1:28)
15. Eyes Of A Stranger (6:39)
ZOSTAVA:
Geoff Tate – vocals, keyboards, whistles
Chris DeGarmo – guitars (electric, acoustic, lap steel & GK1 synth), backing vocals
Michael Wilton – guitars (electric, 6- & 12-string acoustic, Stereo Ripley), backing vocals
Eddie Jackson – bass, backing vocals
Scott Rockenfield – drums, percussion, keyboards (10)
+
Michael Kamen – orchestral arrangements, cello & choir direction
The Moronic Monks of Morin Heights – chorus vocals (The Gang)
Snakemeister – choir conductor
Anthony Valentine – voice (Dr. X)
Debbie Wheeler – voice (Nurse)
Mike Snyder – voice (News Anchorman)
Pamela Moore – voice (Sister Mary)
Scott Mateer – voice (Preacher)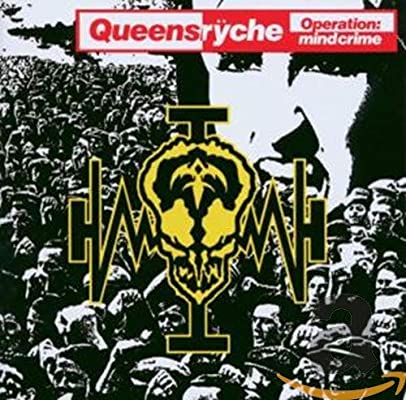 Operation: Mindcrime
Queensrÿche
Hard Rock, Heavy Metal, Prog Metal
EMI-Manhattan Records
1988
LP, CD
15