Když v roce 1991 irská skupina U2 vypustila do světa album Achtung Baby, bylo to pro mě velké zklamání. Po desce The Joshua Tree silně ovlivněné americkou hudbou se na mě z reproduktorů valila směsice divných zvuků a pazvuků. Netušil jsem, že se k této ,,divné desce" po nějaké době vrátím a že budu nadšen. Hodně nadšen. Především jsem pochopil, že The Edge je velice zručný kytarista, bez kterého by písně na albu asi zněly jinak – hůř.
Po úvodní Zoo Station přijde nádherná píseň Even Better Than the Real Thing. Poté následuje první vrchol alba, balada One, s nádherně procítěným Bonovým zpěvem. Další skladba Until the End of the World je v rytmice hodně ovlivněná tehdejší taneční scénou a ozdobená zkresleným kytarovým sólem. Následuje pro mě druhý vrchol desky, píseň Who´s Gonna Ride Your Wild Horses. Bono se v refrénu překonává a jeho "šalala" mě přivádí k posluchačské extázi. Skladba samozřejmě stojí i na Edgeově rozcinkané kytaře, která je všudypřítomná a dodává písni tu správnou šťávu.
Přichází příjemná skladbička So Cruel vystavěná na jednoduchém klávesovém motivku, výrazné basové lince a silně zkreslené kytaře. Nad tím vším opět kouzlí svým hlasem Bono. Sedmou písní je velice výrazná The Fly se zajímavým falzetem v refrénu a skvělou kytarou (ta jakoby bublala, pískala a cinkala). Mysterious Ways ve mně vyvolává pocit cesty po arabských zemích. Nevím, možná je to rytmikou.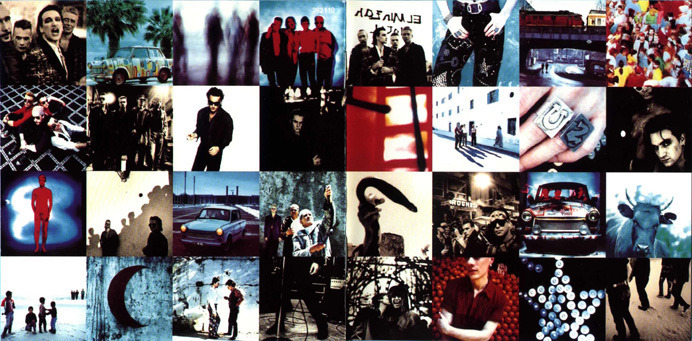 Nyní je opět na čase zvolnit písní Tryin´ to Throw Your Arms Around the World. Po ní následuje opět silně taneční kousek Ultraviolet (Light My Way) s tradičně skvělou kytarou a vynikajícím Bonovým zpěvem. Předposlední skladba Acrobat začíná směsicí divných zvuků, důraznými bicími a basou a do toho všeho začne Bono čarovat svým hlasem a The Edge svou kytarou. Další vrchol alba. Skladba Love is Blindness je už jen jakousi pomyslnou třešničkou na dortu, která tuto výbornou desku uzavírá.
Když jsem toto album znovuobjevil, tak jsem byl jednak starší, jednak hudebně vyzrálejší a snad i tolerantnější. Achtung Baby se pro mě stalo absolutní klasikou.
Tracklist:
01. Zoo Station (04:36)
02. Even Better Than the Real Thing (03:41)
03. One (04:36)
04. Until the End of the World (04:39)
05. Who´s Gonna Ride Your Wild Horses (05:16)
06. So Cruel (05:49)
07. The Fly (04:29)
08. Mysterious Ways (04:04)
09. Tryin´ to Throw Your Arms Around the World (03:53)
10. Ultraviolet (Light My Way) (05:31)
11. Acrobat (04:30)
12. Love is Blindness (04:23)
Obsazení:
Bono – lead voc, gt
The Edge – gt, keyb, backing voc
Larry Mullen, jr. – ds, perc
Adam Clayton – bgt
Guests:
Brian Eno – keyb (3,9,12)
Daniel Lanois – gt (1,3,9), perc (4,8)
Duchess Nell Catchpole – violin, viola (6)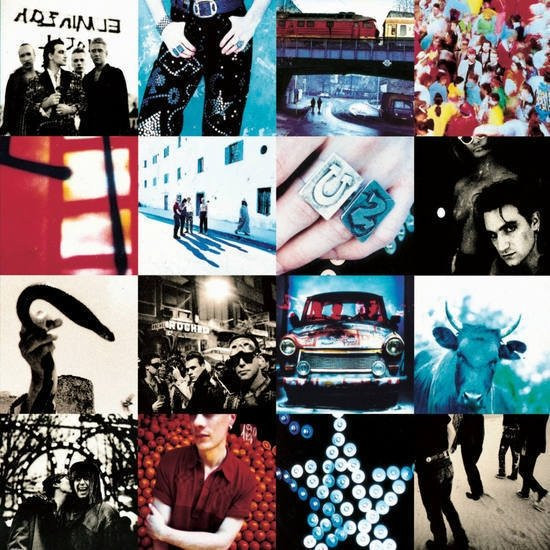 Achtung Baby
U2
Alternative Rock, Pop Rock
Island Records
1991
CD
12