Free at Last měl být původně název hudební partičky, která se zformovala koncem 60. let zásluhou Alexise Kornera. Ten také doporučil zkrátit název na mnohem údernější Free. Skupina v letech 1969 – 1970 vydala čtyři studiová alba, z nichž především prvotina Tons of Sobs a třetí deska Fire and Water patří mezi klenoty bluesrockové hudby tehdejší doby. Velký hardrockový hit All Right Now dostal skupinu k širším posluchačům a vypadalo to na slušně našlápnutou hudební kariéru.
Jenomže čtvrté album Highway se nesetkalo po svém vydání s tak velkým ohlasem, jaký parta kolem zpěváka Paula Rodgerse asi očekávala, a skupina Free pro mě dost nepochopitelně ukončila činnost. Avšak nikomu ze členů skupiny se nepodařilo vytvořit něco nového, životaschopného, proto se čtveřice opět dává dohromady a začíná pracovat na dalším studiovém albu pod zavedenou značkou Free.
Toto album dostává název Free at Last a z mého pohledu se stává jakýmsi předzpěvem pro jejich majstrštyk a labutí píseň Heartbreaker . Mám totiž dojem, že tím hlavním tvůrčím mozkem se zde stává Rodgers a bubeník Kirke a baskytarista Fraser se svými nápady jsou pomalu odsunováni do pozadí, zatímco kytarista Kossoff to už začíná mít vyloženě na háku. Sice je zatím schopen nahrát své kytarové party, ale jeho drogová závislost už si pomalu začíná vybírat svou daň. Navíc kytara je zde ve velké míře podporována Rodgersovým piánem, čímž celá deska dostává poměrně subtilní charakter.
Přiznám se, že mi docela dlouho trvalo, než jsem materiál obsažený na desce vstřebal. Předcházející přímočarost a ostrost byla pryč, stejně tak se nejednalo o žádný hitový materiál jako na albu následujícím. S přibývajícími poslechy se však začala postupně vynořovat křehká krása některých, především pomalejších písní.
Přitom úvodní píseň Catch A Train nenaznačuje, že by se mělo jednat o odlišný hudební přístup. Parádní blues rock s vypjatým vokálem a výraznou kytarou. Avšak hned následující Soldier Boy mírně zvolní a bluesová platforma je pomalu opouštěna, aby přešla v písni Magic Ship do spíše soulové formy s výrazným Rodgersovým piánem a stále excelentními kytarovými sóly. K blues rocku se vrátí skladba Sail On, jejíž poklidné vyznění na začátku je náhle změněno výraznou kytarou. V ostrém duchu se nese asi nejtvrdší píseň na albu, skladba Travelling Man. Následující Little Bit Of Love měla asi nejhitovější ambice, ale z mého pohledu se jedná o jeden z nejhorších kousků na albu. Skladba Guardian Of The Universe má až meditativní charakter a dlouho jsem ji nemohl vstřebat. Možná by jí prospělo mírné zkrácení. Křehká akustická záležitost Child se odvolává k tomu nejlepšímu z rockového písničkářství a určitě ji ovlivnil Dylan nebo Van Morrison. Album zakončuje skladba Goodbye s velice výživnými Kossoffovými kytarovými vyhrávkami.
Album Free at Last není jednoduché na poslech. Nejdřív jsem měl pocit, že si hudebníci udělali z posluchačů bohapustou legraci, a desku jsem na dlouhou dobu odložil. Pak mi to ale nedalo a začal jsem se do ní vposlouchávat. A ejhle, ono to stojí opravdu za to, pokud tedy nečekáte zázrak. Co bych ale opravdu vytkl, tak to je dost odpudivý obal, který sráží mé hodnocení na 3,5/5.
Skladby:
01. Catch a Train (3:32)
02. Soldier Boy (2:51)
03. Magic Ship (5:23)
04. Sail On (3:06)
05. Travelling Man (3:23)
06. Little Bit of Love (2:35)
07. Guardian of the Universe (5:32)
08. Child (5:19)
09. Goodbye (5:15)
Obsazení:
Paul Rodgers – vocals, piano
Paul Kossoff – guitar
Andy Fraser – bass, acoustic guitar, piano
Simon Kirke – drums, percussion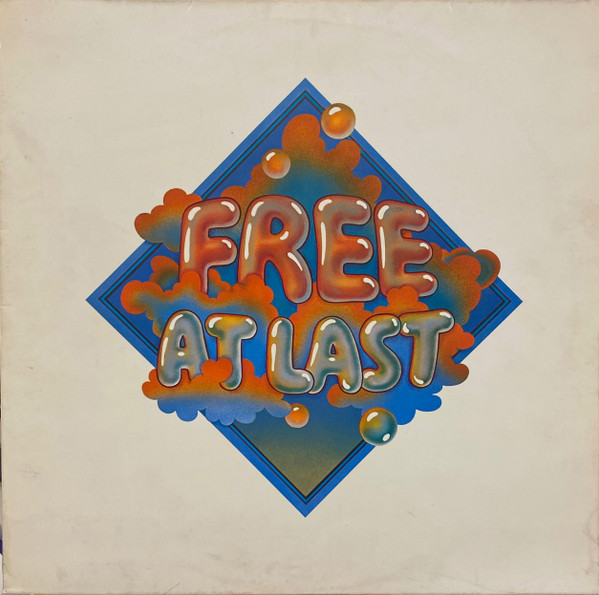 Free at Last
Free
Blues Rock, Hard Rock
Island Records
1972
LP
9