…aneb v sousedství karmínové slávy
Pro našince zůstávají už řadu let melodici Heir Apparent vcelku skrytým pokladem na hudební mapě amerického progresivního metalu. Už od svých počátku spadajících do poloviny let osmdesátých, se jim podařilo na opačné straně polokoule vybudovat slušnou fanouškovskou základnu.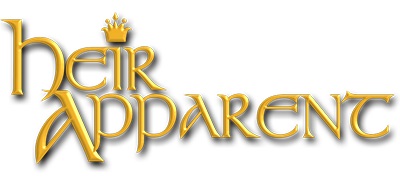 Své výsadní postavení brzy na to stvrdili úchvatným kotoučem s neméně obskurní obálkou Graceful Inheritance. Ten je velice hbitě popostrčil po bok předních souborů podobné hudební odnože, jako byli Queensrÿche, Fates Warning, nebo rovněž startující Crimson Glory. Heir Apparent se přiklonili na stranu těch, kteří na úkor rychlosti a tvrdosti dávají přednost úchvatně vystavěným melodiím, působivým a mohutným sborům, své skladby dokáží opentlit množstvím kytarových vyhrávek, sól a kudrlinek, a do karet jim hraje i podpůrná klávesová hradba a tepající vystrčená rytmika.
Svůj tvůrčí růst kapela stvrdila o tři roky později malinko přístupnějším avšak progresivnějším výtvorem číslo dva nazvaným One Small Voice. Na něm ubrala nohu z plynu, čímž mohli vyniknout dotaženější a vyšlechtěnější kompozice. Přišla výměna zpěváka a přibyl potřebný hráč na klávesy. Sound se pročistil a stal se přehlednějším. I výsledný zvuk byl oproti debutu dotaženější a častěji skrze něj probleskovala pompézní noblesa.
Pod namodralým znovu velice výmluvným coverem leží disk, který obsahuje jedenáct progresivních rock-metalových kompozic originálního střihu. Vše načne Just Imagine s robotickým úvodem, na kterou se nalepí tajemná atmosféra a vůbec celá stavba skladby je hodně inovativní. Crossing The Border patří k rychlejším věcem. Progresivní odstín jedničky vystřídají metalizující odlesky a Steve Benito tahá hlas do pořádných výšek. Všemu udává směr Gorleho riffující kytarová hra. Pravým opakem je třetí Screaming, která nejen že výrazně ubere z tempa, ale nechává promlouvat hlavně akustiky v doprovodu sličných kláves. Něžnou Alone Again odrecituje Steve na způsob Midnightových (zpěvák Crimson Glory) dispozičních dovedností. Na pátou pozici se jako uragán po romantické předehře přižene salva Cacophony Of Anger. Silně návyková jízda eruptivního druhu, kde nejen Benitův zpěv doslova exploduje. Nejvýmluvnější je jeho zvedání se do výšin v doprovodu mohutně násobených sborů. Extáze. Po Simonovsko-Garfungelovském coveru The Sound Of Silence, který se mimochodem svou kvalitou může s originálem směle poměřovat, přichází hymnická Queensrÿche-ovská pecka We The People. Young Forever opět pozvedne epický prapor se znaky teatrálnosti, aby titulní One Small Voice představila kapelu jako jedny z progresivních vládců tehdejší doby.
Osobní triumf skupiny vnímám skrze skladbu Decorated. To je pro mne špička tohoto ledovce a to nejen kvůli skvostně bublající dominantní baskytaře a klavíru v pozadí, ale i díky vysoko oktanovým melodiím a naprosto smyslnému emočnímu prožitku a nářkům Steve Benita. Povedenou tečkou je pak píseň The Fifth Season, která se po romantickém úvodu tak rozburácí, až se vám začne hlava na krku samovolně protáčet.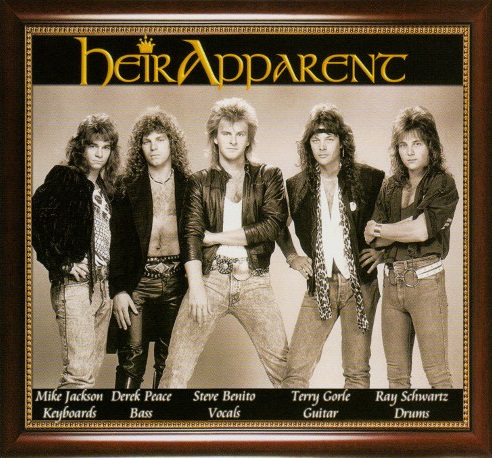 Význam a velikost nahrávky One Small Voice budu nejlépe dokumentovat přiřazením některých,  podobně znělých patriotů, slučujících se v jedné melodické množině zaoceánské produkce konce osmdesátých let. Do té by zcela neomylně patřili skvostné nahrávky jako Transcendence (Crimson Glory), Perfect Symmetry (Fates Warning), či Operation Mindcrime (Queensrÿche). S těmito jmenovanými dokázali Heir Apparent v oné době spolehlivě držet krok, jenže vše mělo trvat pouhou chviličku. Už další rok byli kluci po brzkém rozpadu rázem mimo hru. To ovšem nic nemění na faktu důležitosti tohoto alba.
SKLADBY:
01. Just Imagine (4:32)
02. Crossing The Border (3:10)
03. Screaming (3:51)
04. Alone Again (3:49)
05. Cacophony Of Anger (4:11)
06. The Sound Of Silence (4:06)
07. We The People (3:38)
08. Young Forever (2:45)
09. One Small Voice (6:22)
10. Decorated (4:50)
11. The Fifth Season (5:39)
SESTAVA:
Steve Benito – vocals
Terry Gorle – guitars
Derek Peace – bass
Raymond Black – drums
Michael Jackson – keyboards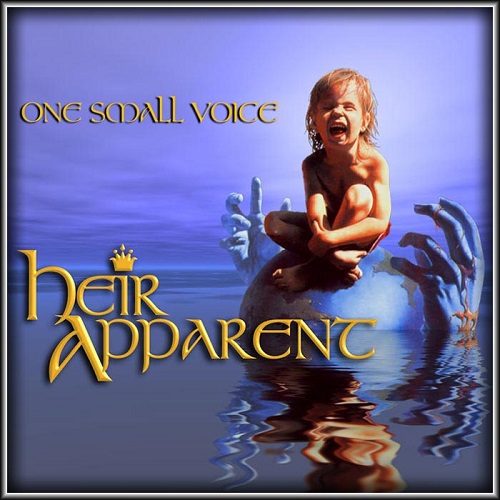 One Small Voice
Heir Apparent
Heavy Metal, Prog Rock
Capitol Records/ Metal Blade Records
1989
LP, CD
11